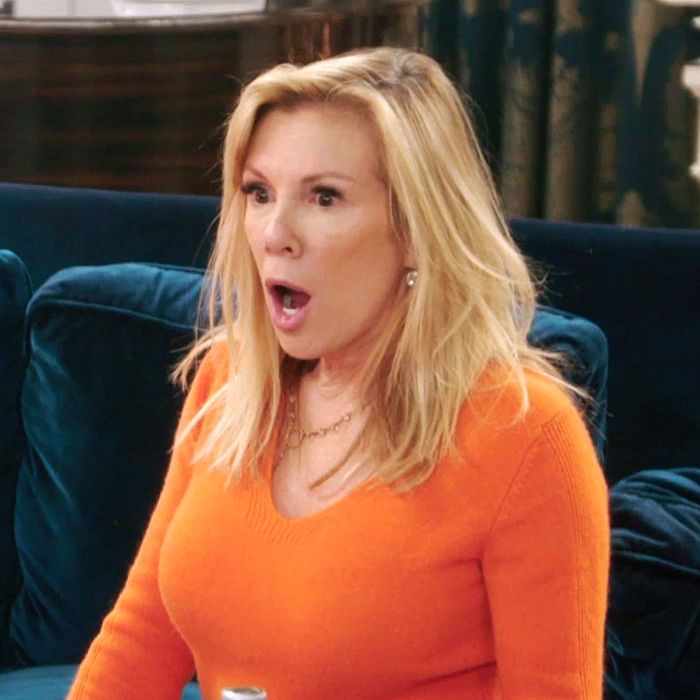 I always like to say that this show is like a ghost story because all of the women are haunted. Well, at the center of it the show has its own Amityville Horror house: Blue Stone Manor. After a flood in the basement, Dorinda has remodeled the house, but no matter how many rugs she puts on the floors, no matter how much gem-toned velvet upholstery she buys, Dorinda can never cover up the rot in the walls, the existential stench that seeps from every stud and joist that keeps this unholy place alive.
When Dorinda shows Leah around the house, we walk through its traumatic history, like an interloper reliving the trauma of all the souls that have passed in this place. There is the iconic "I made it nice" meltdown in the kitchen, there is Ramona's dog Coco taking a shit on the carpet in the foyer, there is Sonja Tremont Morgan of the Great Barrington Self-Storage and Car Removal Morgans shouting, "Don't touch the Morgan letters!" in the dining room, there is Dorinda putting her own birthday cake onto her face in the stairwell, there is Bethenny collapsing in a naked pile in one of the guest rooms. The only event that missing was someone shouting "Mention it all!" That was Ms. Scarlet in the drawing room with the lead pipe.
That is what this tour is like! It is like the cast running around the mansion in the climax of the movie Clue but only the ending where they're all guilty and their mutual destruction is assured. That is what going to the Berkshires is like, waking up in the morning knowing you are going to cause a nuclear war and not really caring. It's letting rip the nastiest egg salad fart from the depths of your Activia-riddled guts and not even bothering enough to blame it on Coco.
The saddest death of all, however, is the death of the Fish Room. The blue room with the taxidermy sharks on the walls was, of course, the most famous room in Dorinda's house because Luann wouldn't sleep in it last season. It is also objectively the best room in Dorinda's house. Well, was objectively the best. It has been replaced with tasteful but dull geometric print wallpaper that would look at home in a Lower East Side "boutique hotel" by Marriot. I don't hate it, but come on, it's no Fish Room.
Speaking of ghosts, the show did Sonja a little bit dirty this episode, but only in a delightful way. Dorinda is lying in bed calling all the women about their impending annual trip to the Berkshires and she gets Sonja's voicemail which says, "You've reached Sonja in the City special events and planning." Oh my god! Guys! Remember Sonja in the City? What was that? Like season four? Was that pre-toaster oven Sonja? Was that pre-Nigerian Soccer Jersey and International Lifestyle Brand Sonja? It must have been. But still, here is her voicemail channeling the past like some kind of digital Ouija board you can't put down. There is nothing more Sonja. You know that voicemail message is being played from one of the 18 Blackberries that is still clogging a toilet in the townhouse.
Dorinda gets everyone's voicemail when she calls them. That's because she called. Who calls? The only people I call are my mother and 911. Seriously. Sometimes you might get a FaceTime, but if it can't be texted, emailed, or Instagram DM-ed then you're just not getting my dick pic…I mean, conversation. Dorinda delights in the fact that she is now officially a loser because no one will pick up the phone for her. It is a moment of Luddite triumph.
My other favorite Sonja moment is when Elyse, the sound a murmuring heart makes right before it dies, comes over to her house and sees the pictures of Sonja in her youth on a table. Sonja says, "There are from 19. 27. 21. 25." She's stating her ages in the pictures, but it makes it sound like the picture of her holding herself sexily against a wall is from 1927, and the idea of my Sonja reliving her days as a flapper by thumbing through old pictures fills me with the sort of tingles I usually only get from a prostate massage.
As everyone is getting ready to settle into Dorinda's house, things are tense after last week's Halloween party. Ramona is upset that Dorinda basically cussed her out in front of a room full of people and she decided it's because Dorinda is mourning her husband for the first time and is lashing out. Luann says, smartly, "Maybe you just rub her the wrong way?" She is correct. Also, Leah points out that Dorinda is mad that Ramona dragged Dorinda and Sonja to Long Island for a photo op so that she can get this birthday party for her vaunted 50 girlfriends for free. Fifty girlfriends! Ramona has 50 girlfriends! She's like 1998 Leonardo di Caprio. She's like 2008 Tiger Woods. She's like 2018 anyone on the cast of Orange Is the New Black. Does she want a medal? Why does she care about this number or think that anyone else might either?
Ramona fails to mention that when Elyse came up to her at the afterparty for last episode's Halloween party, Ramona said that Elyse couldn't sit at her table and Elyse is all bent out of shape about this. Ramona also unfollowed Elyse on social media, which, if it was a Jenner following or unfollowing someone on Instagram that would be actual news, but it is just Ramona and even though the font on her cellphone is so big that you can read it from the next town over, she still probably just slipped when trying to do something on Insta and didn't even realize she did it.
Elyse shows up last to Blue Stone Manor, which I'm sure was not coincidental. As soon as she walks through the front door she is cannon fodder in a fur vest. She is just there to take on Ramona for Sonja and Dorinda and they don't care if her entrails end up in bloody nuggets caked onto last year's Halloween decorations. As soon as Elyse puts her bags down Dorinda says, "Are you going to talk to Ramona?" She wants the fighting to start so that she can jump in and air her own grievances, but she doesn't want to start it so she can, I don't know, keep her conscience clear?
When all the women congregate in the kitchen, Elyse starts to have a conversation about what happened and Ramona says, "Let's do this privately," and Sonja says, "No, let's do it right here in front of the cake," where she houses a whole slice of a cake that appeared from nowhere, and that is just one more thing that Sonja and I have in common besides hanging out only with gay people and that no one listens to us even though we're always right. Ramona wants this to be private, but all the women keep barging in because how are they going to have a proxy war if Ramona removes their proxy?
That's what this all boils down to. Ramona is mad because it seems like she brought Elyse onto the show so that she could have an ally and someone to shore up her role as the alpha dog now that Bethenny is gone. Elyse sees how badly Ramona treats everyone, including her, and doesn't want to play ball. Ramona keeps saying to Elyse things like, "Enjoy my friends" and "Be thankful for what I did for you." What Ramona means is, "Enjoying being on the show." Ramona is pissed because she cast Elyse and now she is not paying proper fealty.
I'm not sure Elyse knows exactly what she wants out of this fight. She just seems to want Ramona to admit that she's a close friend? I mean, seriously? She just wants Ramona to wear the other half of the Best Friends heart necklace she bought at a kiosk at the mall? Yeah, Ramona treated her like shit, but shouldn't she want a bit more recourse than that?
Eventually Ramona succeeds in having the conversation alone in the kitchen with Elyse. In the other room the rest of the crew is talking about how Ramona behaved at the Halloween party. Luann says to the group that she doesn't think that anyone is right in this scenario. For once in her raspy-throated life, Luann is right. Ramona was a jerk to say at the party that Dorinda appeared drunk when she didn't. Ramona was also a jerk to drag them to Long Island for a promotional visit. Ramona was also a jerk for dissing Elyse. Does that mean she deserves the public reaming that Dorinda gave her? No.
When Lu makes this point, both Dorinda and Sonja accuse her of "defending the devil." Like a bad game of Twister, they are entirely missing the point. Luann is not saying what Ramona did was right, she's just saying that the punishment did not fit the crime. She is trying to let Dorinda know that she was being far too mean to her, but Dorinda can't brook any criticism. Leah is right, being her friend is like living under a repressive regime. Even in her confessional Dorinda says, "Was I aggressive? Yes. Do I regret it? Nope," smacking her lips on that P like it's a mojito-flavored lollipop and she's been in a dry county for three weeks.
Finally, through some stroke of magic I don't entirely understand, Ramona and Dorinda make up and are sitting on each other's laps. Then Elyse totters over, like a giant bulldog that just got out of her carrier wagon, and plops on Ramona's lap saying, "And you think I'm a good friend too. Right? Right? Now I need to sit on your lap. Okay? Okay?" God, Elyse can't be right even when she is walking the righteous path.
Leah had a good episode because she mostly kept to herself and she promised not to get too turned up because she knows there are breakable things in Dorinda's house and she doesn't want to destroy it like she did Ramona's backyard in the Hamptons. However, we must talk about Leah's new home confessional look. It is a yellow and orange tie-dyed off-the-shoulder bodysuit, but the sleeves go all the way down into gloves so that her fingers are entirely covered by what looks like the projections from a Velvet Underground set at an LSD happening sometime in the early '70s. It also looks like something from the Lady Miss Kier collection for the Delia's catalogue. Or maybe she's just doing Moira Rose cosplay in the comfort of her own home? I'm not sure. All I know is that it looks like she skinned a Teletubby and has triumphantly draped her lithe frame and flying vagina in it. I want to hate it. I want to hate it so much, but the gall of that outfit, the absolute nerve of it, I have to give it my grudging respect. Props, magic mushroom hallucination outfit. Props.
Finally, there is a fight about how Luann only pays Sonja $200 per appearance in her cabaret show and she claims she is exploited and Luann fires her from the show and storms off in an almost insanely cadenced rage. I would have opinions about this but, ladies, I have seen into both of your futures and there will not be any cabaret shows until at least the Joe Biden administration, so this whole argument is moot. Somewhere in the year 2020, Jill Zarin puts on a purple Party City wig and posts a short video to her Instagram stories. "I'll be a special guest on the Countess and Friends Zoom Cabaret Live, this Sunday at 8pm. You don't even have to wash your hands!"