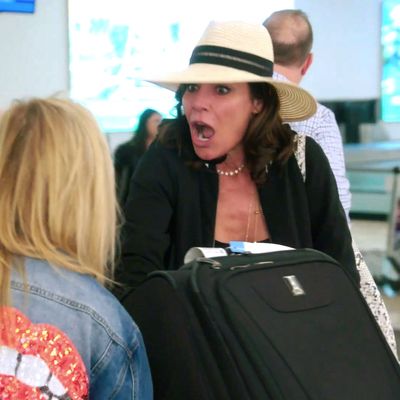 Real Housewives of New York City has a Ramona Singer problem. Never has Ramona Singer been less a part of the Zeitgeist than she is right now and, in this episode, it really made itself as evident as Luann's vibrator going off in her bag before she gets through customs. Most of it has to do with her relationship with Leah and the complete hypocrisy of how Ramona behaves and the other behavior that she accepts from her "friends," and by friends I mean her coworkers on the show, not the 50 of her closest gal pals who all go to the same blowout bar on the UES.
Ramona is outraged that Leah was grinding on Luann and hiked up her skirt at her birthday party, which she calls "the party of the century," but which Dorinda likens to the set of a douche commercial. No, I think a douche commercial would be the guys that Ramona hangs out with in  the Hamptons. ZING! But that isn't really why Ramona is enraged. Leah tells us later that Ramona's friend Marie, one of the Barbara Walters look-alikes at the party, complained that Leah had "showed her vagina." That's the thing about Ramona, she's so narcissistic that she doesn't even notice anyone's behavior. However, if one of her friends talks about it and Ramona thinks it reflects negatively on her, then she's outraged. She's like a typical Fox News viewer; she doesn't even know what enrages her until someone who owns more than one pair of "Nantucket reds" tells her what indignations she has suffered.
She keeps saying that she was "hurt" by Leah, and only briefly points out how bad Sonja behaved by getting up on the table, stomping a mirrored platter, and wrecking the decorations. She does briefly yell at Sonja Tremont Morgan of the Boob Badges Named Number One Nipple Covers By Marie Claire Magazine Morgans in the car and says, "You could have smashed that glass and it could have gotten in someone's eye and blinded them." I immediately thought Please, you're overreacting. And then Dorinda showed up with a piece of glass lodged in her foot and I had to take it all back and say Ramona was right, which other than, "No I don't think I want to see a dessert menu," is my least favorite thing I would ever say.
I hate to say this, but my favorite floozy Sonja behaved much worse than Leah at the party. It's one thing to get a little bit bawdy and hike your skirt up, but it's totally another thing once you resort to destruction of property. But Ramona wasn't embarrassed by that, she only saw it as a safety hazard, and that's because no one complained about Sonja being Sonja.
Ramona shows up to Luann's spa day for the women of the Fortune Project, a non-profit that helps former incarcerated people thrive, and she is confronted with something more evil, more awful, more hellish than even herself: Luann in bangs. What homosexual demon decided to do this and what other homosexual demon allowed her to continue wearing them on camera for the rest of the scene? There needs to be warrants issued. These women do not belong in prison, Luann's hairdresser does.
As usual, Ramona thinks the best way to deal with Leah is the same way she deals with anything uncomfortable: She puts on her fake Jane Jetson mask smile and ignores her. She is talking to Sonja on the couch about her drinking, a luxury she has not given Leah, and when Leah approaches her, she just looks at Sonja as if Leah is not even there. Leah is right, it is one thing to be mad, it is another thing for Ramona to ignore people who she sees as less than herself. That is when Leah yells the crux of her argument, "She's a bitch and she doesn't support women and she's phony and I don't know why she singles me out." Amen, sister. Amen.
Leah also points out that Ramona does not give a shit about these women and acts condescendingly to them. She even manages to plug her own skin care line to the women. She knew this was a spa day, why not bring some for all of them? Because Ramona does not care about people who have never sweltered in the sun at a half-assed polo match "out East." This is especially evident when they arrive at their Mexican villa and Ramona is the most excited about how many "servants" there are and calls them that right to their faces.
Even worse is the scene with a sozzled Sonja who is getting her hair done. Sure, Ramona is always ordering around the people who work for the hotel she stays in, but Sonja takes it to another level when she can't keep her clothes on in front of the hairdresser the hotel provided. Oh, the poor employee of the Villa Casa Del Mar By Alene Too! Yes, Ramona tries to cover up Sonja — who was drinking Coke and rosé, which one of my friends loves and calls "her sangria" — but Sonja keeps flashing not only this woman but also the cameras. Ramona is not embarrassed. Know why? Because "the help" doesn't count. They are not people whose opinions Ramona cares about. She only cares that Marie, her friend, said something about Leah's vagina.
This is the problem with Ramona. At one point, Ramona says that "Leah isn't used to going to these kinds of parties." Of course she isn't. Why would Leah go to some party full of 60-year-olds on the Upper East Side? Why would I? Why would the audience? I would just as much go to as one of the COVID-infested MAGA rallies that Ramona has been going to in the Hamptons.
For years while watching these shows it was easy to ignore the Housewives horrible personal politics and awful behavior. The politics I just avoided because they weren't really talking about these issues so I pretended like it didn't matter. The awful way they treat people, particularly each other, was always a little bit of the appeal. But given this very specific cultural moment, I just can't handle Ramona anymore. She brings up Leah's bipolar diagnosis against her will as a way to smear her, as if she has no concern over her mental health or the stigma that surrounds it. She is a creature of the past who proudly proclaims herself part of the 1 percent and can only date as such. She is someone who says on social media "All Lives Matter" (though she later apologized). She is the old guard, she is the former way of thinking, she is the epitome of someone who we shouldn't be giving a platform to anymore.
Leah, however, is the future. I don't just mean politically, but of the show as well. Yes, her antics in the Hamptons and Newport were bad, but she has since been able to do a better job about calibrating her drinking and not behaving any worse than any of the other women on the show. (Would I drink if I were Leah? No. But I am not Leah.) She also deals with Ramona expertly. When Sonja slurs that she needs to apologize to Ramona for her behavior, Leah keeps calm and asks Ramona how she hurt her. Ramona can't, or won't, answer, which is Leah's point entirely. It's also true that Ramona singles out Leah for inappropriate behavior that she lets others, particularly Sonja but also Dorinda and Luann, get away with. If it were up to me, I would recenter this show around Leah, who is younger, more aspirational, and crazy in a way that doesn't offend the sensibility of the viewers.
I can't defend my girl Sonja this time. First of all, her being on Ramona's side in this debate is absolutely ludicrous. Getting upset about someone possibly flashing a cooter in front of the public? Can't be Sonja T. Morgan? Can it! And I hate to see it. I'm also having a hard time watching her get drunk and disorderly every week. Do I still see myself in her when she's at Luann's event and sits down in front of a huge spread of meats, cheeses, pastries, and cookies? Yes. Do I still want to giggle when she says she has a "chubby pussy" and all the boys say so, or when she declares herself the "New York Ranger. I have an unstoppable pussy" like she's a 31-year-old junior advertising executive named Kevin doing a bump while walking through the Meat Rack on the way to the Friday night Fire Island underwear party? Yes, of course.
But, Sonja. It's enough. Really, it's enough. She just looks bloated and sad this season, and when she can't keep her head up at dinner, it's time for someone to shout "Go to sleep! Go to sleep!" at her like she's Kelly Bensimon jacked up on "jelly beans."
Meanwhile, Dorinda showed me this episode why she became a fan favorite in the first place. She has Leah's back against Ramona, but isn't meddling in their drama, just trying to push it toward a resolution. She also coached Leah on what to wear and how to handle Ramona expertly. Also, major credit for her Housewives trivia game that got all the women to decide on which rooms they got, particularly the question about Sonja's farts. This was a fun and revealing way to prevent Ramona Singer from tearing through the house like a banshee with her minge on fire in search of the best room.
Back on the Upper East Side in the present, a redhead is sitting in front of her computer looking at all the deals American Airlines has emailed her. Bonus miles. Cheap flights. The world laid out in front of her like a chaise lounge on the Cote d'Azur. Where should she go? Where can she go? When can she book? Christmas in the Carribean as is usual for Jews of her station? Surely they'll be letting Americans in by then. Surely. Right? They must be. Maybe she should book. The hotels are all empty, which is strange for early August. Hmm. But what about the airport? What about lining up at the Hudson News for a $12 bottle of Dasani? What about all of the people sitting in those chairs, covered in germs? What about her skin crawling with bugs, teeming with unseeable things trying to rip her limb from limb like the worms and maggots which will surely ingest her when she dies? Will this make her die? Will it? But she must leave her house. She must go somewhere warm. She can't stay here forever. Or can she? Jill Zarin wonders, as she taps her fingers on her laptop's trackpad and thinks about a beach where she won't even get her hair wet in the ocean.