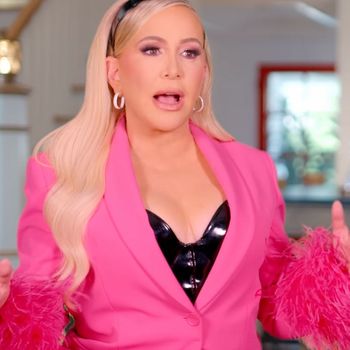 I'm getting increasingly tired of Victoria Denise Gunvalson Jr. showing up and rattling off her greatest hits like she's a Real Housewives cover band. When all of the women were having a contentious lunch with Jenn and she mentioned something about how she is new to this group of women, Vicki almost choked on her tongue and said, "And I was fired. Because I was fired." Yes, Vicki, we know. We know you'll never get over it, but do you have to keep showing up and trying to teach these women "how it's done" and failing? I mean, it's all just so obvious.
I did like the way Vicki arrived, though, in a jump scare right out of Saw 4: Scream Insidious the Conjuring X M3GAN Cocaine Bear. Tamra (or was it Shannon?) opens the door, and she's standing there with her rictus agape and making a moaning sound. It's like a scream, but it's on the inhale, like an exhausted Electrolux. It's like the opposite of what Kelly Dodd was doing on the window of the Quiet Woman.
Before we get to Vicki, let's wrap up the fight that Heather is having with the women about selling her house. I was harsh on Heather last week (#TeamEmily4Lyfe), and many mentioned in the comments and online that I should have been kinder and that the women would never have been happy with her news about the sale. Maybe true.
As we get into the episode, it's right after Heather said, "Just because you say something emphatically doesn't make it true," to which Emily responds, "Just because you do this with your hands doesn't make it true either." We got a To Be Continued …, but there was no continuation. It just fizzles out from there when Heather gets up from the table and tells Tamra that she feels like no one in the group likes her anymore, and she is starting not to care about the entire enterprise. (I think we'll see more of this next week when she declares she's done with the show.)
In her confessional, Heather says, "Why did I think that sharing of good news would be met with anything other than this bullshit?" I see her point, but my problem with Heather is that this is a sort of self-fulfilling prophecy. She decided there was no way they could be happy for her about the sale. I find that hard to believe. I'm as jealous as the next Casita Casey, but I feel like I would have a lot of questions, "How did it happen? Where are you going? What do the kids think? Do they have to change schools?" that I don't think I could be shady about it.
Heather decided they would be jerks about it, didn't tell them, leaked it to the press (my conjecture, but come on), and then had to address it after the women found out some other way. The "bullshit" Heather alludes to is all because her friends found out about the sale in the press. Now she can be like, "See, this is why I didn't tell you," but we'll never know what would have happened if she actually told them. Now she's like, "Look at how mad they are." Yeah, because she did them dirty. But I do get Heather's point, especially when it comes to Emily, and the little montage of Emily being rude to her and then apologizing did put it in perspective for me. So, yes, I see all of your points. I still think what Heather did was dumb, but at least I have an understanding of her motivation.
The next day, everyone goes to a cenote where Emily One-Piece Simpson jumps off the highest diving platform, slaps into the water, emerges coughing and breathing heavily, and gives herself a bloody nose. Gina asks if she's okay, and she says she's fine. Of course, she is. She's wearing a stunning one-piece. This is her at the height of her powers. It's like she's Emily Sanderson, and someone just lit the Black Flame candle.
That night, everyone shows up at dinner and learns that Vicki is there. Speaking of open hostility, I love that both Emily and Gina saw Vicki and were like, "This bitch hates us and won't shut up about it and why is she even here?" I loved it all. I loved Gina for making fun of "whoop it up" and calling Vicki, Tamra, and Shannon the "tres abuelas" rather than the "tres amigas." Here for all of it.
There were actually a lot of insults going back and forth this week. Heather said that Emily looked like Snuffleupagus. (His name is actually Mr. Snuffleupagus, if you're nasty.) Yes, he may be Heather's favorite character, but this is not a compliment. Mr. Snuffie G, as the kids call him, is a giant, hairy monster. None of those words have positive connotations.
Meanwhile, Heather is mad that Emily said she looked like a dolphin trainer in her wet suit, and I don't think that is an insult. It's not a compliment, but it's not as inherently bad as saying she's a Snuffie G. The worst insult all episode, however, is from Emily. When they're riding ATVs to the cenote she says that Shannon looks like Jennifer Coolidge from White Lotus riding a Vespa. Okay, I love Jennifer Coolidge more than I love trying to murder heiresses with my other high-end gay friends, but someone who was likened to "Peppa Pig" is not someone Shannon will enjoy being compared to.
After an aqua aerobics class where all the women are wearing bathing suits with naked men's bodies on them (thank God the edible had yet to kick in), the women sit down for lunch at an empty resort. (Seriously though, what time of year is it? It looks like they're the only women in all of Playa del Carmen.) Now we're back to our favorite subject, Jenn's boyfriend, Ryan, and what an unsuitable boyfriend he is.
This time, it's Gina who kicks it off because Shannon and some of the other women brought it up at dinner the night before. She very quietly asks Jenn why she keeps taking everyone's lumps when it comes to Ryan. This is when she finally snaps at Tamra and says, "I don't get you; you're always calling me out. You're malicious about it, and you're mean about it." Apparently, now Tamra has some new evidence against Ryan. She says that the woman he was supposedly cheating on Jenn with (whose name is Alex and, in my imagination, is this woman) sent her the texts they exchanged while he was with Jenn. In those texts, there appears to be something incriminating that happened while Ryan was at a concert with Jenn.
The kicker is Jenn already knows this. This is old news. The only new news about Ryan being a player is that even Emily's 78-year-old mother-in-law knows that he's a player because she heard about it at the gym, too. I mean, Ryan's body looks great, but does this man go anywhere other than the various sun-dried gyms around Orange County?
The rest of the fight is really weird. It's Tamra accusing Jenn of buying fake clothes and designer fashions. Um, maybe she just hired a stylist? She is on TV. Then she tells her she is boring and irrelevant, but it's her first season on the show. Give her some time, Tammy Sue. Then she says she is doing all this because she doesn't want Jenn to get hurt. Jenn replies, "So you busy yourself with my pain." Bam. She cleared. Tamra isn't interested in making a friend or helping a friend; she's interested in making a television show and, to be honest, doing a perfectly fine job of it even though she is in the process of losing a friend.
Finally, Gina asks her the question we all want to know: "Why are you with this person?" Yes, Tamra chimes in and says that she doesn't like Jenn with him and she's sorry, but she did the same thing to Vicki with Brooks. Yes, and that also ended her friendship, but she was right. She could be right again, and Jenn says she's open to a hard conversation, but this isn't the way to do it. She thinks back on what Gina asked, "Why are you with this person?" And she doesn't know. She doesn't know why she blew up her family to be with him. She doesn't know why she threw it all away for a player. She doesn't know if he will stay with her. She doesn't know if he'll make her happy or get cancer and die in a year or meet another girl at the gym or that he'll even be home when she gets back there, but she hopes, she hopes, she hopes. And, right now, that's all she can do.