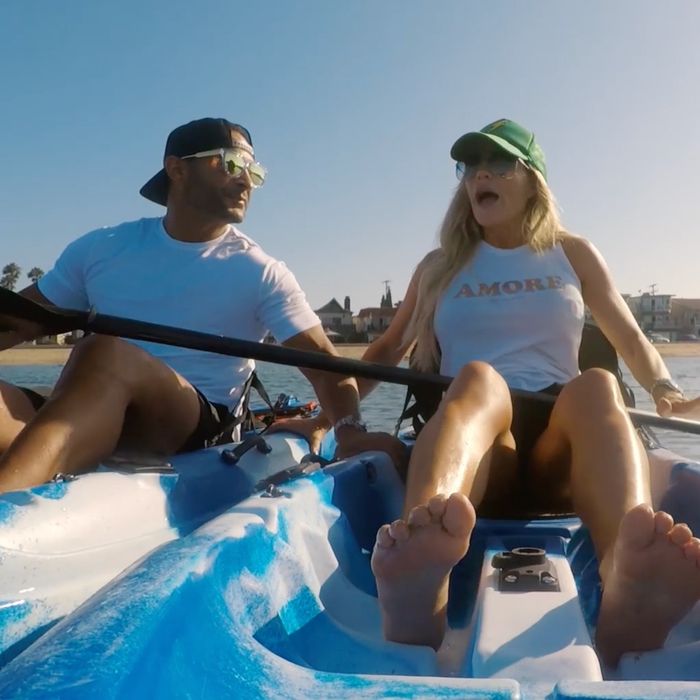 Before we get into the recap proper, I would like to congratulate the editors, producers, and all executives who worked on this episode for a delightful "Previously on …" segment. Rather than just a bunch of clips tied together, we get Emily sitting down with Gina at an O.C. eatery, and she asks, "What did I miss in Montana?" We then get those clips — Jenn and Tamra fighting, Heather and Taylor fighting, Heather and Gina fighting, Heather a heap of horse doody fighting — but as flashbacks, like Gina is telling all of these stories to Emily. At the end, Gina tells her, "Heather is having a sushi party on Friday, and she will acknowledge my feelings or I will not continue a friendship with her." Then the episode starts.
It's brilliant. It made the recap into a scene. It finds a way to wring something valuable out of this humdrum lunch, sets up what we'll see in the episode that is about to start, and provides the emotional stakes for the party. Housewives today is drastically different than the show we saw in 2006, and it has changed thanks to a number of small and canny evolutions such as this one. I hope that we see a lot more of these in the future, and congrats once again to the whole team.
That said, Heather Dubrow is in trouble, girl. If she were a pop star, this episode would have been her Bebe Rexha–Drake–Harry Styles–Ava Max moment. Yes, the girls are coming for Fancy Pants, and she likes it about as much as any of those pop stars enjoys being pelted with a phone while onstage. Her downfall starts at the very beginning of the episode. Well, not the very beginning; first, we had to have Shannon destroy her boyfriend John's fridge. But once the shattered bottle of Hidden Valley Ranch was picked up off his tile floor, they were coming for Heather.
Emily and Tamra invite Heather to join them for mani-pedis alongside one O.C. Muggle who can't believe how loud and crazy these women are sitting across from her. They talk about the situation between Heather and Taylor in which Heather felt slagged off by Taylor when she asked her to star in some sure-to-be-janky movie in Oklahoma. Emily tells Heather, "You can be hurtful sometimes in some of the things you say." Heather takes offense to that because she says it means Emily assumes she's wrong. No, it doesn't, but she does know that Fancy Pants has a way of talking down to people like she's the statue of Christ the Redeemer at the top of Rio de Janeiro and the rest of us are, I don't know, lepers in a favela.
Heather naturally doesn't see it this way, but even Tamra agrees that she can be condescending. I don't know how Heather has missed this. Being above it all is her entire brand. Her tagline last season was "If you'd like to reach my standards, I suggest you get a ladder." That is not giving me down-to-earth. That is not giving me relatable. That is not giving me woman of the people. It's giving me "Let them eat cake. But I would never eat cake because I am skinny."
When everyone shows up at her Nobu dinner … I'm sorry — can we pause for a moment? What exactly does Heather Dubrow have on the owners-slash-operators of Nobu? She got this exclusive restaurant to throw her a $60,000 (or some shit) sushi party last year during which no one ate the sushi and then again for an interminably long family dinner. Yes, I like that we see the places the Housewives actually go, but how did Heather convince them to sully their brand by letting Tamra clomp around in her late-'90s Steve Madden chunky heels while throwing napkins at rebellious yogis? Is Nobu so hard up that it's now catering to the Housewives classes?
Anyway, they all show up at the Nobu dinner, and Heather has silver chopsticks with everyone's names engraved on them and Tom Ford candles ($135 a pop at Sephora). On the candles in Japanese, there is a message that says "Too fabulous to shovel shit." See! This is exactly what the women are talking about. Emily says, "I have never met anyone so unaware of being so unaware." Heather both plays into her uptightness and fancy persona and is somehow totally oblivious to the idea that some people might feel diminished by it.
This was an excellent episode for Emily Simpson, whom I think I agree with more than just about any Housewife. (Well, at least emotionally. I don't know about politically.) First, she had the teary conversation with her mother on her bedroom floor, which had me welling up even though I had my tear ducts cauterized sometime around the release of Fiona Apple's "Criminal." Now she is coming for Heather in a way that only Emily can: with the facts on her side and without a fear in the world. Even though it's Gina who is coming for Heather, it's Emily who is winning this fight.
Gina does have some real beef with Heather. She didn't like that Heather compared her getting her real-estate license to her son, that Heather told her not to talk to Travis about her ex or that he was "putting up with it" for too long, and that Heather has mostly dismissed her since Tamra has been back. Heather says something akin to "Did you not think I might have had other things going on during that time frame?" See??? This is just what Emily is talking about. Heather thinks her shit is more important than everyone else's shit, so she gets a pass. Heather, everyone has things going on; this doesn't excuse you. In the immortal words of Dreamgirls, "Effie, we all got pain."
Heather apologizes and says that being demeaning was not her intention. She says that every time, but in the immortal words of Heather Paige Kent "Fancy Pants" Dubrow, "If everyone says you're dead, it's time to lie down." Even if she doesn't intend to talk down to people, she still does. She apologizes to Gina and says she will work on it and try to fix their friendship. Great. Wonderful. Can't wait. Thanks for the candle.
But Gina and Emily have a bigger point about what is going on with Heather and Tamra. Gina says that she has been "messing up a lot" now that Tamra is back around. Emily alludes to them having meals together last season, during which they trash-talked Tamra, and now Heather is all up in her grill. Heather even tells us that she is afraid of Tamra's more tumultuous side. It seems as though Heath figured out long ago to stay on the right side of Tamra because she doesn't want a napkin thrown in her face or to be repeatedly insulted at an upscale Japanese restaurant.
How do you solve a problem like a Tamra? How do you take a tequila shot and pin it down? She and Jenn get into it at Nobu because someone brings up them getting into it in Montana, and we once again have to go around the mulberry bush about Ryan, who would be called a fuckboy if he weren't Gen X, which means he is entirely a player. (He's money and he doesn't even know it.) There isn't much that's new about the fight: Tamra says she's mad that Jenn left her entire life for a dude who is going to cheat on her; Jenn says she doesn't like that Tamra told everyone her and Ryan's business. Everyone says they heard that Ryan was a skank from other sources. As Tamra says, "We come from a small town, and he's a fucking whore."
Tamra then brings up the party she and Eddie went to at which someone warned Eddie to watch his wife 'cause Ryan would try to take her. Jenn then brings up something Tamra said on the phone after that party. Things are looking a little weird and fuzzy until we get some confessionals to explain the timeline. Jenn says that they called him "hot gym guy," which … relatable — who knows their gym crush's actual name? Jenn claims Tamra called from the party to say she would take him to the bedroom and take one for the team and find out if he's good in bed. Jenn thinks that Tamra's comments are about the same as Ryan's when he told someone that he was going to sleep with Tamra even though he knew she was married.
I have to say that I'm with Jenn on this one. How does Tamra think that comment is disgusting but hers isn't? Because she was clearly joking and wasn't actually going to bone him? Well, yeah. But do you think that Ryan could have meant his comment the same way? (He probably didn't, but he could have.) But when Jenn alludes to as much, Tamra says, "Don't start with me," and throws a napkin in her face. Lauren, the poor acting coach who has been dragged along to her doom, just asks the table, "Is she always like this?" Yes, honey. That is why she is good at her job.
Tamra has given us many excellent scenes, but, yes — she has been known to overreact, like when she careers through this weirdly empty restaurant (maybe the lack of patrons is why Heather gets so many deals there?) shouting about how upset she is even though Jenn hasn't raised her voice, said anything out of line, or done nearly as much as Tamra has. Of course, Shannon chases her out of the restaurant and talks her back in, but not before doing another tequila shot at the bar.
As Tamra and Shannon are headed back in, Tamra shouts that she has seen Ryan's wiener and it's very small. Shannon replies, "That's when it was limp!" This is a hearty thank-you to Shannon Storms Beador from the entire community of growers, not show-ers, of which I am a member. (You should see the poor feller after swim practice!) It's not often that we get such a public and full-throated (pun intended) defense. As her reward, Heather gets a text at the table that her ex, David Dead-Eye Beador, is getting a divorce. That was just the out that Heather needed because while she might like her perch at the top of the clique, she certainly hates being in the hot seat.