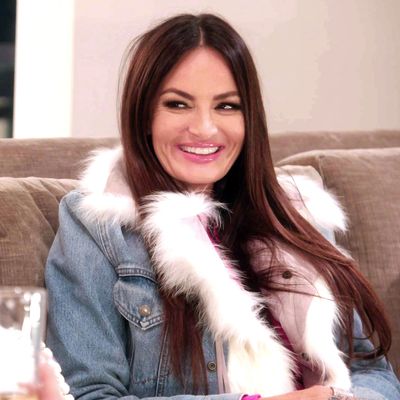 Somewhere in heaven or whatever, all the Higher Powers and their associates got together for a li'l catastrophe caucus to debate whether to throw us earthbound dummies a bit of a bone this 2020. Jesus and Buddha and Allah and your sober friend's Goddess/Nature/Sky Daddy hybrid duked it out for 79 hours straight. Some thought perhaps a touch of hope may lead things in a better direction. Others believed the mortals made their bed and deserved every second of lying in those sweaty sheets. Finally, the perpetually uncaffeinated ghost of Joseph Smith was like, "I'm exhausted. I don't agree with any of this, but FINE. Y'all can have my swing vote as long as I get a 'Friend Of' credit and at least a four-episode story arc." And with that, the skies parted, and The Real Housewives of Salt Lake City slid its icy little behind down to your preferred Bravo streaming platform.  
And good lort it is ever a gift. We dive right in with a sizzle reel of what's to come — Andy Cohen doesn't want you thinking for one second this might be a snoozefest. Salt Lake City, Utah, has rounded up its most holy and housewife-ian, and they came to play. There's screaming and titties, drone shots and actual shots, mountains and mansions, and at least four different tabernacle choirs. It is a damn mess. And with that level of hype on the horizon, let's get down to business, because this episode was 55 minutes without commercials, so the business is plentiful.
We start with a trip to Shah Chalet to meet our first Pacific Islander and first Muslim housewife, Jen, who was raised Mormon but decided to convert to Islam after realizing that the Mormon church didn't accept Black folks until 1970-something and may be side-eyeing her husband and kids. This was probably the move because said husband (Sharrieff, a football coach) and kids (Young Omar and Rifi, in his best Dwayne Johnson cosplay) seem like absolute delights. They all eat a Costco muffin and a vat of egg whites while Jen provides factually inaccurate information about HIV. Luckily, Omar and Rifi know what's up and also appear to be early masters of comedic timing.
We're quickly ushered into a 15 Minute Botox Parking spot at Beauty Lab & Laser, the business Heather Gay has built into a $20M empire even though she started at nothing. I'd love to see these receipts for "nothing," as Heather is purebred, pedigreed, pioneered Mormon royalty who was previously married to the grandson of Howard Hughes's driver and henchman. File it away in my brain drawer with all the other proof that class mobility is largely a myth the next time I catch myself dreaming of American meritocracy. Either way, Heather treats her three "greasy-faced monkey" daughters (her words, not mine! I couldn't write something that mean if I tried) to facials, then proceeds to tell us she loves "rap music and Black men and homosexuals," which are not in alliance with "a good Mormon woman." There's just so much to unpack here, but I'm going to leave the suitcase in the foyer for now because we've got more ladies to meet!
Meredith is not Mormon and lives in Park City, which feels like a bit of a miss. Her intro package is honestly useless because she's immediately upstaged by her 21-year-old son, Brooks, who's currently living at home so he can do Meredith's makeup and show off his degree from the Karen Huger school of one-liners. Meredith's husband, Seth, spends most of his time in Chicago, which she claims is completely devoid of kindness. As a Chicagoan, this is a flat-out lie, and it would be a lot more fruitful for everyone to redirect their Chicago anger to our common nemesis, Rahm Emanuel. Whatever, I'm at least 62 percent sure Meredith's husband has a secret family.
It's morning at the Barlow household, and Meredith … WAIT A SECOND. Although indistinguishable to the naked eye, this is actually Lisa, a "Jewish by heritage, Mormon by choice" tequila princess. She's sauntering into her kids' rooms to wake them up, her voice the audio version of that photo of Lindsay Lohan passed out in a gray hoodie. Henry is a small child with a sign above his bed that says "HUSTLE (v) - the most important word ever," and Jack is a less small child whose sign reads "GRIT (n) - hustle, passion, and perseverance." Are these children getting dressed for school or suited and booted to recruit prospects for their Young Living essential oil downline?
It doesn't matter, because, suddenly, we are dropped face-first into the fairy-tale Mormon wedding Whitney has wanted since she was a little girl! Or at least that's what these editors wanted us to think, but we are seasoned Bravo viewers who can tell the difference between wedding ceremony and vow renewal based solely on the invitation font and a single square of table linen. Whitney, Heather's cousin, originally married Justin, who is 18 years her senior, a decade ago when she was pregnant after a spicy affair that got them both excommunicated from the church. I know, I know. There's a lot going on here, but let's just focus on Whitney's father (who looks like Big Bird if Big Bird were to join a Good Charlotte cover band then appear on an episode of Intervention), as he proudly cheers for his vow-renewed daughter twirling around the stripper pole in her living room. Incredible.
Since this episode needed some semblance of plot, Jen skips over to Beauty Lab and Laser for armpit Botoxing and a quick meeting with Heather to plan Meredith's birthday party. They agree that turning Shah Chalet into Studio 54 with hot male strippers is absolutely what ice queen Meredith would want! Plus, Jen has enough assistants to fill an orchestral strings section; for first assistant Stuart, pulling this off in four days will be child's play compared to keeping the Shah menstrual calendar.
Meanwhile, back in Park City, Lisa and Jen pop over to Meredith's house so Lisa can tell everyone that she doesn't remember Heather from college. This is immediately contradicted by Lisa saying that Heather was a party girl who ignored the BYU honor code by going around town flashing her nips. It's preemptively exhausting — either you remember someone and have the ability to shit-talk their college persona or you don't remember them and that's the end of that. Ya can't have it both ways, Barlow!
At last, it's the moment we've all been waiting for. Mary, a sentient sequined Hermès scarf, is gracing our screens to order crab cakes and explain how 20 years ago she married her stepgrandpa so she could inherit her family's Pentecostal church. The whole grandpa-husband thing is surprisingly anticlimactic, though, because it's immediately followed by us finding out that she's probably not getting an invite to Jen's party for Meredith because she "talked about her really bad." How bad could it be, you ask? Oh, just that she told Jen she "SMELLED LIKE HOSPITAL" immediately after Jen visited her aunt in an actual hospital following the amputation of both of her legs. Yikes.
It's crunch time–party time, and everyone's getting physically and mentally contoured. Jen's throwing out all her furniture and building an outdoor tunnel. Heather, freshly armed with the Lisa snub, is preparing for battle. Mary is selecting a Valentino runway look because she's somehow still attending. Brooks is lighting 300 tea lights so Meredith can be surprised by the floral arrangement Seth arranged, which is actually just what happens when your cat gets into a Costco-sized box of Rice Chex and scatters that shit throughout the entire house. Except it's rose petals, so you can't even vacuum them up. If nothing else, this birthday surprise is merely further evidence of Seth's secret family.
The party's popping. Or at least whatever you want to call "people awkwardly mingling in front of a rose-covered 'Shah's Chalet' step-and-repeat while shirtless bros with tribal tattoos serve crusty meatballs on a stick." Lisa sashays around looking like a Disney villain, giving people fake-ass compliments and trying to avoid Heather. Birthday gal Meredith shows up, but no one really cares, because Jen's still gotta make a grand entrance with a bunch of Tongan dancers in case you forgot this entire event wasn't all about her.
To really crank up the chaos, Mary and Jen decide to rehash the hospital situation. We find out that Mary has her own dark memories from 12 odor-gland-removal surgeries, during which she died and was brought back to life TWICE. She refuses to apologize, then says it's not her fault Jen's aunt's legs are gone: "She didn't eat right. Like, drink water." Jen stomps off, her Bratz doll outfit a flash across our freshly blessed vision.
TO BE CONTINUED.