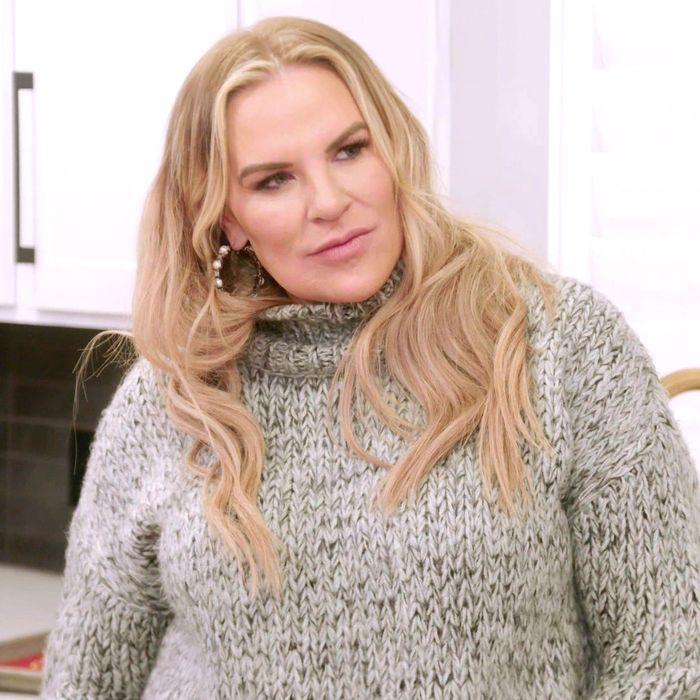 Normally, we do some kind of jaunty intro or a bit of producer fan-fiction up top, but I want to take a second to thank the true heroes of this franchise thus far. No, it's not Coach Shah or Whitney's stripper-pole-installation technician. It's the restaurant workers in the greater Salt Lake City area. More specifically, the staff at Snowbird Ski Resort, Prohibition Cocktails & Cuisine, and this week's new addition, Valter's Osteria. These folks are putting in serious work, likely without benefits, to make sure the ladies are kept fed and quenched to deliver the kinds of tantrums that set Andy Cohen's heart ablaze. This is also a friendly reminder to support your own local restaurant and reach out to elected officials about providing large-scale relief. Could you imagine what any Real Housewives franchise would look like without restaurants? Remember earlier in this season of RHOP, where everyone silently sat around eating pizza in the basement of the lake house? Absolutely bleak, and that was a single episode with a god-tier cast.
Anyway! Last week, we left off at Whitney's 1920s party. The gals have just put in orders for bottomless appetizer samplers when Jen asks Meredith for a one-on-one. Jen tells Meredith her feelings were hurt over the sleepover incident and seems to not understand how Meredith could possibly hang out with her daughter, Chloe, after midnight. Rather than snap back with an "umm, we finished sleep training Chloe 18 years ago …" Meredith asks if they can chat about this at a later date instead of making a scene at Whitney's party. Jen doubles down, bringing it back to Meredith's church investigation. When Meredith refuses to engage in their conflict or choose sides, Jen screeches about whether she's going to be Switzerland for the rest of her life, as if Switzerland is not a perfectly lovely country with excellent public transportation, universal health care, and melted cheese out the wazoo.
From their separate booth, Whitney and Heather consider intervening, but the lollipop chicken drumsticks should be coming out any minute and it appears Meredith's holding her own against Jen's friend-policing tirade. So who better to defuse the situation than Lisa, who saunters over to pry the tequila-filled cut crystal from Jen's clutches as Meredith proclaims the conversation "not productive" and announces her decision to disengage. Somewhere, Meredith's therapist is doing a slow clap. Jen, of course, does not like this and makes a scene that starts with flicking off everyone in the restaurant and ends with calling Mary a grandpa-fucker. Afraid of being a victim of the tirade herself, Heather rushes to get Jen in Coach Shah's hands so everyone can finally eat the lukewarm nubbins of their lollipop chicken drumsticks in peace.
The next day, everyone rehashes the party. Heather tells Lisa she saw the storm brewing, Meredith tells Brooks she needs an apology, and Mary tells Whitney that Lisa called her a grandfather motherfucker. An important discussion question: would you rather be called a "grandfather fucker" or a "grandfather motherfucker"? While the former is a rude way of explaining the actual situation, the latter insinuates that Mary is either fucking her grandfather's mother or that she is a despicable grandfather herself. Much to think about!
Lisa joins Meredith at the local Z Gallerie to help her select some art. It turns out Meredith only moved into her house a few months ago, which explains why it feels like a model home that was recently fumigated following a weasel infestation-mass murder double feature. They look at marble coasters repurposed as wall art and the bear from Midsommar lacquered up on a mixed-media collage and a literal wooden shipping palette. Lisa touches everything like she's a cat wiping her face pheromones all over the bathroom door frame, and Meredith finally drops the big news that she and Seth have been separated for a while now and are "dating each other." Her vocal cords stretched to their limit, Lisa acts shocked, but also sobs because she's so close to Meredith and Seth and loves them more than anything. Something's not adding up here, especially once we find out that the Seth-paration is a secret Jen has long been privy to. The Rotten Tomatoes audience score for Lisa's performance is 13 percent.
Continuing her tour de plot-driving, Lisa throws on a denim romper, slaps a Pekingese atop her shoulder, and trots on over to Mary's house. The living room alone has two mantels above the fireplace, an ottoman behind the couch, and wall-to-wall Astro-Turf. One would think that the grandpa-marriage inheritance would provide sufficient budget to hire that blonde lady from Dream Home Makeover to tackle the interiors instead of Nathan Fielder's intern, but keep in mind that logic does not prevail in the Mary Cosby extended universe. After a brief interlude where Robert Jr. tells Lisa he wants to be a fashion designer (lookout Brooks), Mary announces she'll be throwing an intimate get-together to iron stuff out. The stuff meaning "Jen" and the "intimate get-together" meaning a daytime black-tie Met Gala luncheon at whichever local Italian restaurant has the most dramatic truffle-shaving device. The only elaboration Mary provides on the theme is "Ostrich feathers. Costume. Gown." Remember, erase that logic and reason right off your brain goo!
Back on Planet Earth, Jen pops over to Heather's house with a Chanel fanny pack full of secrets and a sushi delivery en route because she doesn't fuck with green-bean casserole (alas, a correct take). Heather is allotted exactly 12 seconds to talk about her dating life before Jen is given the floor to justify her party behavior as an outburst fueled by a combo of perpetual loneliness and deep-seated resentment that Sharrieff was absent from her dad's funeral last year. Honestly, this sounds really hard, and maybe it would have been helpful to talk to supposed bestie Meredith about it instead of throwing her an $85k birthday party (good lort, shirtless meatball waiters are expensive) and exploding when she talks to someone you don't like. Since Meredith betrayed her or whatever, Jen lets the Seth-paration secret slip. Heather is unfazed if not slightly aroused.
The day of the luncheon has rolled around and Mary is scolding her people for not properly laying out Louise Vuitton gift sets and Tupperware containers full of sea monkeys at each place setting. A brief side note — does anyone have intel on why Mary is always sporting the kinds of hand warmers that cost nearly double the median U.S. monthly mortgage payment? I'm dreaming of a Dolly Parton tattoo situation, but trying not to get my hopes up. Anyway, Jen gets an earnest pep talk from Coach Shah where he reminds her to beware of her own temperament and that happiness comes from within. Oh, and Heather tells Whitney about Meredith's uncoupling-recoupling, lest anyone show up to the luncheon uninformed.
As the guests arrive, so does the panache. There are velvet ropes and red carpets, beefeater costumes and $1,200 earbuds. Statler and Waldorf merge into a single entity and crawl down from their Muppet balcony to fill everyone's glasses with 2003 Dom Pérignon since "5,600 people died in a heat wave that year and it made the best grapes of all time." After a long prayer-cry from Mary, caviar is spooned upon single fried eggs and it's time for everyone to share the fatal flaw fun facts they wrote in their Boss Lady journals with the class. Let the games begin.
Mary goes first and says she has trust issues, but she's trying to be better. Whitney says that she's working on not caring about others' opinions of her and sets the record straight that she's not a swinger (bummer). Lisa says she has extremely high goals and will never stop trying to be her best self. It's the equivalent of going into a job interview and explaining your weakness as "loving capitalism too much and tending to value KPIs over family, friends, and sense of self." Finally, it's Jen's turn.
She gives a bit of backstory about her dad growing up in Tonga and coming to the U.S. for a better life, and the responsibility that fell on her as the eldest of six growing up in Utah, where she didn't really fit in. To which Lisa says, "I feeeeeeel you." The audacity is strong in that one. Jen explains that all of this is why she's so passionate and that it's all out of love and expectations for the type of loyalty her father taught her. She apologizes to Meredith, who thanks her. It could have ended there, with plenty of time for everyone to grab a cannoli before their 2 p.m. CoolSculpting appointments at Beauty Lab & Laser. But Mary didn't get her apology, so see you next week for yet another dose of grandpa-fucking discourse!