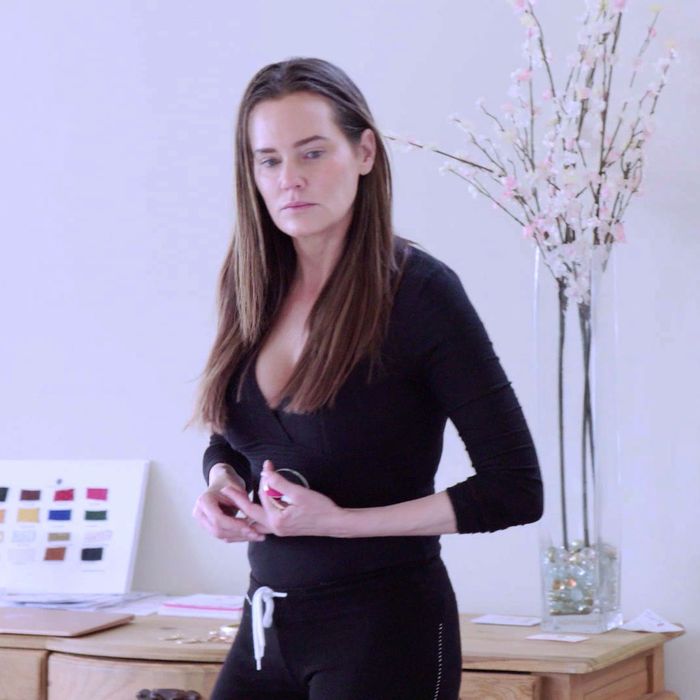 Do you hear that? The gentle tip-tip-tapping of Lisa's gel manicure opening and closing Gmail while her husband pretends to sleep nearby? The light rustle of Meredith twirling around in the same witch Halloween costume I wore every year between the ages of 6 and 16? The sloppy gurgle of Heather's dishwasher mooshing her daughter's oatmeal driblets all over the Pottery Barn dinnerware from her first marriage? Hear it or not, those are the sounds of glamour because the most wonderful time of the year is swinging into Salt Lake City. It's Sundance season bay-beeee!!!!!!
Accordingly, Jen is roller-skating around the Shah Squad Marketing office. I think? It is an actual office with actual desks and actual SSM-branded ephemera, but Google tells me this business does not exist. The people need more information on the details of the "empire" referred to on the "just a girl boss building her empire" novelty notebooks! Anyway, first assistant Stuart is promising that this year, he won't get Sundance-wasted and tell everyone he's a rapper named Stu Chains. Instead, he'll help plan the VIP party Jen is hosting for her filmmaker cousin, Tony. It's all a bit confusing as we were previously led to believe that Lisa (remember — LISA = Lost voice, tequila, sad husband) is the Queen of Sundance, not Jen.
Eager to prove her title, Ms. Barlow does in fact spend much of the episode gallivanting around town showing us how the Sundance sausage is made. And by sausage, I mean loosely themed corporate events with a lot of faux-shearling poufs and rented stools from HomeGoods. The interior-design bar for the LDS version of "your best self" continues to be something anyone with access to a can of navy paint and a shitload of taupe furniture can leap over with aplomb. Slightly unrelated — John gets to remove his muzzle for a few minutes, because it turns out Andy Cohen is now handing out confessionals to anyone with a pulse.
Over at Whitney's house, Stuart drops Jen off for a hot tub playdate so she can teach us all a thing or two about pairing fur, pasties, animal print, and modesty in the same look. The ladies discuss plans for Whitney's husband's birthday the following day, because nothing says "thank you for sacrificing your standing in the church and your relationship with your children to be with me" like a 40-minute ride in a party bus! Jen tries to rehash the Met Gala luncheon yet again to tease out potential Mary drama, but Whitney shuts that down faster than you can say sweeeenghur. I wish I were as dedicated to anything on this earth as Whitney is to protecting the drama-free sanctity of her trying to catch a buzz.
The next day, Whitney and pals slurp tequila out of each other's belly buttons, as Mary pulls back the curtain on more unhinged fun facts. Just as Mary's asking her housekeeper, Charlinda, which pair of six-inch plush stilettos to wear, she drops an interesting little nugget: She and Charlinda are not close AT ALL despite the fact that Charlinda is her grandmother's brother's daughter and has been with her for 20-something years, ever since she came over to give Robert a present, fell in love, and didn't leave. No elaboration is given, and Heather immediately calls to check in on how Mary's feeling about the Jen situation. Can you even imagine being able to FaceTime Mary Cosby and choosing to not ask questions like whether her housekeeper wears scrubs by choice or if her grandma is actually upstairs, Jane Eyre–style, or how exactly those tithes work from a tax standpoint, or truly anything besides, "So, how about Jen?"
Against everyone's wishes, we must yet again do the Mary and Jen thing, which is honestly a bit of a bummer because Justin's party looks kind of fun for anyone down with the general concept of a DJ playing in someone's living room. Mary parts the sea of woo-ing and clear liquors to shuffle her Stevie Nicks-at-the-1986-Chanel-show aura on over to Jen. They get right into it, and the only new news here is that Jen completely lies about whether she said the grandpa-fucker thing. Mary then questions Jen, asserting herself as "a factual person." I cannot fathom the mental rock bottom of being challenged by Mary Cosby on aspects of reality, but alas, Jen holds her ground, and from there, they somehow agree to move on. A big shout-out to your preferred higher power, and an extra prayer that we'll never hear about this again.
Back in the light of day, Meredith is pulling looks from her jewelry store for (THE. FIRST. EVER) Park City Fashion Week, where she'll be walking and Brooks will be showing his eponymous line. It feels like a lot of liberties are being taken here concerning "fashion" and "line," but as someone who's worn the same SmartWool base layer for six days in a row, who am I to judge whether typing your name in Arial Bold and throwing it on some black sweatshirts makes you a fashion designer? Either way, Seth will not be sitting front row at Brooks's debut, because the discount retail whales in Ohio aren't gonna chase themselves! Consider me devastated.
In other "kids can fend for themselves" news, Lisa's spawn are chompin' down some Buffalo Wild Wings with the babysitter while their mom puts on the most amazing event she's ever produced. It's more or less an empty Applebee's with peel-away walls, a pile of free TVs, and a complete lack of pretense because … it is open to the public. Let's hope Lisa has insurance on that Sundance Queen crown because it's looking like a whole lotta hyperbole.
At an actual Applebee's (just kidding, it's Punch Bowl Social), Heather and Whitney grab some watered-down cocktails and gab about their love lives. Heather saw Whitney climbing all over her husband and realizes she too wants someone who will love her unconditionally for being herself. Here's hoping that the repetition of Heather's "wasted 15 years of my life by marrying a pioneer descendant" diatribe ends in some kind of glorious redemption arc. Like, sure, I'd love to see her find a man who vibes with her (she's fun and funny!), but more importantly, my mind's eye pictures her ex as a sentient saloon player-piano whose favorite insult is "social justice warrior," and I'd love to Men in Black that shit from my skull as soon as possible. Either way, Whitney tells Heather to stop making excuses and that she's confident Heather's fairy tale is possible. The fairy tale in question is simply "find a man who likes sex and was raised outside of Utah," and someone please just get this girl the vaccine posthaste.
Over at Shah Chalet, the beaded curtains have been hung, the red carpet has been rolled out under a Walmart E-Z Up, and the VIP party for Jen's cousin's film has commenced. The crowd isn't the typical Salt Lake City locals; according to Heather, Sundance brings a brush with the big life. A brush with fancy. A brush with fun. A brush with LALA KENT AND KATIE MALONEY SCHWARTZ. They're both back in their hometown for the release of some movie Lala was in with Mischa Barton, that guy with the hair from Stranger Things, and Ariana Grande's brother. Glad to see Randall's still serving up that A-list lifestyle for his boo-thing.
Lala and Katie give Heather advice that can be summed up by "get laid," and I'm gonna need to see more from them to justify a permanent crossover from the failing Vanderpump Rules. Lala comes with a new baby, an oddly endearing (albeit neckless) husband, and a bucket of sobriety experience to potentially support Whitney. So on second thought, we'll take her. But the world does not need to see another second of Katie and Schwartz's absolute clusterfuck of a relationship. Seth has that plot point covered just fine, thank you. Anyway, Heather leaves with a handsome man named Curtis after a bit of banter over the AV system. Sometimes dreams do come true.
Over in Park City, Brooks is rooting through a bunch of paper bags for the multipack of white poly-blend Costco calf socks that will make his tracksuit debut complete. As he's peeling the final face-mask detritus from his upper lip, the devil descends on the Marks household. The smoke alarm goes wild. The toilet spews Satan's shitwater all over the greige carpet. The dog becomes fully possessed by the ghost of Émile Camuset — stealing the lint roller, dropping turds, causing any and all ruckus to shut this fashion show down. But by the grace of Meredith, Brooks shows up to the venue 45 minutes late, just in time to give a shout-out to nepotism and watch a video of his dad doing Dr. Suess cosplay from the Akron-Canton Regional Airport baggage claim: "Your mountain is waiting / Today is your day / You're off to great places / So get on your fucking way." INSPIRED.
See you next week to check in on the Bumble account of Meredith's blazer collection!