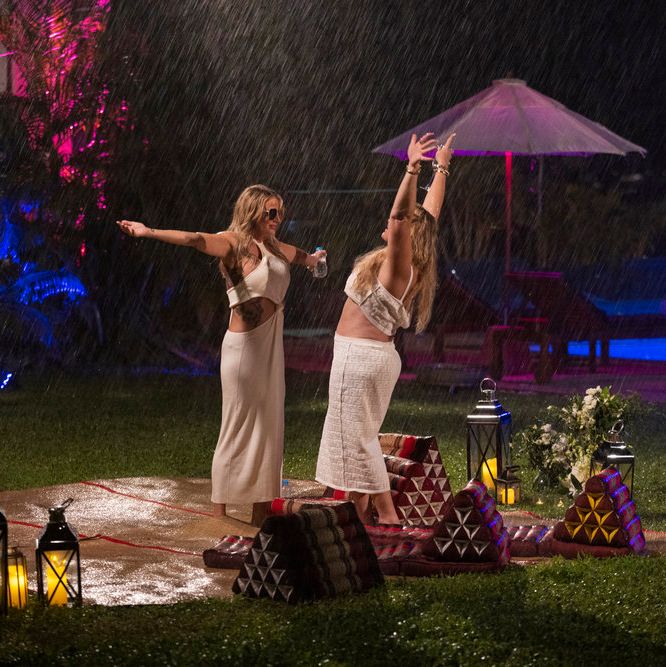 Photo: Peacock/Lauren DeCicca/Peacock
Y'all! That last-minute, post-credits reveal about who stole Gizelle's bottle of tequila — I mean, is this Ultimate Girls Trip: Glass Onion? It was like something out of a whodunit. I was shocked. I was electrified. I was gooped, gagged, jingled, jangled, and most of all so shocked and excited that the answer to who stole the bottle of tequila was the same as it was in Murder on the Orient Express: They all hated Gizelle so much, they did it together.
When Gizelle approached Pepsi in the early morning to make sure that he had an enormous printout of a Clase Azul bottle of tequila and an easel for some reason, I knew it would be bad. Gizelle isn't just beating a dead horse; she is going absolutely ham on a bottle of glue. No one cares about this anymore! Then, when the women are all seated for lunch by the most gorgeous lotus pond you ever saw in your life, Pepsi comes over with the easel and the picture, and you can feel the exasperated groan coming out of the whole group of women (minus Leah, who was still pooping her pants in the hospital). It's one thing to go all SVU in the privacy of your own villa, but in front of the people? In public? Oh no, ma'am.
Gizelle acts like she is the judge and then goes around the table asking people to testify on who does or doesn't have the bottle. Porsha testifies that she checked Heather's room looking for a mask, so she is exonerated. Then Gizelle says that Marysol and Alexia were the first to say she could search their rooms, so they are exonerated. That leaves just one suspect: Candiace. I mean, this whole thing is just an excuse for Gizelle to go in on Candiace once again, and it really makes me sick. Give it up, Gizelle. It doesn't matter that much to anyone but you. "Just because it means something to you doesn't mean you attack your friends and accuse your friends of larceny," Candiace tells her, and, ugh, I hate myself for saying this, but I agree with Candiace.
Naturally, this isn't about the bottle; it is about Candiace and Gizelle and the bullshit they went through during the past season of Potomac. Candiace gets teary (with not a cry-angle in sight!) and says it is hard to trust Gizelle. "How can you question my trust when I root for you?" Gizelle asks. Wait, so "rooting" for Candiace means coming for Chris on the show, accusing her of being a thief in Thailand, and turning a whole new group of women against her? Got it. And Candiace is supposed to trust that? But, like usual, Candiace goes slightly too far when defending herself, once more calling Gizelle "neck rolls." This woman has done plenty of horrible things just this week in Thailand. Why not focus on her behavior rather than her body?
As Candiace and Gizelle are fighting, Marysol and Alexia start coming to blows about Marysol's coffee, which she thinks someone stole (have they checked the outdoor shower?), and Alexia believes she left it at home. These two were clashing quite a bit this trip, which is to be expected for besties sharing a room. I thought nothing of it. When they're in the van on the way to dinner, Gizelle, not one to leave a pot unstirred, asks about the fight at lunch when Alexia says Marysol doesn't always have her back. The example Alexia uses is when she got into a fight at Nicole's engagement party during RHOM's season five. Here's the problem: Alexia couldn't have been more wrong in that fight if she said a triangle had eight sides. This was the fight where she pulled up her "receipts" that Adriana's boyfriend was married, but she didn't read the whole sheet to see that, well, the divorce actually went through and he wasn't married. How is Marysol supposed to have the Cuban Giudice's back when she's arguing that the sky is a nice shade of magenta?
Back at the house, everyone is getting ready for a traditional Thai dinner. Porsha brings up that Pepsi is treating them well, feeding them all they could want, and even picking out their dresses for a ceremony that night. I know that he never would, but I was seriously getting old cartoon vibes where our heroes would wash up on a desert island, everyone would treat them like royalty, and then you find out that they're the sacrifice to an angry god and that's why everyone has been so accommodating — I was expecting Pepsi to pull out the ceremonial dagger himself.
We can skip over Heather and Whitney waking up and doing their weird "bad weather, storm, tornado, strike" TikTok dance. I did love the dance, but we all saw the RHOSLC reunion, and they must have played a Kathy Hilton record backward, because they were the opposite of hunky-dory.
What I do want to talk about, though, is Whitney and Alexia's discussion at dinner. Alexia asks how Whitney can be so open about smoking weed when she has children. Of course, it's Alexia and Marysol, two people from the "Don't Say Gay" state, who are so worried about the children. First of all, who cares? Whitney smokes pot where it's legal. She's not doing anything wrong. Would you ever ask someone, "What if your children see you drinking a beer on television?" No. Alcohol consumption is so normalized and so should marijuana consumption, at least where it's legal. We've had the "Just Say No" war on drugs mentally beat into us so hard that we are still judging people doing something totally kosher. I mean, this is a show predicated on drunken women behaving poorly, and Alexia is worried about Whitney smoking pot and Marysol is worried about her on a stripper pole. Please. Your pearls must be warm to the touch from clutching.
Leah then mentions that Alexia was married to a man in a drug cartel. "I didn't have children then," Alexia says. Yeah, but you had children with the guy who was in the cartel! I mean, how was that a good decision? Also, we have all met Alexia's son, Peter, perhaps the worst Bravo offspring of all time. Maybe she should have smoked more weed and gotten on some stripper poles. It might have helped.
As the fight concludes, Pepsi arrives across a lake on a raft with a bottle of Clase Azul over his head like he's Indiana Jones coming out of the temple. I'm with Candiace on this one; you are rewarding clown behavior. I was impressed with Pepsi, though, for how hard he worked for the women and how much they seemed to care about him at the trip's end.
But that wasn't the last surprise we had in store. The producers tell Gizelle they never found out where the bottle went. Then we see a confessional of Leah giving Candiace the bottle. She says she was sworn to secrecy, but Candiace deserved it. Yes, after Gizelle went after her the whole time for something she didn't do, she deserved it more than anything. Then we see footage of Whitney and Heather saying they hid the bottle in the outdoor shower and had been taking shots out of it the whole time. Here I thought that I was going to have to be the one to get revenge on Gizelle's miserable showing this season, but the cast did it for me. I was upset to see Gizelle proven right, but the way the rest of the women — everyone Gizelle had been evil to the whole trip — did her wrong will warm my heart for eternity.