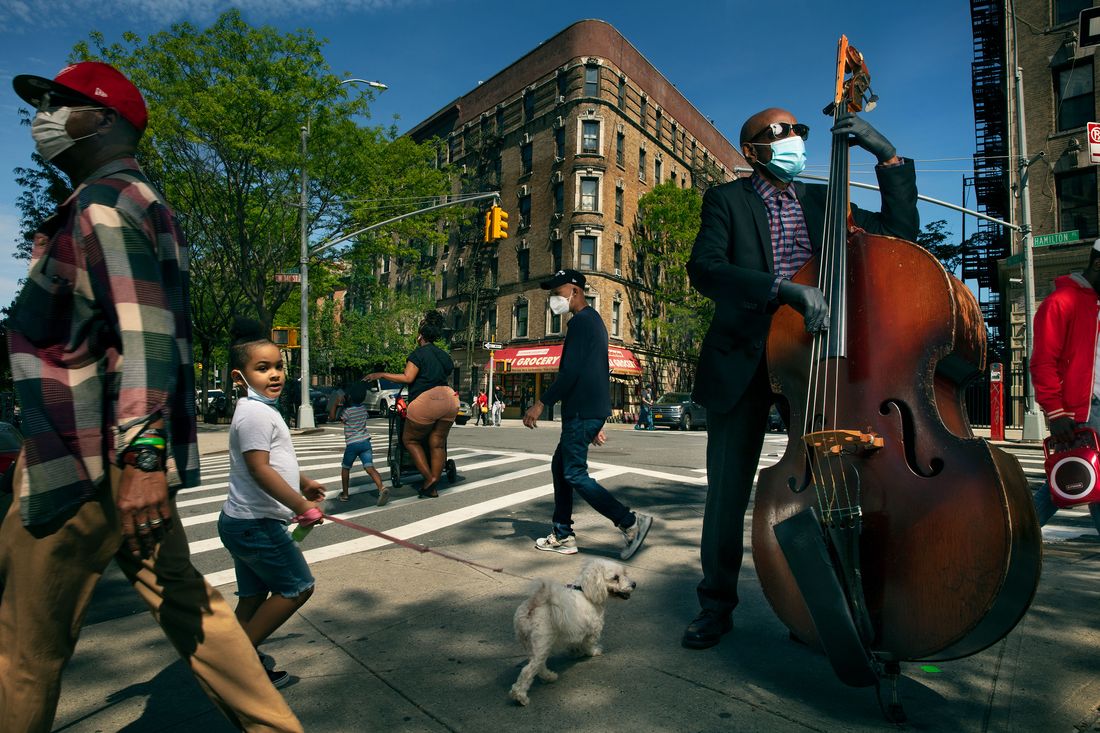 Reggie Workman, born June 26, 1937, photographed in 2020.
Photo: Jonas Fredwall Karlsson
Back in February, Reggie Workman went to visit his friend Henry Grimes, a noted free-jazz bassist with whom he'd come up in Philadelphia, gigging competitively around town as teenagers almost 70 years ago now, at the Northern Manhattan Rehabilitation and Nursing Center on 125th Street. In the crowded hallway by the elevator where Grimes sat in a wheelchair, Workman at first could not believe it was his friend with the long gray beard, as he didn't respond to his greeting. He had to ask a nurse if that was Grimes. But, Workman recalls on the phone from his Harlem apartment, where he's been self-quarantined for more than two months now — seeing no one but his daughter Ayana and his wife and creative partner, Maya Milenovic Workman (she and Workman separated fifteen years back and never got divorced), both of whom are determined to keep him safe — the two had a wonderful talk. "It did not feel like a good-bye," he says.
Workman, a jazz bassist who has taught at the New School since 1987 and still gigs occasionally, turns 83 in June. Many of his friends are not in as fortunate shape as he. Grimes, who'd lived with bipolar disorder and had taken a decades-long hiatus from playing, during which he'd worked as a janitor and at times been homeless, staged a comeback in 2002. But that was cut short by Parkinson's. The halcyon era of driving Blue Note hard bop and the birth of the avant-garde "New Thing" is more than 60 years in the past now, and to be a fan of jazz in this moment is to understand that if you skipped an icon's latest date at the Vanguard, there may not be another one. Many of Workmen's friends were in decline. And this was true even before the pandemic.
On March 6, pianist McCoy Tyner passed at 81; his family did not say what the cause of death was, but he'd been known to be in poor health. Another friend from the old days in Philadelphia, Tyner played with Workman in John Coltrane's quartet in the early 1960s. Workman visited Tyner's home in northern New Jersey last year and remembers that "age had set in quite a bit." But when Workman caught a 2018 performance of his at the Blue Note, Tyner was "almost the same person," blocking out compound structures in the bass clef and running them down with his electric right hand. (He had needed a little help getting onto the stage, however.) Another friend, bassist Jymie Merritt, 93, died of liver cancer on April 10. And saxophonist Richie Cole, 72, died of natural causes on May 2. "To me, it's a great loss because I feel like a part of my family is disappearing," Workman says.
But COVID has been especially merciless in its pursuit of the musicians of his era. At least nine greats, ranging from 59 to 94, have already died of COVID, including Lee Konitz, 92, the last living member of Miles Davis's pivotal Birth of the Cool nonet, and Ellis Marsalis, the 85-year-old patriarch of that famous family of jazz traditionalists. On April 15, Grimes died at the age of 84 of a virus that kills black Americans at 2.4 times the rate of whites and hits nursing homes that house mostly minorities with twice the lethality.
Through all of this, and while stuck at home, Workman has tried to maintain his cosmic outlook. "Our bodies are on the planet for a longer time or a shorter time depending on how we live, what things that we've done through our life," he says. "Whatever that is, whatever time that is, our contributions are significant, their contributions are significant. And we have to be thankful for what they give." Even so, he worries about another friend at a nursing home. "I call, and I don't get a response from the desk, so I don't have any information about how they are."
This was set to be a year of celebration for Workman and his family. The first week of April, he was supposed to play a concert celebrating his status as a 2020 National Endowment for the Arts Jazz Master. And a joint Guggenheim for music composition was awarded to Workman and Milenovic for a theatrical production inspired by the Shakespearean character Ophelia and written for their daughter, Ayana, as the tragic lead.
Born in 1937, Workman, grew up in Germantown, Philadelphia, the third-youngest of 13 children. His father owned a restaurant, Workman's Light Lunch, where he fed the jukebox and learned the skills in the kitchen that would later allow him to make what his daughter calls "a bangin' mac and cheese."
By high school, he was a rising talent in a Philly generation that came to shape the sound of jazz over the next two decades. But his early career in the city's dance bands was put on pause one day in 1955 at Germantown High School, when a guy with a gun tried to shoot a brown-bag lunch out of Workman's hand, but missed. "I heard when it struck my arm, and I felt when my tendons cut loose and my hand started shaking," he recalls. "I even feel that today. It affects my whole system on my right arm."
He and bandmates, including fellow future great Lee Morgan, would catch sets at West Village staples like the Café Bohemia. He got a job in a factory putting brass rings on kitchen towels; the grommet machine came down and took the end of Workman's thumb off while he was on the line, too sleepy from being out late to pay attention. "I'm still paying for that," he says. The injury was on the right hand.
Contemporary education in jazz bears little resemblance to Workman's. Now young talents play in school bands and, if they are good enough, go on to college at places like the New School, where Workman teaches. Of course, this has changed in the pandemic too. His students finished up the semester distance-learning over the computer. Workman finds that it's not a good tool to teach improvised music. And he's a little impatient with it.
"Zoom has consumed my life," he says. "You have Zoom up to bedtime and then you dream about Zoom, and you get up and Zoom is calling you on the phone the next moment."
Concerned about his health, his family is managing his life with a "dictator-y" zeal, according to Ayana. Since March, he's relied on her and her mother to handle chores — mail runs, shopping for ingredients for him to make hummus — and to escort him on occasional walks through Riverside Park. Strolling by the Hudson six feet from his family on the first warm weekend in May, Ayana says, he "looked like a child, staring at a brick wall like he'd never seen a brick wall before." It had been his first time out in weeks.
Inside his apartment, among the bookshelves and stacks of records, are framed pictures from Workman's long career: moments of glory with drummer Max Roach in Europe and the captivating singer and civil-rights activist Abbey Lincoln in Japan. "Those were memorable times," he says. "But I don't want to live there. My thoughts are, Okay. That happened, and it was good. But my mind is now, What happens tomorrow?"
Workman first met Maya Milenovic, a dancer and choreographer from what was then Yugoslavia, in 1977 in Italy. "There was something about him," Milenovic remembers. "He was able to even analyze what air was about."
Workman had been married before. A new father for the first time when he played in the Jazz Messengers in the early 1960s — bandleader Art Blakey had a reputation for paying addicted musicians with heroin — Workman says, "I was wise enough to see this is not where I want to be." But by the time he and Milenovic met, hanging on to a life lived at night was wearing on him and he began to seek out "artificial means," including "cocaine or anything that would let me stay up more, work more, practice more."
Milenovic helped him clean up. By 1985, the two had married at the courthouse downtown; Milenovic, who describes the evolving nature of their relationship as very "European," was mistaken for French by the judge, who performed much of the ceremony in a language neither of them really spoke.
When Workman was 56, in 1993, the couple had Ayana (his other two children by then were adults). He and his daughter bonded early over music, writing their first song together when she was 3. But a family brought together by art was driven apart in its pursuit. "There are many things that you have to do when you raise a family that you can't do when you want to be a professional artist," says Workman. And Milenovic was not interested in giving up her work just to support his.
The two separated in 2005, but never divorced. "I had to live my life, and I was not as present as I would have liked to have been because of being focused on myself," he says. "Selfishly so."
"He wasn't around for a good chunk of my teenage years," Ayana says. "He was working a lot and so involved in the music, and I didn't really understand him as much as the way that I understood my mother."
Throughout what Maya calls their period of "hiatus," Workman attended his daughter's performances — she was becoming an actor — but largely avoided home life. "She took it very hard, very hard," her mother says. But as she reached the teenage milestones — prom, graduation — Ayana saw that he was "called to action. And he couldn't ignore it." Even if he didn't get the timing exactly right. "He always messes up dates. He's kind of a mess in that way. So one day he showed up a week early to my prom. He came to my door with flowers, this hat that he wears, this little cane. He was really excited. And I was like, 'Dad, it's next weekend.' "
Working together became a way for the family to bond, and because of an experimental theater piece called Dos Worlds that debuted in 2018, Ayana was able to finally fully appreciate how her parent's "brains are wired artistically and musically," she says. "It's super-cool because that's why I'm here. Right? And I got to see it. I was like, Oh, okay. I understand how powerful that force is."
"I'm so glad that Ayana is of a nature where she's saying, 'Okay, Dad, let's do things,' " Workman says. "I'm thankful that she understands the life that I've lived and the path that I've taken."
"I have to just embrace what he gives and what he can give," she says. He's still bad with dates. On the second Sunday in May, Workman sent a warm email to his daughter, expressing his love and pride on her birthday. "I was like, 'It's, uh, Mother's Day,' " she responded. He was off by a week.
In 1970, Workman co-founded Collective Black Artists to help provide for jazz musicians ignored at the institutional level. "We as black musicians were not getting work, calls for the pit work, calls for the orchestra spots, not getting record dates that we needed," recalls Workman. "We're not going to just lay down and say, 'Nobody will hire me.' We're going to hire ourselves and present our own concerts."
As the music director in the '70s at the scrappy New Muse community center in Crown Heights, Workman was part of the generation that demanded jazz be incorporated more fully into the college system. Organizations like the New Muse "began to crop up, because that's what we do, that's what we're about. Survival. Making it better for people who come along behind us. That's what has permeated itself in my quest for education — my desire to pass on whatever we have now."
Workman and Milenovic co-founded the Montclair Academy of Dance and Laboratory of Music in 1998. On a Friday evening in May, they, along with Ayana, sign on with another teacher for a class on percussion. Not everything goes so well: When the students try out playing an introductory pattern of bao, a rhythmic family from Guinea, Workman gives it a shot on his djembe, but no sound comes from his screen. When he runs it back unmuted, he's not quite perfect.
Timothy Angulo, had conferenced in on his iPhone to do a jazz drum solo. But the tones keep clipping, some of the hits peter out, while others clang sharply, like a trash-can lid. In a red fleece, glasses around his neck, Workman — by now familiar in the emerging art of tinkering with Zoom settings — almost leads the drummer to a solution, but the task is a little beyond his expertise. Still, his daughter is impressed. "Wow, Reggie," she says, looking over her mother's shoulder. "The New School must be doing some miracles there."
Maybe so. Now especially, passing along these musical traditions, even if it's through the imperfect means of Zoom, has become ever more urgent. "That's the way we survive," Workman says. "That's our link to eternity."
*This article appears in the May 25, 2020, issue of New York Magazine. Subscribe Now!