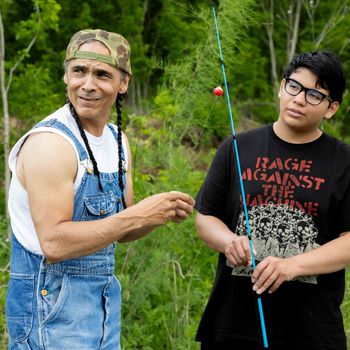 So far, each season of Reservation Dogs has included a plotline about a departure. In season one, we had Daniel (a young boy who was close friends with Elora, Bear, Cheese, and Willie Jack), who took his own life, leaving the rest of the community feeling as if they'd failed to properly protect and support one of their own. Last season, Bear and Elora's mutual enmity (stemming from the unaddressed trauma over the loss of their friend) led the latter to take off on a truncated road trip to Los Angeles with Jackie. This season has centered itself around the mysterious Maximus, a former Okern resident who left town sometime after a falling out with his friends. This new season blends together the issues raised by the previous two: Indigenous communities are always reckoning with the trauma of being Native in the occupied United States, such that it's difficult to talk and think about historical events in the past tense. Many of the troubles faced by older generations are still occurring in communities today. Operating within this constrained context, how can folks come together to support and nurture those who are the most vulnerable? What do we do when people fall through the cracks? How do we bring our missing home? And how do we stop them from getting lost in the first place?
"Frankfurter Sandwich" offers us some answers, but it raises just as many questions about the fate of characters like Maximus, Bear, Cheese, and Elora, each of whom has been made to feel like an outsider or misfit.
Since the Rez Dogs' day of hard labor at Indian Health Services (punishment for running away), it appears that Cheese has been holed up in his room playing video games. While killing zombie nuns is badass, it means that he has been spending less and less time with his friends (side note: Given how this season has repeatedly tackled the issue of Residential Schools, one can only assume that Cheese's game is also alluding to that history through horror metaphors à la Jeff Barnaby's Blood Quantum). Also, the boy is making a mess of the place, and it probably wouldn't hurt him to take a shower. Grandma Irene gently confronts her (adopted) grandson, asking if he'd consider just sitting outside with his friends, but Cheese turns her down and asks if she'll cover for him so he can continue avoiding them. She obliges and tells Elora, Bear, and Willie Jack that Cheese is too sick to hang out, and the dejected crew sulks off to Sacred Sonics without him.
Alarmed by Cheese's sudden change in behavior, Irene makes a call to her buddies Brownie, Bucky, and Big. The three elders arrive ready to lead Cheese out on a visit with the land. Hopefully the venture provides Cheese with some new perspective, and it gives the men a chance to diagnose why the boy's been feeling and behaving poorly.
When they arrive in the woods, Cheese gladly takes point. Armed with a helmet and machete, he starts blazing a trail toward a clearing where the four guys establish a home base. Each of the older men has their own approach to camping, with Big sleeping in a tent while Brownie and Bucky post up on the ground and in a hammock, respectively. Next on the docket of healing activities is fishing. Again, each elder has their own perspective to offer the young Cheese. Big and Brownie are using rods to try to land a catch, whereas Bucky is using the traditional method of "drunk root," a powder that will allow him to fish using only his hands.
Fishing doesn't impress Cheese much, so Brownie tries a more direct approach. He asks Cheese to pick up a handful of dirt and reminds him that the land he's on is special: "There's nothing like that anywhere else in the world — it exists only here." Brownie adds that the trees, water, and air are always working their medicine on Cheese if only he could slow down and feel it. Brownie then punctuates his lesson with a profound fart.
Bucky lands a couple of fish, so the party returns to cook up their dinner. While advising Cheese on the health benefits of Himalayan pink salt, Bucky probes the young man about his recent behavior. Earlier this season, during their bus ride back from Cali, Cheese told Willie Jack that he was worried about being left behind, given that the rest of the Reservation Dogs are older than him. Cheese echoes these concerns to Bucky, admitting that maybe his recent stint of virtual-reality isolation has been a way for him to feel more in control of the situation, allowing him to push his friends away before they have the chance to leave him behind. By way of quantum physics and philosophy, Bucky warns Cheese that he shouldn't try to break the bonds he's developed with his friends (if such a thing is even possible, given the interconnected nature of all things in the universe).
Big is next in line to offer some lessons. While the two are out collecting firewood, Big takes the opportunity to regale Cheese with some Bigfoot stories. As a young boy, Big spotted four Bigfoots (Bigfeets? Bigfooti?) out in those same woods. The stinky critters just stared at the frightened boy before disappearing again into the forest. That Big is really a magnet for the supernatural, no? Yet in spite of Big's insistence, Cheese remains skeptical of the existence of that big brother being.
After a dinner of freshly caught fish and some group urination, it's time for Cheese to offer a lesson to his elders. Back in the boys' halfway home, Cheese learned a "talking stick" exercise, and so he invites Brownie, Big, and Bucky to participate. Not long into the circle, Big breaks down, having bottled up his guilt over the accident that killed Elora's mother. This leads Brownie and Bucky to open up about their guilt over Maximus. Brownie assures Cheese that Maximus could have relied on his friends (the poor guy didn't have anyone else to turn to), but Bucky adds that their choice to not believe his story about the Star People ultimately drove him away from them: "He needed us, and we turned our back on him." The elders' talk about Maximus harks back to the Reservation Dogs' guilt over Daniel, showing that these sorts of tragedies have long been a part of the Okern community. As the three adults begin to sob, Cheese awkwardly assures his elders that he will change his ways and avoid the fate that befell Maximus. Infused with a new appreciation for the land, his friends, and his community, Cheese seems to be back on the right path. And he's rewarded soon after when Elora, Willie Jack, and Bear arrive with enough Sacred Sonics slushies for everyone.
With only a handful of episodes left in the final season, we still have two big stories that need to meander their way toward closure. First, I expect to see some sort of resolution to all of this business regarding Maximus. Presumably he has been institutionalized again, but will his old friends locate him and spring him out? Or, at the very least, make a trip to visit him? Will Old Man Fixico be able to make peace with his cousin before he walks on? And then there's the issue of Elora's father: We know his name and that he's still hanging around somewhere in Okern. Who is he, and will meeting him help Elora to make a decision about her future? Skoden!
Willie Jack's Deadly Meat Pies
• Throughout this episode, we catch Bucky singing the words "frankfurter sandwiches" to the tune of Redbone's "Come and Get Your Love," the song that inspired the title of Reservation Dogs season one, episode five, which is when we were first introduced to his character.
• Following up on a line of inquiry from the last episode: I totally forgot that Willie Jack's full name is Wilhelmina Jacqueline Sampson. This means that one of her relatives is the author of that book that 1970s Bucky handed off to Maximus. The mystery deepens!