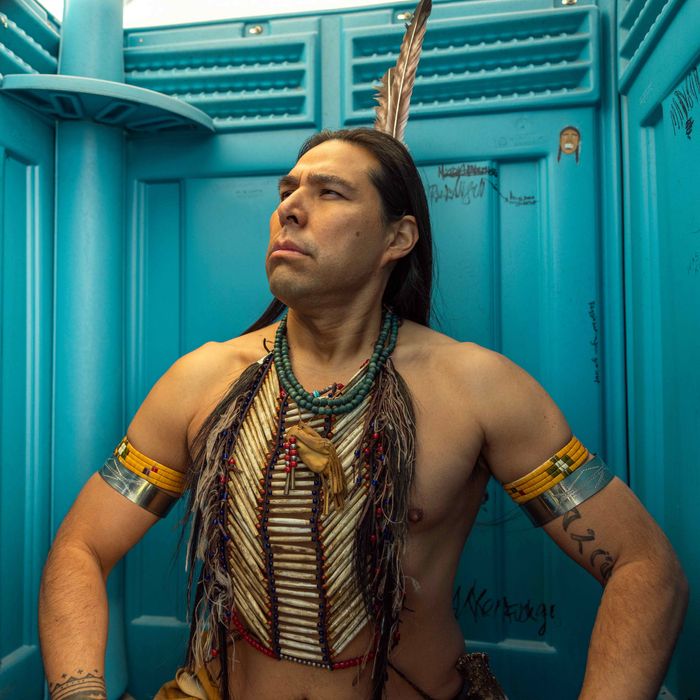 After two ensemble-led opening episodes, Reservation Dogs season two seems to be transitioning back into single-character focused entries, mirroring the structure of the first season. Episode three centers on Bear, giving the audience more insight into his strained relationship with his father and his interconnected journey to find a job that can help him feel more mature.
Unfortunately, Bear still seems to be focused more on how things look than on interior growth. The episode opens with him trying to make his tool belt look "rugged" so the other guys at his new construction job won't tease him. (Spoiler: It doesn't work — teasing is a Native American traditional pedagogy.) Bear's horrified mother asks him to kindly not wreck his brand-new belt, and things get only worse when Bear asks her to "go back inside" so his new co-workers don't see her helping him out. This isn't new behavior for Bear; it's kind of his character's defining nature this season. So far, his inconsiderate attitude has been played up so much that it seems as if everything is building toward some transformation, hopefully in which Bear realizes that, by haphazardly trying to avoid behaving like his father, he's actually just following exactly in his dad's footsteps.
At the jobsite, Bear struggles to find his footing, both literally and metaphorically. First, his two co-workers trick him into going on a wild-goose chase for a piece of equipment that doesn't exist; then he finds himself unable to nail in a board when he becomes overwhelmed with memories of his father abandoning him. When Bear retreats to the porta-potties, he tries to garner some sympathy from Spirit, complaining that he isn't being taught how to do the work and that the men simply expect him to pick everything up on his own. Spirit responds that this is the way Native people tend to teach youth ("Just get out there and learn, fucker"), which is, honestly, pretty brutally accurate. Spirit then proceeds to remind Bear that his ancestors dealt with these hardships and worse. Also there are poop jokes and drawings of wieners.
What's messing up Bear most this episode is the fact that Daniel's dad (who is also named Danny, which is a whole messy, haunting situation in and of itself) is also working on the jobsite. In the season opener, Bear saw that Daniel's old house was empty, so he probably assumed the old man had left town. Partially out of anger at his own father and partially out of frustration on Daniel's behalf, Bear proceeds to disrespect Daniel's dad pretty badly. During a lunch break, Daniel's dad quips, "Most dads are bad," to which Bear fires back, "You should know," which causes Danny to storm off.
Because there doesn't seem to be an adult around to model how to cope with or process grief in a healthy way, Bear keeps lashing out at others. However, in the middle of their bathroom confessional, Spirit shares with Bear the idea that grief isn't something one can just run away from — being touched by loss fundamentally transforms a person, and whether you decide to deal with that loss in a healthy way determines how you can exert agency over the situation. Spirit explains that by honoring our dead through ceremony, Indigenous peoples "tear ourselves to pieces so that we can build ourselves new on the other side." He adds, "You go through all of it so they know that they can go, that we'll miss them but that we'll be okay without them." Without practicing these ceremonies, grief just sits in people, and it makes it even harder to move forward. Bear replies that he just wants to "get over" Daniel's death, once again expressing the same kind of single-mindedness that's kept him from adequately processing his relationship with his father and stunted his transition into adulthood.
So far this season, Bear has focused on where he wants to end up, and it's this tunnel vision that keeps him from realizing it's actually the journey that matters the most. As this episode makes clear, part of the problem is many of the men in Bear's life don't seem to be helping much. When Bear expresses that he feels abandoned by his father, his co-workers agree say they've experienced much the same, but they don't offer any kind of clear path for Bear to follow so that he can make sense of this anger and frustration. His co-workers (and Spirit) are too caught up in their own personal histories of grief and struggle, so Bear's needs remain unacknowledged.
Later, Daniel's dad and Bear do reconcile, and it's this scene that functions as the episode's tender center. Upon learning that Elora has made good on Daniel's plan to skip town and head to L.A., Danny admits that he's still haunted by the death of his son. Danny also warns Bear that he needs to move through the world prepared to deal with the consequences of his choices and to think about his actions before he jumps blindly into a situation without considering what could happen first. It's a really important message for Bear to hear given that he's spent the whole season jumping to find the answer without first evaluating what it is he really wants.
Most important, Danny assures Bear that he shouldn't feel responsible for Daniel's death and that it was the responsibility of the adults in the community to look out for the youth: "We" — meaning the adults in the community — "didn't see it, so that's on us, not on you," he says. It's a message that resonates with the images of the roofers working around them: Adults are supposed to be the roofs of the community, shielding the youth from the world's storms while they learn and grow into adulthood. However, in Bear's village, the adults are already overburdened with their own grief and intergenerational traumas. But now that the children are starting to break down, the community is being forced to deal with the wreckage sitting inside their homes. Bear's feeling it, too: Left without someone to offer shelter and to model what it's like to process these feelings in a healthy way, he's been left floundering in his grief. While Danny advice doesn't offer Bear a clear, concrete path out of his problems ("You gotta be good the first time around" is both comforting and a lot to put on a kid), a sudden visitation by a glowing object seems to affirm to the pair that, by talking about how they are feeling together, they are at least on the right track.
The episode's sudden, stunning conclusion reveals that Elora and Jackie have actually returned to the village, seemingly because Elora's grandmother is now deathly ill. The news leaves Bear speechless, but my hope is that the lessons he's learned this episode will help him support his friend in her time of need — that or further conflict between the two former best friends is only starting to brew.
Willie Jack's Deadly Meat Pies
• I was a bit concerned by a casting choice this episode, especially since the episode's main theme is the interrogation of male role models in Native communities. "Roofing" features a character played by Nathan Apodaca, a man who many might recognize from a viral TikTok in which he is shown longboarding down a highway, drinking cranberry juice and lip-syncing to "Dreams," by Fleetwood Mac. After going viral, Apodaca scored a couple of brand deals, and his sudden fame led folks on Twitter to discover that, in a previous TikTok video, he had rapped a song that included the N-word. It's a troubling inclusion, especially with the critiques of Reservation Dogs' lack of Afro-Indigenous representation in season one and its problematic uses of AAVE and Black culture. This is an episode directly concerned with the influence men in leadership positions can have over youth in Indigenous communities, so it kind of hurts my heart that the showrunners would choose to go forward with this prominent cameo without anyone addressing the controversies more directly. It's an oversight that becomes more noticeable with the apparent decision not to invite back actor Sten Joddi, whose character is seen in this episode only through reused footage from season one.