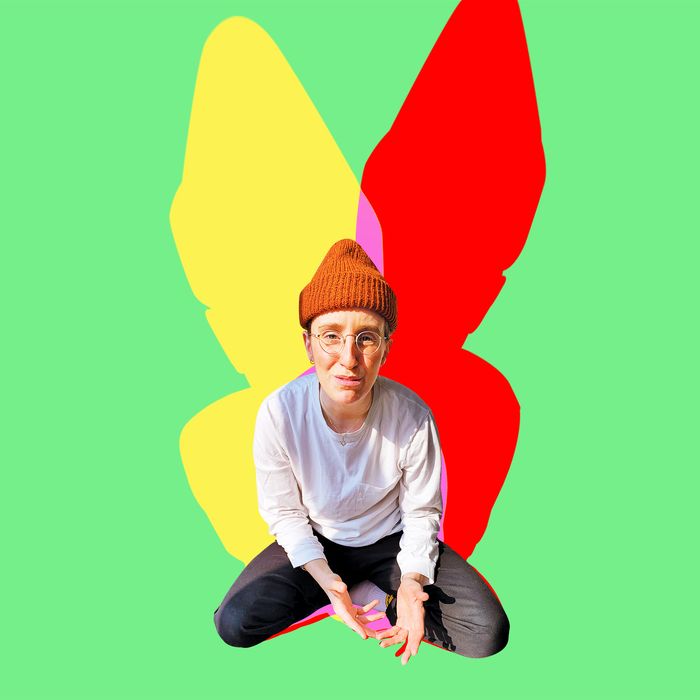 Robby Hoffman.
Photo-Illustration: Vulture and Photo courtesy of comedian
This week, we're highlighting 20 talented writers and performers for Vulture's annual list "Comedians You Should and Will Know." Our goal is to introduce a wider audience to the talent that has the comedy community and industry buzzing. (You can read more about our methodology at the link above.) This year, for the first time, we asked the comedians on this list to answer a series of questions about their work and comedy under quarantine. Next up is Robby Hoffman.
When did you feel that you were funny enough to make a legitimate go at comedy?
Soon as I discovered it.
Describe your comedy in five words.
Original, unlike anyone you've seen.
If you weren't a comedian, what would you be doing?
Rabbi of the first-ever mega synagogue.
What of your work do you think you're best known for?
My JFL Crave special and being the unofficial sixth Queer Eye on The Chris Gethard Show. I expect Netflix will call me after this and finally make it official, though.
What's some of your work that you're most proud of?
Some secret stuff I'm working on now and winning a Daytime Emmy last year for the first writing job I had.
How has quarantine affected the way you approach your comedy and your audience?
I think it's just wholly different. Some people panicked about stand-up ending and scrambled to make it happen over Zoom and whatnot. That's all fine, but stand-up is predominantly a live thing. It's like when people try to pass off their tweets as stand-up at real shows. Doesn't work. Because a tweet was written for a particular medium. Not everything is transferable. Be adaptable. Sometimes I have an idea best suited for a script, sometimes it's for the stage, and sometimes it's a tweet. Point is to know the medium you're working in. Which is why I started Dykevice during the Coronacaust. For the record, dykes invented the quarantine. We been staying in together for years, and as a Jew, I kind of always suspected they'd lock us up again eventually.
Didn't know what my online show would be, but knew it wouldn't be stand-up. I'm a dyke who gives advice. It's a call-in show, which works perfectly for the space. I get to lean into talking, another passion of mine. For some reason we have all these talk shows with hosts who don't know how to talk. I'm a talker, and the art of the conversation is something I really value. We used to place people next to certain people at dinner parties because they'd enjoy conversing together.  So here, people hit me up on the show and I get into it, giving them better advice than their therapist, guaranteed. Before you go off that I'm completely unqualified, I have a business degree from McGill University, it's not nothing!
What have you done in quarantine for comedy that you thought you would never do?
OnlyFans. Jk, I give that all away for free on my Instagram.
Who are some of your favorite comedians right now? Who is putting out work that excites and inspires you?
Tim Dillon's podcast is my guilty pleasure. Michelle Buteau and Sam Jay's specials were 100. Naomi Ekperigin's Instagram Stories send me.
What is the best comedy advice, and then the worst comedy advice, you've ever received, either when you were starting out or more recently?
Best advice was not to take advice, and worst was to wear brighter clothing since I'm small.
Tell us one story from your childhood that is a good representation of your life.
I learned that some kids have to be taught not to be kidnapped — that if someone offers you candy, don't get in the car. Are you outta your mind? I grew up poor, seventh of ten children with a single mother. We were born distrusting. You couldn't kidnap me if you fckn'n tried when I was a kid. I'd be like, "Leave the candy on the corner! Leave it right there on the curb, sir, and I'll grab it when you pull off!" Nice fucking try. Not saying these kids deserved to be kidnapped, but it's gonna take more than candy to get me in the car.
Assuming quarantine ends at some point, is there anything about the way that comedy or the industry in general has changed that you hope continues post-quarantine?
Not a single thing.