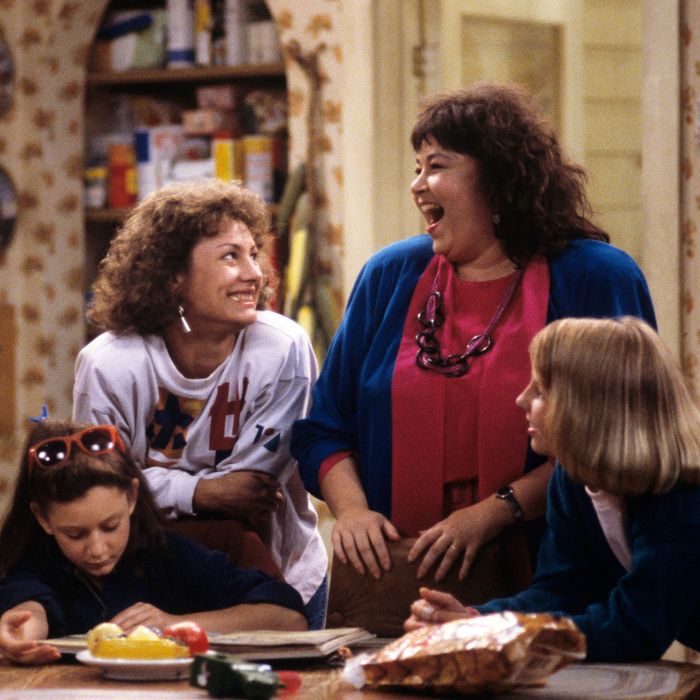 Photo: ABC Photo Archives/ABC via Getty Images
With ABC's Roseanne reboot set to debut next Tuesday, it's time to reacquaint yourself with the Conner family of Lanford, Illinois. Even if you've never seen the groundbreaking sitcom, now is the time to discover how funny, irreverent, and still genuinely sweet Roseanne was at its best. From 1988 to 1997, it tackled topics like racism, poverty, domestic violence, and teenage birth control, while showcasing the supreme talents of actors like John Goodman and Laurie Metcalf — not to mention Roseanne Barr herself.
Nine seasons is far too much to tackle in a week, but these 25 episodes make for a primer on everything that made Roseanne great, and what you need to know about the Conner family history before the revival premieres on March 27. (Roseanne is available to stream on Amazon Prime and rent on iTunes, Google Play, and Vudu.)
"Father's Day" (Season 1, Episode 14)
This season-one gem offered a first glimpse at Dan's dad, Ed, the overbearing, anecdote-repeating, but lovable salesman played so brilliantly by Ned Beatty. Dan and Ed's relationship would get ever more complicated as the series goes on, but here, it's all about Roseanne's salty zingers and Dan's sweet admission that what most irritates him about his pops isn't those stories, but the fact that he sees himself becoming his old man, right down to his own frequently told tale about being the first customer at the new grocery store in town.
"Mall Story" (Season 1, Episode 16)
The Roseanne revival will find the Conners talking about Target and Walmart, but back in the day, it was all about the Lanford Mall: In this episode, a huge sale lures the family in for a day of dress shopping for Becky, while Dan reluctantly agrees to purchase new shoes for Roseanne. Watch for the nostalgia for all things mall-related — the only place where you could get Slushies, chili dogs, rubber sheets, "As Seen on TV" gizmos, Dan's size-13 loafers, snow tires, and parakeets under one roof — but stay for Roseanne's working-class mama sacrifice. Even after Becky throws a hissy fit because Roseanne denies her an $80 outfit, she asks Dan to return his shoes so they can afford the frock she'd previously denied her daughter at The Ultimate.
"Let's Call It Quits" (Season 1, Episode 23)
Roseanne has her own Norma Rae moment when she leads a walkout of her friends from their factory jobs at Wellman Plastics after the bullying of their condescending, sexist boss, Faber (the late Fred Thompson). Faber had agreed to lower the impossible quotas he'd introduced, as long as Roseanne bit her tongue and allowed him to humiliate her in front of her co-workers. When Faber breaks his end of the deal, Roseanne can take it no more. Though the celebratory mood is soon replaced with a sobering dose of reality about the job opportunities available in small-town Lanford, "Let's Call It Quits" ends the first season on one of most satisfying triumphs in the ebb and flow of Roseanne's working life. It also includes the final regular appearance of George Clooney's floppy-haired Booker, Jackie's sometime-boyfriend and the sisters' ex-boss at Wellman.
"Inherit the Wind" (Season 2, Episode 1)
About that aforementioned gut punch of reality: Roseanne finds a new career selling magazine subscriptions to surly customers via her home phone. The only thing that stinks worse? Becky's speech in front of the student council, in which she punctuates her closing statement with what Roseanne refers to as a "boombie." Darlene, taking far too much pleasure in her sister's humiliation, puts it more clearly while gleefully relaying to her parents the event that led to Becky's "Conner the Bomber" nickname: "Becky cut the cheese." Dan is laughing too hard to try to cheer Becky up, so it falls to Roseanne to rally her daughter. Let's not forget Becky's true consolation in this, one of the all-time best fart-joke episodes in prime-time TV history: Even after BoombieGate, school hunk Jimmy Meltrigger (Stephen Dorff) shows up for their date.
"BOO!" (Season 2, Episode 7)
Not only is Roseanne a domestic goddess, but she is the queen of Halloween. Or Halloween episodes, anyway, as no series before or since has put such effort into crafting memorable All Hallow's Eve celebrations. In this first ode to fright night, the Conner children have to be dragged into the fun, but when they see just how much their parents love the holiday — and try to one-up each other in a series of pranks — they join in to turn 714 Delaware Street into the "Tunnel of Terror" for neighborhood trick-or-treaters. No specifics will be spoiled for those who haven't seen it, but suffice it to say that Roseanne proves she knows exactly how to scare the bejesus out of her hubs. (If you love this one, other classic Roseanne Halloween episodes include season three's "Trick or Treat," written by Chuck Lorre and featuring Roseanne dressed like a male trucker at the Lobo Lounge, and season four's "Trick Me Up, Trick Me Down," written by Amy Sherman-Palladino, which featured the return of Booker.)
"We Gather Together" (Season 2, Episode 9)
Both sets of in-laws assemble for the first time in this Thanksgiving installment, with Roseanne hosting dinner, trying to keep the peace between her mother and Jackie, and worrying about her decision to make her parents stay at a motel instead of Casa Conner. Dan, meanwhile, is welcoming his divorced parents, surprised with the introduction of his mom's new boyfriend, and stressed that his dad is hitting on one of Roseanne's BFFs, vulnerable single mom Crystal. It's a relatively manageable amount of family dysfunction, from an era in Roseanne before the audience would learn that Jackie and Roseanne had been physically abused by their father and that Dan's mother has serious mental-health issues.
"No Talking" (Season 2, Episode 12)
Roseanne is a hipper mom than most, but she still goes through some complicated mother-daughter hassles, especially with Becky. The 14-year-old desperately seeks independence in this episode, but her rotten attitude only makes Roseanne dig her own heels in deeper. That is, until the war of wills explodes with Becky locking herself in her room and Roseanne threatening to take the door off the hinges. The outcome? It is best revealed by pot-stirrer Darlene, who delivers the episode's funniest line after an angry Becky storms away from the breakfast table and tromps upstairs. "Boom!" Darlene says, slamming her hand down for effect. "That's when the door would have slammed … if we still had a door."
"An Officer and a Gentleman" (Season 2, Episode 15)
When real-life Roseanne was tussling with behind-the-scenes issues, TV Roseanne left town on a family emergency, leaving Jackie to pitch in and keep the Conner household running. Despite a few flirty, potentially show-destroying moments that ultimately went nowhere, Jackie and Dan get a chance to bond here, as he comes to truly appreciate all that annoyingly omnipresent Jackie does for his brood, and she finally gets some deserved respect from her bro-in-law.
"I'm Hungry" (Season 2, Episode 18)
The most unkind of critics kept talking about the lead characters' physiques, so the writers tackled the issue themselves when Roseanne decided she and Dan needed to go on a diet. (Roseanne led the way, though the promise of flame-broiled bacon cheeseburgers in a Bucky Burgers commercial nearly derailed her commitment.) Healthier eating choices and daily exercise soon had her pants fitting again, and "I'm Hungry" is one of many instances when the series addresses uncomfortable issues head on. "Food is the one luxury we can afford," Dan says in protest of the diet plans. Replied Roseanne, "Well, food ain't supposed to be a luxury, Dan … it's supposed to keep you alive. It ain't supposed to provide entertainment value."
"April Fool's Day" (Season 2, Episode 22)
Even mundane topics like filing your tax return make for a fun episode, as the Conners' bickering about their inability to decipher the filing instruction booklet necessitates a trip to their local IRS office. Don't forget about the scary dun dun dun! sound effect that mysteriously launches whenever anyone dare to speak the word "audit," and the tag scene, in which John Goodman speaks directly to the camera to reassure the fine folks at the IRS that he, actor John Goodman, is a taxpaying citizen who appreciated the work they do, unlike that "lovable, but naughty scamp" Dan Conner, whose IRS-bashing opinions he was paid to say.
"PMS, I Love You" (Season 3, Episode 8)
Dan's 39th birthday coincides with Roseanne's PMS day, making for what he calls a "24-hour roller-coaster ride with Sybil at the switch." Naturally, the only option for this monthly horror show — making themselves scarce for the day — is off the table because Roseanne planned a surprise birthday soiree at the lodge. Unfortunately for Dan, the biggest surprise of all is just how many of his wife's personalities would be unleashed in front of their guests, especially when dolt Arnie (Tom Arnold, who also wrote the episode) orders a stripper to show up at the family affair.
"Home-Ec" (Season 3, Episode 16)
When Roseanne isn't invited to participate in Darlene's school's Career Day event, she shows the school the error of its sexist ways in a way only she could: a field trip to the supermarket for Darlene's home-ec class, with a focus on how to feed a family of five on a very tight budget. That Darlene is horrified by the outing (and that ground beef and cornflakes meatloaf recipe) is just a bonus for Roseanne, whose lesson plan includes taking the students home and assigning them to prepare dinner. Also getting a win is young DJ, whose clever plan of warding off a bully with Hostess snack cakes has Roseanne declaring, "My God, Dan, it's the famous Twinkie defense." And yes, that is Leonardo DiCaprio as an extra in the classroom scene at Darlene's school. (Other pre-fame folks who appeared on Roseanne: Leo's buddy Tobey Maguire, Bob Odenkirk, Alyson Hannigan, Joseph Gordon-Levitt, and pre-Grey's Anatomy stars James Pickens Jr. and Eric Dane.)
"Scenes From a Barbecue" (Season 3, Episode 24)
A backyard barbecue to celebrate Mother's Day is the setting for the introduction of Shelley Winters's scene-stealing Nana Mary, Roseanne and Jackie's delightfully uncensored grandma. Nana Mary is the consensus pick as the family's favorite relative, even when she cheats Darlene out of her allowance with card tricks. Also, one of the show's musical highlights comes during the barbecue sing-along, when fellow Rodbell's waitress, Bonnie (the one-time Ikette Bonnie Bramlett), surprises the partygoers with her killer voice while Dan plays the guitar for an impromptu cover of "You Really Got a Hold on Me."
"A Bitter Pill to Swallow" (Season 4, Episode 1)
Here they go again, tackling a controversial topic with Roseanne's signature humor and heart. No one was more skeptical about Becky's boyfriend Mark than Roseanne, but when Becky went to her mother with the news that she and Mark were getting more serious — and the request that Roseanne help her get a prescription for birth-control pills — the protective mama maintains her cool well enough to keep herself in the loop of Becky's life.
"Darlene Fades to Black" (Season 4, Episode 4)
Darlene is always ready to drop a wiseass remark, but with this episode, she's more than a mini-Roseanne. She becomes an angst-filled teenager, complete with all-black wardrobe, a packed schedule of sullen couch-surfing, and a strong desire to be left alone. "It's school, it's my friends, it's the way I look, it's you, it's dad, it's everything," she says when Roseanne worries about her dramatic transformation. The irreverent quips would remain a Darlene signature, but "Darlene Fades to Black" marks the beginning of the character's thoughtful, realistic evolution into another smart, funny, cheeky, and caring adult member of the Conner clan.
"Breaking Up Is Hard to Do" (Season 4, Episode 17)
Memorable tag scenes are a Roseanne trademark, featuring everything from a Cops spoof to John Goodman's aforementioned IRS shout-out. But the tag scene for this episode — in which Becky and Mark break up and Becky goes out on a date with Dean, a football player who bonds with Dan — is the series' absolute best. The actor who plays Dean (David Donah) breaks the fourth wall to address the audience and ask for fan support for his character's return. As he makes his impassioned pitch, a voice — that loud, nasally, screeching voice we all knew so well — yells out that the actor is supposed to be washing her car. "Hey, keep your pants on, I'm talking here," he responds, before immediately realizing his mistake. His grave mistake, which leads to the permanent demise of Dean.
"Aliens" (Season 4, Episode 25)
Roseanne is out of work again, Dan's motorcycle shop is on the verge of going out of business, and they are forced to drop a bombshell on Becky: There is no money in her college fund. A letter from the elementary school about DJ being a finalist in the local spelling bee is the only bright spot in the otherwise bleak mood pervading the Conner home, and when DJ pulls off a victory — spelling "foreclosure," a word he was all too familiar with — bowls of ice cream around the kitchen table make for a celebration the family can afford. But they don't actually eat the frosty treat. They celebrate DJ-style, hoisting their spoons and launching into a cathartic food fight instead. It is classic Roseanne, finding the sweet, funny, and hopeful moments at even the worst of times.
"Crime and Punishment" (Season 5, Episode 13) and "War and Peace" (Season 5, Episode 14)
No TV show should have been able to wring humor from a pair of episodes that revolved around domestic violence, but this two-parter in which Jackie's live-in boyfriend Fisher was revealed to be a serial batterer did just that. While this two-parter is a sensitive treatment of Jackie's relationship, it's also got one of the best Darlene-Dan sequences when she shows up at the local jailhouse after her dad is arrested for beating up Fisher. Stick around for both tag scenes, too — especially Dan's homage to Elvis at the end of "War and Peace," a performance that shows off John Goodman's talents and reminds us why he's such a beloved star.
"A Stash From the Past" (Season 6, Episode 4)
One of the show's last gleefully funny episodes unfolds after Roseanne finds a bag of weed in the basement. (She assumes it belongs to her future son-in-law, David, though it turns out to be her own forgotten stash.) Soon enough, Roseanne, Dan, and Jackie spark up and spend a hilarious, paranoid, munchie-craving evening in the bathroom. After a long day of adulting, they come to the conclusion that what was fun 20 years ago isn't as much fun now. For them, anyway. For viewers, it's one of the last great Roseanne installments.
"Lies My Father Told Me" (Season 6, Episode 21)
A stellar performance by John Goodman is the highlight, as Dan learns that his mother Audrey's mental breakdowns weren't the fallout of his traveling-salesman father's absences, but the result of mental illness. Dan had spent his life blaming Ed for Audrey's fragile state, a burden Ed had accepted to spare Dan the truth. The truth allows Dan to see his father in a new light, but it also pulls him deeper into Audrey's problems, and factors into the near dissolution of Dan and Roseanne's marriage during the (mercifully retconned) "Conners win the lottery" story line.
"White Men Can't Kiss" (Season 7, Episode 9)
The Conners examine their positions on race when Dan and Roseanne find out DJ refused to kiss a girl in the school play because she was black. Had he picked up racist ideas from them? Should they force DJ to kiss Gina to prove no one in the family is racist? How does their black friend, Chuck, feel about the situation? Don't miss this one, since it's a story line that will carry over in a surprising way in the Roseanne revival.
"Millions From Heaven" (Season 9, Episode 2)
The Conners win $108 million in the lotto, but alas, the show loses its ability to use humor in subtle and insightful ways. Still, it's an essential episode if you want to see how far the Conner saga goes. The worst part about the lottery story line? Roseanne became a show that mocked the family we fell in love with.
"Into That Good Night" (Season 9, Episodes 23 and 24)
Winning the lottery? Didn't happen. Dan surviving the heart attack he suffered at Darlene and David's wedding in season eight? That didn't happen either, as the two-part series finale reveals Roseanne to be a widow and writer who pens a book about her family, including deceased Dan, Becky and David (who are a couple, as are Darlene and Mark), and her lesbian sister Jackie. It's a confusing series wrap-up that will never make anyone's "best finale ever" list, but again, it's worth seeing to know where things once finished. Thankfully, ABC's revival gives the Conners a chance to rewrite their TV family history.