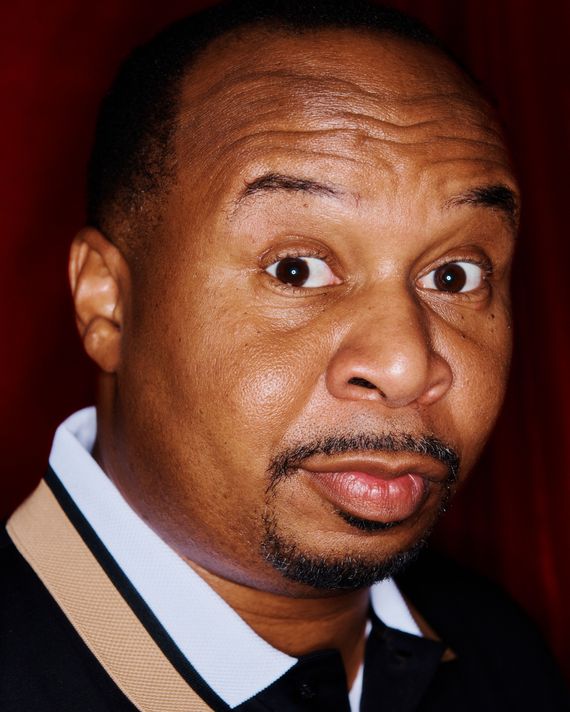 Roy Wood Jr.
Photo: Jonah Rosenberg
Roy Wood Jr. knows he could've hired painters. Instead, he's loading up a cart while navigating the aisles of the Home Depot on West 23rd Street. It's a Monday morning in March, and since the 44-year-old comedian just bought an apartment in Manhattan — the first place he's owned — he wanted to spend the morning running errands. Wandering slowly through the aisles, he picks up a box of trash bags, pauses over the laundry detergent, considers batteries, selects paint samples. This location is Wood's preferred Home Depot thanks to a paint department that he feels is particularly on the ball. Strolling up to the counter with his paint options — several grays and a few sharp blues — he addresses the employee: "What's up, man, I'm back. I'm gonna do all of these in matte." The paint clerk, who does seem on top of it, says it will be 15 minutes, so Wood angles the cart into a new aisle as he continues sharing his thoughts on the topic at hand: The Daily Show.
Comedy Central's 27-year-old late-night show is in a period of awkward transition after Trevor Noah, its host of seven years, left abruptly in December. With no succession plan in place, the network has held off naming a replacement, instead opting to spend the past four months with a rotating set of guest hosts, each typically fronting four episodes — Sarah Silverman, Leslie Jones, and John Leguizamo have been among the 12 stopgaps to date. Wood has been a beloved Daily Show correspondent since 2015; he's also an accomplished stand-up, a cultural observer who can communicate gravity and humor in the same breath. Those qualities made him an obvious choice for a guest-hosting stint, which he did in April, kicking off a run of guest-host spots for The Daily Show's other current correspondents.
In the eyes of many, Wood is — or should be — among the front-runners for the role of permanent host. Just ask comedian Mike Birbiglia, who told me, "A bunch of my comic friends, when we found out that Trevor was leaving, said, 'And they're going to give it to Roy, right?'" Or Cory Booker, who, as one of Wood's guests on his first night as Daily Show guest host on April 3, said the show should stop its speed-dating routine and just pick him. Wood says it has become a regular phenomenon for passersby on the street to insist he should be the next host of The Daily Show. It seems a little unbearable to be told by strangers, many times for months, that you are perfect for a very public job that you do not have yet and may well not get.
"They're dating around," Wood says, as we circle around the cleaning-supplies aisle. "The perception is always that the talent is auditioning for the show, but I feel like the show is also auditioning for the talent. I am focusing on the shit that I can trust and control. Because we're in a weird, flux place, it's giving me a little bit of time to delve into the other things that excite me."
Wood has been a road comic since his 20s, and he still loves that part of his career. He has national tour dates booked for the summer, is a regular presence at comedy spots throughout New York, and has been funneling energy into Tribulations, a live show he's created in which comedians offer advice to members of the audience and then a licensed therapist comes in with more-professional input. With three hour-long Comedy Central specials under his belt, he's been thinking about ways to push his stand-up forward. That drive has been propelled in part by his ruminations on fatherhood — Wood has a 6-year-old son — and by an experience a couple of years ago on the PBS series Finding Your Roots in which he learned, among other things, that his grandfather disappeared when his father was 4 as well as the identity of the white family who owned Wood's ancestors in Georgia during the 19th century. Wood was shaped at a young age by his late father's work as a civil-rights journalist and longtime radio producer, though there are other elements of Roy Wood Sr.'s life (the anger, the ten other children with women who were not Wood's mother) that the comedian does not want to repeat. In that tension, Wood sees catalysts for new directions in his work.
Even so, "what happens at The Daily Show" looms large over this moment, and it's something Wood keeps returning to as we walk past the gardening department and head back through small appliances: "What's the next iteration of the show? What is the evolution?" Considering his experience, it's not hard to understand why people believe he's perfect. It's even easier to see why now in particular feels like his moment. Wood makes so much sense as your dad — or, if you prefer, your Uncle Roy, a moniker he adopted during his week as a Daily Show guest host. His tone and comedic style effortlessly convey "voice of wisdom": He makes slightly dated MCU references to fill out a bit about racism in pop culture and shakes his head at an American public that just has not gotten its act together yet. It's an approach deeply grounded in his experience, pragmatism, and ability to pause and reflect. The same gravitas would not land coming from a younger man, especially in the jokes in which he layers humor with sincerity. This weekend, he's hosting the White House Correspondents' Dinner, his highest-profile gig yet and one that screams "chief national comedian." It will further round out a résumé that seems custom tailored for the Daily Show post.
After Wood has retrieved his paint and settled up at Home Depot, he and I walk down the block to Best Buy, where he wants to buy a vacuum. Along the way, we run into a group of students who recognize him and ask when a Daily Show decision will be made. "I don't fucking know!" he says. "I would love to know too!" That exasperation, while warm in nature, has layers: He has loved his time at The Daily Show, but if the top job goes to someone else, Wood suspects it might be time to move on. "If they are not choosing me as host," he explains, "I have to also assume I'm not going to be a part of the show in any other capacity." Inside Best Buy, he grabs a Dyson and a Bluetooth speaker for his new apartment and, at the checkout, gives the cashier his mother's phone number so she'll accrue loyalty points for the purchases. Back on the street, Wood slings the vacuum over his shoulder to head down 23rd. "So my point is," he says, "I figured I should buy a place now because I don't know how any of this shit is going to end."
That evening, following an afternoon of meetings and a few hours with his son after school, Wood arrives at the Comedy Cellar for five shows to hone jokes for his tour this summer. He has a bit about gun control he's still working out, and he performs it several times during different sets over the course of the night, each rendition a little different as he figures out which parts need polishing. The twin cores stay the same: that no one with a fresh haircut goes out to commit a mass murder and that the gun-buying experience should involve more chitchat. I marvel at the pristine dadliness of the concepts, the way they channel intense concern about our nation's social fabric through annoyed but solution-driven common sense. Wood is careful in each progressive telling of them, preserving the concept while tinkering with everything else: the order, the setups, the timings.
When Noah was hired as host of The Daily Show in 2015 and scouting for new correspondents, he went to see Wood perform at the Cellar on the recommendation of comedian Neal Brennan. As Noah recalls, "Neal said, 'There's this comedian everybody should know but most people don't know. This guy's phenomenal.'" After just a single show, Noah wanted to offer Wood a spot as a Daily Show correspondent. "He engages in the world from a point of view that I feel is very shaped by what America is," Noah explains. "He's done everything. He's been on the road forever. He's managed to maintain the work ethic of a road comic, but he doesn't have any of the jaded aspect of it." Some of Wood's most memorable Daily Show segments have been filmed remotely, including a team-building exercise designed to bring together people with opposing political views and a segment from his guest-hosting week in which he interviews one of Ron DeSantis's education advisers. He particularly shines in bits that require him to play a slightly exaggerated character, such as a radical Black activist doing Oscars commentary or the host of an Unsolved Mysteries–style show on what exactly Ivanka Trump does.
"It seems like this boundless joy when he's performing — but there's a lot of thinking. He's really meticulous," Noah says, adding how much he enjoys the recurring Daily Show bit in which Wood plays a frustrated traffic guy on the news. Brennan says that when he recommended Wood to Noah, it was because he has "sturdy, well-designed premises … He has well-structured bits, and it's about the thought, not just the sauce. He's very energetically approachable. And he looks like the dad from Family Matters."
Wood doesn't not look like Reginald VelJohnson with his round, expressive face and deep-set eyes, and though his vibe is more "Comme des Garçons Converse" and less "powder-blue dress shirt," the overall Uncle Roy–ness is undeniable. Between Comedy Cellar sets, we wander over to a bench in Washington Square Park and talk about what he wants to pursue beyond late-night TV. Wood grew up in Birmingham, Alabama, with formative memories of his journalist father watching C-Span and 60 Minutes and with the strong influence of his mother, who worked in higher education for decades. In a world where Wood leaves The Daily Show this year, he has a clear vision of the kind of comedy he'd like to do.
"I know the next three hours I want to build," he says. He envisions one called The Man of Many Fathers about all of the people who filled that role in his life after his father's death at 80, when Wood was 16. Another is about him and his father, and the third is about his son and his own experience with fatherhood. In his head, these are separate hours, but as he talks about them, they run together. In addition to losing his dad at a young age, Wood's father was disabled in a car accident as a teenager. Reflecting on his father's life feeds into how Wood processes his own life ("Shit, that means I have to go therapy, so off to therapy I go so I can figure out my shit"), and breaking that cycle of anger he experienced as a child is his biggest and most urgent goal. Wood is recently separated from his son's mother, but he is clear about how much he respects her. "We both understand what we're trying to do here, which is to raise a well-rounded human being. We're in lockstep on that one," he says. "She remains the most important woman in my life. Still No. 1 on the depth chart."
All of this, he insists, is fuel for the kind of comedy that excites him most right now: "What I would love to do is deal with that. That's what I'm interested in." Which is why, even as he's been envisioning how those hour-long shows might look, Wood has done his best to articulate exactly how he would knit that thematic interest into a role as the Daily Show host. On the last day of his week as guest host, Wood spent a segment arguing that America should get rid of four-year colleges, which doubled as a stealth piece of autobiography. He held up the diploma for his journalism degree from Florida A&M, adding that it took him five years to finish because he skipped midterms one year to open for comedian Tommy Davidson. At one point, his phone appears to ring, and Wood takes a (pretend) call from his mother, who scolds him that he shouldn't be so flippant about higher education. Later, a clip plays featuring a very young Wood doing on-camera local reporting for a story about a hospital safety inspection. "That was hard-hitting journalism in my daddy's suit!" he tells the audience. Taken together, it's a complete snapshot of Wood worked seamlessly into the structures of the Daily Show: comedy blended with news, a slice of family dynamics, a dash of his past as a knucklehead.
Getting the host job would allow Wood to fill out that picture in more detail and theoretically enable him to partially reshape the series, turning it into a reflection of his passions and sense of humor. Noah's Daily Show operated on a national and sometimes global scale, tending to focus on federal issues and big cultural movements. Wood imagines making the show more granular and individual with a little less focus on celebrity-level conversations and more attention on state and local news. Beyond being an expression of his own cultural interests, it's also a clear-eyed assessment of where he sees media trends pointing, especially on platforms like YouTube and TikTok.* "We've got droves of people laying down in bed every night, and they're watching strangers in their phones," he says. "If we're just talking view counts, people would rather watch a stranger in their phone than a celebrity on a couch." He wonders whether The Daily Show could be a place for more of that — whether he could harness a viewer's natural curiosity about the lives of strangers into something with the humor and rapid pacing of late-night television.
Back at the Comedy Cellar before for his third set, Wood chats with a writer for Gutfeld!, Fox News's late-night show. Pleasantries quickly turn into the writer asking for, and Wood warmly providing, practical advice on tweaks and improvements for the show. (One problem, Wood says, is that the Fox News personalities who appear on the show won't let host Greg Gutfeld carry the comedy. They keep stepping into his lane.) Wood has a reputation for being unusually generous with his advice, support, and even money, most notably in his practice of paying his opening acts extra when on tour. "There are few comedians in this industry who don't have a Roy Wood Jr. story," Noah says. Comedian Niles Abston echoes this. "I meet young comedians all the time and they're like, 'Oh, you know Roy!'" he says. "They'll tell me some amazing, nice thing he did for them. I'm like, Does this dude ever sleep?"
Wood owns all of this, including the idea that he may be too willing to give up his time and energy for others, but he insists that how he pays openers comes entirely from a place of self-interest. "I remember being on the road and worrying about money and food," he says. "You can't focus on the jokes. I need my audience to be ready for me, so what can I do to make sure that when you work with me, you're only thinking about the fucking jokes? If money and a plane ticket do that, cool. I'd rather pay more for my opener than have the club book somebody who's going to slow my show down." It's such a straightforward, practical answer that I am almost ready to accept it as a wholly self-serving act, but that doesn't square with the way other comedians talk about Wood's generosity. "I'm more concerned with someone thinking I'm an asshole, professionally speaking at least, than I am with bombing," he says. "Because if you're funny and nice enough, you'll get opportunities."
Accordingly, his own career continues to grow bigger and more varied, extending outside the now-comfortable circuit of road comic and correspondent. He had a stand-out supporting role on 2022's Confess Fletch (playing a detective whose primary character trait, unsurprisingly, is that he's a new dad). This weekend, the White House Correspondents' Dinner will provide "the quickest and clearest way for people to understand exactly who I am and what I believe." It's "white-people Showtime at the Apollo," he says. He expects half the room won't know who he is and the other half will "probably think I'm Kenan Thompson." A few weeks after that, he's hosting the Webby Awards.
At some point amid all that, he may learn what's happening with The Daily Show. His fear is that the network might try to stretch the guest-host approach into the show's new normal. As Wood lays out the reasons he thinks that would be a bad idea, I realize he is, consciously or not, formulating his best advice for Paramount execs. "Guest hosting is fun," he says, "but if you're a football team with a different quarterback every week, it's hard to establish the identity of the team." Hosts cannot build a rapport with the audience in just a week, which makes it much harder to find poignancy and depth in the moments when the show does want to turn toward a more serious tone. And comedy takes time to find itself. "A week of guest hosting is for sure enough to know that you can't do this," he explains, "but it's not long enough to figure out where the growth lies and what a new show could be."
And so he waits, in motion. He thinks about when he moved to Los Angeles in 2007 with no plan and then to New York in 2015 with barely enough money to rent an apartment: "The next thing you know, I'm fine, but I had to jump first." This summer feels like those periods again. "I feel like Tom Hanks at the end of Cast Away," he says. "I'm just standing in the middle of the road, just … which way to go? He doesn't know. It's a beautiful last shot."
*This story has been updated to clarify Wood's approach to The Daily Show during his week as guest host.