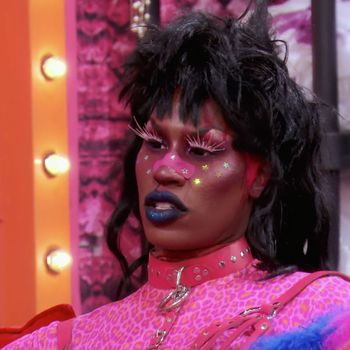 All Stars has and always will be a tricky beast. Not just this season, which had big shoes to fill after the compelling, well-received, and satisfying season 12, but every All Stars installation. Part of the reason is that the cast, seasoned Drag Race alumni, come in with reputations. We, the audience, have preconceived notions of each queen's skills and strengths, and we therefore create an unofficial "pecking order" that we assume must and will be followed. When the show strays from our assumptions (by sending queens home too early or too late) or queens exhibit behavior that contradicts this clandestine, infallible ranking system, the fandom reacts poorly. Rigged! Snake! Robbed! Et cetera. In fact, there's only been one season of All Stars (season 2) that fans agree truly delivered on the inherent promise of "the best of the best." Even in that season, though, many were quick to write it off for not crowning the fan fave. (Katya was robbed, mom!) It was only in the months after that fans finally began treating All Stars 2 for the television excellence it was all along. So any season of All Stars always has an uphill battle.
That said, I think this season of All Stars was ultimately quite successful, and probably the best since All Stars 2. A talented and feisty cast of queens was buoyed by strong challenges, a fun format twist, and a winner who feels like just the sort of queen this franchise was made for. Let's get into it.
First things first, the eliminated queens are back! The tête-à-tête on the Werkroom couches feels like a little taste of what a full reunion could have been like, and it is indeed satisfying to watch India come apart after her weeks-long deception begins to unravel. But ultimately, we never get a full rehashing of any of the numerous plots that colored this season. From Derrick vs. India, to Mayhem vs. India, to Alexis vs. India, this season truly gave us a variety of India-based conflict.
But if anyone is having traumatic flashbacks to previous All Stars seasons, fear not: the eliminated queens are back for ornamental purposes only. They flesh out the dance number, and they each get a chance to show off one more expensive, custom garment that otherwise may never have had a life outside of their neatly curated Instagram grids.
It's the top three who of course have the real challenge this week. Cracker, Shea, and Jujubee are tasked with writing personalized verses and dancing to Ru's new single "Clap Back!" The song is just about as groundbreaking as it sounds, with lyrics like "Speak your mind! Say it twice!" I imagine Ru finding a nice little quiet corner of her ranch, clacking away at her typewriter, and deciding to rhyme "say that shit to me" with "def-i-nite-ly." The Joni Mitchell of fracking oligarchs!
Let's start with Jujubee. Juju is definitely the most ill-prepared for the challenge this week. Juju's choreo is (say it with me) siiimple and yet she still seems to struggle with it. In one particularly tough moment, Juju claps offbeat. In a song called "Clap Back!" On the lyric "clap back." But it's hard to really care because, as usual, Juju is just so damn likeable! In spite of (or perhaps because of) her failure, she still manages to pop off hilarious confessionals: "Flexible? Well if you call me at 6 o'clock and you need me to be there at 7 I'll be there at 7, but are my muscles flexible? No." How can you not love her? On the runway though, it's easily the best Jujubee has ever looked. The judges praise her like crazy, and we get a lovely little retrospective of 10 years of Jujubee. "You are the kind of person an audience roots for," Ru says. No lies there! Juju has only had one challenge win in her three seasons of Drag Race but still manages to make every list of the most beloved queens of all time. That's star quality, baby. In the words of Alexis Mateo: we love you, Juju!
Next, Miz Cracker. Cracker comes into this episode the most statistically likely to take the crown. Or at least you'd think. In the olden days of Drag Race, winning the most challenges made you a shoe-in for the crown, but lately that hasn't necessarily been the case, especially on All Stars. Nonetheless, Cracker has accumulated three wins and tens of thousands of dollars this season (a lovely little quarantine nest egg), a track record that speaks for itself. Cracker seems confident, and that's reflected in her demeanor both in rehearsal and the final performance. Her lyrics are super fun, "make haters eat it like time for dinner / Mad 'cuz your man wants an All Stars winner" being a definite highlight. Her choreo isn't as technically demanding as Shea's, but Cracker executes it well and delivers an entertaining show. The judges spend a little more time on the "journey" Cracker had this season than they do with other queens (never a good sign), but at the end of the day they rightfully praise her for her smarts, talent, and comedic chops. Ru gives Cracker a lovely little "I'm proud of my daughter" nod and smile; it's very cathartic for all involved. You done Hell's Kitchen proud! We love you, Cracker!
Finally, Miss Shea Couleé. Shea was already so excellent on season nine, so it's almost hard to believe that she could step her game up so dramatically. But she did! Even more than on her season, Shea feels like a true original this time around. Every look told a story, every choice she made felt unique, and I was always so eager to see what Shea would do next. This episode, Todrick Hall admits to giving her the toughest choreography, and it shows. There are dips, complex hand-ography, and cartwheels that happen while being held in mid-air. Shea doesn't miss one beat. The lyrics aren't super memorable, but perhaps I was simply too busy watching the intricate choreo to pay attention. On the runway, Shea wows us (again) with an empire-waisted flowing pink gown. The judges fall over themselves with praise, and Shea makes a beautiful speech that is both a moving tribute to Mama Ru and a victory lap. It's masterful. There's no winner for this challenge, but it's hardly a secret that if we were keeping track, Shea would be miles ahead.
With the challenge behind them, and effusive judges' critiques verbalized, all that's left is one final lip sync for your legacy. There's no trial by jury this time around (thank God), so it's up to each of the top three to deliver their final arguments to RuPaul through performance alone. When Janelle Monae's "Make Me Feel" began to play, I knew it was over. While all of the top three have made their mark lip syncing this All Stars season, only one of these queens feels like they were born to perform this song. "Make Me Feel" is funk, it's soul, it's pop, and (above all) it's an ode to black queer womanhood. It's basically made for Miz Cracker! (Kidding…) Shea Coulee runs away with the number, and it's not even close. Even her competitors on the sidelines can't help but scream Shea's name as she mops the floor with Juju and Cracker. And the winner is…
SHEA COULEÉ! I could not be happier for our newest addition to the hall of fame. As our reigning All Stars champion, Shea earns a crown, a sceptre, and the power to cast a tie-breaking vote in the Senate. While the case could have been made for any of these talented queens to take the crown, Shea has not only delivered in each episode this season, but her reputation outside of the competition is that of one of the most talented, thoughtful, and beloved queens in Drag Race herstory. The crown is hers, and it feels oh so right to hear Ru call her name. Congratulations, Shea! Long may you reign.
That's it! Drag Race season is over, so this is the last recap you'll be getting from this British-word-for-cigarette for a while. I had the time of my life sharing my perfect opinions with you all, and I want to thank each of you from the bottom of my heart for reading these lil' recaps every week. They were a true labor of love, which is not a word I've ever associated with labor before. Goodbye, my loves! Now let the music play!