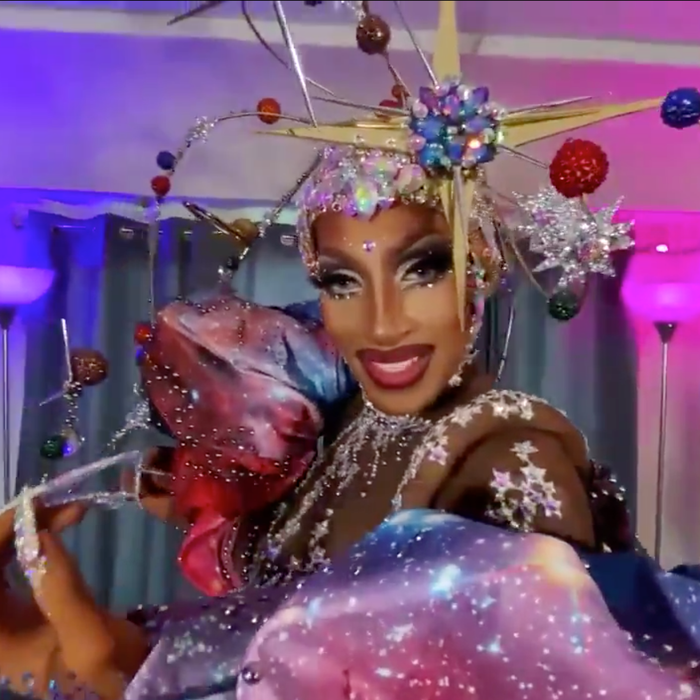 Four months ago, if you told me that one of my favorite seasons of Drag Race would take place in quarantine with a contestant disqualified for sexual misconduct, I would have said: "Aw, thank you! Just water and SPF!" (I wasn't listening, so I just assumed you were complimenting me). But even if I'd heard you, I wouldn't have believed you. In fact, I might have even said that such significant setbacks might spell the end for the show I love so much. But I would have been dead wrong.
Whether it's Miss Rona or Miss Sh*rry P*e, if there's one lesson we've learned from this season of Drag Race, it's that you cannot keep a good queen down. Shut-down bars, cancelled shows, and a season reedited on the fly have all wreaked general havoc upon the Drag Race Industrial Complex. But despite all this and more, season 12 still ended up being one of my favorite seasons to date, with one of my favorite winners of all time. I'm getting ahead of myself, but I'm in a good mood! Sue me! (Read in a Nina Bo'Nina Brown voice.) Let's back up and talk about the remote Grand Finale.
Unlike the reunion, the Drag Race finale is traditionally an extravagant affair. Since season five, finales have taken place at the lavish Orpheum Theater in LA. There are performances, confetti cannons, and newly wealthy Drag Race alumnae regaling us with all the costumes, veneers, and juvederm money can buy. However, as we learned tonight, none of that is what makes Drag Race special. When you take away the pageantry and production value, you're still left with a show with a hell of a lot of talent, creativity, and heart.
The Foreplay:
We begin with a lovely montage of the season 12 queens, coming to us from backyards, rooftops, and studio apartments across the country. They each look stunning, but my top toots must go to Crystal as a supersize piñata, and Jaida in PILF eleganza (Planetarium I'd Like to Fuck). And it wouldn't be a finale without the Drag Race staple: celebrity video messages. Rachel Bloom joins us with her "pornographically large breasts, which are filled with milk," as does Robyn, who seemingly learned how to use a selfie camera for the occasion. Top toot of the night goes to Whoopi Goldberg, who speaks on the importance of drag in this global crisis. Afterward, we move on to the interviews with the top three. They each get a heartwarming message from their families, dole out advice to their young queer selves, and explain what it would mean to be crowned America's Next Drag Superstar. It's really nice. You cried and you loved it, you big homo!
We also take a moment to crown our new reigning Miss Congeniality … congrats to Brita!! (Kidding.) Of course, the prize goes to America's sweetheart, Heidi N. Closet (the well-named). Heidi being the fan favorite of the season is so deeply correct, and I'm glad the show gives us the opportunity to celebrate her one last time. Sorry, make that one second-to-last time. In a final gift to us all, Heidi stars in a social-distancing PSA. This serves the dual purpose of being an entertaining, time-filling diversion, and also sweet redemption for Heidi's infamous one-woman show in episode 11.
I'm about to get to the lip syncs (I swear!), but before I dive in, I would be remiss if I didn't discuss the wonderful tribute to the late Jacqueline Wilson. Jacqueline has been a producer on Drag Race since season two, and it was deeply moving to watch her be celebrated by countless Drag Race alums. It's clear that not only was Jacqueline a talented (and Emmy Award-winning) producer, but also a loving friend who cared for these queens deeply and took the time to uplift them at every opportunity. While I did not know Jacqueline personally, I'm extraordinarily grateful for the role she played in creating this show I love so much.
The Lip Syncs:
It's the main event! (Are you ready?) The format of the lip syncs goes as follows: The queens will go head-to-head in a "close up" lip sync, then they will each perform an individual pre-recorded/edited lip sync of their choice. Following this, there will be an elimination (or not …) and a final lip sync to determine America's Next Drag Superstar. The "close up" lip sync feels like a wash. The vibe is more appropriate for a mini-challenge and less so for a competitive finale number. Luckily, it doesn't seem to matter, and in the individual lip syncs the magic starts to happen.
Crystal starts us off, lip syncing to "Like a Bird" by Nelly Furtado, playing both mama and baby bird. The number culminates in her regurgitating spittle to feed herself. It's kitschy, it's bizarre, it's beautiful, it's fucking hilarious. Crystal never for one moment compromised her originality this season, and she remains a weirdo until the very end. She's the fan favorite of the final three, and it's easy to see why. Gigi performs A-Ha's "Take on Me" against a jaw-droppingly well-designed comic-book backdrop. Where Crystal's lip sync succeeds because of its campy, lo-fi, John Waters vibes, Gigi's is the opposite. The performance is produced and edited to perfection, and it's clear that every cut-away and angle was expertly thought out. It's also completely excellent. Finally, it's Jaida's turn, who has chosen "Get Up" by Ciara featuring Chamillionaire. On one hand, it's impossible to fully define the concept of queerness, but on the other hand if the opening keyboard synths of a Ciara song don't make you squeal with delight, then you are not gay. Jaida is, as always, pure sex, and pure drag excellence. Additionally, the fact that Jaida is literally lip-syncing the lyrics "the club is jumpin' now" on the floor of her suburban Milwaukee apartment elevates this piece to highbrow performance art.
After an agonizing commercial break, RuPaul reveals that all three queens will proceed to the final lip sync: a three-way split screen performance of "Survivor" by Destiny's Child. Much like the season ten three-way lip sync, it's an overwhelming spectacle to behold. The split screen makes it hard to focus on any one queen for an extended period of time for fear of missing out on some stunt or shenanigan on the other side of the TV. Since it's three girls performing a Destiny's Child song, it's very tempting to compare each queen to a member of the girl group (Jaida's the Beyoncé). However, I've ultimately decided that that's tacky (Jaida's the Beyoncé), so I'll have to find a different way to explain that Jaida's the Beyoncé. Of course, it wouldn't be a finale performance without a couple of RuVeals™: Gigi strips off her dress and boots to reveal to a Dorothy Wizard of Oz costume (?), and Jaida throws off her shawl to reveal a strappy bodysuit and a cape that (quite literally) crowns her at the end of the number. It's a stunt.
With that, RuPaul is ready to crown. And so, he declares that America's Next Drag Superstar is … Jaida Essence Hall. (Wow, that felt great to type.) Jaida's victory is truly deserved. Her accomplishments on this season are too numerous to mention, she's a true master of the craft of drag, and, on top of it all, you can't help but fall in love with her. Last week, a clip of Jaida on Instagram live explaining what the crown would mean to her went viral, and I highly recommend you watch it. In it, Jaida explains that her confidence and drag prowess are not innate, they were fought for. Jaida teaches us that sometimes the things we love about ourselves (compassion, self-confidence, kindness) aren't indelible qualities, they're skills. Skills that require hard work and struggle to develop and maintain. But as Jaida proves, it's work that's worth doing. Congratulations to our newly crowned queen. Long may she reign.
I had the most fun recapping this season for you all. But don't be sad! If you were worried you would no longer be able to leave comments telling me I'm a tasteless, untalented twink (thank you for calling me a twink btw!), fear not. I'll see you next week, same time, same place for the first installment of my Shea Couleé propaganda column All Stars 5 recaps! Until then!