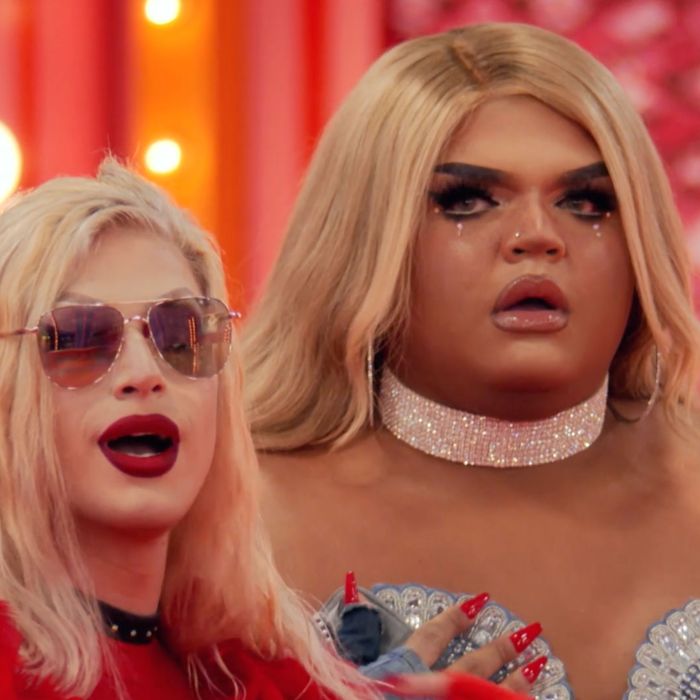 Drag Race is back, baby! There may be no guest stars, the judges may be separated by dystopian plexiglass sheets, and RuPaul may be avoiding the Werkroom like the LITERAL plague, but it's BACK. And I'm back, too! Here to walk you through this COVID-compliant season every step of the way.
This episode was just fine. Drag Race loves a format change, which has herstorically resulted in some soaring successes (All Stars 2) and some dismal failures (All Stars 1). This episode's lip sync battle twist falls somewhere in the middle. While the first 10 minutes or so feel fresh and invigorating, this ep begins to follow an increasingly predictable pattern: queen #1 enters and says some version of the phrase "I'm the first one!", queen #2 enters and makes slightly forced banter with queen #1, both queens are SHOCKED by a twist we have now seen play out 2-5 times, and finally a lip sync of varying quality. That said, the episode is boosted by the talent of the cast, so you might very well forget the Groundhog Day of it all. Without further ado, let's meet the queens!
Kandy Muse/Joey Jay
About half the queens think they're first into the Werkroom, but canonically, the prize goes to the legendary Kandy Muse. Formerly Haus of Aja (we have yet to get the full tea), Kandy rose to viral internet fame thanks to her loud mouth and iconic tweets. Kandy was a winner this episode, she proved what New York drag fans have known for years: she's funny, loud as hell, and a smart performer to boot. However, I'd be lying if I said I wasn't a little nervous for Kandy. Drag Race has a nasty habit of airlifting confident queens out of NYC, knocking them down a peg or seven, and villainizing them in the process. Next is Joey Jay, a "filler queen." Hey she said it, not me! Joey Jay repeats that phrase several times throughout the episode, I assume in an effort to reclaim a term that has been weaponized against the Magnolia Crawfords of the world. I don't love this branding. I think self-awareness is an overrated trait in drag queens. Once we finally admit that Anna Kendrick ruined the concept of being self-deprecating in 2015, we can realize what the gays have always known: delusional self-confidence rules!
After a brief onstage interrogation, Joey and Kandy lip sync to "Call Me Maybe." In short, Kandy slays it. The most memorable moment is Kandy's boombox prop, which she uses to "turn off" the song at the end of the lip sync. True to form, it's become an instant meme. Kandy wins, and Joey Jay gets "the pork chop"… whatever that means.
Denali/LaLa Ri
Next up is Denali, Chicago's ice princess. It's notable that Drag Race has now had so many queens that Denali isn't even the first professional ice skater slash drag queen to be cast. God, I love this show. Denali is a Chicago darling, and enters the show with a polished package, a competitor's mindset, and a dedicated fanbase. Fitting, then, that Denali is paired with LaLa Ri. LaLa Ri is—in a word—delightful. She's funny, she's completely at ease, and she doesn't seem to care that she's entering the werkroom in a cheap bodysuit and jacket (much to Denali's chagrin). LaLa says she's "an Olive Garden pasta with Popeye's chicken tenders on top," probably the most succinct and perfect branding of any queen this episode.
The two lip sync to "When I Grow Up" and their differences in mindset are immediately on full display. Denali is clearly thrown by the format twist. She's nervous, and the immense pressure she feels to succeed at Drag Race is clear as day. She's also in the unfortunate position of having to pull her outfit up every few seconds, which doesn't help matters. LaLa Ri, on the other hand, is just having fun. She delivers an entertaining performance with just the right amount of attitude. Lala is victorious and a devastated Denali is pork chopped.
Symone/Tamisha Iman
Next up, the mononymous Symone. Symone is quite simply a star. She tells us: "My drag is very real woman". Did she lie? She sports a dress constructed entirely of chain-linked polaroids of herself. It's a garment you can only possibly pull off if you're that thin, gorgeous, and confident, but that said… she is, so she does. These days, every queen comes in with a focus-tested branding package ready to go, but Symone's entrance is noteworthy because of how organic it all feels. Symone even effortlessly riffs with Ru herself when she gets on stage. She's what we call a TP: a total package. Symone is matched up with Tamisha Iman. Tamisha is a seasoned, old-school queen, and as we find out on the main stage, a cancer survivor. She has juuust enough time to walk us through the devastating trauma of being diagnosed with stage IV colon cancer, and finding the strength to brave radiation and chemo for the chance to be on season 13 before she is promptly eliminated. That's Drag Race for ya!
She and Symone lip sync to "The Pleasure Principle" by Janet Jackson. Tamisha bodies those Janet-at-50 dance moves (which is a compliment, to be clear!), but it's simply no match for Symone's raw star quality and stage presence. You can't keep your eyes off her, and not just because every inch of her exposed body is covered in highlighter. It's completely iconic. If anyone can lay claim to the title of frontrunner after only 10 minutes of screentime, it's Symone.
Gottmik/Utica Queen
Next, here to "crash the system," it's Gottmik, the first trans man on Drag Race. Gottmik puts it succinctly: "born a girl, transitionend to a guy, dress like a girl for money… very that!" Gottmik is a prolific celebrity makeup artist, and has the distinction of being the most followed season 13 queen on Instagram at the time of cast announcements. She's inspired by fashion designers, and clowns. Same! Gottmik's lip sync opponent is the kooky Utica Queen. If Gottmik is a clown, then Utica is the whole circus. Utica wears a clown-like patchwork suit and a gigantic strawberry fascinator. Utica is funny and likeable, but the editors do their very best to convince you otherwise. They underscore her every sentence with the cringey musical stings, and frequently pan to the judges' placid faces when she tells a joke. It all feels very manufactured, especially given how well Utica performs in her lip sync. She and Gottmik are assigned the gay cult classic "Rumors" by Lindsay Lohan, and I find myself quite impressed with Utica. Behind her wacky persona is clearly a studied, polished queen. It feels like a BenDeLaCreme performance in the best way. However, despite my dozens of letters and threatening voicemails to World of Wonder headquarters, I am not a judge on RuPaul's Drag Race, and the judges quite disagree with me. They seem wholly unmoved by Utica, and award Gottmik the win.
Rosé/Olivia Lux
Rosé is an established NYC entertainer, a reality TV veteran, and a member of the drag girl group Stephanie's Child. Rosé marks Drag Race's second foray into the SCCU (Stephanie's Child Cinematic Universe), after season 12 fan favorite Jan. Clearly a pro, Rosé has a quick, sharp wit and really pops in the confessional chair. Not to mention boy Rosé is quite a cutie as well! Kind of the best-case scenario when it comes to aging as a twink. Like a good sommelier, RuPaul pairs the acidic, dry Rosé with the light and sweet Olivia Lux. Olivia Lux is BEAUTIFUL. She's a drag baby, but her makeup and hair have the polished perfection of a far more seasoned queen. She sports a two-toned dress, and an adorable little Jacquemus knockoff purse. The tension between the two queens is immediately palpable. Well… at least to Rosé it is. Rosé is clearly miffed that the very green Olivia Lux is already on Drag Race, and she's ready to see her taken down a peg. But unfortunately for Rosé that won't happen today! The pair lip sync to "Ex's & Oh's," and I could have seen it going either way. But Olivia is indeed "one with the music." She's sultry, ferocious, and it ultimately gives her the edge. Rosé is PISSED to lose to Olivia, and doesn't try to hide it. Much like her sister Jan, Rose gives great face crack. Honestly, I live for a sore loser. As Rosé walks offstage, Olivia Calls out: "Wait, I'm so confused!" "Me too," Rosé replies. Gag. This is a high point of the episode, and I hope we get to see more of this one-sided rivalry as the season progresses.
Tina Burner/Kahmora Hall/Elliott with 2 Ts
Our final lip sync of the night is a menage a trois. First up is Tina Burner. The campy, 8-foot-tall NYC legend injects some much needed energy into the last act of this episode. She's quickly joined by Kahmora Hall, the self-described "Mackie Barbie doll." It takes about 0.2 seconds for Kahmora to start antagonizing anyone in her sightline this episode, which I of course stan. She walks in dressed to the nines in a Bob Mackie original (which had to be taken in because she's "sample size") and tells Tina she looks like a hot dog. I'm expecting great things. The pair are then joined by Eliott with 2 Ts, who lumbers in, sings a low-energy cheer jingle, and half-heartedly poses for the camera. As Kahmora correctly summarizes, "she looks… fun." This episode, Elliott is dragged by everyone on screen (Tina, Kahmora) and even some people offscreen (her story producer). It's hard to imagine her sticking around too long.
The three lip sync to the iconic "Lady Marmalade," a choice that feels custom picked for Tina. TIna knows every inch of this song, and I'm 99 percent sure I've seen her do it in Cherry Grove. She claims a definitive victory and Elliott and Kahmora are sent packing. Or… are they?
The episode leaves us on quite the ambiguous note. While not every losing queen is being sent home, it appears that one of them certainly will be. Next episode, the girls will practice their civic right to vote and decide amongst themselves who is sent home. Spooky! We're off to the races, and although the quality of this episode is at times a little… pork choppy, it's nonetheless a great start to the new year. These queens came to play, and I'm certain they have great things in store for us all season long.