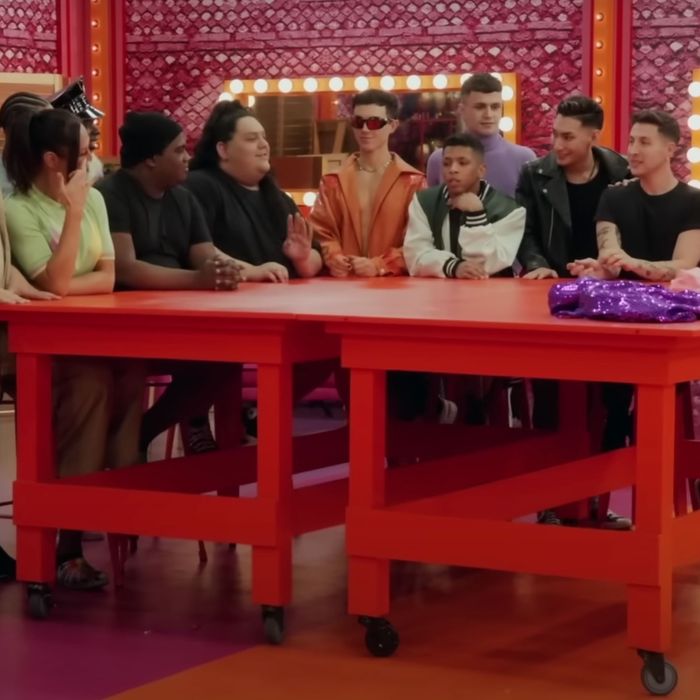 Photo: Vulture; Photo: RuPaul's Drag Race
Let's take stock. We're five weeks into RuPaul's Drag Race season 15, which typically means the potential winners have been decided. For the past 14 seasons of American Drag Race, no queen has taken the crown without winning one of the first five challenges. Ever. I don't bring this up as a hard-line rule (there are no hard-line rules in Drag Race), but rather to point out that typically the winner is one of RuPaul's favorites, and the top echelon of favorites is decided very early on. Now, that doesn't mean that our winning queens thus far make up the top five — far from it — but it is true that the queens who have yet to win a main challenge have a hole to dig themselves out of.
So that leaves us with Anetra, Sasha, Loosey, Luxx, and, after this week, Aura (of all people) vying for the crown. Anetra has the talent, but since her first week it's become clear that she might not have the strength of personality necessary to win the season. Aura, meanwhile, may yet be able to make it to the end given Ru's excitement over her this week (we'll get to it), but the comedy chops aren't there. Sasha, Loosey, and Luxx all seem like true contenders, given the wide-ranging charisma, uniqueness, nerve, and talent they've shown thus far. If anyone from the non-winners group is taking it, I'd imagine it's Mistress. She doesn't have a win yet, but at this point that seems like a formality. A few weeks back, Ru told her she has her eye on her, which is basically a win, and the judges love her drag. The way I see it, the rest of the girls are vying to simply get as far as they can to ensure an All Stars run and higher booking fees. A valuable reward, to be sure. But is the grand prize coming their way? I'd be surprised.
By this point, the girls are settling into what the competition feels like, and even those who didn't come out the gate swinging have had time to warm up. Queens like Malaysia, who started off tentative, are coming into their own as characters, and queens like Robin, whose personalities just don't lend themselves to Drag Race, are going home. It's enough time for an arc to be set in motion and for the queens to show their basic skill sets in comedy, looks, and vocals. Essentially: The filler is gone, the competition is heating up, and it's time to get to work.
That's why this episode is so fun. The more explosive personalities are starting to explode at each other, and the queens are all talented enough that nobody really gives a terrible performance — even the eliminated queen was eliminated for being simply too boring. While the shorter run time is still resulting in issues like a lack of deliberations, fewer Ru walk-throughs, and a too-quick runway, the number of queens is finally manageable from an editing standpoint. We get a story this episode, and the story is fun, stupid, and gripping. It doesn't have a perfect payoff in-episode, but I'm hoping it sets up some more bombs down the line.
The episode begins with the editors cutting Amethyst's mirror message for time, which is a rude but probably correct calculation. Instead, that time is spent reminding the audience of Luxx's cockiness, showing off Malaysia's newfound confidence given her top placement last week, and having Luxx and Mistress lightly shit on Malaysia. All of this is important later on, which means Amethyst's mirror message was rightfully scrubbed. Sorry, girl.
The Malaysia/Mistress shade continues into the next day, but the producers don't waste much time introducing us to the challenge: Golden Girl Groups. The internet's favorite "Old Gays" are brought in and then promptly shuffled away for time. Like the fashion-line version of the unconventional-materials challenge last week, this maxi challenge is a cute adaptation of a Drag Race staple, with enough of a twist that it forces the girls who came prepared with pre-written verses (or in the case of the design challenge, ideas for looks) to create something new.
I wanted a 30-second segment where Ru lists the girls on each team, because it took me a while to parse the teams, which are:

Sasha, Malaysia, Spice, Aura
Anetra, Robin, Loosey, Jax
Mistress, Salina, Marcia x3, Luxx
The genre choices, which are to be decided between the girls, are hip-hop, metal, and country, and nobody wants country because (1) Drag queens don't listen to a lot of country, and (2) The contrast between "old lady" and "country" is less strong than the contrast between "old lady" and the other two genres. Both Sasha and Mistress's groups are dead set on metal, which allows Anetra's group to smartly swoop in and scoop up what is surely both groups' second choice, hip-hop. Mistress and Luxx then go into attack mode, trying to strong-arm the other team into taking country through shade and sheer force of will. This does not work, of course, because the other group is also made up of drag queens.
"I think that we should just get metal, period," Mistress says. "I'm literally already wearing the heavy-metal hat, I'm not taking it off," Luxx adds. Incredible reasoning; I hope we have a debate challenge this season. Mistress and Luxx's insistence causes Malaysia to dig her heels in even further, to the point where, when Marcia x3 suggests rock-paper-scissors to determine which team gets metal, Malaysia isn't hearing it. Instead, Malaysia suggests they pick options out of a hat. Why is this better when the chances at both are 50/50?, you ask. Good question! "You could hesitate and somebody could do … whatever!" Malaysia argues. Malaysia is taking a stand against rock-paper-scissors. Ultimately, Sasha and Malaysia's team gets metal after picking it out of the hat, which sends Mistress and Luxx into defense mode throughout the episode. The fight is rollicking good fun and sends shock waves through the episode all the way into Untucked.
We then get your typical recording/choreography scenes. In each recording session, three girls are shown succeeding while the fourth is shown struggling. At least mix up the order! One nü–Drag Race thing I've really enjoyed, however, is the choice to have all the girls watch each other develop choreography. It gives a lot of opportunities for shade and intimidation, two things drag queens are particularly adept at. Team Hip-Hop has by far the best dancers overall, but they can't seem to get organized. Meanwhile, Team Country and Team Metal are using any chance they get to take shots at each other.
When it comes to the performances, we're clearly aiming for a Team Country and Team Metal showdown, which doesn't really come to pass in the episode's one slightly off note. Team Country is up first, and they're probably my favorite. With Mistress, Luxx, Marcia x3, and Salina, they've got the best team in terms of performance capabilities, and the focus of their lyrics, standing by each other as friends getting older, is a fully fleshed-out idea. The standout of the group is Mistress, who is clearly an expert performer. The other girls in her group do well, but Salina unsurprisingly lapses into over-the-top parody, and Luxx and Marcia x3 both just mix old-woman moves in with their typical performance style. Mistress is fully in it the whole time, moving steadily and never too quickly. It's not a showy performance, but it's a sturdy, well-calibrated one.
Team Metal is next, and, apologies to the eventual winner of the challenge, the star is Sasha Colby. She creates a wonderfully weird old-lady character, with not a trace of glamour in her body. The way she moves is legitimately strange, and her vocal performance is the best of the night. Aura acquits herself well, with a real Queen of Metal presence that uses the masculinity she's described her drag as having to its best effect so far. I have reached the end of my rope with Spice, who gives another performance that is cute with no other distinguishing features. No grotesqueness, no change in energy, nothing more than what we already knew Spice could give. I would have put her in the bottom two without a second thought. She is not cut out for this competition. Malaysia is fine.
Last is Team Hip-Hop, who went about this challenge all wrong. Instead of playing into the contrast between hip-hop and older women, they deploy all their dancing skills sans jokes, and throw in occasional references to their status as older women. The biggest flop is probably Anetra, who tragically doesn't remember her words. Jax is fine. Loosey is really great. She raps in an old-lady voice and is the sole member who understands the characterization that the challenge asks for. I'd have put her in the top. (Why not a top four? They randomly did it last week!) Robin is forgettable, and her moves are probably the worst offender of the groupwide issues I mentioned.
The runway category this week is tie-dye, which is fun and on trend. I don't like what Anetra's wearing at all. Jax's orange bodysuit is an Oompa Loompa travesty. Loosey looks polished and in character. Robin is forgettable. Mistress looks great again. Luxx is stunning again, though it's not the most exciting thing she's worn by a long shot. Salina's dress is great, but I have no idea why she would pair it with flat, wet hair. That girl needs to work on her proportions. Marcia x3 is wearing barely any tie-dye and has yet to wear something that stuns. Stun, meanwhile, is exactly what Sasha does, but the best of the week is Aura in a slouchy bleach-dyed suit. The masculinity she mentioned in the first episode continues to be a good route for her, distinguishing her from the pack and resulting in her best week so far. Spice gives yet another cutesy outfit. Whatever. Malaysia is in yet another gown, but at least it can't be white given the theme.
The tops are Mistress, Sasha, and Aura, with Aura winning. Did she deserve it? Kind of. She had my favorite runway of the week, and over-rewarding Sasha is probably bad for the plot of the season. Mistress is just waiting around for a win at this point; it's coming her way. The seemingly inevitable Team Metal–Team Country showdown is halted in its tracks by the failure of Team Hip-Hop, who are all in the bottom sans Loosey. I'm not sure if Jax needed to be there. The judges don't like her runway, which is fair, but they also get on her for "not being a chorus girl," which is the kind of arbitrary critique the judges love to apply when they don't like someone. Jax has been in the bottom three times, and the Heaven commercial is the only time I think she needed to be there. I'd have swapped her for Spice. Anetra is there for forgetting her lyrics, but the judges love her look, which is wild. Robin is in the bottom for her vibes more than anything. She's forgettable, and on Drag Race, that's the greatest sin you can make.
The lip sync is solid, probably the best showdown we've had so far this season, to "In Your Room," by the Bangles. Robin does a good job, but Jax is simply a more charismatic performer. Both pull out tricks, but the real tell is that final held note, which Jax stands and delivers, while Robin continues to float around the stage. Robin is an extremely competent queen, but she can't deliver much passion. She's too bottled up. And so ultimately, our second Connecticut queen in a row goes home, leaving Loosey as the sole representation for the Nutmeg State. I think she'll do fine.
Also on Untucked …
•Untucked is great this week! Malaysia gets her hackles raised about the Team Metal vs. Team Country debate and calls Luxx out for bullying her group along with Mistress, and later gathers Marcia x3 for saying she's bored of the convo. I definitely don't think "bully" is the right word for Luxx or Mistress, even if they were being annoying, but I love the drama. Best quote of the night goes to Mistress: "I'm just glad my group got the choice we wanted. We got country, which is what we wanted all along. Cheers!"
• Meg Stalter is so fun! Ru seems to get her alt-comedy sensibility right off the bat, which is nice. It's disappointing that the guest-judge role is so diminished with the runways being shortened and the deliberations cut, because Stalter is hilarious on the runway.
• Why is Meg Stalter the first celeb who doesn't get to meet the queens? I've been complaining about the Guest Judge in Untucked industrial complex for weeks, and suddenly the one I want to see either doesn't do it or gets cut.
• The mixing on the original tracks is truly terrible. I know it's a quick turnaround time but it dulls the quality of the numbers significantly.
• Ru sending a note back for Marcia x3 about her makeup via Mistress is truly mean (and truly funny). They will get that girl to have a mental breakdown come hell or high water. Watch them put her in the bottom for her makeup during Rusical week. That would be funny.
• The judges just really don't like Jax, huh?
• Predicted top four stays the same (Sasha, Loosey, Luxx, Mistress), but given her outburst in Untucked this week, Malaysia is climbing the rankings. Good TV, girl!