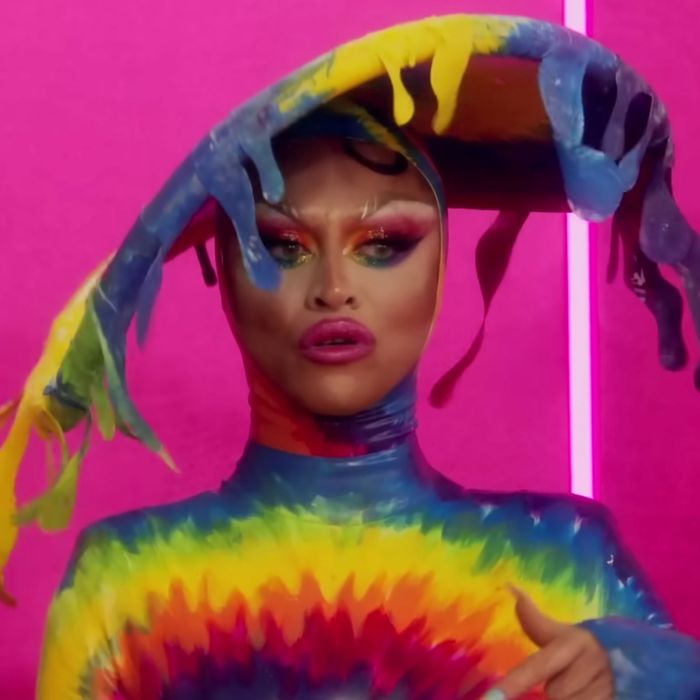 Photo: Vulture; Photo: RuPaul's Drag Race
Earlier this week, RuPaul's Drag Race announced that the March 10 episode would mark the start of this season's return to 90-minute episodes. The Real Friends of WeHo will air its last episode on February 24, so despite many fans online claiming that "bullying works" after they made the Real Friends' social media manager's life a living hell, Real Friends will not be affected by the change. Some noted that the extra time is being added at the wrong end of the season, giving us extended episodes when there are fewer queens left. "Cant wait to see the top 6 for 90 minutes," former Drag Racer Irene DuBois said on Twitter.
I am not predisposed to care about distribution of screentime. While other people complained about the sidelining of Robin Fierce this season, for example, I was fine with it. I'd seen enough to get what she was about and, to be perfectly honest, why she went home. If there's no narrative, there's no narrative. Later in the season tends to be where the story heats up, and if we get to spend more time with the narratively rich queens, I'm fine with that. There's a reason, for example, that most of the season eight episodes were 60 minutes, while the Book Ball was 90. It needed the larger runtime for the story. Last week, I praised the episode primarily for its storyline, which drove narrative arcs for several queens and kicked the season into high gear, even if it was at the expense of some of the queens who didn't require focus. This is a TV show, not a talent showcase. And yet.
This episode doesn't work, and it's because of the editing. The argument from last week's Team Metal vs. Team Country showdown is still going strong, calcifying into a fight specifically between Mistress and Malaysia. Mistress has been a main character all season, while Malaysia has come into her own over the past few weeks, and this episode is all about them. The pre-Ru segment focuses on them. When roles are assigned, the fact that they have to work together dominates the discussion between the queens. Trauma Makeup Corner is excised in favor of them making up. They have the biggest roles in the challenge, and both end up in the top. There's no time for anyone else. Potentially engaging storylines — like the two-week rise and fall of Aura Mayari, Marcia and Anetra's collaboration, Jax's continued failure to impress the judges, or anything involving Salina or Spice — are expedited. With an overlong acting challenge in place, there is less than 20 minutes of pre-runway airtime, and other than the story of Mistress and Malaysia, nobody's arc is moved forward in that time. We are in limbo. It makes for uninspired TV.
To be clear: Mistress and Malaysia's storyline is good, sometimes great, even. They're both engaging personalities, and I'm happy to see that Malaysia has gotten out of her safe rut. But focusing on just two queens with 11 queens left due to the time constraint hampers the development of the overall story. The episode opens with the fight being between Sasha, Malaysia, Mistress, and Luxx, but Sasha works things out quickly and Luxx gets bored of fighting (I assume, we don't really get her POV), so by the time we end the fallout segment, it's down to just the two. My favorite moment is when Mistress says, "If you don't feel like talking right now, that's all you got to say," and Malaysia responds with continued silence, prompting Mistress to laugh, to which Malaysia says, "It's not funny." But it is!
The two are then in a standoff before Ru comes in and announces that the challenge this week will be a sitcom version of last season's The Daytona Wind. Last season, if you'll remember, the girls were surprised by the addition of fart sound effects to the final product. One of the central tensions of the episode is wondering how they'll edit it this time, and, well… We'll get to it.
After winning last week, Aura gets to assign the roles, and promptly picks the plum part of "Fancy" for herself. The rest of the casting is uneventful, but Mistress's best moment of the episode comes not from her feud with Malaysia or her winning acting challenge performance, but when she convinces Aura to switch roles with her. To be fair, this is probably the right move for Aura, too. She cannot act (at all), so a smaller role is safer. Either way, Mistress's conniving to get the starring role is great TV.
Ru directs the girls in the challenge, and seems particularly enthused by Mistress and Malaysia, while particularly unenthused by Spice and Aura. Aura gets a classic "cannot say the line right" edit, which has a long tradition tracing back to the best "filming an acting challenge" sequence the show has ever come up with, Hot in Tuckahoe. Aura is, unfortunately, not able to reach the camp heights of Madame LaQueer saying "Ewwww" wrong, Mercedes Iman Diamond saying "Oppalance! You! Earn! Everythingggg!" or Kahmora Hall saying "I was rooting for us" while dressed as a tree with titties. I wish we could have gotten some of Ru directing Marcia x3, since Ru seems to either strongly dislike or feel some sort of motherly affection for Marcia. Unfortunately, the jury remains out on which one, because we have to get to the runway in under 20 minutes. (Malaysia and Mistress make up during the Mirror Moments, this is uneventful.)
On the runway the category is puffer, and it is an overall weak week for the queens. I wouldn't say anyone in this group is specifically a "fashion" girl like Violet, Naomi, Raja, or Aquaria, and it's beginning to show a little. The closest is probably Luxx, who gives a pink-and-black look that she hilariously compares to Jackie Kennedy's signature pink Chanel suit. Sure! It's okay, not my fave from her. Sasha and Mistress are the other two queens with the clearest sense of personal style. Sasha is pretty good this week in her streetwear bumblebee look, but Mistress could lay off the chaps. That silhouette is kind of a once-a-season move to me. Malaysia breaks out of her gown obsession for a lemon-print housewife look, and I'm just glad to see her giving something else. Aura's look is stunning up top, but the pants are a letdown. Anetra and Loosey are boring. Jax continues to have shape issues. Marcia is fine, her makeup is better this week. Salina is good, and I'm glad she has big hair this week. Spice gives what Spice gives, to which I give a resounding whooooooooo cares?
Now I must address the challenge, which is edited to invoke Tim and Eric Awesome Show, Great Job! for God knows what reason. For those unfamiliar, Tim and Eric is a post-modern comedic romp that tends to either be very much your thing or incredibly off-putting. I would like an oral history of who the fuck thought that Drag Race and Tim and Eric made a good match. The segment is eight minutes long, but it felt like it went on for hours. I'm not a huge Tim and Eric fan, though I know it well enough, so I thought it might be helpful to ask my colleague Rebecca Alter, who is a Tim and Eric fan, for her thoughts on the segment. Her review: "The funny thing is like, so often on Tim and Eric they just cast very weird old men from central casting and edit around their idiosyncrasies/horrible acting… this feels like the producers are saying the queens this season suck like that." Thanks, Rebecca!
Mistress and Malaysia do the best, or at least I am told so by the judges. It is true that they hit their mark and said their lines with confidence. The conceit of the challenge is too distracting to make out much of anything in regards to performances. Still, I can tell Spice is bad. Confusing and strange things happening on Drag Race is typically for the best, but I would add that they're much better when they come from the minds of the queens. Kandy Muse's soda commercial? Ketamine-induced perfection. This? Meh.
They do another seven-queen deliberation, this time because Marcia and Anetra are in the top basically as a duo. Marcia probably comes the closest to the Tim and Eric sensibility, though I'm not sure if the queens were informed that was the goal before they filmed, so TBD if that's actually a point in her favor. The judges continue to eat up Anetra's kind of basic runways. I'm happy to see Anetra back in the top, but I remain unconvinced that she has the goods to take it to the end. The real stars of judging are, say it with me, Mistress and Malaysia. Mistress ends up winning the week with perhaps the most classic Drag Race, least Tim and Eric performance out of everybody, which is another way of saying "Why did we do this?" Bottoms are Spice, Jax, and Aura, which seems right. Spice gets saved from the bottom two. I know it seems like I defend Jax every week, but this challenge is yet another week that I'd have saved her from the bottom. This time, it's less due to her own skills and more due to the failure of Spice. Sorry, but she's really bad: incapable of giving more than one type of performance and the same on the runway every week in both performance and look. Over it.
Jax and Aura have both referred to themselves as strong lip syncers, but after this lip sync, it's clear who really deserves that title. The lip sync is to "Sweetest Pie" by Dua Lipa and Megan Thee Stallion, and Jax eats Aura right up. Aura flubs some words, Jax hits every one. Aura is dancing without purpose, Jax hits every beat. Jax's tricks no longer have surprise or allure, but that's okay because she uses them purposefully. They go with the song. It's not quite legendary, but it's certainly the best solo performance in a lip sync so far this season. Aura, meanwhile, gets shoved out the door the episode after her win. Hey, at least she got a good week out of it. People have gone home with less.
Also on Untucked…
• Untucked is significantly better than the normal episode this week, all thanks to Loosey going insane for some reason. This clearly top-notch queen is getting annoyed that she hasn't been in the top a lot recently and she will not shut up about it. At first, I was like, "Oh, they're giving Loosey an Alexis Michelle edit," and then I was like, "Oh, she actually refuses to stop talking about this." To be fair, I said she should have been in the top last week and I still believe that. To be fair in another way, this is really annoying. I'm hoping Loosey's desperate need to score a top spot spills into the main episode next week; these types of personality flaws are desperately needed for a show like this. Also, guest judge Harvey Guillen shows up and is very sweet.
• Marcia x3 Makeup Watch: Marcia x3 gets complimented on her makeup by Michelle at judging but also is still told to take it further. This is probably ideal for Marcia's continued existence on the show. If they're ever like "You solved it!" she should know she's going home next week.
• Trauma Makeup Corner: Nothing to speak of, just Mistress x Malaysia
• Danny Trejo is a special guest in the challenge. It's fun.
• Contrary to what you might believe, Salina EsTitties is in this episode.
• Top four prediction: Screw it, just for fun and because she clearly has exploitable personality flaws shown in Untucked that would make it fun for the producers to eliminate her, I'll knock Loosey out of the top four. New top four: Sasha, Luxx, Mistress, and Malaysia