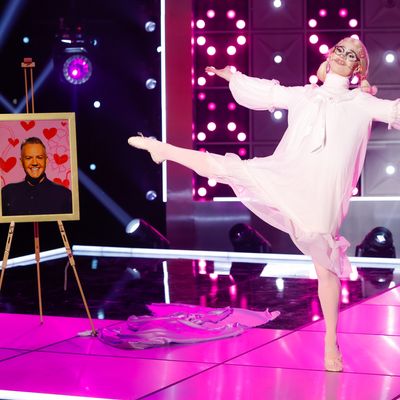 RuPaul's Drag Race is in a pickle. Viacom keeps ordering massive amounts of episodes each season, and the show's strategies for filling the episode order have not been working. Last season had no forward momentum by its back half, with a full seven out of 16 episodes having no elimination. So, with another tall episode order this season, the new solution is to maximize queen count, serving up a supersized order of 16 queens. Plus, there's an accompanying double-episode premiere to introduce them, ending in an elimination — the first premiere since season 11 with a real elimination.
It's a lot of Drag Race, and when combined with the two Untucked episodes, it's certainly too much, but it also gets the job done. I have a strong grasp of the queens' drag, growth arcs have been set up, and relationships have developed. If "too much" week one means a stronger week two through 512 (or however long this season lasts), it's a deal I'm willing to make.
The season begins by introducing the first eight girls, so let's run down first impressions:
Irene DuBois: Irene enters in an orange outfit covered in fuzzy cones, a mullet, and two different-size contacts. She's confident, she's shady, she's a little weird. We'll get to the end of the episode later, but I've got to admit: I like Irene.
Luxx Noir London: Cocky as all hell, which is just how I like my queens. A drag queen without a borderline delusional level of confidence isn't a drag queen. The confidence of Luxx and the shadiness of Irene immediately pays off when Irene claims Luxx's wig is not 40 inches. This argument is stupid and I love it.
Aura Mayari: Out of drag, Aura is extremely hot, which is great. Not as hot is her wig line, which is, simply put, not TV-ready. She tweeted that they rushed her to get ready, to which I say, "Sorry, girl, gotta review what they put onscreen!"
Marcia Marcia Marcia: Our resident Weaponized B.F.A. of the season. I'm not typically a Weaponized-B.F.A.-girl stan, but Marcia x3 won me over by having a clearly defined aesthetic (Ariana Grande x Audrey Hepburn x Cher Horowitz), which was a major blind spot for the Jan/Ella Vaday/Rosé crowd.
Anetra: She's a low-key personality, but I was struck by the number of quips Anetra landed. Her entrance look is solid, putting the "fierce" in fearsome, and she labels herself a "stunt queen," which is always fun to have in the mix.
Malaysia Babydoll Foxx: Fun and fab. She's got charisma to spare, and, as the first queen from Miami, she's got something to prove. Entrance look (a fox-based gown) is cute. As of now, though, her slightly by-the-books glamour and lack of drama are causing her to blend into the background. Get loud, Malaysia!
Princess Poppy: This queen is a bit worrisome. Her entrance look is completely forgettable, and her entrance line ("I'm homo … phobic") is a tired piece of faux-edgy gay humor. She has a quick wit, bantering quickly and easily with Ru in the photo shoot, but she'll need to do more to stand out.
Sasha Colby: Last to enter the Werk Room is Sasha Colby, the icon of the group. As a seasoned performer who has won pageants including Miss Continental 2012, performed in Drag Race winner Sasha Velour's show Nightgowns, and been in the game for over 20 years, Sasha is the girl to beat. Normally, I'd be worried that Sasha's reputation might hurt her, given how tantalizing a story line it would be to pop that balloon (see: Joe Black), but she seems game and excited to be there, and doesn't ever present herself as above the show. Most excitingly, though, her presence forces the rest of the queens to up their games. You wanna win? You've gotta get through an icon first.
The first eight queens then proceed to meet Ariana Granda, who walks in dressed as Ornacia, and compete in a wet and wild photo shoot inspired by the show's first photo shoot ever, which Irene wins. They are then shipped off to choreograph a number that will be performed before this season's talent show–based main challenge while the other eight contestants enter the Werk Room. If the double episode has a low point, it's here, when the momentum of the first group is completely sapped by returning to something we've already gotten past. Still, I'm thankful that we got a break between groups, because 16 entrances in a row would be mind-numbing.
Second-group entrance rundown:
Salina EsTitties: She's extremely loud, her looks could use some significant polish, and she says the word "quinceañera" three times in her first few minutes onscreen. In other words: no notes! Thrilled you're here, Salina! Make those other bitches work for their screen time!
Amethyst: The first of three (why?) queens based in Connecticut, Amethyst calls herself the "resident meme queen" and a "comedy queen" before doing that white-girl twerking movement. This will not be the last time a queen white-girl-twerks before the episode is up, and I am officially declaring a moratorium on twinks getting to claim they have a personality based on this dance.
Jax: My winner pick. Jax is a former competitive cheerleader, gymnast, and diver, and she calls herself "extremely competitive." Her looks are polished and diverse while maintaining a clear aesthetic POV (a little In Living Color, a little prep). She's adorable in drag, hot out of drag, and charming all the time. She's also technically from Connecticut but is now Queens-based, so I'm claiming her for New York, sorry not sorry.
Loosey LaDuca: The second of three (huh?) queens based in Connecticut, Loosey enters with an I Love Lucy reference and a last name based on the brand of musical-theater dance shoe. (Marcia x3 better watch her B.F.A.-having ass.)
Mistress Isabelle Brooks: Another shit-talker, thank God. Mistress is big, glamorous, and loaded with personality. She also has tiny little biscuit heels, but I've never been as perturbed by those as RuPaul. The show has a history of big girls going home due to injuries (Eureka, Victoria Scone, Kornbread), so I don't really care what she does to protect herself.
Robin Fierce: The third of the Connecticut queens (why are there so many??), Robin Fierce has the worst drag name this season, but she makes up for it with her face. The name is so boring — it sounds like what a straight dude would come up with if he were forced to come up with a drag name. Still, she's stunning and sweet.
Sugar and Spice: Last to enter are identical-twin TikTok-ers Sugar and Spice, who are annoying, certainly, but grew on me. I like how unbothered they are whenever the queens shade them. When Salina asks if all they do on TikTok is rehearsed lines, they make a joke that their names should be "Canned" and "Bit." Look, would either Sugar or Spice make it on the show on their own? No. Are they a fun gimmick in Drag Race's 15th season? Why not!
The queens then meet Vivacious — which they can brag about later to the first group, who only got to meet Ariana Grande — followed by a windblown photo shoot won by Loosey. Then, at the end of the episode, the first group, who have been toiling for all this time on their choreography, meets the second group. And so ends episode one — which really doesn't stand on its own in any way, but do whatever you've gotta do to meet episode counts. On to episode two!
We open with compulsory choreography drama. I'm assuming they got a choreographer to come give them help after cameras cut like they have on other seasons, but the bickering leads into a strong Werk Room moment when Sugar and Spice reveal that they thought Mistress and Irene (who are friends from the Texas drag scene) hate each other. The more experienced girls then get a chance to explain on-camera that shade and banter is not about hating the other person; it's just the way queens talk in groups. During this, I had a flashback to a straight male former co-worker telling me he didn't understand why the queens were mean to each other and that if he were there, he would be nice. Chris, I hope you're watching!
Then comes the runway portion of the evening, beginning with the much-discussed group performance, which is serviceable. Then we get 16 talent-show performances and 16 runway looks (the theme is basically signature drag). It's a lot, but ultimately invigorating to have that much drag thrown at the audience. Running down each queen's performance and runway:
Malaysia Babydoll Foxx: She does a rap track, which is fine, but if Kornbread is the gold standard for this type of performance, Malaysia is a few rungs below that. On the runway, she's in a beautiful white gown, which I have no critiques of but also not much to say about. I like Malaysia a lot, but she'll need to work to stand out more in the coming weeks, especially with this many girls in the competition.
Spice: Both Sugar and Spice perform to their own rap tracks while not moving much. RuPaul seems to love Spice, but I'm a bit more tepid. The track's about boys not knowing where her genitals are when she's in drag, and, sorry, but we've pretty definitively covered that topic on this show. It's better than expected for a queen who doesn't perform regularly, but when Mistress intones that Sugar and Spice are "actually fierce competitors," I'm not convinced. Spice also does the white-girl twerking move that Amethyst did earlier in the episode, which Ru loves and I am still bored by.
Luxx Noir London: Luxx also performs to her own track. It's definitely one of the better songs, and her progression of wide stances into the splits is fun. She'll need to do something a little more original later, but given that it's the first episode, I'm happy to have my favorite bundle of confidence safe. On the runway, she wears a giant pastel purple hat with an outfit that looks unfortunately similar to an iconic Aquaria look in silhouette and color palette. Still, I can't get too mad at a little repetition 15 seasons in.
Mistress Isabelle Brooks: Mistress does yet another original track. Hers is a pretty solid rap — there are jokes, she alters her flow at one point, and she ends with a slide into a split. On the runway, she wears a bedazzled cowboy outfit. It's good too, but the best thing Mistress does in this portion of the evening is mouth along to Ru announcing "Mistress Isabelle," and then forget to mouth along to "Brooks." I love drag queens.
Loosey LaDuca: Oof. Loosey sings her track live. She's pitchy and she doesn't move very much, despite the song constantly repeating "get loose!" On the runway, she's in a blue flight-attendant outfit inspired by Britney Spears's "Toxic" music video. It's clearly expensive and fits her well, but with a name like LaDuca, the performance better be top-notch, and hers was not.
Marcia Marcia Marcia: Marcia x3 puts that BoCo degree to good use, highlighting her status as a dancer first with a ballet number. Reenforcing my good faith in Marcia x3 is that she does the ballet as a pubescent, sexual tribute to The Hilarious Ross Matthews. It's exactly the glamour/comedy combo this show rewards. On the runway, she's giving Ariana x Audrey x Cher again, and she gets told to use more makeup, which she should.
Robin Fierce: Robin lip-syncs to "Now That We Found Love," by Heavy D & the Boyz. It's good enough to get her through, but nobody's gonna win on just a lip sync. On the runway she's in a very pretty white bodysuit, and she looks gorgeous, but it's impossible to shake the feeling that Robin needs to step it up. With 15 girls still left, being the prettiest (and she is the prettiest) won't cut it.
Irene DuBois: Dumpster fire. And it didn't have to be this way! In the Werk Room, Irene announces that her talent will be teaching the judges how to prepare a glass of ice water because "My mom used to make it for me all the time." It's a funny enough premise. When performing, though, there are simply no jokes. Even the darkness that she seemed to be referencing with the quip about her distant mother is gone. On the runway, her look is well-made and a little spooky, but it can't erase the memory of that performance.
Anetra: The stunt queen's got stunts! Anetra lip-syncs to a track, sure, but the track is just a delivery system for stunts. Anetra lip-syncs, Anetra duckwalks, Anetra says, "Walk that fucking duck," Anetra gives a dip, Anetra breaks two wooden boards using her martial-arts training, then Anetra ends with a split. Stunts! It's a great number performed with panache, and, by the end, all the other queens are utterly shocked and delighted, as was I. This quiet one packs a literal punch.
Sugar: For the most part, you can just copy and paste what I wrote about Spice, though Sugar's number is not about her "dingaling." It's fine. On the runway, she's fine again as Belle from Beauty and the Beast, while Spice goes for Ariel from The Little Mermaid. It's an odd choice to do such a specific reference on a signature drag challenge, and I'm hoping that the two aren't always in matching outfits, but both looks are solid enough.
Princess Poppy: Princess Poppy does a "ventriloquist" number to a recorded track with a puppet parasite. It is cute and funny, if unremarkable, which unfortunately describes most of Princess Poppy's work this week. On the runway, she wears a dress that has basically the same silhouette as both her entrance and opening-number outfits, with a higher waist. I repeat: 15 queens left. Wear some pants or something.
Salina EsTitties: Love this queen. Love the way she pairs thigh-high patent-leather boots with a flowy lingerie minidress. Love the way she starts her awards-show-themed number with a voice-over intoning, "And the nominees for Best in Show are …", which is not an award. Love the way her tight little wig completely throws off her shape. But most of all, I love the way she attacks that song with an intense ferocity and absolutely commands the stage. So glad she's here.
Amethyst: This is tough. Amethyst does a lip sync to "All Around the World," by Lisa Stansfield, in which Stansfield sings she's looking for her baby, as a mom with a literal baby strapped to her back. The judges complain that she reveals the baby too soon, which is true, but that is also her only joke, so I'm pretty sure it was going to go poorly either way. On the runway, the judges point out that she should pad, and they are right.
Aura Mayari: Aura lip-syncs to BLACKPINK's "Kill This Love," and I'm thrilled to see some K-Pop drag on the show, but the lip sync doesn't set the world on fire. On the runway, she's another one we need to see a little diversity from: Her entrance, her performance, and her runway are all reflective black.
Sasha Colby: Sasha lip-syncs to the Cranberries' "Zombie" in what she later reveals is a number that is working through her father's dementia. It's a great number, but Ru & Co. rarely respond to something this serious (see: Gia Gunn, Mariah Paris Balenciaga). On the runway, she wears a Miss Continental gown with an accompanying headpiece and looks great. It's a very good week from a queen who both I and everyone else, perhaps unfairly, want more than "very good" from moving forward.
Jax: Jax slays. Like Anetra, she performs a lip sync, but "lip sync" doesn't really capture what she does. The song is Leikeli47's "Attitude" (a choice that further endears her to me, a Leikeli47 stan), and the performance includes jump-roping with her own hair and a series of truly insane flips. On the runway, she goes full flygirl and slays again. Love this girl.
At judging, Irene, Amethyst, and Loosey are rightfully deemed the bottom three, while Marcia x3, Anetra, and Jax are in the top. This top group is right, and, though I'd have added a fourth space for Sasha, keeping it to these three sends a message to future competitors: If you wanna win the talent-show challenge, you've got to bring more than a lip sync, which all the top girls did. Anetra wins, and I would have gone with Jax, but that's fine.
The LSFYL is between Irene and Amethyst. I think Irene is the more interesting reality-competition character, but the song is "7 Rings" as a tribute to guest judge Ariana Grande, which puts Amethyst on home turf. It's not a lip sync that should make any "best of" lists, nor does it give me all that much faith in Amethyst's ability to survive a lip sync to a song she didn't learn the words to the day it came out, but it's serviceable. So Irene goes home, and I'm disappointed. I'd rather have a risky, bitchy queen in the competition than out of it, to be honest. Did she fail in the challenge and then lose the lip sync? She sure did. Do I think she could have pulled a Daya Betty if she'd stayed? I sure do. Still, I think a queen as confident and interesting as Irene going home first could be a good way to push the other queens into high gear, and it keeps the all-important momentum moving this season.
Also on Untucked…
• Hello! My name is Jason P. Frank and I will be your recapper this season, taking over from the wonderful and talented Paul McCallion. I'm a writer here at Vulture, and I'm excited to take this journey. A few of my Drag Race opinions so you can get to know me: My favorite season is five (the objectively correct opinion), my favorite queen is Raja (especially on season three when she was mean), and my Snatch Game character would be Elaine Stritch.
• There are two Untuckeds this week, but neither is particularly scandalous or revealing yet. In the one set during judging everybody seems cordial, but I'm hoping that won't last for too long. Ariana says hi, which I'm sure is very fun for the queens, but I'm hoping they don't overdo celebrity meet-and-greets on Untucked this season — unless it's Gaga, they're all a little samey-same. The one that follows the queens before they enter the Werk Room is impressively boring.
• I'm all for doing these premiere talent shows, but somebody needs to realize these queens do not have access to the necessary level of production. The mixing on the tracks is consistently terrible, and I wonder if the show couldn't do something to fix that.
• Top-four prediction, just for fun: Jax, Marcia x3, Sasha, and Mistress (I'd like to see Luxx in there too, but I fear production will see the cockiness as something to play with).
This recap has been updated.