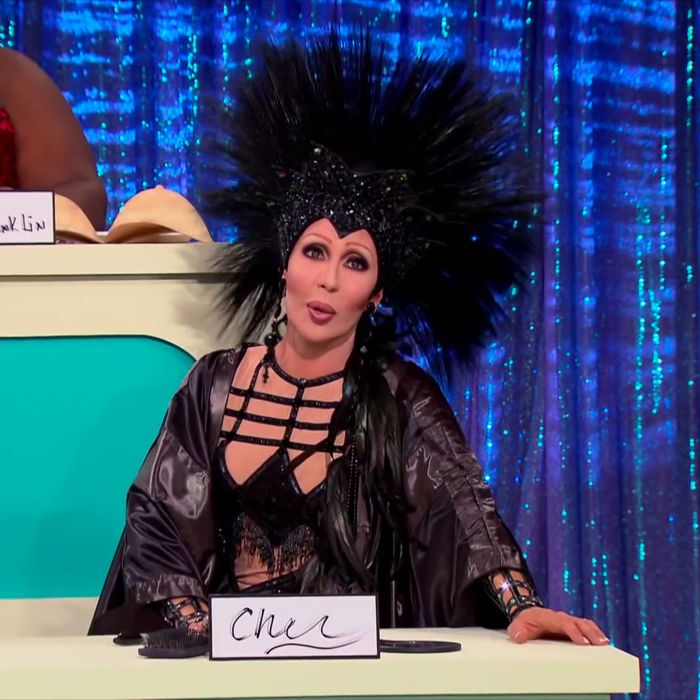 What better way to show off your charisma, uniqueness, nerve, talent — and make them eat it — than with Snatch Game? The challenge is the most hallowed tradition on RuPaul's Drag Race, like the makeovers on America's Next Top Model or restaurant wars on Top Chef. Beginning in season two, Snatch Game has the contestants impersonate a celebrity of their choice in a parody of Match Game. (The one time Drag Race skipped this was during the first run of All Stars, which we don't talk about anymore.) It's the challenge you know is coming, so you'd better not fuck it up.
With nine seasons full of snatches behind us, we thought it would be a good time to revisit the tightest of them all: Which queens served the most iconic impressions in the greatest reality show of our time? Accuracy is key, but the most important rule of Snatch Game has always been: Be funny. So we're keeping it simple: Here's our top ten list with extreme bias and some honorable mentions. Feel free to drag us in the comments or on your favorite social-media website.
1. Chad Michaels as Cher, Season 4
There can only be one, and it's Cher, bitch. The expectations for Chad Michaels's Cher impersonation were high, but heavens to Georgia, she was strong enough. This was a master class of a Snatch Game complete with wig changes, withering one-liners, and a dead-on lilt. While the look, voice, and jokes would have been good enough to win the challenge, what makes Chad Michaels's impression the greatest of all time was the posture: Cher doesn't care, and she certainly doesn't care about this "chickenshit gig."
2. Adore Delano as Anna Nicole Smith, Season 6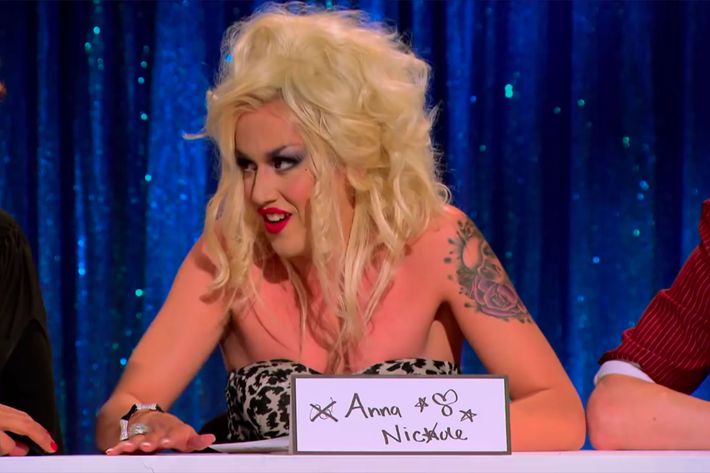 Oh god, what a weird one. Adore Delano didn't win this challenge on season five (that honor would go to Ben de la Creme, more on that below), but this is the one we remember all these years later. Adore does a loopy, barely lucid performance of Anna Nicole as if she had eaten a bowlful of Klonopin for breakfast. She was terrifically funny ("vodca"), but what makes this stand out is the uneasy undercurrent of desperation that runs through it. It felt real, man.
3. Kennedy Davenport as Little Richard, Season 7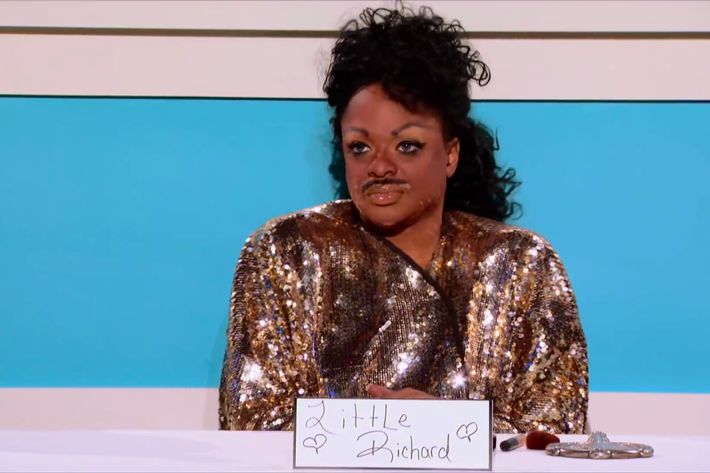 Kennedy Davenport impersonation in season seven was flat-out one of the funniest on Snatch Game, and demonstrated the importance of having a solid catchphrase — or, in Little Richard's case, trills — to punctuate the jokes. You don't get a lot of moments, so you'd better come hard. Moreover, Kennedy became the first person to play a male celebrity on the show, and really, could there be a more perfect choice than the fruitiest of them all? Ooooooooh.
4. Pandora Boxx as Carol Channing, Season 2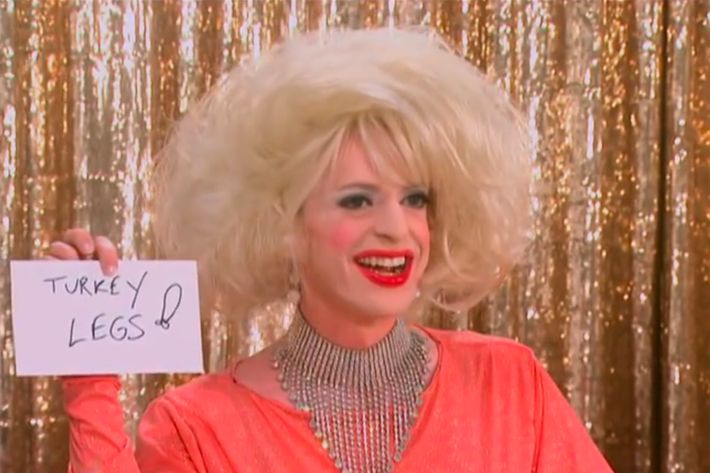 In the first iteration of Snatch Game, Pandora Boxx set the template for recovering a classic gay icon for younger generations — a successful strategy that includes Sasha Velour's Marlene Dietrich during the most recent season. Even if you never saw Carol Channing in Thoroughly Modern Millie, Pandora's utterance of "Raspberries!" was an important lesson in gay history (something, without getting too serious about it, that has been true for how drag queens preserve gay culture). And it was just damn funny.
5. Jinkx Monsoon as Little Edie, Season 5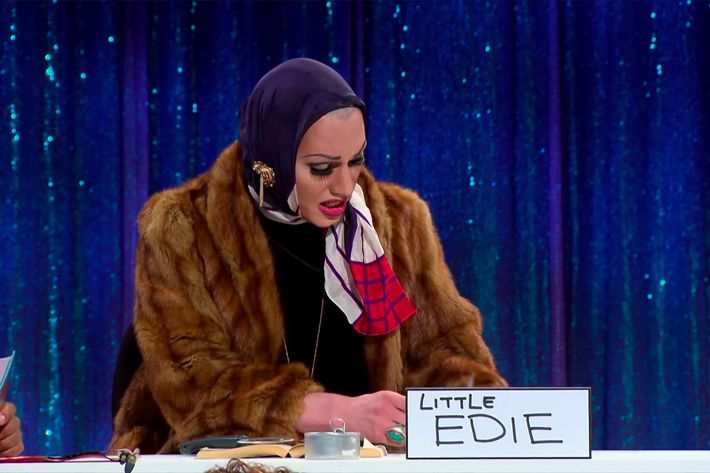 Similar to Pandora Boxx, Jinkx unearthed a beloved cult figure for popular consumption as Little Edie, first cousin of Jacqueline Kennedy and tragic character in the documentary Grey Gardens. Moreover, Jinkx had the improvisational fluidity a drag queen needs for a good Snatch Game and could play off of RuPaul and the other contestants. When RuPaul asked Ivy Winters's Marilyn Monroe if she knew any presidents, it was Pandora who eventually jumped in for the kill: "Quite the scandal actually. With my cousin-in-law really."
6. Ben de la Creme as Maggie Smith, Season 6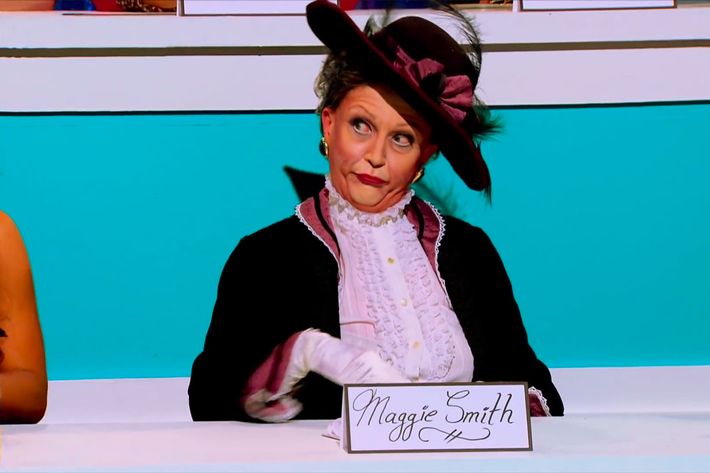 We acknowledge there's a small asterisk on Ben de la Creme's performance of Maggie Smith, because he's not really playing Maggie Smith, but rather Maggie Smith as Lady Violet Crawley from Downton Abbey. (This is in part why Stacey Lane Matthews's impersonation of Mo'Nique, which was really just her character in Precious, doesn't hold up well today.) That said, she delivered some of the best lines ever like, "Excuse me, we originated the language!"
7. Alyssa Edwards as Joan Crawford, All Stars 2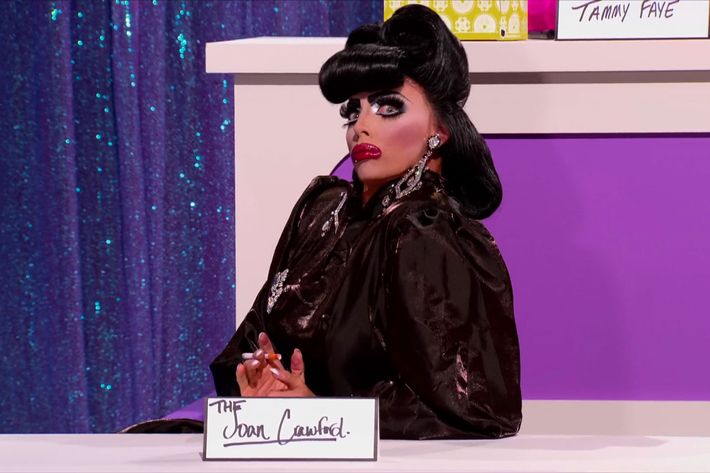 RuPaul put it best when he told Alyssa Edwards, "Well that don't make no kind of sense, but it sure is entertaining." Was Alyssa Edwards's impersonation of Joan Crawford completely accurate? Nope. But who cares! She made everyone around her, including the other contestants, crack. Everything that came out of Alyssa Edwards's mouth was pure Alyssa, and we would have watched it for hours.
8. Alaska as Mae West, All Stars 2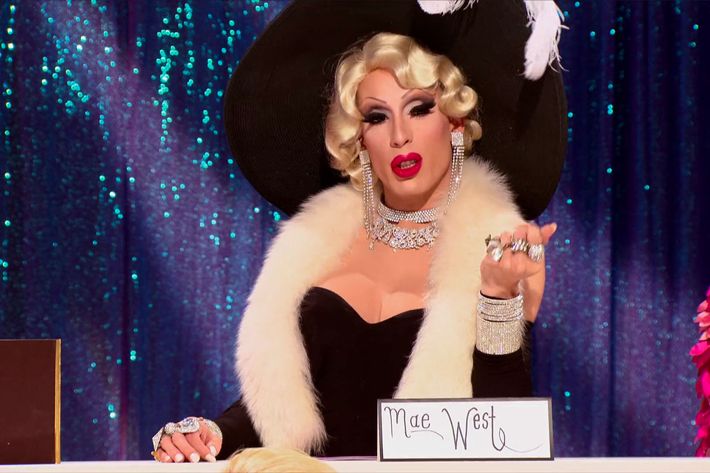 Alaska is a savvy queen, and she came ready to play with a tight concept that hits all the Drag Race sweet spots: an Old Hollywood star and anal sex jokes. While Alaska delivered a solid Lady Bunny during his first run on season five, it was his Mae West where everything came together: the gravelly voice, the snarl, the glances, and the jokes about venereal diseases.
9. Bianca del Rio as Judge Judy, Season 6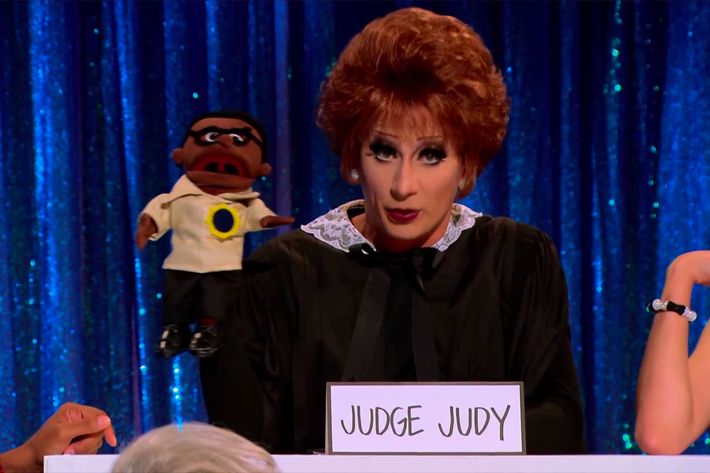 We know some of you are going to want this to be higher, but we're going to bring down the gavel on that, because this is our arbitrary list. While Bianca del Rio was deadly accurate in her impersonation of Judge Judy, she had the handicap of playing a character known for being cantankerous. (Often this kind of impersonation flames out, like Detox as Kesha, Acid Betty as Nancy Grace, and then Detox as Nancy Grace, again.) Still, Bianca's own persona and love of the character made this one of the most memorable characters.
10. Alexis Michelle as Liza Minnelli, Season 9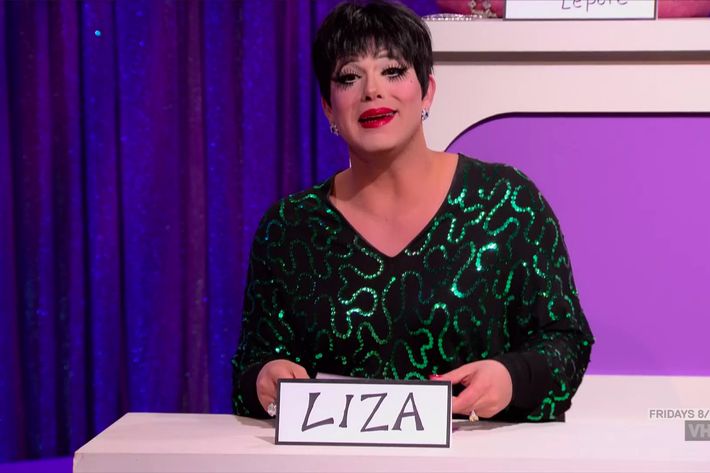 Can you believe it has taken nine full seasons of Drag Race to finally get a Liza Minnelli impersonation? It was worth the wait: Alexis Michelle's Liza with a "z" had a joyous energy, jokes, and high kicks for days. That hiccuping gasp alone.
Herstorical Mentions:
Tatianna as Britney Spears, Season 2
Tatianna was leagues better than some other professional Britney Spears impersonators who have been on the show.

Sharon Needles as Michelle Visage, Season 4
The season-four winner held onto his balls and went for it, playing the most fearsome judge on Drag Race, Michelle Visage herself.
Ginger Minj as Adele, Season 7
RuPaul: "Where in England are you from, Adele?"
Adele: "My house."