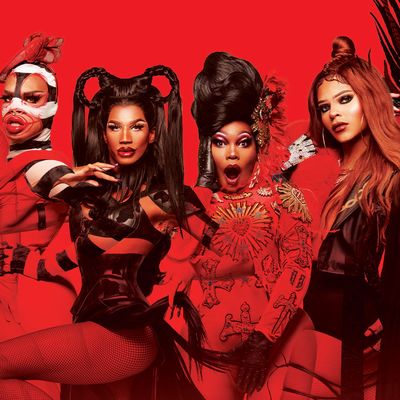 Derrick Barry, Yvie Oddly, Naomi Smalls, Asia O'Hara, Vanessa Vanjie Mateo, and Kameron Michaels star in the new
RuPaul's Drag Race: Vegas Revue.
Photo: VH1
RuPaul's Drag Race: Vegas Revue is something of a first for the Runiverse: Rather than placing the queens in a simulated reality-TV competition environment, it follows them behind the scenes as they stage a Ru-branded Vegas production at the Flamingo. Premiering this Friday, August 21, on VH1, the show follows six all-star cast members — Asia O'Hara, Derrick Barry, Kameron Michaels, Naomi Smalls, Vanessa Vanjie Mateo, and Yvie Oddly — as they prepare to launch "RuPaul's Drag Race Live!," the Vegas-based stage show that managed to run for eight weeks at the Flamingo before it was temporarily shut down by the coronavirus.
Though the queens are all currently back in their respective homes — which happens to be Vegas in the case of Barry — they were more than happy to share some of the Vegas-based expertise they accumulated during their time performing on the Strip, so we asked them about some of their highs and lows of Sin City life.
Best Vegas moment
Kameron Michaels: Opening night was pretty iconic. RuPaul was in the audience. For her to be so involved with being at our rehearsals and seeing everything go down, and to make mama proud is — that's pretty epic. Like, how often can you say RuPaul was at your show watching your show? I mean, that doesn't happen!
Naomi Smalls: I mean, his name was on the poster. He better be at opening night … We had a performance in the show called "The Mirror Song," and it's slower and it's kind of, um…
Michaels: Say it, say it, say it, say it!
Smalls: Heartfelt? And corny [Laughs]. But it's a time where a lot of the girls are onstage, and we're just laughing and kiki-ing and not taking it too seriously. I enjoyed that. I miss that, even though I complained about it.
Vanessa Vanjie Mateo: There was one night that me and Derrick was drinking upstairs, and we almost did not make it to the closing number. So we ran down, with the drinks in hand, to close the show. And Derrick almost ran onstage with the cocktail, and I was like, "Bitch, put it down!"
Derrick Barry: [Laughing] I'm like, "I don't know where to put it! I want it to be safe!" I love, obviously, performing on the stage, but one of my favorite things was being in a private jet with these girls. I've never felt more expensive. I've been working with Caesar's for over ten years, and I had never been on their private jet before, but because RuPaul is such an icon, we were allowed special treatment, and I live for that. Like, put me on a private jet and give me some Champagne. I'm ready!
Worst Vegas moment
Michaels: There are several meltdowns [on the show]. You've seen the trailer — there are plenty of tears! But there was one moment where I messed up something that you may see me having trouble with in the show, and I did have, like, a total mental breakdown that was not on-camera. I'm sad that didn't make it into the show, but that was a very hard day for me. Lots of tears.
Barry: I was feeling very fish after doing a photo shoot when I was about 21 here. I just had some fishnets on and no tights, no pads — and my right ball popped out onstage. I had no idea that it even happened during the show. I got backstage, and I told the J.Lo impersonator, "Oh my God, my ball just popped out," and she's like, "What, your ball popped out?!," and announced it to the whole room. It was very embarrassing. And they were like, "Oh, I'm sure nobody saw. It's not that big of a deal." There was a friend of the Michael Jackson impersonator in the front row, and they were like, "Yeah, it just looked like he had a big lump on his thigh." So that was probably the most traumatic thing that happened — I was never really expecting to go balls-out for a performance.
Smalls: That's literally me though, like, every other show. A testicle is literally trapped in between my fishnets.
Barry: [Laughs] Which is so uncomfortable.
Smalls: But you know what? They should be so lucky to see it.
Hardest thing about doing the Vegas Revue
Asia O'Hara: Being able to do the exact same thing the exact same way in the exact same spot every night is, I think for most of us, something we're not used to. So just the technical standard, like, standing onstage for 40 minutes for them to find the exact right blue gel for the spotlight and then move over to the next cue. And there's a script and making sure the inflection is correct. It literally is like being on Broadway for us, having to make sure that every person that was involved in creating the show — Jamal Sims, our choreographer and director; Ru; the lighting director; all of the tech people; the video; the sound — making sure that everything is exactly how each person needs it to be, and making sure that that's consistent night to night, is difficult.
Yvie Oddly: I'm gonna agree, just because there's so many moving parts in this show, and I know that we've all done our parts being in live performances before. Asia's hosted things before; I've performed before; Ru has directed things; Jamal has choreographed things. But I'm gonna jump out on a limb and say that this is the first time, I believe, that all of our different skills and experiences had to be put to the test at the exact same time. We were all just polishing out all of those little details right until curtain on opening night.
Most starstruck Vegas moment
Michaels: We went to see Christina one night, and it was so cool because Vanjie and I got to meet Christina on season ten and talk to her on Untucked! and backstage. So it was cool to see her again, 'cause we went backstage and talked to her at her show in Vegas, so it was just cool to see Christina Aguilera twice. Like, who gets to say that? That was cool.
Mateo: I was gagged she remembered me, too.
Barry: Caesar's took us to see Mariah Carey, and we got to meet her afterward. I brought a three-foot-by-four-foot painting that my partner had painted back in 2007. It was always my dream to have it signed, and I surely walked up with my huge painting when we went through security and was like, "Please, just hold this back here. I really want this signed." Her team was so sweet — she signed it for me, took photos, we did cast photos, we got to hang out with Amber Rose in the greenroom. To have the perks of going to see my favorite divas ever — long before Britney, Mariah was in 1990, and I was so inspired by her, so just to have that painting is a lifelong dream, to have that signed and hanging in my house.
Smalls: I think what gagged me the most about seeing Mariah — I mean, obviously, the vocals, the stage presence, all that. But the fact that she was wearing a sequined gown with straight hair. I think every drag queen just looks at that and cringes a little bit 'cause we know how annoying that is. So, the respect to Ms. Carey.
Barry: And her team was always finessing her in between each meet-and-greet shot, and I loved that. Nobody really realizes how tall and beautiful and statuesque Mariah is.
Smalls: Let's not forget skinny!
O'Hara: For me, it's definitely having Ru in the audience at the Vegas Revue show. I don't know if I would use starstruck as the correct term, but it's his show. And he knows what to expect, and there's pressure to deliver. With me hosting the show, there are some ad-lib points where I'm free to kind of talk about anything, and I'm like, Okay, is he gonna think this is funny? Is this too vulgar? Is this blah blah blah … ? So that definitely is the one time where I've been onstage, and somebody has been in the audience, and I have been overwhelmed with the need to impress that person.
Oddly: We did get a few other notable celebrities in the audience, but I don't do the whole fangirl thing. We're all just people. However, getting to see Ru there was like, Oh, we have to make this show a good show, because this is Mama's production! Ru is a busy, busy, busy lady. She's always flying off to film, like, three different things. So the fact that she took some time out to come and see how this baby of hers was going, it was just like, Oh, I want to give her the best show of her life.
Recent song you most want to perform to:
Michaels: Prior to Chromatica — shut up, Naomi! I got Naomi hooked on Chromatica. Prior to Chromatica coming out, Dua Lipa's album got us through the first part of quarantine. Then Chromatica came out, and we couldn't do shows anywhere, so getting to perform "Enigma" at the "Drive 'N Drag" [tour] shows was just — we're entertainers. We all love being onstage, so being able to do that again was such a blessing.
Smalls: Honestly, I really have been blasting Ungodly Hour by Chloe x Halle, and it was really cool that Vanjie and I got to do a quarantine video for them. So I feel like I don't necessarily have a bucket list of songs yet. I'm still living on that one. I had to pinch myself there.
O'Hara: Mine is probably "I Dare You," by Kelly Clarkson. That's a song that came out at the beginning of this, and I was like, Ugh I need a stage! And here I am just doing this in the garage, feeling like I'm in front of a thousand people. That definitely was a song for me that I was like, I miss having an opportunity, or an outlet, to perform.
Oddly: Mine isn't any new music. I've just been feeding on a bunch of culture, TV, movies like the rest of us have. And I recently got into a bunch of music from the '60s, and there's this one song that I heard literally last night, and it's not about doing the twist, but it's like, "Twist it / twist it / back it up / twist it!" So I want to do an entire number about masturbating.
Jackpot song on a you-themed slot machine:
Barry: I would say "Make It Happen," by Mariah Carey.
Not a Britney song?
Barry: I mean, I could go with the obvious "Work Bitch," but I'm trying to step outside my comfort zone. You know, this is drag, and I do drag now.
Smalls: Derrick, you are such a "Make It Happen" girl.
Barry: You know, I'm obsessed. It's really a great anthem — if these kids haven't heard it, it came out in 1991, and it's the best anthem to get you back up off your feet if you ever felt like you got knocked down before.
O'Hara: Mine would be "Life Is Wonderful," by Jason Mraz.
Oddly: Oooooh …… what??
O'Hara: Sorry, I'm a singer-songwriter nerd! I won money, I'm not gonna turn cartwheels, but I'm just like, "Life is wonderful. Here I am winning money!"
Oddly: Mine would probably be any of my original music, available at online music retailers/stream-things. I would suggest "Hype," featuring Vanessa Vanjie Mateo, because that's how I feel when I win. You get a bunch of money and I'm like [INCOMPREHENSIBLE VANJIE IMPRESSION.]
Most underrated Vegas queens:
Oddly: On one of our off days, I got to see a drag brunch at Señor Frog's, and all of the girls in that show turned it. It included other Drag Race alum like Shannel, Coco Montrese, and Kahanna Montrese. But it also had some of the best, fiercest Las Vegas talent I've ever seen, including legends like Hot Chocolate.
O'Hara: Yeah, I would have to agree with her. The drag brunch is a drag queen's type of drag. The type of drag we like to see: Bitches working it out, and sweating, and cute costumes, and just having their life, and the crowd is so into it. All of the girls in it are good performers. It's a show that's not just based off of famous queens. It's based on queens that can do the job and do the job well. It's a queen's type of drag. You know how they say if you're going to eat Mexican food, ask your Mexican friends where the best Mexican restaurant is? If you're going to go to a drag show, other than Vegas Revue, ask the drag queens what shows they're going to. And it's definitely the brunch at Señor Frog's.