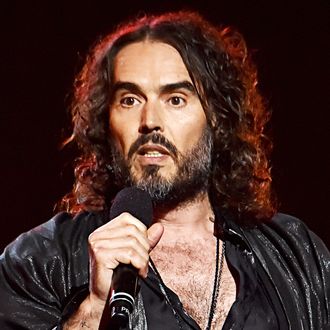 Photo: Lester Cohen/Getty Images
Under pressure after bombshell allegations of sexual assault, companies are distancing themselves from comedian and creator Russell Brand. In a story published September 16 from the Times U.K., the Sunday Times, and Channel 4 Dispatches, four women accused Brand of sexual assault, including one when she was 16. The allegations came on top of other claims of Brand's harassment throughout the report. Brand has denied the reporting, saying he "was very, very promiscuous" but only had consensual relationships. Still, it did not take long for companies to begin dropping the comedian. Deadline even since reported that Brand was dropped from the Comedy Central series Roast Battle after just one season, in 2018, because fellow judge Katherine Ryan had called him a "sexual predator" multiple times on the show. (Her comments were not included in the series, and she has said she was not assaulted by Brand.) Here is every company and charity that has responded to Brand's allegations.
His agency
Tavistock Wood Management Agency said it "terminated all professional ties to Brand" the day after the investigation. In a statement, the company admitted it had been aware of a previous allegation against Brand, after one woman told the Times she had brought an allegation to his literary agent there but only heard back from Brand's lawyer. "Russell Brand categorically and vehemently denied the allegation made in 2020, but we now believe we were horribly misled by him," the company told Vulture.
His book publisher
Bluebird, an imprint of U.K. publisher Pan MacMillan, said it would "pause all future publishing with Russell Brand" after the allegations, per the Bookseller. Brand had been set to publish Recovery: The Workbook with Bluebird in December, a follow-up to his 2017 Recovery: Freedom From Our Addictions. "These are very serious allegations," the publisher said.
BBC
The British broadcaster has pulled some content involving Brand from its TV and radio streaming services. Per Variety, these included an episode of the quiz show QI and a podcast with the fitness personality Joe Wicks. A spokesperson said it was "a considered decision" to remove the content, since "it now falls below public expectations." The spokesperson explained, "The BBC does not ban or remove content when it is a matter of public record, unless we have justification for doing so."
YouTube
While Brand's YouTube channel has not been removed, the site has demonetized his channel for "violating our Creator Responsibility policy," NBC reported. "If a creator's off-platform behaviour harms our users, employees or ecosystem, we take action to protect our community," YouTube said in a statement. Brand had published conspiracy-theory videos about the COVID pandemic and commented on right-wing causes on his channel.
Trevi
A year after Brand began working with the women's charity in 2022, Trevi announced it had cut ties with the comedian and his own Stay Free Foundation. "As a charity whose values put women's voices at the heart of what we do, we always prioritise supporting women affected by violence and abuse and empower them to live without violence and fear," Trevi, which helps women recovering from substance abuse, said on Instagram. The charity said it was "deeply saddened and upset" by the allegations. Brand had been set to fundraise for Trevi at a show in Plymouth in the U.K. on September 22, but his tour has also been postponed.