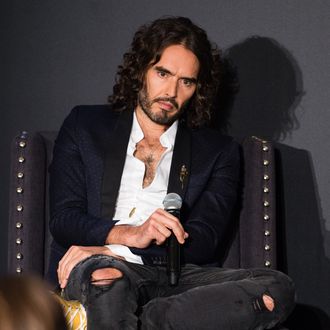 Photo: Jeff Spicer/Getty Images
Update, Friday, September 22 at 8:30 p.m.: After several women reportedly came forward with new sexual-assault allegations against him, Russel Brand has posted a new video suggesting that the media cannot be trusted. "Obviously it's been an extraordinary and distressing week, and I thank you very much for your support and for questioning the information that you have been presented with," he said. In the full three-minute clip, Brand, who has denied the allegations against him, claimed that the British government's online safety bill "grants sweeping surveillance and censorship powers" and denounced the BBC's Trusted News Initiative as a "collaboration between big tech and legacy media organizations to target, patrol, choke, and shut down independent media organizations." The actor and comedian then asked viewers to follow him on Rumble, a platform that charges subscribers a minimum of $60 a year (his YouTube channel has been demonetized). Brand said Rumble has a "clear commitment to free speech," and promised that his show will return on Monday and delve into topics from the military industrial complex to media corruption, though he did not specifically bring up the sexual-assault allegations against him. "I need your support now more than ever, and more than I ever imagined I would," Brand concluded.
Update, September 18, at 3 p.m.: New reports suggest that Russell Brand could face additional allegations of sexual assault. According to the Times, the British newspaper that published its joint investigation of Brand with the Channel 4 series Dispatches, "several women" contacted the publication after the first allegations came to light. The actor is not currently being investigated by police, though government minister Caroline Nokes has called on Scotland Yard to look into the claims. "At this time, we have not received any reports in relation to this," London's Metropolitan Police said in a statement to People. "If anyone believes they have been the victim of a sexual assault, no matter how long ago it happened, we would encourage them to contact police." The Metropolitan Police noted that law enforcement is "aware of media reporting of a series of allegations of sexual assault." Former workplaces, including the BBC, Channel 4, and Banijay, have opened investigations of their own into the allegations. Brand has since been dropped from his management company, Tavistock Wood, and a women's charity.
The original story, published on September 16, follows:
Actor Russell Brand has released a new video to his social-media accounts where he is "absolutely" refuting any merit to sexual-assault allegations made against him in a new article from the Times U.K. He calls the allegations "very serious" and says they allegedly took place at the height of his Hollywood fame, between 2006–2013. "As I've written about extensively in my books, I was very, very promiscuous," Brand said in the video, posted before the article came out on September 16. "Now during that time of promiscuity, the relationships I had were absolutely always consensual. I was always transparent about that then, almost too transparent, and I'm being transparent about it now as well."

Later in the video, Brand compares himself and these allegations by the Times U.K. to Joe Rogan and what he called "coordinated media attacks" Rogan received for taking ivermectin for COVID-19. He also claimed the allegations were possibly part of "another agenda at play" due to Brand's career as an online media personality. "What I seriously refute are these very, very serious criminal allegations. Also it's worth mentioning that there are witnesses whose evidence directly contradicts the narrative that these two mainstream media outlets are trying to construct apparently in what seems to me to be a coordinated attack," he concluded. "Now I don't want to get into this any further because of the serious nature of the allegations, but I feel like I'm being attacked and plainly they are working very closely together."
The article, which was a joint investigation from the Sunday Times, the Times, and Channel 4 Dispatches, claims that four women are alleging sexual assaults against the actor, with one accuser being 16 at the time of the assault. It also details sexual-harassment allegations from his former co-workers and employees, including his past assistants, from his time working at the BBC and on Channel 4. Comedian Daniel Sloss also went on the record to state that female comedians have been warning each other about Brand's behavior for years. Tavistock Wood Management, Brand's former representation, released a statement to Vulture and the Times U.K. on the allegations: "Russell Brand categorically and vehemently denied the allegation made in 2020, but we now believe we were horribly misled by him. TW has terminated all professional ties to Brand."
This post has been updated.