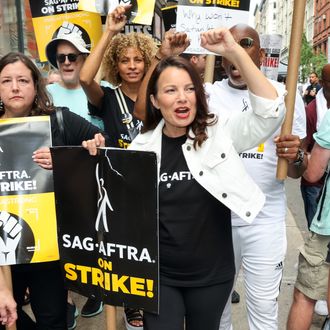 SAG-AFTRA president Fran Drescher picketing on August 3, 2023.
Photo: Jose Perez/Bauer-Griffin/GC Images
SAG-AFTRA is not new to this, it's true to this. The union, which has already been picketing film and scripted TV productions since mid-July, is now considering another strike. On September 1, SAG-AFTRA announced that its national board has unanimously decided to send members a strike authorization vote, this time regarding the video-game industry. "Here we go again! Now our Interactive (Video Game) Agreement is at a stalemate too," union president Fran Drescher said in a statement. "Once again we are facing employer greed and disrespect. Once again artificial intelligence is putting our members in jeopardy of reducing their opportunity to work. And once again, SAG-AFTRA is standing up to tyranny on behalf of its members." The union's last gaming strike, which started in 2016, lasted 183 days. This time around, SAG-AFTRA wants to ensure protection against the use of AI for voice and performance capture. The union is also asking for wage increases and other on-set working condition guarantees.
Members will be able to vote starting on September 5. The last day to fill out a ballot is September 25, a day before SAG-AFTRA resumes bargaining with Activision, Disney Character Voices, Epic Games, WB Games, and other gaming companies. Audrey Cooling, spokesperson for the video-game producers who are party to the Interactive Media Agreement, said in a statement that the companies "all want a fair contract" and "are negotiating in good faith and hope to reach a mutually beneficial deal as soon as possible." If the authorization vote is successful, that doesn't necessarily mean that a strike will happen. But that would allow SAG-AFTRA to go to the negotiation table knowing that for their members, striking is fair game.