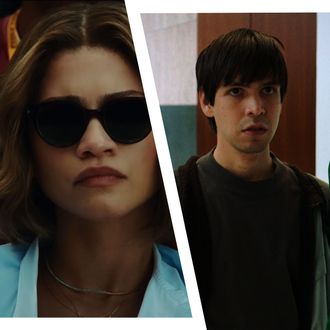 Photo-Illustration: Vulture; Photos: MGM, A24
For the first time in 63 years, the Screen Actors Guild and the Writers Guild are on strike at the same time. Writers have been on the picket lines since May 2, and on July 13, Screen Actors Guild president Fran Drescher, formally known as the nanny named Fran, announced actors would be joining the writers officially beginning at midnight on July 14. This historic stand is in response to stalled negotiations with studios on fair compensation, self-tape auditions, and AI, among other sticking points. While on strike, actors can't act or promote, which leaves studios with blank pages and empty sets. Below, a running list of productions that have been affected by the actor's strike so far.
Challengers
The much-awaited Challengers, starring Zendaya, Mike Faist, and Josh O'Connor, was supposed to hit theaters September 15, but director Luca Guadagnino and Sony have decided to push its release to April 26, 2024, according to Deadline. The strike forbids actors to do promotion for their movies, and, with a cast like this, it's no shock that Guadagnino would delay the film's release until he can milk Zendaya's red-carpet looks without being a scab. While Zendaya might "take care of her little white boys," the AMPTP surely doesn't take care of the union.
Problemista
Problemista, an upcoming A24 release (which Julio Torres starred in, directed, and wrote) and 98-minute ode to Tilda Swinton's neon hair has pushed its August 4 release. Though other A24 movies have gotten the green light to continue production from the union, Deadline reports that the studio made this choice "to support filmmaker Torres."
Rap Sh!t
President Barbie, a.k.a. Issa Rae, passed a bill declaring that her new Max show, Rap Sh!t, has been delayed, according to the Wrap. The show, which was set to release on August 10, has been delayed until November 9 in support of the WGA and SAG-AFTRA strikes.
Minecraft
Don't fear the creeper, fear corporate greed. The NZ Herald reported that the Minecraft movie was set to begin filming in August, but production has been suspended for the strike. The film is set to star Jason Momoa and Matt Berry. Warner Bros. had set the release date for April 4, 2025, which may be delayed further depending on how long the strike lasts.
The Movie Critic
World of Reel reported that Quentin Tarantino's next movie, The Movie Critic, has delayed filming due to the actors strike. The movie is set to follow a female porn critic (most likely with an affinity for walking the streets of L.A. barefoot) and take place in the 1970s.
G20
In solidarity with the SAG strike, Viola Davis is stepping back from filming the upcoming movie G20, despite the movie getting a waiver to continue filming. "I love this movie, but I do not feel that it would be appropriate for this production to move forward during the strike," said Davis to Deadline. Davis stars as American President Taylor Sutton, who has to defend her family and country during a terrorist attack during the G20 Summit.
Untitled Joseph Kosinski film
The untitled Joseph Kosinski film, starring and produced by Brad Pitt, has taken a pit stop for a two-month hiatus, according to The Sun. Directed by Kosinski, Pitt stars as fictional Formula One driver Sonny Hayes who comes out of retirement to mentor a prodigy driver, played by Damson Idris.
Bad Boys 4
The Will Smith and Martin Lawrence fourthquel is now taking over Father's Day weekend on June 14, 2024, alongside Inside Out 2. Bad Boys For Life directors Bilall Fallah and Adil El Arbi and writer Chris Bremner all return for the fourth film in the franchise.
Kraven the Hunter
Aaron Taylor-Johnson's Kraven the Hunter has hunted down a new release date, moving from October 6, 2023 to August 30, 2024. Variety reports that due to the halting of promotion during the SAG strike, the film would need more time for press for the next Sony Spider-Man universe.
Spider-Man: Beyond the Spider-Verse
After taking over the box office earlier this year, the second part of the animated Spider-Man film now has an unknown release date, according to Variety. The movie, led by Shameik Moore and Hailee Steinfeld, was originally scheduled to come out on March 29, 2024.
Untitled Ghostbusters: Afterlife Sequel
Despite not having an official name, the Ghostbusters: Afterlife sequel starring Paul Rudd and Finn Wolfhard has been moved from December 20, 2023, to March 29, 2024. A.K.A. transforming from a Christmas gift to an Easter basket for movie goers (and people who love busting ghosts.)
Untitled Karate Kid Film
The untitled Karate Kid movie is kicking back from June 7, 2024 to December 13, 2024. Nothing else is known about the upcoming sequel besides that it's unrelated to the Netflix show, that is also on hiatus due to the strike.
A Murder at the End of the World
The FX murder mystery limited series starring Emma Corrin has been delayed, moving its premiere date from August 29 to sometime in November. Over seven episodes, Corrin's Darby Hart will solve a murder mystery that takes place among suspicious guests like a reclusive billionaire, played by Clive Owen.
White Bird
The Wonder follow-up, White Bird has been delayed by Lionsgate, according to Deadline. The film, starring Gillian Anderson and Helen Mirren, had rescheduled its initial 2022 release date already for August 18, 2023. Now, the adaptation of the 2017 novel is expected to hit theaters sometime in winter, depending on how the strike progresses.
Dirty Dancing
Nobody puts Baby in a corner, but Lionsgate has put a pin in Dirty Dancing. Lionsgate tweeted that the sequel to the 1987 cult classic has found a new release date in summer 2025, which was pushed from the original release date of February 9, 2024.
Dune: Part Two
Vanity Fair reported that Dune: Part Two, which is set to showcase millennial excellence in the form of Timothée Chalamet, Zendaya, Austin Butler, and Florence Pugh, is now not coming out until March 15, 2024. The sandy sequel was supposed to hit the big screen on November 3. (Originally, the film was supposed to come out on November 17 before it was moved up.) Now, it's expected that the film will become another release delayed due to the strike and make for 2024 being a banner year for film.
The Color Purple
The impending movie musical based on the 1982 book, 1985 movie, and 2005 musical is being produced by Hollywood studio Warner Bros. So it's no surprise that the movie, starring newly legged multi-hyphenate Halle Bailey, is pushing its 2023 release due to the strike, according to Variety.
Aquaman and the Lost Kingdom
Aquaman and the Lost Kingdom, a sequel to 2018 film starring Jason Momoa, is hitting yet another riptide on its way to the big screen. The film's release is being rescheduled due to the strike, according to Variety, after already undergoing two reshoots.
Andor
It looks like some Andor scenes might be on pause until if and/or when the strike is over. According to Deadline, filming on the second season of the Star Wars series will be cut short. The Disney+ show reportedly plans to keep shooting with actors working under agreements with the British acting union Equity for as long as it can, but without SAG-AFTRA cast members, production is ultimately not expected to wrap on time. Prior to the strike, show creator Tony Gilroy said filming would end in August.
Apples Never Fall
Apples may never fall, but hopes for a release of the Peacock show this year will. Apples Never Fall, based on the book of the same title by Liane Moriarty, has reportedly paused production due to the SAG-AFTRA strike. Earlier this year, Alison Brie and Jake Lacy were confirmed to lead the cast as the eldest Delaney children.
Mortal Kombat 2
According to Screen Daily, Mortal Kombat 2 has stopped shooting in accordance with SAG guidelines. The film, starring Joel McHale as Johnny Cage, has been shooting in Queensland, Australia, since June.
Deadpool 3
Deadpool's much anticipated (mainly by Ryan Reynolds) return to the screen has been delayed due to a pause in filming. The third installment of the franchise was slated to be released on May 3, 2024. This time, the movie will be introducing Emma Corrin as a villain and reintroduce Jennifer Garner as Elektra and Hugh Jackman as Wolverine.
Wicked
Let us be mad, let us be hateful that studios are holding us back from seeing a green Cynthia Erivo tear up Stephen Schwartz's score. Wicked has paused filming with reportedly only ten days of production left, according to Broadway World. Cast members Erivo, Ariana Grande, Michelle Yeoh, and Bowen Yang have voiced their support for the actors strike, which means union chants will become a little more beautiful, but Glinda's bubble will be empty. Director Jon M. Chu clarified that though filming has paused, the first film's release date should not be affected.
Mission: Impossible 8
Per SAG-AFTRA's rules, production will not resume for Mission: Impossible 8 after a planned hiatus, according to The Hollywood Reporter. The guild's guidelines have pointedly stated that, in no uncertain terms, doing Tom Cruise-ian things like performing stunts and flying planes on camera will not be permitted throughout the duration of the strike. So, naturally, the eighth (when will it end) installment of the series, whose seventh movie was just released, will be delayed until further notice. The movie was supposed to be released on June 28, 2024.
Beetlejuice 2
Per Variety, production is paused on the Tim Burton–directed affair, initially slated for September 6, 2024 (right in time for Halloween). Saying "Beetlejuice" three times won't bring it back, but fair wages just might (ahem, Warner Bros.). The now–Emmy nominated queen of darkness and apathy, Jenna Ortega, plays the daughter of Winona Ryder's character, Lydia Deetz. None other than Mr. Juice himself, Michael Keaton, was also set to step into his iconic striped suit once more, as well as Catherine O'Hara who will be reprising her role as Delia Deetz. You know, once the strike is over.
Gladiator 2
The news of Gladiator 2 production being halted halfway through filming, according to Deadline, leaves 20-year-old fans of Normal People and middle age fathers all around the world crestfallen with only Paul Mescal getting buff to comfort them. The Ridley Scott film was set for November 24, 2024.
Lilo & Stitch
Production on Lily & Stitch, Disney's most recent victim of criminal CGI, has paused, according to Variety. The live-action version of the 2002 movie started filming in Hawaii in April. The studio had yet to set a release date. Alexa, play "Hawaiian Roller Coaster Ride (Sad Girl Version)."
Venom 3
Tom Hardy's return to the gooey suit, as well as his return as a co-writer, alongside Kelly Marcel, will have to wait until July 12, 2024, per Variety. This is the film's first release date, despite rumors of an October 2024 release date.
Interview With the Vampire
According to Deadline, season two of Interview With the Vampire has paused filming. Everyone knows the true bloodsuckers aren't Zack Bia or even Louis de Pointe du Lac but the AMPTP. Even though the show had been filming since April ("mainly in Prague" — whatever that means), some of the actors are part of SAG, which is reportedly why the show has paused filming.
Juror #2
Juror #2, which is being regarded as Clint Eastwood's final movie, has paused filming, according to Bill Marinella Casting, reports the local NBC affiliate in Georgia, where the movie has been filming since June. The star-studded cast includes Nicholas Hoult, Kiefer Sutherland, Toni Collette, and Zoey Deutch.
This is a developing story.