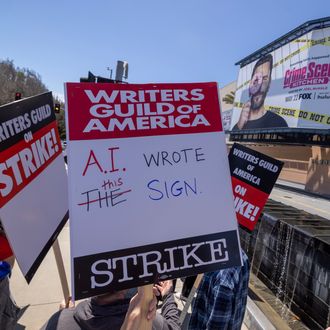 Photo: David McNew/Getty Images
Revisit our previous coverage of the WGA's strike against the AMPTP as it hits 101 days.
Actors and writers of Hollywood have begun to strike as the WGA, SAG-AFTRA, and AMPTP were unable to reach an agreement for their respective contracts. Actors officially joined the fight on July 14, just two months after WGA's contract expired. As the two unions join together on strike for the first time since 1980, their members are also finding ways to collab on the picket lines. The picketers are making sure their skills are being appreciated, as their clever signs have been flooding the streets outside of studio lots and corporate offices since early May, with more being added as the strike continues and grows. Abbott Elementary has been a consistent favorite both with audiences at home and meme inspiration for strikers. Some people opted for referencing important issues like artificial intelligence being used in place of writers' rooms and residuals from streaming services. Others went with really important issues like classic I Think You Should Leave and Barbie references.
Writers and actors plan on striking until their agreements are settled with pickets across the United States. Below are some of the best WGA and SAG strike picket signs from the front lines.
This post has been updated.
More on the 2023 writers' strike
See All