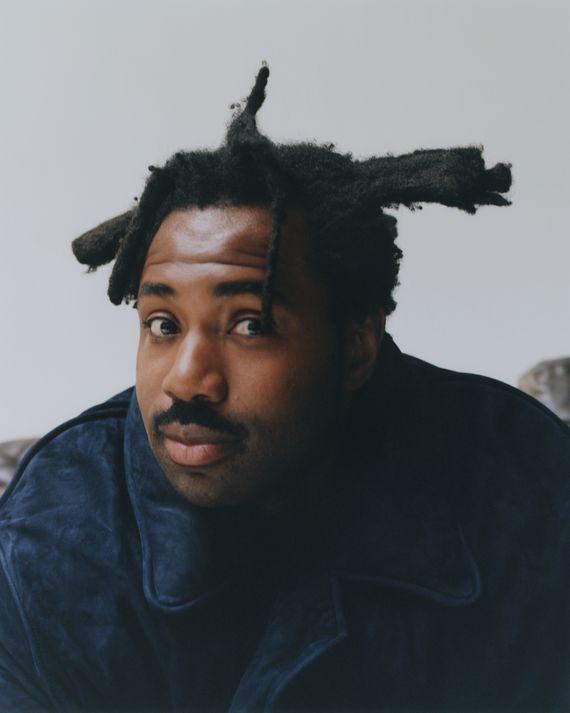 Sampha speaks in sketches, drawing out the general idea he's angling at and circling back to add color and texture. You quickly understand how it could take this person years to locate the perfect sequence of words to encapsulate a complicated feeling, as his debut album, Process, does: "A nemesis, an enemy / You're the crack inside the screen"; "Smashed this window in my heart / And I blamed you." He's a details man. Walking along Central Park West at the end of a balmy Juneteenth weekend, he was taken with the sound of an ice-cream truck's jingle wandering off the correct key.
The English singer-songwriter and producer was in town for Satellite Business, bringing the concert series that began with two intimate gigs at London's Hackney Church to the States, where he had not headlined a show in five years. He was anxious and feeling a bit rusty. "It's been a long time since I performed my own music with a band," he said as we circumvented the park the day before he took the stage at Red Hook's Pioneer Works for the first of three consecutive nights. "I wanted to create a space that felt free, to try stuff out without the expectations of a huge headline show." The objective was to introduce a new band, new songs, and thoughtful reconstructions of jams from his 2013 debut EP, Dual, and its more accomplished follow-up, the 2017 full-length Process, whose release, and Mercury Prize win, changed his life. That album was the realization of teenage dreams.
Sampha's family was originally from Sierra Leone but immigrated to South London in the '80s. He's the youngest of five brothers, and growing up, he quickly adopted their interests. "I'd be knocking on their door for half an hour: 'Let me in!'" he remembered. "I'd listen to this song 'Perfect Love,' by Todd Edwards, on a loop because of them." He discovered Groove Armada, Kings of Tomorrow, Masters at Work, and synthesizers: "I'd go round my brother Sanie's place, and he'd just have, like, a DX7 in the cupboard. He'd be playing Brazilian music or punk or the Strokes or Wu-Tang, and I'd start making music." Process was global in scope — informed by British grime and dance music, African folk and funk, and American jazz, pop, hip-hop, and R&B — and focused on the fear, anxiety, and grief Sampha experienced after the death of his mother from cancer in 2015. (He lost his father in 1998, also to cancer.) His stellar contributions to other artists' albums in the years since — serpentwithfeet's Deacon, Stormzy's This Is What I Mean, Kendrick Lamar's Mr. Morale & the Big Steppers — renewed pangs of hunger for Sampha's honey-throated introspection. In a 2022 Stateside performance, he danced alongside Lamar on Saturday Night Live, belting out the deceptively lilting chorus to Mr. Morale's "Father Time" — "Tough love bottled up, no chaser" — and stealing the show as the walls on set closed in on the duo.
After six years, he's releasing his feverishly awaited sophomore album, Lahai, out in October. Lahai is his middle name and his grandfather's first name, and familial bonds are key to understanding the new work, which feels like touching terra firma after Process's shipwrecked exhaustion. It features a better artist writing from a more contented place, bridging musical traditions the same as ever but offering a more refined balance between plush, live soul music and grooves built around synthesizers and drum machines. On Lahai, Sampha ponders human connection from the perspective of a son who lost his parents and is a parent to a child of his own. The 34-year-old became a father in the spring of 2020, and raising a daughter through the onset of a pandemic restructured his priorities. "It was intense but also quite focusing," he said. Fatherhood melted old fears while minting new ones. "The hurt and anxiety shifts a little bit," he said, "from being worried about your own point of view to, How many years am I going to be around? I want to help her survive through life." His new songs seek fulfillment in nurturing relationships. "Spirit, been looking for some evidence," he sings in the orchestral jungle track "Can't Go Back." "Lord knows my daughter here, she's heaven sent." In the waltzing reverie of "Evidence" (proof of his admiration for Joni Mitchell's The Hissing of Summer Lawns and Court and Spark as well as Minnie Riperton's exquisite Come to My Garden), Sampha suggests that love has filled the void in his life. Now, he's experiencing music through his daughter's ears. She likes nursery rhymes and has recently taken to Angie Stone and reggae. "She picks up on small things," he said, his voice softening. The album's single, "Spirit 2.0," is her favorite song.
Sampha's gossamer vocals have made him a sought-after guest feature, but less discussed is the subtle tech-nical sophistication, the smearing of classical and programmed sounds in his production, which is a highlight of Lahai. He reconvened with the Process tour's musical director, Kwake Bass, from the London jazz outfit Speakers Corner Quartet, whose skill with live and electronic drums dovetails with Lahai's flair for blurring the lines between natural and mechanized playing. Sometimes a swift, clacking piano line is hammered out by a programmable device, not by human hands. The use of the piano as more of a percussive instrument is partly inspired by Malian vocalist Oumou Sangaré and the strong sense of rhythmic movement Wassoulou music achieves without an overreliance on drums. But it's also attributable to how Sampha plays with gear, the silent robotic collaborator in his sessions. "I remember having a lot of fun trying to push the machine," Bass says. "How fast can it play? How much can it do that's not humanly possible?" Songs emerged from these experiments rather than time spent sitting down at a piano. "I'm always intrigued as to how to make something musical out of these bits of equipment," Sampha said. "Sound design inspires me. Sometimes I might say so much through the production that it becomes a challenge to write lyrics."
The expansion of Sampha's songcraft over the past decade from the tape-hiss symphonies of Dual to the polyrhythmic odysseys of Process to the crisp broken-beat and drum-and-bass epiphanies of "Spirit 2.0" can be partly owed to a deliberate campaign of self-improvement: "I thought, I'm going to start getting fitter so I can sing better. I'm going to read more books so I can write better songs. Rather than being genuinely interested in things just for the sake of focusing on them, I got into this frame of mind where everything was a currency for music." He added, "I don't think it was a healthy perspective." He is acutely aware of his limitations, entirely too humble about his singing voice and his overall musical proficiency. Lahai is made more impressive by the reality that Sampha's formal training as a musician is limited to piano lessons he took during secondary school. Glancing over books in the stalwart Broadway shop Westsider Records, he lamented that he hadn't studied more music theory: "I don't really see myself as much of a nerd about any of it. There's a lot of trial and error."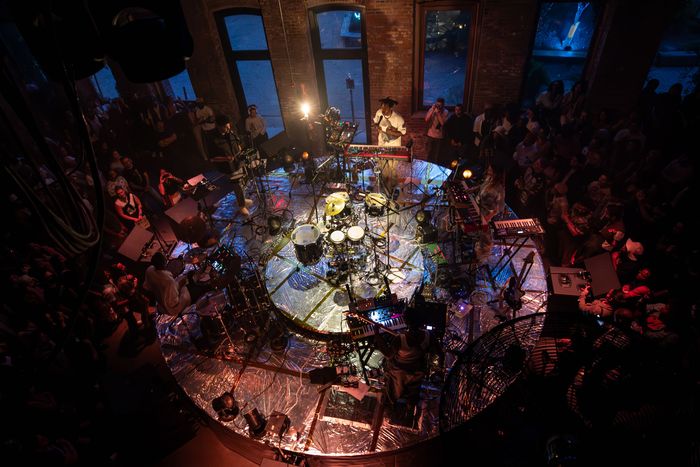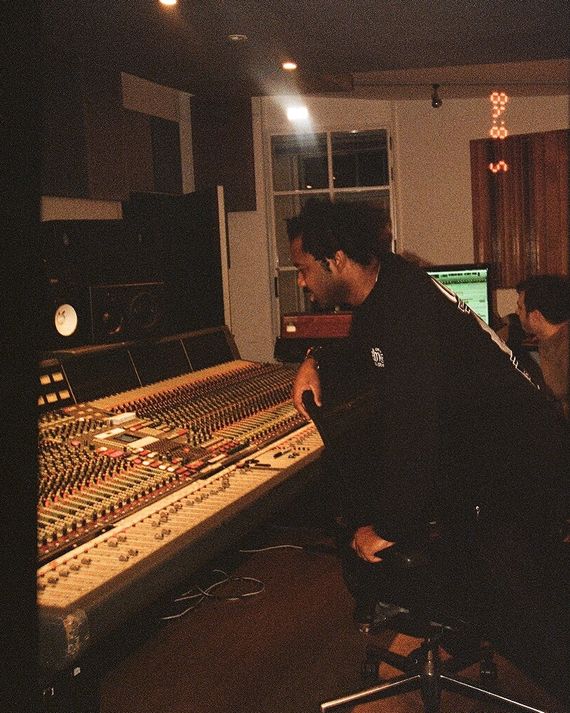 Lahai taps into Sampha's interest in "biological life and how it's all connected from primordial soup to where we are." Throughout the afternoon, he referenced subjects like Afrofuturism and particle physics. "I was watching this documentary called Wonders of the Universe," he said explained in the park, "and there's this astrophysicist Bryan Cox talking about entropy and the reasons why traveling backward in time is much more difficult than how you can travel forward in time." The late album highlight "Can't Go Back" expounds on the sentiment after "Time Piece," in which a woman repeatedly says "the time machine" in French. "Satellite Business" opens with Sampha singing in a sweet falsetto about peering into space through a telescope.
His vocals rarely feel forced; his appearance on "Father Time" was a spur-of-the-moment melody that he came up with in jam sessions around London. A last-minute verse on "My Eyes," a highlight from Travis Scott's international chart-topper Utopia, came from freestyling. "I just hopped on it and tried some stuff out," Sampha said. He encourages the same spirit of spontaneity when he's producing songs for other artists. L.A.-based R&B singer-songwriter serpentwithfeet sought his assistance on the 2021 album Deacon on tracks like "Fellowship," a marriage of soulful reflections and impossibly intricate percussion. "Sampha would show up with bags of instruments from different countries," serpent remembers with a laugh. "It was like Christmas." Engaging this creativity helps Sampha with some trepidation he feels around working with others: "There's times where I might be insecure about how deeply I get into things with other people around. It's a practice to recognize, No, this is important. This is worthwhile. Let's do it, and having that kind of confidence."
As a child, Sampha thought he'd be a producer. A cousin (Flirta D of the grime collective SLK, which had a memorable early-aughts clash with Skepta) sparked an interest in making beats, which Sampha believed to be his path to a career in music: "I didn't see myself as someone who'd be playing solo piano and singing and that being the thing that I'm most widely known for." Really, he wanted to be the maestro, like an early Timbaland or Pharrell. The lane nearly opened up when he met Drake — a fan of U.K. acts the xx and SBTRKT, which released Sampha collaborations in 2009 and 2011, respectively — and sent beats that almost landed on 2011's Take Care. Drake's attentiveness stuck out: "He knew nooks and crannies in my demos that people who are close to me don't really know. He has a really good musical memory." Sampha was surprised in 2013 when a bit of music they worked on surfaced as Beyoncé's "Mine": "I was like, That's me!" He has also made music with Ye, whose co-writing credit for Process's "Timmy's Prayer" was for the lyric about Heaven being a prison. You never fully know where a collaboration will turn up until it turns up.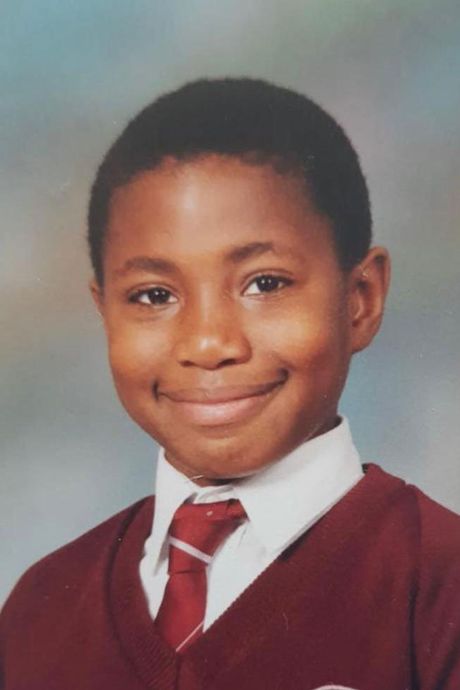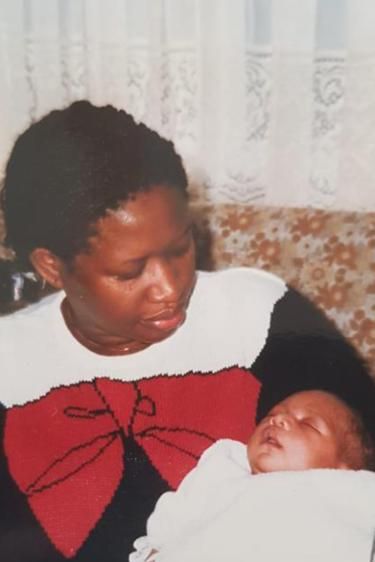 Back in June, on a Tuesday night at Pioneer Works, Sampha commanded the stage in a flowing white tee and khaki threads. The band played in a circle on a riser in the middle of the audience, a democratic arrangement that offered each attendee a great spot. Everyone onstage was a singer; the drummer's basso profundo was sturdy. They added choral accents to the climax of "Timmy's Prayer" and transformed Dual's "Without" into a drum circle. Peppered into the set list was a brief tour of Lahai: the reassuring "Jonathan Livingston Seagull," named after the inspirational '70s book that an elder brother read to Sampha as a child; the stunning, slow-building "Suspended"; the vivacious "Spirit 2.0"; and the resolute "Can't Go Back." Surprisingly few people in the audience took the show in through their phones for a night out in Brooklyn in 2023. They'd received the message that gorgeous songs like the hushed, elegant "Inclination Compass" will eventually spell out: "How about we fly towards the source again? / Switch from cold to warm again?"
Correction: A previous version of this story incorrectly stated where serpentwithfeet is based. He's now in Los Angeles not Brooklyn.