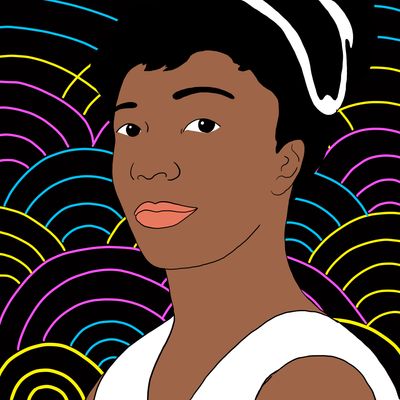 Illustration: Iris Gottlieb
After a four-year hiatus, Santigold is back. Known for her signature blend of genre-defying songcraft — Beyoncé name-checked her between gospel and blues icon Rosetta Tharpe and Bessie Smith in a "Break My Soul" remix — the artist's fourth studio album, Spirituals, is one of her most artistically challenging projects yet. It's another venture into what she does best: addressing heavy themes through toe-tapping melodies.
This sort of pan-genre thoughtfulness has always been present in her career from 2016's "Can't Get Enough of Myself" (host Nate Sloan's personal favorite) to the new track "My Horror." On this episode of Switched on Pop, Santigold speaks about the new record, being a mother, and the emotions that went into making Spirituals. You can read some of her thoughts below and check out the full episode wherever you get podcasts:
When I first started going back to try to write, it was the end of 2019, and I thought, Hey, maybe I'll start to put a record together. But there were no words coming at that time. I was just like — even though it's ridiculous and it never happens — words should come immediately, and the whole concept has to just come immediately. As soon as I decide that I'm gonna write a record, I should know what it's about. But I've been in the game long enough that I know that that's not really how it goes until it goes like that.
At this particular time, it was maybe time for me to start thinking about the record and pulling things together. But it wasn't time for the lyrics because the world hadn't turned upside down. Cut to lockdown with the pandemic. And the climate crisis: There were wildfires burning in California. There was all the brutality that we were seeing in the protests and the riots. And I had, at the time, just-turned-2-years-old twins and a 6-year-old. So it was cooking, cleaning, changing diapers — just nonstop.
I posted some images on my Instagram, which I never do, but I'm trying, and I posted some pictures, and I said, "Mom Life." It was like a series of these photos that I took that kind of talk about what it was like being a mother during these times, and it has me by the pool holding a drink in my hand on fire while the kids are in a pool.
And somebody — who I imagine was very young and didn't have kids — was like, "Seems like you don't like being a mother very much." Of course I love being a mother. Kids are the best thing ever. But sometimes it is really great to say things the harshest way because it's a release. It gives you an opportunity to exist as a full human being and explore the full spectrum of your emotions and experiences. And to not try to be something that you're not, which is like all good or all bad or all happy or all sad. They always exist at the same time, and I love it when you can actually bring them all into a song at the same time.
"My Horror" seemed perfect for that. It was just a little simple drumbeat that was just a loop and the guitars; the melody almost comes out exactly as you hear it later. To be able to go and make music — four months after having twins — and just be free in my element, it was unbelievable. I love being a mother, but in order to be a good mother, I also need to be able to step away and be an artist as well. Even if I could sneak out for like three hours, it was my way to escape and create some beauty and light to grasp onto and move toward.
I was talking about what it felt like to be stuck in this role that was too small to fit my entire being. It felt like I was just stuck in this mundane cycle where I just did the same thing over and over and there was no time to think and exist and be my full self. But I was also talking about the world when we're all numbed out and disconnected mostly for survival reasons. It's about what it's like to live in a world of sleepwalkers or The Walking Dead or a world where everybody is just numb. I was really proud that, through some of the roughest times of my life, I made a record. The fact that when shit gets really rough I can create and make something of value, not just a value for me but a value for other people? That, to me, is the point of being an artist. That it worked out to have created beauty during that time is really a special accomplishment for me."
This interview excerpt has been edited and condensed.