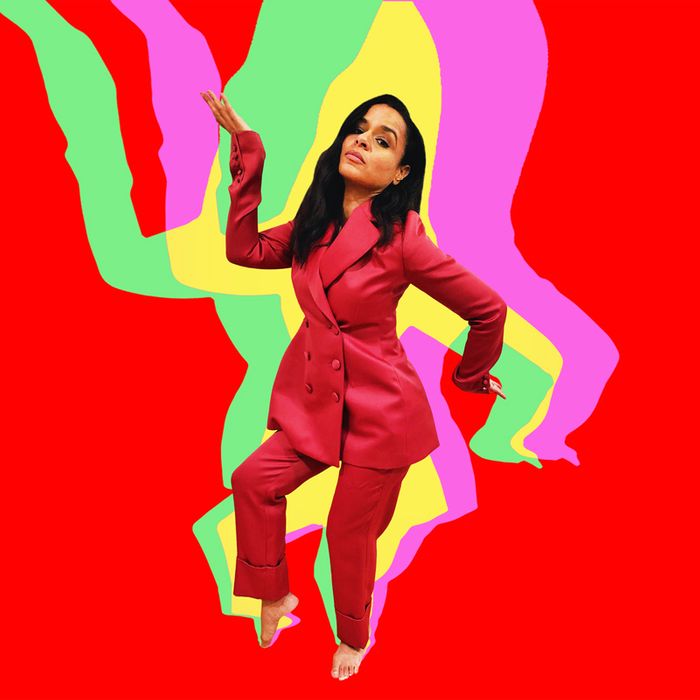 Sarah Cooper.
Photo-Illustration: Vulture and Photo courtesy of comedian
This week, we're highlighting 20 talented writers and performers for Vulture's annual "Comedians You Should and Will Know." Our goal with the list is to introduce a wider audience to the talent that has the comedy community and industry buzzing. (You can read more about the methodology at the link above.) This year, for the first time, we also asked the comedians on the list to answer a series of questions about their work and comedy under quarantine. Next up is Sarah Cooper.
When did you feel that you were funny enough to make a legitimate go at comedy?
When my meetings blog went viral it gave me the confidence to leave Google and write comedy, and when my lip-sync videos went viral it gave me confidence that I could write and perform and produce and do so much more. But don't get me wrong, I still constantly question my own abilities like any normal human woman.
Describe your comedy in five words.
Funny, hilarious, comedy, subtle, comedy.
If you weren't a comedian, what would you be doing?
Taking naps at my tech job and filling the void in my soul with loose men.
What of your work do you think you're best known for?
My role in Tyler Perry's I Can Do Bad All by Myself as "Girl in blue at bar." Or maybe my TikToks.
What's some of your work that you're most proud of?
This is gonna sound like a plug, but right now I'm most proud of my Netflix comedy special. It's called Sarah Cooper: Everything's Fine and it premieres October 27! But seriously folks. The opportunity to make it at all fills me with so much pride and gratitude, but I also genuinely love how funny and gorgeous and weird it is. And as a writer, actor, or any kind of artist, I have a deep appreciation for how hard it is to make something you yourself genuinely love, especially on such a large scale, and under such pandemic conditions.
How has quarantine affected the way you approach your comedy and your audience?
In quarantine I discovered how to have the most fun while writing. Writing has always kind of stressed me out, and only every once in a while would I really enjoy it. But in lockdown I started focusing on those moments of joy and writing in search of those moments. Like, instead of writing to please an audience, I started asking myself, What would be the most fun thing to happen next? and then laughing as I wrote it. And now I'm addicted to laughing while writing. Also edibles.
What have you done in quarantine for comedy that you thought you would never do? 
I got to hire a bunch of writers and run my first writers' room. It was fun getting to bring on a super-talented friend who I was literally doing open mics with before the pandemic hit, as well as some incredible writers I'd never met before and now love. Getting to work with living legends Paula Pell, Maya Rudolph, and Natasha Lyonne was also incredible and something I never could've imagined.
Who are some of your favorite comedians right now? Who is putting out work that excites and inspires you?
At this very moment I'm pretty obsessed with stand-up comedian Rachel Lenihan. I have no idea how to describe her writing, which is what I love about it. I'm always trying to figure out exactly why certain material works, but with her there doesn't seem to be any formula. She cracks me up and I never see it coming — and to me that's genius.
What is the best comedy advice, and then the worst comedy advice, you've ever received, either when you were starting out or more recently?
Best advice: Be yourself, have fun.
Worst advice: Be yourself, have fun, don't give up.
Tell us one story from your childhood that is a good representation of your life.
When I was 17, I wrote a contract between me and myself that said I would not give up on my dream of becoming an actress. I typed it up and printed it out and signed it and had my sister sign as a witness. That's just like me: Take a childhood dream and make it business.
Assuming quarantine ends at some point, is there anything about the way that comedy or the industry in general has changed that you hope continues post-quarantine?
The lack of hugs and handshakes has been such a relief. No more wondering if it's a hug or a handshake situation or a handshake or a fist-bump situation, no more awkwardly grabbing someone's closed fist. It's really been so freeing!