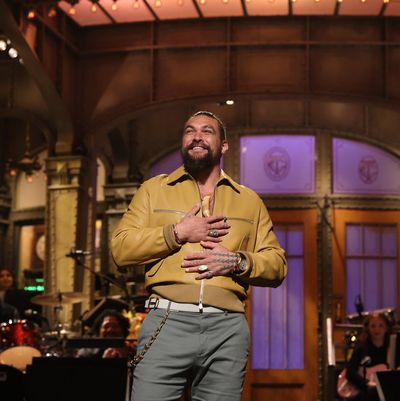 Photo: NBC/Will Heath/NBC
Sometimes an episode of Saturday Night Live is so damn funny, consistent, and well produced it leaves an aura of mystery in its wake. How could this have all come together in a single week? Are these comedic magician-warriors even human? Other times, the show misses the mark in one way or another but fun was clearly had by all, and, hey, how about that one sketch? Instant classic. And then there are those episodes — vanishingly rare as they are — which present a different enigma that is much less fun to ponder. After these episodes air, viewers are only left to ask: How is this what came together when they had a whole week?
Last night's episode belonged to that latter category, and one can imagine cast members avoiding eye contact with Lorne Michaels at the after-party. (And on his birthday, no less!)
It's anyone's guess what wasn't clicking. The host was a yoked and stoked Jason Momoa, who came ready to play. The show arrived at the end of a week heavy on topical sketch fodder. And it followed a triumphant Timothée Chalamet outing last week, priming expectations for comedic momentum. Instead, this Thanksgiving episode, whose thematic possibilities were relegated to one sketch, was a real turkey.
Several essential ingredients seemed to be missing. While this season's major innovation so far has been slimming down Weekend Update, presumably to make room for more sketches and rely less on knockout desk pieces from Sarah Sherman, this week featured a supersize 18-minute edition, presumably to make up for a lack of inspiration elsewhere. More than one sketch flirted with the idea of having a discernible comedic engine and ended before ever revving up. Even the Please Don't Destroy video, often among the most reliable recurring elements of the show, felt phoned in this week — despite the trio's movie premiering on Friday, giving them an imperative to drive people toward it.
Maybe everyone involved was checked out with the Thanksgiving break equivalent of senioritis. Maybe they were distracted by a horrible war, which they appear to be, perhaps wisely, unable to comment on in any way beyond Pete Davidson's tasteful overture at the start of the season. In any case, the best that can be said of an episode like this is that it will likely fire up the gang to top it when they return well rested in early December. It should be a low bar to clear.
Here are the highlights:
Rome Song
It may be a month or two too late to get the "guys can't stop thinking about the Roman Empire" meme onto SNL, but, well, Rome wasn't built in a day either. What the sketch lacks in punctuality it makes up for in production values, earworm factor, and cocktail-party tidbits. (Did you know that ancient Rome pioneered a central heating and air system called the hypocaust? I do now after fact-checking the song's lyrics.) If nothing else, it is very funny to see the legend of Romulus and Remus boiled down to a statue of the pair "suckin' on a wolf titty."
Thanksgiving Week Airport Parade
If the Roman Empire meme felt a tad ancient at this point, the airplane-meltdown lady is practically prehistoric. Fortunately, her inclusion in the airport parade barely diminishes it. This sketch belongs to the same lineage as the "First Warm Day of the Year Red Carpet" sketch from Ana de Armas's episode back in April. These kinds of sketches are always fun for surfacing types of people and situations that are recognizable in retrospect but not obvious as types. While the "Couple on Their Last Thanksgiving Together" may be a familiar airport sighting, "Woman Who Took Her Ambien a Little Too Early" is deliciously specific. Also, few distinctions have ever been better earned than Newark Airport being described as "everybody's third choice."
Weekend Update: Rep. George Santos
No SNL sketch about George Santos could possibly be as funny as this bananas-obvious fraudster performing winking innocence all year only to aw-shucks his guilt upon the release of last week's brutal ethics report. Now that his days as a congressman are numbered, the show is wringing the last drips of luscious juice out of Bowen Yang's delightful impression of Santos. This latest Weekend Update visit is chock full of funny lines and ideas, most notably the suggestion that Santos invented queerness at the Stonewall riots when he invited two guys to kiss. If this ended up being Yang's final appearance as Santos, his mangled "Cups" song would be a high note to go out on.
Weekend Update: Remember Lizards
The last time James Austin Johnson and Andrew Dismukes played a musical duo, they were a funk act called Soul Booth, and it was hysterical. This week's re-pairing of the two doesn't quite reach those same heights but would be well worth watching for Dismukes's Scott Stapp–like styling alone. He and Johnson play Remember Lizards, an Imagine Dragons knockoff band that recalls Will Forte and Jason Sudeikis's Jon Bovi from a decade ago. Each of their screaming iterations of the song "Believer" hits, but not as hard as the band's tortured explanations of the subtle distinction between Remember Lizards and Imagine Dragons.
Untold: Battle of the Sexes
As I alluded to up top, some sketches this week — one about old-timey movies and another about a pair of nightclub bouncers — flicked at their premises without ever doing much with them. This parody of Netflix sports documentaries, though, takes the opposite approach. It holds off on revealing the joke of the sketch for as long as possible — a minute and 40 seconds — so that when it finally does arrive, it rips like a tennis ball straight through the abdomen.
Cut For Time
• It's adorable that the cold open ends with Mikey Day as Joe Biden leaning in to give Yang's Tintin the Panda a little kiss on the cheek as he says the big opening line.
• When Momoa mentions during the monologue that he'd started his own water company, some viewers might have thought the idea was a little too on the nose for friggin' Aquaman. Turns out it's real.
• So is the episode of Baywatch that Momoa mentions having appeared in once upon a time.
• The line from the Please Don't Destroy video that goes "I have a prescription — and the only ramen is more fever" is just jumbled up enough that a lot of folks might not recognize it as an allusion to Christopher Walken's legendary "More Cowbell" sketch.
• The joke on Weekend Update about Trump pardoning the guy who attacked Paul Pelosi if he is elected next November was sadly a little too probable to be funny.
• The crowd cheers louder when Dismukes takes his shirt off the Castaway sketch than when Momoa takes his off. What they really should have been cheering for, though, is the way Dismukes describes how he and his wife (Chloe Fineman) have sex: "Side to side, both lying down; that way, everyone can relax."
• Between all the puns in the closing cab-driver sketch and Yang's "How do I Panda Express this?" in the cold open, it was a big night for wordplay.
• The sign that Colin Jost was holding up during the good-byes, which read "We love you, Dana and Paula," is meant for Dana Carvey and his wife Paula Zwagerman, who tragically lost their son earlier this week. R.I.P. Dex Carvey.