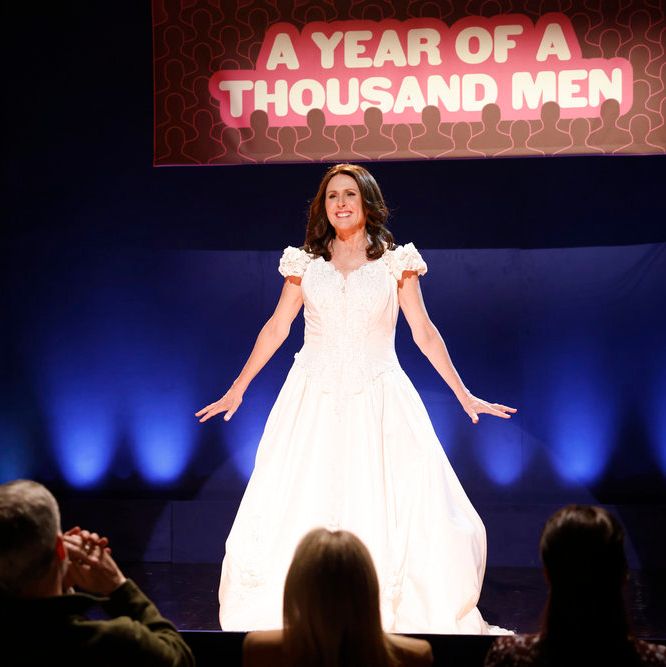 Photo: NBC/Will Heath/NBC
Many comedians have been cast on Saturday Night Live, showing the world who they were and going on to fabulous careers. Molly Shannon did the opposite. While she's certainly had a fabulous post-SNL career — one that alternates between "flourishing" and "full-blown Mollaissance" — it took leaving SNL for her to show the world who she is.
Stars like Eddie Murphy, Will Ferrell, and Kristen Wiig may not have displayed the full range of their gifts during their time on the show, but they established distinct personas there before going wide with them. The essential Molly Shannon was harder to pin down, let alone package into bankable star vehicles. Her small part in Wet Hot American Summer, released in 2001, the year she left SNL, was weirdly prophetic. She played a welcome beacon of a hurt heart in the otherwise gonzo-silly satire, something she still does today on The Other Two. It's her ongoing collaboration with White Lotus creator Mike White, though, that fully unlocked the Molly Shannon archetype, establishing a series of complicated characters in dramatic comedies whom you (mostly) can't help but root for. Although she is still a reliably funny additive in all kinds of projects — it's never surprising to see her pop up in anything — roles like the dying matriarch of 2016's devastating comedy Other People let viewers bask in the breadth of what she can do.
The last time Shannon returned to SNL as host, in 2007, she was promoting Mike White's Year of the Dog, the more-bleak-than-quirky comedy that kick-started this run of characters. After 16 years of roles that similarly access her sincerity and sadness, would she be able to slip back into the skin of a total silly-billy on SNL? Obviously, yes. By her second sketch of the night, she was invoking a "fart doctor" and bringing down the house, proving she hasn't lost a single step in the 16 years she's been away from the show. If anything, that long string of indie dramedies has perfectly primed her for an opportunity to let loose again on live TV.
Molly Shannon had to leave SNL to reveal the layers of her depth to the world, and returning to the show is an instant reminder of how explosively funny she's been all along. Welcome back!
Here are the episode highlights:
Trump Easter cold open
While most of SNL's core audience fervently hopes that Trump won't ever become the main character of America again, his third presidential run has at least resulted in some of the show's funnier cold opens in recent memory. This Easter-themed addition features James Austin Johnson's impeccable Trump calling Jesus Christ a nepo baby and bragging that he'd have risen from the dead faster than three days. The funniest part, though, is the possibly improvised bit where Johnson-as-Trump needles Mikey Day for the weird finger gestures he's making as Christ, theatrically frozen in the background behind him. (Day looks to be hanging on to his composure by a thread just then.) Lest anyone accuse SNL of being too celebratory about Trump's indictment, though, this episode ends with a fake ad mocking a certain type of lib for being addicted to news about it.
A Year of a Thousand Men
Long before this sketch gets where it's going, it's already wildly funny. Heidi Gardner's one-woman show about the thousand men she dated in a year — "everyone from finance bros with perfect abs to Brooklyn artists with uncut dongs" — is hilarious both as a means to torture her date (Devon Walker) and as a bang-on parody of terrible one-person shows. (The part where she mimes bowling and then ten men fall over like struck pins felt particularly authentic.) By the time a Devon Walker surrogate shows up within the play, though, professing his virginity while accompanied by tuba, the sketch becomes transcendent, easily ranking among the best of the season.
Please Don't Destroy — Molly Shannon 2K23
One of the sketches that probably helped get these guys their SNL gig is the Martin Herlihy solo clip in which he inexplicably plays a video game based on Shailene Woodley's life. This week's PDD video builds on the last beat of that sketch, the reveal of a Kyle Chandler 2K21 game, to establish that this week's host also has a namesake video game. Having Shannon play the game herself is an inventive touch that more than justifies stretching out the 55-second original sketch to three minutes.
Weekend Update: Jafar on Ron DeSantis' Attacks on Disney
Bowen Yang has had fewer visits to the Weekend Update desk this season, so his portrayal of Jafar from Aladdin marks a welcome return. What the self-proclaimed Disney Gay does with the elegant, be-robed character, though, is both a comedic tour-de-force and clever commentary on the fascistic idiocy of Ron DeSantis' war on Disney. It also brings some much-needed awareness to the fact that DeSantis actually got married at Disney, something I did not know until last night.
Sally O'Malley: Jonas Brothers
While Molly Shannon's most famous SNL creation, Mary Katherine Gallagher, was limited to a mere shout-out in the Please Don't Destroy sketch, her second-most famous one gets a full showcase as the Jonas Brothers' "mature" new choreographer. Although Shannon created the famously 50-years old character while she was in her early 30s, this is the first time she's performed her while she was on the other side of 50, something she acknowledges by telling a Jonas Brother, "I've been 50 since before you were born." But O'Malley has more going for her than mere nostalgia as Shannon, pants hiked up to her pits, leans into what frankly looks like a debilitating camel toe, making costars Yang and Chloe Fineman break.
Stray Observations
• Ever since Ozempic awareness hit critical mass last month, there has been a reference to it in every SNL episode and just about every other venue for topical comedy. They managed to squeeze one into the monologue this week, but at least it involved Martin Short wolfing down a cheeseburger.
• The three rules of being a valet as depicted in this sketch — lil' joke, lil' bow, lil' jog — may just be quirks that one SNL writer noticed one valet employ one time, but they seem so damn real that I'll be anticipating them in every valet experience I have going forward.
• The inflatable (and deflatable) stomach in the pregnant co-worker sketch is another example of how the tech team at SNL has truly gone next-level this season.
• The joke in Weekend Update about a woman who went on 34 dates in 20 countries last year felt like a mini-callback to the Year of a Thousand Men sketch.
• Heidi Garner may have broken some kind of record for Most Facial Expressions Per Minute with her Weekend Update desk piece character, Co-Worker Who's Extremely Busy Doing Seemingly Nothing.
• Molly Shannon once revealed in an interview that the character she had to fight hardest to get on SNL was Jeannie Darcy, the mullet-packing standup comic with a flatter affect than Joe Pera. Shannon still feels strongly enough about the character to revive her in 2023, and sure enough, Darcy plays better now that viewers have had far more exposure to anti-comedy. As ahead of her time as she was, though, the Darcinator will probably still be a tough sell for a good chunk of the audience.
• More pharmaceutical ads should feature songs with a line about arriving at the name of the drug, like the one in last night's drug commercial sketch: "That's the name they chose, they chose Vagerted."
• The last episode Molly Shannon hosted also featured a sketch about Donald Trump, but since it was in 2007, the sketch was about how the shameless host of NBC's The Apprentice had started selling his own brand of steaks. (Shannon played Melania.)