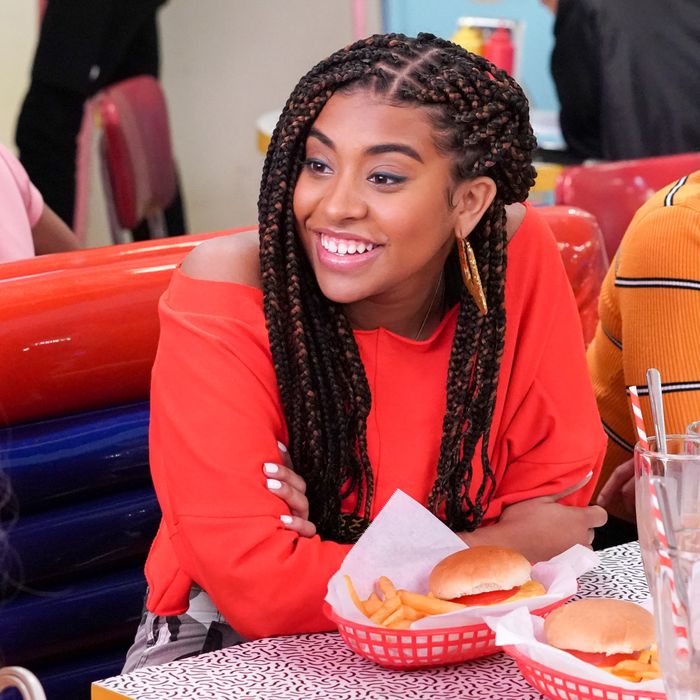 Photo: Chris Haston/Peacock/NBCU Photo Bank via Getty Images
The hook of Peacock's Saved by the Bell revival depends on a pretty clever joke about school districting. Through a series of zany events after the original series, Mark-Paul Gosselaar's Zack Morris has ended up as the governor of California, cut the education budget, and forced the closure of high schools around the state. This means that a bunch of kids from the underfunded Douglas High suddenly have to start going to school with the rich kids at Bayside, the home of the original series. Among them is Aisha (Alycia Pascual-Pena), who ends up becoming the star of the school's very unmotivated football team; bonds with Mario Lopez's A.C. Slater, who's now the coach; and ends up in a will-they-or-won't-they with Jessie Spano's son Jamie (Belmont Cameli). With the first season of the revival out now on Peacock, the 21-year-old actor caught up with Vulture to talk about her love of the original series, bonding with the new cast members, and what she learned from Lopez.
I feel like a lot of people your age probably experienced Saved by the Bell through reruns. Did you grow up watching it?
My peers my age are like, "Wait, I know that name," but most of the time haven't seen an episode themselves, but I grew up watching Saved by the Well reruns on the weekends. Prior to going into the audition, I remember asking my manager, "Is it that Saved by the Bell?" She was like, "I don't know how familiar you are with it." I was like, "No, I am very familiar with it."
Do you have a favorite episode or story line from the original, like the caffeine pills or something?
I love when Mario broke it down and got in a ballet-slippers-and-bodysuit moment. I also love when Screech and Lisa were dance partners and she had broken her leg. The musical moments were always really fun.
Did you know going in that Aisha was going to be a football player?
I definitely knew that I was going to be playing football, but it wasn't until the moment that I was fully in pads and on a field surrounded by nothing but boys that it really seemed real. But I loved those moments. I've always loved watching football. I was a cheerleader in high school, so it was fun to live that dream, to be on the field. Being able to explore this new sport and being a woman doing that well was so fun.
Aisha and Daisy are super-close coming into Bayside from Douglas, so I imagine you and Haskiri Velazquez had to develop that friendship pretty fast. What was that like?
We've had so many conversations about how we get to debut on a show that people are so familiar with and the fact that we're two Latinas from around the same way in New York. We probably got too close too fast! The day I met her was at the table read, and within that one day we spent 24 hours together. When we went to my fitting together, our costumers were like, "Oh, you get along so well, how long have you known each other?" We were like, "Oh, we met this morning."
As the show goes on, Aisha gets into a romantic arc with Jamie Spano, played by Belmont Cameli. What was it like playing that?
We have a lot of ridiculous moments with physical comedy, but it's beautiful to see the grounded moments where you see Aisha's humility, and a lot of those are with Bel. We get to see her as a multidimensional woman. She kills it on the field and is super-confident, but she gets sensitive and soft in a way that may not be expected. Especially as a Black woman, I've been so accustomed to only see Black roles and Black Afro-Latinx roles, when we do see them. I think it's cool to see all her sides, to get soft and shy and wonder whether to save face or text back to a guy.
Did Aisha change much once you were cast in the part?
I'm really grateful that our writers really committed to respecting my heritage and personal identity. I'm a girl from the Bronx; I do come from a family of a lower socioeconomic status, so I relate to Aisha in a lot of ways. They were always open to hear ways that we would make her sound and look like a real high-school girl. I speak Spanish on the show, and that was not originally planned whatsoever. They would just hear Haskiri and I laughing our butts off and speaking in our native tongue, and that became a huge part of the show.
You have a lot of scenes with Mario Lopez since Slater's a coach now. Did he share any stories from shooting the original?
I've personally gotten to know his family, and I met his parents, and it's been really inspiring to see how long his career has been. I don't think I fully fathomed that they started this when they were kids. I wasn't aware that they did mall tours and they had fans all over the world. Understanding how all-encompassing the franchise was for them was pretty cool.
What was your identity in high school? Is there a Saved by the Bell character that matches up with you?
We laugh about it because, in my personal life, I am very much more like Daisy. Aisha is always down for a good time. She's way more concerned with sports and looking fly than her grades, which is a fun side to explore, but I was not that! In high school, you could not find me outside the house unless it had to do with acting or extracurriculars. I was a cheerleader. I was part of theater. I was on student government. I was in International Baccalaureate. Aisha's much cooler than I ever was. The minute I stepped onto set, in this peculiar experience of being an adult but back in high school, I was like, "I like this version of high school a lot more."