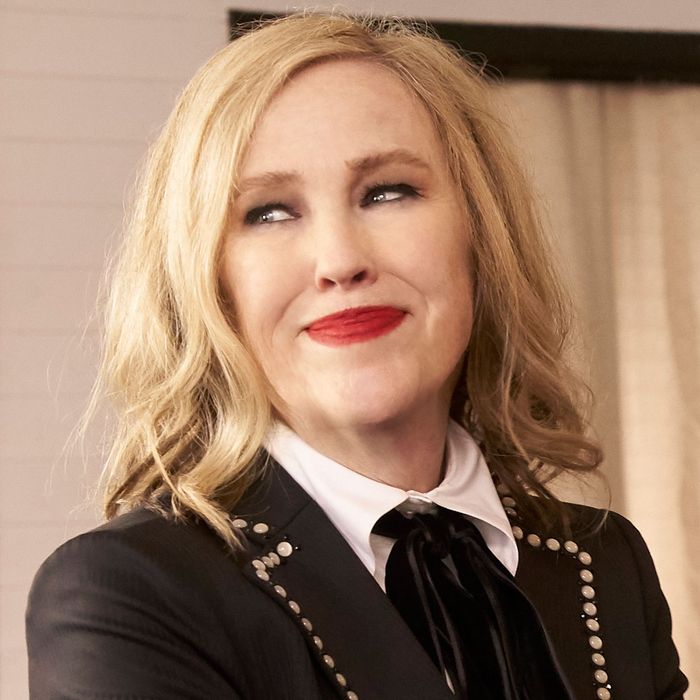 TV's Moira Rose.
Photo: Pop
Schitt's Creek is full of gifts that keep on giving for the show's writers, from Alexis's history of international incidents to David's cedar chest of textured knits. But nothing is as fruitful territory as the long, storied career of Moira Rose — the woman Maria Menounos once described as "the unsung hero of afternoon television" before the fake news of her death was eclipsed by the passing of viral interspecies-friendship-video star Cuppy the kitten.
Since arriving in Schitt's Creek after the Rose family lost its fortune, Moira's acting opportunities had largely been limited to the tragic characters she created for herself when shopping for a used car or convincing a disgruntled motel guest to take down a negative review.
But things have changed (for the better?) in season five, with Moira (Catherine O'Hara) now riding high after wrapping her "comeback vehicle," The Crows Have Eyes III: The Crowening. While we wait to see how her performance as mutating ornithologist Dr. Clara Mandrake in the film that the local, loosely translated Bosnians are calling "a stunning reinvention of the Crows Have Eyes franchise" may affect her future — sadly, the film has now officially been "shelved" — here is a deep dive into Moira's past, with a running list of credits and achievements; we'll keep it updated week to week as we learn more.
TV Work
Sunrise Bay (six-and-a-half seasons)
Roland: Oh, there it is! There it is! The Vivien Blake bitch face! I didn't want to say anything, but you were my favorite character on Sunrise Bay.
Moira: Thanks.
Roland: Hey, how many people did you slap on that show?
(S1, E2: "The Drip")
Johnny: Moira, remember Sunrise Bay? You were drunk most of season three. And half of season four. End of season five.
Moira [slurring]: I'll have to take your word for it … Did I used to have a drinking problem?
Johnny: The point is, you can do this, Moira. You're radiant. You're beguiling. You're daytime television's brightest star!
(S1, E6: "Wine and Roses")
Moira: Oh, it's Gord what's-his-name's funeral all over again … He was some kind of crew person on Sunrise Bay. I made an obligatory appearance at the service, and his hysterical girlfriend cornered me into saying a few words. I didn't have a thought in my head, so I just stood up and sang "Danny Boy." Not a dry eye in the house.
(S1, E9: "Carl's Funeral")
Moira: Politics 101, John. When you have limited resources, your best course of action is to create a stir. It's exciting. It's fun. It's like the episode of Sunrise Bay when I stole my own baby.
(S2, E12: "Lawn Signs")
Roland: Look, you can't go making blind promises to these people. This isn't Sunrise Bay, where everybody lives in a perfect dream world.
Moira: I'll have you know, Sunrise Bay was a coastal community plagued by a centuries-old curse.
(S3, E1: "Opening Night")
Moira: I worked in soaps. They had me playing my own father, who then became pregnant despite the vasectomy. I still hold the record for the longest-running demonic possession on daytime television.
Blaire: Okay, what's your point?
Moira: We were No. 1. Every project has potential.
(S5, E1: "The Crowening")
Johnny: Moira, you wrote those [love] letters.
Moira: Don't be absurd. That is not my writing.
Johnny: It was that week on Sunrise Bay when Vivien Blake had her accident. You were in a body cast. They wouldn't let you take it off. You were writing with your left hand.
Moira: Spelunking incident.
Johnny: No. It was after she got thrown upward through a skylight.
(S5, E2: "Love Letters")
Not Without My Cousin, co-starring Joyce DeWitt (Lifetime)
Johnny: You're gonna miss your screening.
Moira: I'll go after the first commercial break. That's when the action happens anyway. When my cousin and I begin our backpack through Lebanon.
(S5, E5: "Housewarming")
Moira [watching movie]: Oh, if it weren't for Joyce DeWitt insisting on wearing those pigtails this movie could've been a hit. We're supposed to be astrophysicists, it takes you right out of it. And yet she, she gets the close-up.
(S5, E5: "Housewarming")
Moira: That had its moments. When it shone, it shone brightly. And I have to hand it to DeWitt. She had a real breakthrough during the dénouement. I believe she believed we were cousins.
(S5, E5: "Housewarming")
M*A*S*H
Moira: Is "tests" code for open-heart surgery? You can tell me. I once played a nurse on M*A*S*H.
(S5, E13: "The Hike")
Theater Work
Starlight Express (Original Cast Recording)
Moira: You do realize I am a professional vocalist.
Twyla: Oh, really? I thought you were in, like, a soap opera.
Moira: Oh, I didn't know you were a fan. Thank you. My roots are in the theater. Especially musicals. Anything Andy Webber.
Twyla: Wow. So did you record an album?
Moira: Oh, yes, you'll find me on ensemble tracks 7, 9, and 13 of the original cast recording of Starlight. Starlight Express.
(S2, E3: "Jazzagals")
Annie (Regional)
Jocelyn: I mean, even Gwen had to audition, and she was in a regional production of Annie.
Moira: Who hasn't been?
(S2, E3: "Jazzagals")
Harvey
Moira: I don't know, Alexis, I'm not a nurse. Though I played one once in a lovely little production of Harvey, but she worked in a mental institute.
(S2, E5: "Bob's Bagels")
Macbeth (Crystal Skies Cruise)
Moira: I don't know what to do, David. The last time I felt this emotionally encumbered I was playing Lady Macbeth on a Crystal Skies cruise ship during Shakespeare at Sea week.
(S4, E1: "Dead Guy in Room 4")
Shoes, Glorious Shoes: The Imelda Marcos Story 
Moira [deciding what to perform]: The easiest to go with is probably Shoes, Glorious Shoes: The Imelda Marcos Story.
(S4, E3: "Asbestos Fest")
Two Heads (Foxwoods Casino)
Moira [changing her mind]: Two Heads it is. The Foxwoods Casino Gazette did say it was a performance they'd never seen before. Don't write that down.
(S4, E3: "Asbestos Fest")
One Crazy Summer: The Patty Hearst Story (One Night)
David: You didn't even play Patty, though.
Moira: You know I did. The night Patricia LuPone ate that preshow shawarma and I was asked to step in. I've always wanted to reprise the role.
David: I just recall that that show was very heavy on the footwork, and at one point you yelled "Line!" in the middle of a dance break … I just remember you practicing for seven months with that dance instructor that I ended up dating. Are you sure you remember it all?
Moira: Skip Fosse once told me that when it comes to choreo, always leave some room for spontaneity.
(S4, E3: "Asbestos Fest")
An Officer and a Gentleman (Workshop Only)
Moira [as a prospective juror on an embezzlement case]: There was that summer that Jimmy Smits stole my heart onstage in a workshop-only production of Officer and a Gentleman. I suppose that might be called emotional embezzlement.
(S4, E11: "The Rollout")
Cabaret (1979)
Moira: The year was 1979. I was but 17…
David: She was not 17.
Moira: Hostessing at a charming gas station deli, when the great director Rocky Nichols came in for a Reuben. That's a sandwich. Little did he know he would end up biting into something far more suffonsifying, a ripe young actress who he'd soon cast in the leading role, Sal Bowles, in the production of…
David and Patrick, in unison: Cabaret.
(S5, E7: "A Whisper of Desire")
Moira: The role of Sally Bowles requires an actress who can mine a deeper, darker cave. A woman encumbered with secrets she will take with her to the tomb. Hence the high praise Gina Gershon and I received for the role.
(S5, E8: "The Hospies")
Moira: If anything, I'm going easy on [Stevie]. You should have seen the conditioning Rocky put me through. Our first day consisted of mud runs and sob therapy.
(S5, E9: "The M.V.P.")
The Sound of Music
Moira: There's the age discrepancy. Bit of a challenge there. Although I did play Liesl von Trapp at 50.
(S5, E7: "A Whisper of Desire")
Cabaret, directorial debut (2019, Schitt's Creek Community Theater production)
Jocelyn: You should be the director. It's clearly in your blood.
Moira: Humility forbids me from thinking I could become a quadruple threat that easily.
(S5, E7: "A Whisper of Desire")
David: You choreographed this?
Moira: Uh, I loosened the pickle jar. Derek merely popped the lid.
David [to Stevie and Patrick]: Very impressed. Was not embarrassed at all. I thought I would be.
(S5, E12: "The Roast")
David: You choreographed this?
Moira: Uh, I loosened the pickle jar. Derek merely popped the lid.
David [to Stevie and Patrick]: Very impressed. Was not embarrassed at all. I thought I would be.
(S5, E12: "The Roast")
Film Work
The Crows Have Eyes III: The Crowening (Shelved)
Moira [meeting her director]: You must be Blaire, no last name. Dr. Clara Beatrice Mandrake at your service. Middle name wasn't scripted, but I've done my homework.
Blaire: It's an apocalyptic fantasy about mutant crows; I think we all know what we're making here.
Moira: A timely allegory about prejudice.
(S5, E1: "The Crowening")
Moira: Not one of you knows how the Crows movie ends.
Alexis: You told me the day you got home.
Johnny: You gave me the script.
Moira: And you were both sworn to secrecy, so David is right not to trust you. …
Alexis: How did it end again? Like a Crowmageddon?
Moira: Crowpocalypse. But you didn't hear it from me.
(S5, E11: "Meet the Parents")
Voice Work
Johnny: This isn't some rinky-dink made-for-TV movie or a voice gig for an X-rated Japanese video game.
Moira: That was rated M for mature, John.
(S5, E1: "The Crowening")
Celebrity Philanthropy
With Hillary Clinton
Johnny: The fundraiser was your idea! You don't think your mother would get involved in planning a fundraiser? My God, she had Hillary shaking last year at the Clinton Foundation dinner.
(S1, E12: "Surprise Party")
With Goldie Hawn
Moira: John, do you remember what Goldie Hawn told us at that amfAR dinner? "You are the life you accept for yourself." Those are Goldie's words. Or something someone said to her in India. Or perhaps she read it. In any case, it has always stayed with me.
(S2, E6: "Moira vs. Town Council")
With Winnie Mandela
Moira: Oh, I won't wait for anyone's decision. I once got Winnie Mandela to RSVP to an Artists Against Eczema benefit within the hour.
(S2, E6: "Moira vs. Town Council")
Moira: Well, John, my husband, will back me up on this. I had a six-and-a-half-season career as an actress in television, which I put on hold to devote all my time and energy to raise $2 million for charity.
Johnny: And two children.
Moira: Oh, yes, and two children …
(S2, E10: "Ronnie's Party")
With Eva Longoria
Moira: You know, I know all about being left in the lurch for a fundraiser. Eva Longoria and I were supposed to perform our ventriloquist act for the Everybody Nose benefit for juvenile rhinoplasty, when she suddenly drops out due to exhaustion. I had to be both puppet and puppeteer.
(S4, E3: "Asbestos Fest")
Moira: Do you remember the last time you and I chaired an event? The Teenage Rosacea Ball at the St. Regis?
(S4, E12: "Singles Week")
With Puff Daddy, Arnold Schwarzenegger, and Maria Shriver
Johnny: You know in the old days, I stood by your side no matter how you wanted to spend the holidays. Whether it was heading to Miami for Puff Daddy's poolside white party or that uncomfortable tree trimming at Arnold and Maria's. How about the night you wore your fur coat to the PETA Christmas fundraiser?
Moira: I heard Peter fundraiser. Bogdanovich loved a mink.
(S4, E13: "Christmas")
Credits As Herself
Herb Ertlinger Winery Commercial
Moira: In the lee of a picturesque ridge lies a small, unpretentious winery, one that pampers its fruit like its own babies. Hi, I'm Moira Rose, and if you love fruit wine as much as I do, then you'll appreciate the craftsmanship and quality of a local vintner who brings the musk melon goodness to his oak Chardonnay, and the dazzling peach cral-bapple to his Riesling Rioja. Come taste the difference good fruit can make in your wine. You'll remember the experience and you'll remember the name. Herb Erfling … ger. Burt Herngeif. Irv Herb-blinger. Bing Livehaanger. Liveling. Burt Herkurn. Ban bingo ling-fucker!
(S1, E 6: "Wine and Roses")
People's Choice Awards
Moira: "You don't have to worry about me, Roland. If there's anyone at this fabulous little confab who knows how to work a room of fragile egos, it's me. I once hosted the non-televised portion of the People's Choice Awards."
(S3, E9: "The Affair")
Schitt's Creek's Summer Asbestos Fest
David: Brr! It's awfully cold out there … [Moira knocks.] Oh, I wonder who that could be? It's television's Moira's Rose!
Moira: That's television's mom to you. You know, nothing is colder than the chill I get when I think of the dangers of asbestos poisoning. Luckily, a little birdie told me that with enough funds raised, this town could be asbestos free by …
David: Christmas. [They begin their medley of carols.]
(S4, E3: "Asbestos Fest")
Rose Family Christmas Party, Per Johnny's Dream
David: Now, Aretha will be out in just a moment.
Paul Shaffer [playing piano]: Oh, who needs Aretha when we have you, darling? Ha! Ha!
Moira: Paul Shaffer, you are my most cherished friend!
Johnny: And worth every penny.
Paul: Oh, you guys are too kind.
(S4, E13: "Christmas)
Adult Diapers Commercial
Moira: I haven't hit rock bottom quite yet. It's a matter of self-worth.
Alexis: You did a commercial for adult diapers.
Moira: In Japan. In full face Kabuki makeup.
(S5, E11: "Meet the Parents")
Soap Opera Fan Convention
Moira: Alexis, dear. Now is as bad a time as any to tell you there is a dark side to mommy's industry, and I've tried to protect you from it your whole life.
Alexis: You took me to the Playboy Mansion when I was 7.
Moira: And you had a wonderful time in the children's grotto. But this, Alexis, you shouldn't have to see this — thespians selling their autographs for money in cheerless convention centers.
(S5, E11: "Meet the Parents")
Moira: Miss Gregson said to milk this for all it's worth, so let's get it going. I have some fans to meet.
Alexis [to line of fans]: Okay, here's how it's gonna go down: It's 30 seconds each, tickets in hand or it's back of the line. And no, she will not be clarifying any Sunrise Bay plot points.
Moira [under her breath]: Feet.
Alexis: Oh yes. And if we're talking feet, it's $75 for one, $150 for the pair.
(S5, E11: "Meet the Parents")
Awards and Honors
Daytime People's Choice Awards nominations
Jocelyn: You know, it says here that Moira was projected to be nominated for ten Daytime People's Choice Awards.
Moira [suddenly appearing]: Twelve. The most projected nominee to have never actually been nominated.
(S4, E5: "RIP Moira Rose")
The Former Moira Rose Studio Theater
Moira: Oh, I have enough legacies as it is, John. I've got that playhouse theater in Pasadena, my titular scholarship with Phoenix, David and Alexis.
Johnny: Oh, okay. Well it's just about a month ago I heard from the Lucy Albion Studio Theater in Pasadena.
Moira: I don't know what that is.
Johnny: It used to be called the Moira Rose —
Moira: No, no! Don't say it. They've stripped the playhouse of my name? Who the fuck is Lucy Albion?
Moira: A volunteer usher who died last year.
(S3, E11: "Stop Saying Lice!")
Moira Rose Boulevard
Moira: Yes, it can be very exciting when the tribute matches the contribution. I know. My name graced a theater, a country club ladies' locker room, a roadway.
Jocelyn: A whole road?
Moira: Oh, not just any road. This was a lifesaving road dedicated to emergency vehicles.
Jocelyn: Like a fire route?
Moira: Technically it was referred to as Evacuation Route 14, but those of us in the know affectionately called it Moira Rose Boulevard.
(S3, E11: "Stop Saying Lice!")
The Moira's Rose's Garden 4856
David: The Moira's Rose's Garden. So the garden is dedicated to a rose that Moira owns?… And what are these numbers for?
Moira: Those are the last four digits of your father's credit card.
Johnny: It was a complicated order form, all right? There were a lot of fields to fill in.
(S3, E11: "Stop Saying Lice!")
Miss Snow Cone
Moira: What if I had not been crowned Miss Snow Cone at 16 and moved to the city with my driving instructor? And what if I had not hand-modeled at that microwave trade show?
(S1, E10: "Honeymoon")
Video Work
Rose Video Inc.'s Employee Health and Safety Series, Tape 3
Moira [after being groped by a male employee]: Excuse me, Emilio. Pause. That kind of physical touch is inappropriate. Let's rewind and try again. Where is it? Let's see. Q, R, S. Oh, there it is!
Emilio: Here, let me help you with that. Is this what you were looking for?
Moira: A double cassette of the best body-swaps of Sunrise Bay season 21? Yes, thank you. I've been asked to retrieve it for a customer with wonderful taste.
(S5, E6: "Rock On!")
Trivia
Her wigs: Kristen and Robin don't like each other (S1, E1: "Our Cup Runneth Over"); her wig Maureen doesn't like to be manhandled (S1, E10: "Honeymoon"); she keeps a spreadsheet showing which nails her wigs hang on (S5, E1: "The Crowening"), she's had Caroline for 40 years (S5, E13: "The Hike"); Stevie borrowed Magdalena to play Sally Bowles in Cabaret: "The only other time I have leased one of my gals was the Halloween when David was desperate to be Alanis Morissette" (S5, E14: "Life is a Cabaret").
Moira's songs with the Jazzagals: "It's Raining Men" (S2, E12: "Lawn Signs"); "Baby, I'm Yours" (S3, E13: "Grad Night"); "Takin' it Home" (S4, E8: "Jazzaguy"); "Silent Night" (S4, E13: "Christmas"); and, referenced only, Nine Inch Nails' "Closer" (S5, E3: "The Plant") and Poison's "Talk Dirty to Me" (S5, E6: "Rock On!). Believing she'd be off filming The Crows Have Eyes II, Moira reluctantly relinquished her part in an "Islands in the Stream" duet with Jocelyn to Twyla (S3, E5: "Rooms By the Hour").
Moira: Well, I'm glad you talked me out of the mohawk. I think these people deserve a little glamour in their political campaign. I was always impressed by those masquerade key parties at the Sarkozys'.
(S2, E8: "Milk Money")
Moira [searching online for the lost and "very tasteful nudes" she shot in the '70s with photographer Richard Avedon]: No, I can't type, and I don't care to relive my days as a secretary.
(S2, E9: "Moira's Nudes")
Stevie: Okay, there's a bunch of you with O.J. Simpson. And you with Robert Blake.
Moira: "The Top Eleven Photographs of Moira Rose With Future Murder Suspects." Well, that's not what I'm looking for.
Stevie: Why were you in a paddleboat with Phil Spector?
(S2, E9: "Moira's Nudes")
Moira: Well, ladies, I'm not that different from any of you. I had my first job at the age of 10 sweeping up hair in a beauty salon. I will never forget the value of a hard day's work.
(S2, E10: "Ronnie's Party")
Alexis: What's your favorite season?
Moira: Awards.
(S3, E2: "The Throuple")
Moira: I apprenticed costume design under Stan LaCoulier. I'm sure he'd agree this toggery is the perfect tribute to the common woman.
(S3, E3: "New Car")
Moira: And would that be a note? A note coming from my son, whom I carried for almost a full seven months, to an actress who has been short-listed for more than seven major made-for-television motion pictures?
(S3, E5: "Rooms By the Hour")
Moira: John and I used to attend Eyes White Shut parties at the Castros'. Though I'm guessing your evening's activities might be somewhat different.
(S3, E6: "Murder Mystery")
Moira: The ceremonial purchase of the gown has always been my good luck charm.
(S5, E4: "The Dress")
Moira: Oh, I'm not above a naughty night of debauchery. When Condi Rice and Sharon Stone and I used to make our annual casino sojourn to Ho Chi Minh City, well, let's just say ["I never lost" in Vietnamese].
(S5, E6: "Rock On!")
Jocelyn: Moira, you may not believe this, but I used to rock out.
Moira: Well, of course you did. As did anyone with brain cells to kill. I'm thinking of a particular night in Monaco with Maggie Trudeau and the Rolling Stones.
Jocelyn: You rocked out with the Stones?
Moira: All except Charlie, but every party has a pooper.
(S5, E6: "Rock On!")
Stevie: Okay, then I guess [Patrick and I] can just tell her we're getting outside help.
David: Good luck. When she was coaching me for the Little Mister pageant, I made the mistake of going to Mario Lopez for advice, he was hosting at the time. Anyway, she found out, felt so betrayed, she "forgot" to double knot my tap shoes and cost me the crown.
(S5, E12: "The Roast")
Johnny: You know what, Moira? Jealousy doesn't look good on you. Much like that mirrored jumpsuit you wore to Candy Spelling's 50th.
(S5, E12: "The Roast")