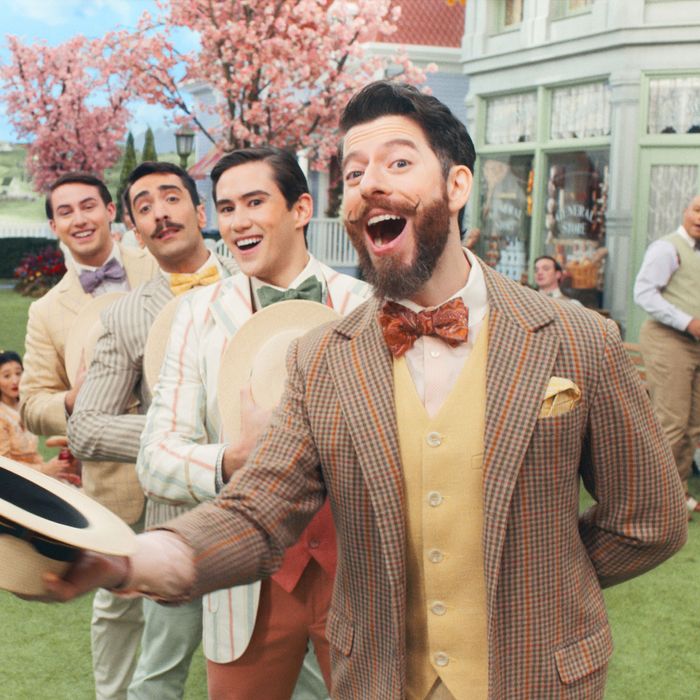 The musical numbers in
Schmigadoon!
gleefully reference everything from
Oklahoma!
to
Guys and Dolls
and
The Music Man.
Photo: Apple TV+
Lost in the woods on a backpacking trip that's meant to rekindle their relationship, Cecily Strong's Melissa and Keegan-Michael Key's Josh wander into a magical town that sounds a bit familiar: Schmigadoon. If you're familiar with musicals, as Melissa is, you might recognize the title as a play on Brigadoon, the Lerner and Loewe show about a Scottish town that appears once every 100 years. You also might recognize that, as soon as everyone starts singing at Melissa and Josh (much to Josh's perturbation), they all sound like they're from other golden age mid-century musicals too. As the new Apple TV series unfolds, Melissa and Josh find themselves amid a set of crisscrossing plotlines, solos, and production numbers that gleefully reference everything from Oklahoma! to Guys and Dolls and The Music Man, performed by a choice group of comedy and theater actors, including Kristin Chenoweth, Ariana DeBose, and Aaron Tveit.
"I was attacked from all angles by musical theater at a pretty early age," Cinco Paul, who created the series with Ken Daurio, told Vulture. Paul grew up watching musicals with his mother, and wrote all the songs for Schmigadoon! based on his familiarity with the genre; there are also orchestrations by Doug Besterman, music supervision by David Chase, and a score by Christopher Willis. Each of the numbers in Schmigadoon! is born out of a specific kind of song in a 1930s-to-1960s musical — like a rogue carnival barker's entreaty to a woman he's just met, a loving wife's ode to her troublesome husband, or a group number about the joys of pudding — though spun into its own comedic gambit. "One thing I did really early on was that I got the scores to all these musicals and played them through on the piano so I'd have them in my bones," Paul said, "so that I would be emulating them but not totally imitating them."
With the six-episode first season now complete, we asked Paul to talk us through the origins of the musical numbers in each episode, and the stories behind their references.
"Schmigadoon!"
"Schmigadoon!," the first episode of Schmigadoon!, introduces the town of Schmigadoon with a group number about, well, Schmigadoon — specifically, how great it is. Think "Camelot" from Camelot, or "Oklahoma" from Oklahoma!, or "It's a Typical Day" from Li'l Abner. Paul started off here with what he thought of as "the lazy version of what the musical theater song is," which they used in pitching the show, but then circled back to rewrite the full version of the song once the project was green-lit. "I really decided it needed to invoke Rodgers and Hammerstein a lot more than the first version I did, because it's the first song here," Paul said. To that end, the song now ends with a very Oklahoma! spelling lesson of everyone chanting "S! C! H! M! I! G! A! D! O! O! N!"
"I called Doug and David and said, 'Go for broke, extend that as long as you can,'" Paul said. "They added the 'schmiga!, schmiga!, schmiga!' and the spelling, which is genius, because the longer it goes on the more it tortures Josh. It was six or seven minutes long originally, but there's a fine line between torturing Josh and torturing your whole audience."
"You Can't Tame Me"
The first Schmigadoonian to get his own song is future inevitable Tony Award–winner Aaron Tveit as Danny Bailey, a rough-and-tumble (well, in musical-theater terms) carny who closely resembles Carousel's tragic Billy Bigelow. Danny seduces Melissa as if he's acting out the famous "bench scene" in Carousel (note the blossoms), with her commenting on his singing as it happens, not quite fully drawn into the musical. As with "Schmigadoon," Paul had written a more generic version of a love song for Danny Bailey when pitching the TV series' pilot, but then revised it into a more specific riff for the show.
"With 'You Can't Tame Me,' I realized I needed to dig down into this Billy Bigelow world, and if you're familiar with Carousel, you can see those references clearly," Paul said. "The more authentic the songs are, the better the comedy works."
"Corn Puddin'"
The genesis of this big, goofy group number was simple, according to Paul: "What would be the song that would most annoy Josh? If someone hates musicals, what is the song that would most drive them crazy?"
Coincidentally, the resulting number, which draws on the group dances of Seven Brides for Seven Brothers and the pure nonsense of "Shipoopi," was also the song that came to Paul first. "I remember walking down the street on the Upper West Side and thinking, 'You put the corn in the pudding and the pudding in the bowl and the bowl in your belly and it's good for the soul,'" Paul said, "and then I thought, There's something there." As much as the song is an earworm that makes you crave a carbolicious snack, Paul did have to admit, "I've still never actually tasted corn pudding, so I just know it conceptually."
"Lover's Spat"
After being told by the singing leprechaun that is Martin Short at the end of the first episode that they can't leave Schmigadoon without true love, Melissa and Josh devolve into a lovers' spat, which the townspeople helpfully exaggerate behind them. There's a some choreographed smacking (a reference to the domestic violence excused in Carousel), while musically the song references South Pacific's "There Is Nothin' Like a Dame," Pajama Game's "Once-a-Year-Day," and, as Paul puts it, "the relatively obscure" and less commercially successful Rodgers and Hammerstein collaboration Pipe Dream's "The Party That We're Gonna Have Tomorrow Night." The "he says" and "she says" moments, meanwhile? That might remind you of "It's Been a Really Long Day" from How to Succeed in Business Without Really Trying.
"Somewhere Love Is Waiting for You"
As Melissa starts to get better acquainted with the town, she ends up seeking advice from Alan Cumming's Mayor Menlove, who sings about unrequited love in terms that make it clear he really loves men. "A fundamental idea from the very beginning was that there are these queer-coded characters from musicals who aren't totally allowed be who they are during the golden age," Paul said, "and that Melissa as a character who likes to fix things would be trying to fix that."
For Menlove's song, Paul wrote a stately solo "in the operetta mode" in a way that fits Menlove's somewhat old-fashioned character, and as a nod to the origins of the musical form.
"Enjoy the Ride"
As Melissa's flirtation with Danny Bailey continues, she gets to sing her first complete song with him (until now, she'd just put together a few rhymes to participate in "Corn Pudding"). At this point in the show, Josh steadfastly refuses to sing, but Melissa has started to engage with the world of Schmigadoon, even if it's all still put on for her. "She's seen Guys and Dolls and knows 'If I Were a Bell' and so it's very conscious," Paul said. "She talks about it being 'effortless, effortless,' but it's the opposite of effortless." When the song gets reprised later on in the season, it signifies a moment when Melissa is at her lowest and really has started to sing from her heart.
As Melissa and Danny sing together, Schmigadoon! also throws in a verse from Dove Cameron, who plays a young farmer's daughter of indeterminate age. (Instead of "enjoy the ride," she sings about waiting "till I'm a bride.") "She's very Ado Annie," Paul said, referencing the young, innocent-and-sexy character from Oklahoma! "But we're also playing with the idea that actresses who play teenagers in musicals are very far removed from their teenage years."
"You Done Tamed Me"
After consummating their love in the previous episode with an "extremely hot mistake," as Melissa calls it, Danny starts to panic about how a "broken busted carny like me" will provide for his and Melissa's hypothetical child. It's a variation of Billy Bigelow's act one finale "Soliloquy" from Carousel, complete with panic over whether the child could be a girl (Melissa points out that she has an IUD) and Danny making a vague differentiation between having to steal money "or even take it."
"I wanted to write the song that's a memory of 'Soliloquy' in my head, but not directly ripping off 'Soliloquy,'" Paul said. "And that's a line that always bothered me, the one about stealing it or taking it. Oscar Hammerstein, you can do better than that!"
"He's a Queer One, That Man of Mine"
On the other side of the Menlove marriage, there's Smash veteran Ann Harada as Mrs. Menlove, who gets her own song about the difficulties of loving Mr. Menlove. In its lyrics, the song references Carousel's "You're a Queer One, Julie Jordan," though there are also elements of Carousel's "What's the Use of Wonderin" and The King and I's "Something Wonderful," in which women from these classic musicals excuse men's terrible behavior.
"It's a song where she's saying that most men are monsters, but my man's amazing! He never looks at another girl," Paul said. "It's all these things that she sees as positive, but doesn't quite get the big picture yet, because she's in a Golden Age musical and isn't aware of these things."
"Cross That Bridge"
Once a bit of plot has transpired, every show needs the sudden jolt of energy that comes from a big group number. Enter "Cross That Bridge," sung by the women of Schmigadoon as they all try to walk across the town's bridge with Josh and see if they can find true love. "That's one of my favorite moments from the show," Paul said. "I cannot tell you how much I love 'Sit Down, You're Rocking the Boat' and 'Brotherhood of Man', those big gospelly Frank Loesser numbers."
Paul was particularly excited to lay out the song's counterpoint ("it's not a metaphor, no, it's something more") and to have a soprano sing it ("very 'Brotherhood of Man'"). "That was a highlight for me, to get to write a song like that and to see it play out with our amazing ensemble," Paul said. "If you're a musical theater kid, don't you love 'Sit Down You're Rocking the Boat'?"
"With All of Your Heart"
Now that Josh has tried to walk across the bridge with every woman in town, he resorts to trying to woo the local schoolmarm, a character in the vein of The Music Man's Marian the Librarian and The King and I's I (a.k.a. Anna Leonowens), played by Ariana DeBose.
"She's that classic, forward-thinking independent woman who then helps our hero change," Paul said. In her first song, she and her students lecture Josh on the importance of following through on your work. Paul "woke up in the middle of the night with the melody in my head, and I told my wife, 'so sorry, I have to go down to the piano.'" As schoolmarm Emma Tate, DeBose (a Hamilton alum, recently in The Prom and soon to be in West Side Story) relished the chance to broaden her repertoire with the chance to play an ingénue who might've been played by the famed soprano Barbara Cook, of The Music Man, Candide, and She Loves Me. "Ariana was like, 'I never get to play a Barbara Cook character!'" Paul said. "She was very excited."
"Va-Gi-Na"
While Josh has a Music Man moment with Emma Tate, Melissa has a little alpine adventure, working for a handsome, baron-like doctor played by Jaime Camil and teaching some youngsters about the reproductive system in song.
"We'd had the idea in the room that there's a young girl who's pregnant out of wedlock, so that will create a nice conflict with her and Doc Lopez. Then, we're in Sound of Music mode, so let's have her sing a song that's a play on 'Do-Re-Mi,'" Paul explained. "That's the song that's the closest to outright parody in the show. So we had to toe a fine line, but it's all legal! It all cleared legal. But the closer it is to the original, the funnier."
"Suddenly"
Josh and Melissa's two divergent romantic paths entwine by the end of the episode as their respective love interests confess their own feelings to them simultaneously. The song echoes big romantic musical realizations like South Pacific's "Some Enchanted Evening," The Sound of Music's "Something Good," or The Music Man's "Till There Was You." "But it's not a duet between the lovers, it's between the two Schmigadoon characters who have fallen for our characters," Paul said. "So in some ways it was making fun of how musical theater can just be like, suddenly they're in love, let's just have them sing to each other."
Still, Paul considers himself a romantic at heart and wanted the song to believably carry the doctor and schoolmarm's emotions and to reveal aspects of Melissa and Josh's own attraction to each of them. "For her, it's fantasy fulfillment," Paul said. "And for him, it's finding someone that's kind of like Melissa and starting to open up as a result."
"Tribulation"
In a barnstorming solo, Kristin Chenoweth's uptight Mildred Layton channels The Music Man's "Ya Got Trouble" in order to condemn the outsiders who have come to Schmigadoon and prop up her own campaign for mayor. "We had Kristin's picture up in our writers' room as Mildred Layton, so the whole part was written with her in mind," Paul said. For her big number, Paul ended up handing Chenoweth a big challenge: "As she pointed out to me, that's not an easy song. It's 18 pages, one shot, and no rhymes — 'Thanks a lot, Cinco!' But she's a person who loves a challenge, and she took it on and did an amazing job." Paul even purposefully threw in archaic terms in order to add to the wordplay and fill the song with "not-normal words." (Among those that made it in: "claptrap," "jiggery-pokery," and "earwigs.") "I created a huge document and our writer's assistant helped out and we tried to put as much lingo in the song as possible," he said.
"I Always, Always Never Get My Man"
In musical romances between a young independent woman and an older man who's set in his ways, there's often another, older woman who has to step aside without a song. In Schmigadoon, just as Melissa and Doc Lopez's romance seems to be going well, we meet Jane Krakowski's duchess. She's styled like The Sound of Music's Baroness Schraeder, subject of many a reclamation essay and also heavily implied to be a Nazi. But here, the duchess actually gets her own solo.
"There was a point where we got Jane cast on the show, and we said, 'Well, we have to have her sing a song,'" Paul said. Allison Silverman, who wrote the episode, had written a scene where the duchess laments all the other men who had left her for the help, and so they decided to set it to song and to give the song a cosmopolitan vibe. "We're in a rural, small-town musical, but her character's urbane, so this was a chance for a Cole Porter song," Paul said. "It was shooting for some Cole Porter cleverness, or coming close to it."
The (Lack of) Dream Ballet
As Melissa confronts the fact that she may be the bad guy by the end of the episode, she faces off with a lithe, dancer mirror version of herself and Schmigadoon! seems like it's about to launch into dream ballet in the style of Oklahoma! or Carousel, in which dancers often recap a musical's plot in a more abstract, emotional form. Melissa quickly shuts down the idea, going, "We're not having a dream ballet! They're annoying and stupid and they slow everything down."
"Just so you know, there was a full-on dream ballet planned," Paul admitted. "But then we were in preproduction when we realized this was not going to happen." It was both because the show couldn't accommodate staging a full ballet in its shooting schedule, and because they simply could not find a way to make a dream ballet funny. "As much as I love musicals, they are a little painful," Paul said. "So we decided, let's just introduce the idea of it and then it'll function as a joke, and it works so much better."
Episode 6: 'How We Change'
"You Make Me Wanna Sing"
After all his time in Schmigadoon refusing to join in on the musical action, Josh had to break into song by the end of the show. "When Apple bought the pitch, we realized, well, the big moment is when Josh sings." Paul said. "It's inevitable, but you still want it to be surprising." So he wrote something for Keegan-Michael Key that would be simple and a cappella. Its closest corollary might be Singin' in the Rain's "You Were Meant for Me." It's no coincidence that Melissa watches that musical on TV earlier in the season, because, as Paul put it "the song looms large in Cinco's romantic imagination."
In keeping with that, there's even a romantic lighting change as Josh and Melissa start to dance together. But it was also important to Paul to make sure Josh never seemed too professional. "Keegan had to pull back a little bit because he actually is a pretty good singer, but I wanted it to sound more raw," Paul said. "My biggest note to Keegan was, don't learn this song with a vocal coach. The less polished it is the more impactful it will be."
"How We Change"
Once Josh and Melissa get back together and the town rejects Mildred Layton's xenophobic mayoral campaign, everyone gathers together to reflect on their new future. "How do you show that the town has transformed? Move into the next age of musicals," Paul said. "I remember in our first table read when the cast was hearing the songs for the first time, when the last song started with these piano phrases, Kristin's eyes lit up and she turned to Dove Cameron and said, 'Sondheim!'" So yes, the piano line resembles a bit of Sunday in the Park With George, and then the song also segues into the late-'60s and early-'70s instrumentation (tambourines!) of some Stephen Schwartz musicals like Pippin and Godspell.
So, as Schmigadoon! season one comes to an end, might there be a future season of it that brings things into Pippinville or Sondheimland? "Yes, I have a whole big idea about what that should be," Paul said, "but of course that's up to Apple to see if we get to come back."