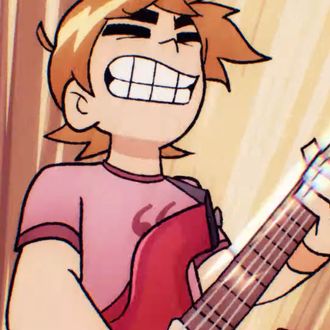 I'm in lesbians with this news.
Photo: Netflix
We're living in a golden age of animation …
… about Toronto …
… set in the early 2000s. Or something.
Netflix is making an anime show adaptation of Bryan Lee O'Malley's Scott Pilgrim graphic novel series, and the entire original cast of Scott Pilgrim vs. the World will return to voice their characters. And that cast was stacked. In addition to Michael Cera as Scott and Mary Elizabeth Winstead as his love interest Ramona Flowers, the ensemble includes Kieran Culkin as Scott's roommate Wallace Wells, Brie Larson as his ex-girlfriend Envy Adams, Ellen Wong as Scott's age-inappropriate girlfriend Knives Chau, Aubrey Plaza as his friend Julie Powers, Anna Kendrick as his sister Stacy, and Alison Pill as his bandmate Kim Pine. Brandon Routh, Chris Evans, Mae Whitman, and Jason Schwartzman are among the returning evil exes. In the first teaser, below, we see the anime version of their characters rocking out and kicking ass almost scene-for-scene with the film.
When Edgar Wright adapted the award-winning book series into a stylish, quirky studio release in 2010, it underperformed at the box office but earned legions of devoted fans. Wright will return as executive producer on the animated series, saying in a statement on March 30, "Original creator Bryan Lee O'Malley along with writer BenDavid Grabinski have conjured up an anime series of Scott Pilgrim that doesn't just expand the universe, but also …well, just watch it. I'm more than happy to announce that I have helped coax the entire original cast back to voice their characters on this epic new adventure. You are in for a treat." O'Malley and Grabinski will be executive producers, writers, and showrunners on the series, which will be animated by Tokyo-based anime studio Science SARU. Check out the cast-announcement video, which captures the propulsive garage-rock energy of the film.