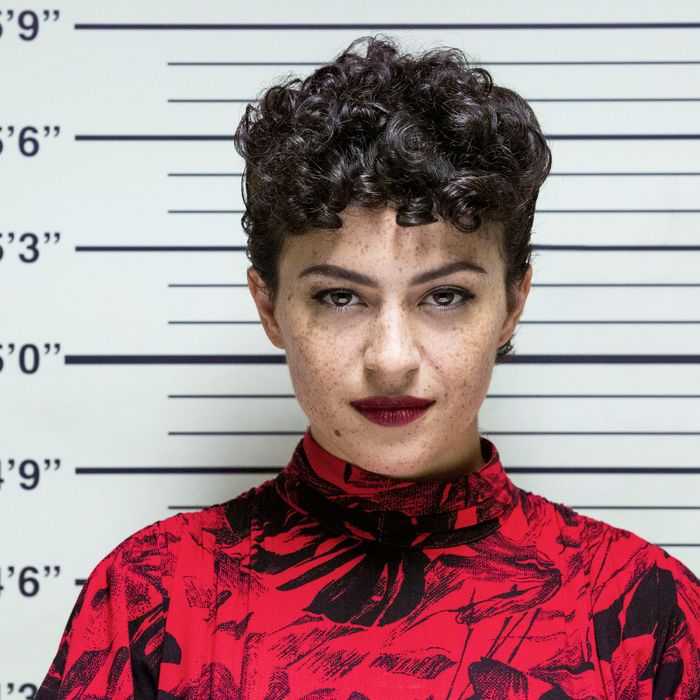 It's been almost three years since Search Party's season two finale, "Psychosis." The show has moved to a new network, HBO Max, but little else has changed. "The Accused Woman" picks up where season two left off: Dory has just been arrested after pushing her neighbor off a ferryboat, Elliott and Portia tried to make amends in their personal lives, and Drew's scheme to have his job ship him off to Shanghai came to a screeching halt. If that feels like a lot of plot to catch up on, don't worry: As Dory dissociates in the back of a police car, we get a helpful reminder via montage of the gang's activities over the previous two seasons. Once we're caught up, "The Accused Woman" offers a darker vision for Search Party's future. Sure, this is a show about murder, but forcing Dory, Drew, Elliott, and Portia to face actual consequences for their actions drives them to become even worse people.
At the beginning of the episode, a shaved-head Dory says she's going to tell us the truth. The thing is, Dory's "truth" means very little at this point. After offering April blackmail material and then pushing her to her supposed death, Dory proved she's willing and able to do the mental gymnastics necessary to justify anything she does. Since season one, Dory has been driven by her inner conflict. She became obsessed with Chantal when her own life felt stagnant. She had an affair with Keith because her relationship with Drew was unfulfilling. She's always searching for some bright, shiny, exciting alternative solution that will fix everything, and loses control when the alternative is just as disappointing. Even though this quest has ruined her life, it's like she has some naïve belief that because she's a good person, she's inherently doing the right thing. In "The Accused Woman," it's like she finally realizes how far she's strayed from the right thing. Still, she doesn't think she's done anything wrong, she's simply "mishandled" her ambition. Alia Shawkat does an impressive job settling into this new, cold and collected Dory. She isn't flustered or nervous anymore and knows to ask for a lawyer. She knows she has to get rid of that tape, and she's more focused than ever to do so.
Unlike her hallucinations of Keith last season, April's ghost doesn't inspire guilt; it moves Dory to action. It's hard to imagine Dory doing something as gruesome as busting her own nose, but she does it without shedding a tear. It's the first plan Dory's made in a long time that actually works. It's almost like she thrives in this element of eternal chaos and distress. Her gorgeous, smirking mugshot makes it seem like she was destined for this moment. When a detective shows her photos of Keith's decomposing body, she looks away. Dory only sees the reality she chooses to see, no matter what evidence there is to the contrary. Even though Dory is absolutely guilty, it feels like she really might be able to get away with this simply through willpower alone. Maybe her old high school classmate isn't too far off when she insists that they both made it. With that deep-red lipstick and amazing dress, maybe Dory has finally embraced that she's a bad person.
It also doesn't hurt that the cops don't have the entire story. They accuse Dory of dealing the fatal blow, but Drew, Portia, and Elliott all know it was Drew. Chantal couldn't have tipped off the police, because she didn't know Keith was bludgeoned. It also didn't seem likely that Detective Joy was going to tell the truth about shooting herself and blaming Keith's death on Fat Franky. It's possible that April survived and called in the tip, but she also didn't know that Keith was bludgeoned. Then there's Elijah, Portia's director, who absolutely seems like he's hiding something. When Portia rushes in on Elijah's interpretive-dance session, it highlights the absurdity of their efforts to get away with this crime. So many people know about it that there's no possible way Dory, Elliott, Portia, or Drew could plan a defense against their inevitable downfall. Whoever tipped off the cops clearly didn't know all the details; it could've been any of the many loose ends the gang has left dangling.
And even though Dory is thriving in these circumstances, Elliott, Portia, and Drew lack her resolve. Elliott turns to Marc, but he can't even pretend to find comfort in his embrace. Portia is so desperate for connection, she ignores the potential threat Elijah poses and begs him to kiss her again. While Dory thrives in chaos, it only heightens Elliott's and Portia's greatest insecurities. Drew seems to be the weakest link. He can barely keep his cool over the phone when he has to act surprised over Dory's arrest. John Reynolds has only found new ways to capture Drew's dopey anxiety as he nervously explains that his "sweet little Dory can do no harm!" And of course, after promising not to do anything, he tries to catch a flight to China. As Dory walks past Drew with blood smeared all over her face, their differences are clear.
We know Dory will do whatever she needs to in order to save herself, and this newfound notoriety probably won't make her a better person. Until now, Dory has done everything she can to save Drew and her friends, but what if she has to turn against them to save herself? Most of the humor in "The Accused Woman" feels right in line with previous seasons of Search Party, but Dory's behavior sets a new tone for the show. It's hard to say what any of these characters are capable of anymore.
Case Notes
• Christine Taylor is so great as Gail. Her attempt to smooth things over with the guy in the theater by asking which one is his son was hilarious. I hope she continues to come to Dory's aid in this time of crisis.
• I almost thought Drew would get away with running to China. His seatmate seemed pretty nervous, and I thought there'd be a last-minute switch. But no, they all have to face the music.
• It takes a certain amount of confidence to convince cops that you have a contagious infection and to give you access to your evidence bag. I think that's something only a cute hipster girl like Dory could get away with, and she knows that.
• I think April is still alive. She can probably swim, right? But Drew is right — if April had called in the tip, they all would've been arrested.
• Breaking a bar's toilet on a Friday night is a smart revenge move.