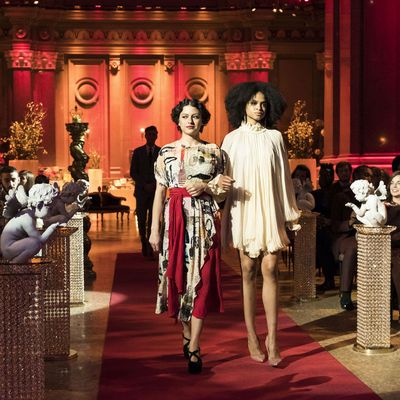 At this point, I don't know what Search Party wants us to want for Dory. With one episode left, "Irrefutable Evidence" is mostly a frustrating waste of time. Dory hasn't offered a good defense of her actions or her character. There's no reason to want her to get away with murdering Keith. This entire season, I've been waiting for the evidence to drop that would force the real, evil Dory to come forward. Drew, Portia, and Elliott have all hit their rock bottoms, but Dory is just "freakin' lucky" as Cassidy explains.
Sure, Dory is a privileged, pretty, white millennial woman and the system benefits people like her. That's enough to make sense of the judge allowing Portia's last-minute suitcase to be allowed as evidence with Gail's help. It's a great compromise for Portia: She doesn't have to lie, but she can still assist the defense. Even though Polly points out how ridiculous the entire coincidence is, she also resorts to insulting Cassidy's body, which feels like evidence of Cassidy's earlier assessment. Polly is of a different generation that just hates women like Cassidy and, by extension, women like Dory: successful, pretty younger women.
When Polly needs to bring us all back down to the ground, she can't because she's painted herself into this caricature. But the suitcase isn't the only unreasonable evidence Polly needs to dismiss, there's also April's tape. June's dismissal makes sense when it's revealed the diary is in a secret twin language. And, sure, the suitcase is the result of Gail and Dory's dynamic duo white female privilege, but the salvaged remains of the tape being turned into a "blue vs. gold"/ "laurel vs. yanny" viral debate feels outdated. Is the explanation that some people are so desperate to make excuses for millennials like Dory that they'll ignore their senses and imagine hearing the word "pancaked" when it was clearly "murdered?"
Dory's smugness afterwards makes it even more infuriating. She tells Drew she knew there was nothing on the tape, but there's no way she could've known that. Unless Dory developed superpowers since season two that allowed her to alter what people hear, her confidence is totally unjustified. Like Cassidy said, the tape was thrown out on pure luck, not Dory's actual innocence. All of a sudden, Bob is talking about sex with food and Polly's DNA and real evidence doesn't matter because … Dory is just special or something?
None of it is plausible. Even Cassidy wants to ask for a mistrial before the tape is revealed. Drew finally says he wants a separate trial out loud. It doesn't help that Drew's backup plan isn't an option anymore. The juror he slept with who believed in his innocence was dismissed. Apparently, she told everyone she was a goblin and slept with the judge and the second chair prosecution. It was never a well thought out plan, but it could've guaranteed at least a hung jury and a second chance for Drew to get his own trial.
Drew is tired of lying, but Cassidy is the one who finally asks Dory what she means by "truth," and she faces consequences for it. Dory fires her. Maybe Drew suspects Dory will do something to him too if he goes against her plan. There's no way Drew thinks it's a good idea for Dory to represent herself, but what can he do? If Dory's entire defense is that she didn't know about the murder, she could easily turn and say it's possible Drew did it alone. Not that it matters. With the suitcase and pancake distractions, Search Party apparently wants Drew and Dory to get away with this anyway.
There's one episode left and the stakes for this season have all been blunted. Portia is no longer an independent threat and she has her friends again. She's back under Dory's direction. Elliott suffered a devastating loss and almost had an epiphany, but then he gets another chance at fame. Drew standing up to Dory doesn't seem like an option anymore. Dory's stalker is dead. Obviously there has to be a resetting of some character dynamics and traits, but "Irrefutable Evidence" is Search Party taking too many steps backwards. This is a show about a group of people who are horrible for each other and for a moment they were finally bonded by honestly accepting that. Now they're just a pack of millennials graced with some unexplainable luck.
Season three has had highlights that show how much the show has grown over its three year hiatus, but "Irrefutable Evidence" is the first real misstep. It feels like the season was on the brink of something and ran away from it as fast as Elliott does from his mother's secret. Elliott would rather take a shot with Charley Reeney than face a hideous truth about himself. Similarly, Search Party only wants to engage with its murderous characters in a lighthearted way. That's fair, but there's something that feels unearned and tonally different about this twist.
It feels like Chantal getting the funding she needs for her unearned product from a mysterious investor. She's obviously being taken advantage of and she's too dumb to realize it, but I'm not sure what Chantal's plot does for this season overall. It's funny that she's doomed to fail, but without consequence to the main story, it's a distraction. Chantal and Dory are both failing upwards, but their narratives haven't intersected enough to really explore this parallel. The developments around Portia and Dory's friendship this season were incredibly well done, and it's a missed opportunity that Dory wasn't forced to really examine what drew her to Chantal in the first place.
Maybe there is no explanation. When Cassidy tells Dory she heard murder, Dory doesn't have a retort, just her unearned cockiness. Maybe representing herself is how Dory falls. Remember, the season starts with Dory's head shaved, telling the truth in front of a camera. It's possible Dory still faces punishment. Or that was just another figment of her imagination, haunting her like April's ghost. Maybe only Dory can end Dory.
Case Notes
• I loved Drew and Cassidy's genuine concern for Bob when he said he might not be alive in a year. I can see Cassidy and Bob being unlikely friends when this is all over.
• Pancaked. Really? Polly, bring us back down to the ground, please.
• I loved Elliott's journey home. There were some great moments and I think his character is served best being stuck in stasis. Of course none of this would actually force Elliott to grow if he actually got the chance to be famous. It's unclear why Portia would be so eager to backslide.
• Dory representing herself is such a self-righteous, annoyingly pretentious thing for her to do. Cassidy has been so wonderful to her. It's also sad if that means Cassidy won't be in the finale. I'm sure she had a stellar closing argument planned.