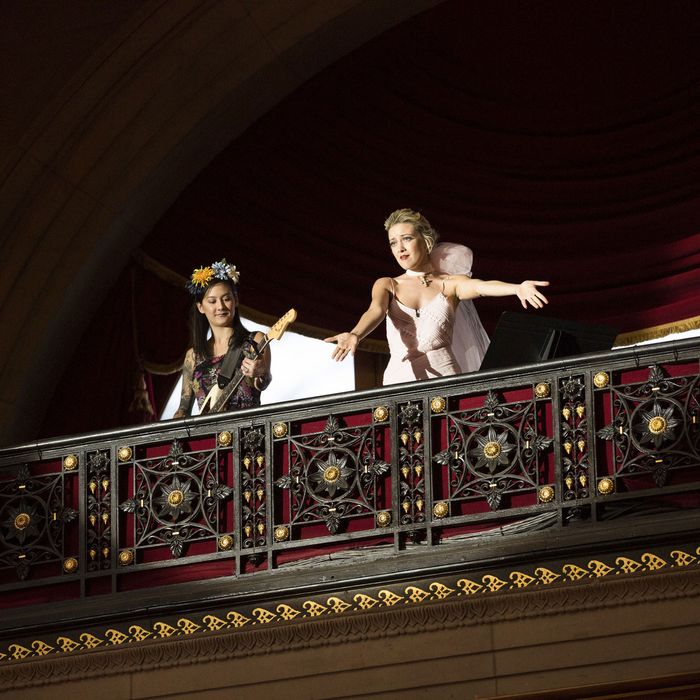 I don't think Search Party was sure what it wanted for Dory this season. Personally, I wanted Drew to turn against Dory and take a deal. Dory deserves to be punished and there's no reason why that justice couldn't have taken place in the courtroom. It's not that I believe in the criminal justice system or think prison is what Dory deserves, I just hate that her entirely fabricated act worked. I hate that she got away with it. I hate that she uses her relationship with Drew to manipulate the jury. The magic reappearance of her stalker and her kidnapping don't necessarily work as consequences because the act victimizes her. If Dory is going to be a criminal femme mastermind villain, capable of abusing an entire legal system, Search Party should embrace that.
No matter how bad Dory's actions are, she doesn't deserve to be kidnapped and tortured. It's a punishment so beyond what she deserves, it almost excuses her bad behavior. Not only is Dory locked up somewhere, she's also alone now. With a not guilty verdict, Drew is no longer stuck with her. Portia and Elliott are taken in by Polly's closing statement and are quickly reminded how easily Dory can manipulate them. "She really didn't do it," Portia says during Dory's closing statement. "Except she did, we were there," Elliot reminds her. It's unlikely that Drew, Portia or Elliott would feel motivated to look for Dory. Also, everyone thinks her stalker is dead.
Watching Dory end up in prison due to her own hubris would've felt more justified. Why take the time to build up Dory's stalker, have him get hit by a car and look incredibly dead, just for him to be the surprise twist at the end? Forcing a mistrial so Dory would have to go through everything again without Drew might've been a more promising end because it would've revealed Dory's lies. We've been waiting for Dory to crack and tell the truth and when she finally does, it's to a complete stranger and has little to no consequence.
Drew's confrontation with Dory the night before the verdict is read is the closest we get to any sort of emotional resolution. Alia Shawkat looks stunning in that black outfit as she officially debuts Pure Villain Dory to her friends. Drew pulls out the murder weapon they used on Keith and asks to know where April is, but Dory doesn't crack. Portia can't believe Dory is insane enough to kill April, but the way she starts to blame Keith's murder on Drew probably convinced Elliott and Portia she is definitely insane enough to do that.
This is also the first episode in a while where Dory is haunted by her conscience. Keith and April's ghosts return, but Dory also sees a version of herself in the jury box and imagines murdering herself. It's an odd choice for the season to wait until the last episode to acknowledge Dory's mental deterioration. Of course a lie this deep has created an internal conflict over the two versions that exist within her, but is she only acknowledging that now that the trial is ending? Maybe she is a terrified girl who just wants to go home, but Search Party hasn't shown us that at all this season. Dory has only been a manipulative, calculating jerk to everyone around her. She didn't care about losing Portia, Elliott or Drew at all.
Dory has been isolated in her lie the most, but since she started enjoying media attention, the show stopped showing us what that meant for her mental state. Dory's stalker worked as an allusion to Dory's moral deterioration, but his fake death threw a confusing wrench into that metaphor. Dory's closing statement should've failed as a result of her breakdown. She should've had her "left at the altar" moment like Elliot did, but instead she pulls it off. She cries, gives the same excuses and charms the court. She even addresses Keith's ex-wife and daughter. It's all a gross lie.
There's a quick Trump reference as they wait for the verdict. Drew's parents are playing the crossword and his name is a clue. Perhaps that's the larger point of this season. It doesn't matter that Dory is an entitled millennial, she's simply a liar who does well in a system that rewards liars. Karma comes for her, but she still has her name and reputation and can most likely leverage her kidnapping into a new fame. Everything Polly said in her closing statement about Dory was true. She needed the thrill. She hasn't shown any remorse. She loves how good she is at lying and her smirk when she's finally back home proves it. So why couldn't Polly have taken her down? From a narrative standpoint, it feels like kidnapping was just an easier choice to write than a prison sentence. There's no justifiable reason to have Dory evade a public moment of reckoning.
The flashback to Dory and Keith's initial meeting makes it even more infuriating that Dory is found not guilty. By the end of the season, Dory can't be honest with her friends or herself. Everyone close to her sees her for who she is, but her punishment comes from an outsider who hasn't really been impacted by Dory's actions. If Dory's stalker had somehow been involved with Dory's past or one of her crimes, it may have felt like a better payoff in terms of consequences. But "The Reckoning" is just a clever way for the writers to avoid really challenging Dory's character.
Even Chantal, a character who has been mostly useless this season, is forced to publicly account for her mistakes when she's arrested at her WeWork space. Unlike Dory, Chantal actually isn't guilty of anything and really can't explain the evidence against her. She's truly too dumb to understand it. She was in the wrong place at the wrong time and got taken advantage of in her quest to become a princess. Dory wanted to be a princess too, she just knew what she was doing. Why let Dory get away with it?
Search Party's third season has featured some of the best moments in the series, but its final payoff is regressive. There was enough emotional depth built between Drew, Dory, Portia and Elliott's relationship in the first half of the season that focusing on the dissolution of their friendship after the trial would've carried enough weight for a finale.
The use of a newly introduced stalker to deliver Dory's final judgement feels like Search Party clinging to its earlier "millennial murder mystery" brand. Dory went full villain this season, but no one ever stood up to her as a clear hero. If Dory was going to be found not guilty, the moment could've been used as someone's origin story. June, Drew or Julian would've been better longstanding threats to Dory and her other crimes. Instead, justice for Keith and April happens in isolation and it's hard to truly appreciate this version of karma.
Case Notes
• Dory's family never showed up again, not even for the verdict. They probably won't even realize she's missing. It would've been nice to see their reaction to watching the trial on TV or something. I think a montage showing us how everyone is moving on with their lives without Dory would've been helpful. I think Dory would be more hurt by people forgetting about her after the trial than by an obsessed stalker building an entire prison for her.
• I don't think any of the Chantal stuff was worth it this season. Her best moments came from her conversations about the trial. The Heartbreak Hotel/Femmepowerment stuff took a lot of time away from other stories this season.
• April is still missing with Julian's phone, so the police could still be investigating Dory. They're probably only people looking for her.
• Bob and Drew connecting during the trial was so great. I loved that Bob playfully calls him Eddie now. I am sure Drew will say something nice at his funeral.
• There was no Cassidy. Again, it would've been great to see her in a montage, maybe on a book tour or talk show discussing the trial.