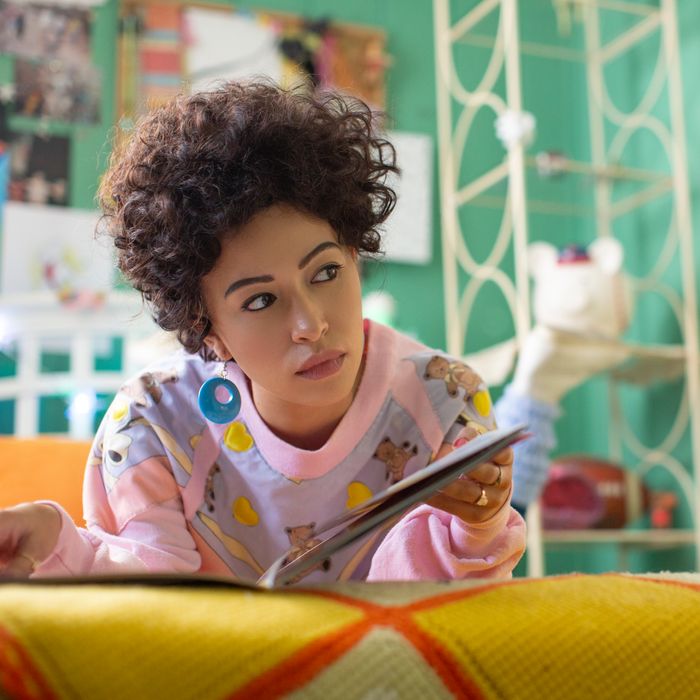 How it started …
Photo: Victor Ceballos Olea/NETFLIX
In Netflix's Selena: The Series, the costuming of Selena in itself tells a story of the late singer. As part one of the two-part series introduces a bubbly teenage Selena (played by Christian Serratos), with cat sweaters and awkward hair moments aplenty, the costuming quietly charts her growth into the more confident and passionate woman fans know her to be. Small moments of Selena flipping through the pages of magazines; planning the next looks of her band, Los Dinos; and musing that "there should be nice clothes that regular people can wear," all give viewers a hint of the many layers of Selena Quintanilla.
Selena's passion first and foremost was music, but those familiar with her know that fashion and beauty were just as much a part of her. (She eventually opened a set of boutiques in South Texas called Selena Etc.) So when it came to transforming Serratos into Selena, series costume designer Adela Cortázar knew it was imperative to tell a story through clothing. "Every single change, every look, was part of Selena's growth and inner search," she told Vulture in Spanish. "I think all of these changes were a search for [Selena y Los Dinos'] identity as a band. They matured simultaneously in their music as well as their aesthetic."
Cortázar says she jumped at the opportunity to play with the aesthetics of the '80s and '90s for Selena: "Even though our story takes place in a relatively recent period in time, it's still part of the history of fashion in the 20th century; what I like the most about my job is turning each project into an opportunity for research and understanding how fashion has evolved. To have a better understanding of [Selena] and her family, I constantly resorted to the fashion of that time to create their image."
Cortázar had access to a trove of photos and videos of Selena y Los Dinos, though her job still wasn't easy. "I felt like we were investigators with all the intense research we did at the beginning," she says. Combing through years of album releases, performances, and interviews as well as doing "endless wardrobe fittings" with Serratos, she had the huge task of organizing and creating a style for Selena through every stage of her life. ("In the end, what helped us the most were her hairstyles," Cortázar explains. "She was such a chameleon with her constant hair changes, so we were able to group everything easier and with more certainty.") Cortázar walked Vulture through those stages and gave us a glimpse into the trials and satisfactions of bringing the Queen of Tejano's style back to life onscreen.
Very Early Selena y Los Dinos
Selena y Los Dinos were always extremely crafty, always creating something out of nothing, especially in their earliest days. Festooned with sequins and glitter and featuring vibrant colors and in-your-face patterns, the band's clothes played to the aesthetics of the '80s but also displayed the do-it-yourself nature of the Quintanilla family during their early financial struggles.
Selena: The Series depicts most if not all of the band's looks made by Selena; her sister, Suzette (Noemi González); and their mother (Seidy López). One scene in episode two, "Dame Un Beso," shines (literally) as Selena and Suzette excitedly craft two pairs of glitter boots for an upcoming performance. The show re-creates the band's ensembles from the cover of Mis Primeras Grabaciones, their debut album, glitter boots included. Cortázar wanted to make sure the DIY element shone through, so the props department painstakingly added glitter to many pairs of boots.
"It was a team effort," she said. "Wardrobe had costume make multiple pairs of boots, which we put through an aging process. [Then the props team] used the same technique the girls used on-camera to achieve the same look, lots of glitter and glue; which, by the way, left a lot of shiny flakes along the way."
Sequins and Velvet on The Johnny Canales Show
The sparkle and shine don't stop there. In 1987, Selena y Los Dinos made their second appearance on The Johnny Canales Show, which would be the band's breakout performance in Mexico. In episode three of Selena, this performance and the outfits remain fairly faithful to the actual show in Matamoros, with Selena's hair sprayed up to the gods, her large silver hoops and iconic red lip, and a striking silver suit. Cortázar stresses the importance of making sure the fabrics of Selena's costumes matched the period exactly.
"The most difficult part [of dressing for past decades] will always be choosing fabrics, because when fashion evolves, so do the fabrics," Cortázar explains. "For example, '80s sequins are completely different from the sequins you find nowadays. We had a first option that I wasn't a fan of, so we kept looking until I went to a swap meet in San Diego." There she found a stand of discount fabrics. "The back of their truck was open, and hidden in the back was something very shiny and abandoned. It was a roll of shiny silver sequined fabric waiting for its debut."
Los Dinos' geometric green-and-black velvet ensembles proved even more difficult. The texture and color combination couldn't be found in vintage, so after a long search, Cortázar decided to have it printed by hand in Mexico City. "The design of the print itself was a whole other story — some of the triangles shifted into rhombus shapes [while printing the pattern]," she says. "Nonetheless, the final result was a good one, and in the construction process we tried to keep a homemade look on them, more DIY, making sure they had some imperfections we knew the real ones had."
Streetwear Selena
The key to achieving a good Selena look? According to Cortázar, it all comes down to accessories. The hoops, the belts, even the hats Selena wore were all crucial not just to her stage outfits but to the everyday looks she put together for herself. "Accessories were a big part of this authenticity being reached," Cortázar says. "In fact, we had a person who spent entire days online searching for vintage pieces that were as identical as possible to what Selena wore in each concert, not to mention the amount of hoop earrings we had in every size and color, not only for her but for Suzette as well."
"When it came to streetwear, the goal was to use only vintage garments, or as much as we could," Cortázar continues. "In this way, I think we were able to create their own universe, staying as far away as we could from the present time and looking for garments from the past that were as cool as possible. I think we managed to build a very good collection of clothes going from the '60s to the '90s. We bought all over the place, from Mexico City and Tijuana to San Diego, Los Angeles, and online. We shopped from more than 30 states in the U.S. and some countries in Europe."
The Cow-Print Outfit
Oh, the cow print. Up in the ranks of classic Selena looks (alongside the purple jumpsuit) are Selena y Los Dinos' ranchero-inspired costumes, which Selena designed herself. In episode eight of Selena: The Series, Selena's brother, A.B. Quintanilla (Gabriel Chavarria), comments, "Selena, no band dresses like this." Serrantos's Selena simply responds, "I know. Nobody dresses like this." Though we'll never know if that exchange actually happened, it does get at Selena's eerie sense for future trends.
The cow-print outfits are essential Selena, so Cortázar wanted to stay true to the original look. "The cow print, I looked for all sorts of cow-print fabrics — pretty, ugly, expensive, cheap, high end, low quality. I even considered buying real cow leather, but nothing looked like what we needed," she says. "But looking at the costumes more in detail and going through pictures and videos, I came to realize that it was simple: That was not a cow fabric; they were black sequin appliqués over a plain white fabric."
This outfit was one of many that marked the growth of Selena y Los Dinos from bright-eyed kids to confident, experienced young adults. Their looks were growing as they were. "Selena y los Dinos came a long way, and their wardrobe had to showcase the same evolution, from their homemade, shiny, and more childish outfits, typical of their time, to the more embroidered garments and haute couture pieces," Cortázar says.
The Charro Outfit
For Cortázar, Selena's charro outfit, shown in the final episode of part one, had personal significance. "The mariachi outfit was one of my favorites, not only because of its execution but also for the meaning and power it has," she explains. "For starters, Selena transformed a quintessential masculine outfit into a super-feminine one, and while wearing it, she performed 'Que Creias' to a gentleman from the audience, looking as sexy as ever."
A traditional charro outfit is a classically masculine, usually solid-color suit with intricate embroidery, metal detailing up the sides of the straight-leg pants, and an exaggerated silk bow as a tie. Selena embraced her Mexican heritage with open arms, and her charro ensemble is a perfect example, taking the details of a mariachi performer's outfit and making it her own stylized creation. Cortázar was keen to reveal an extra detail of her own that she added on to Serrantos's costume: "In this outfit, I did take some liberty and had it made with beautiful charro details in the shape of roses. It's very Mexican."