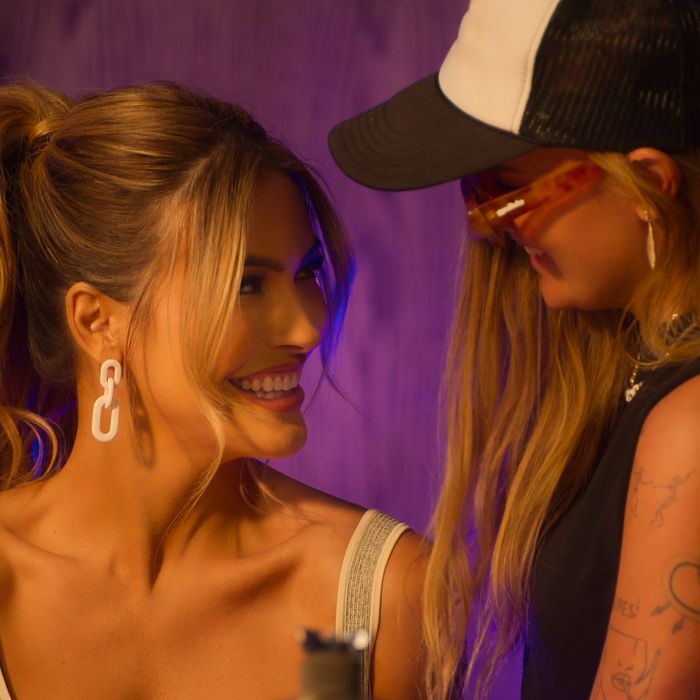 Photo: Netflix/COURTESY OF NETFLIX
You may think watching a show about millionaires selling houses to billionaires wouldn't be fun in this economy, but Selling Sunset's season-six premiere, aptly titled "I Wanted to Hate You," makes it clear the show is ready to face the truth: This is not a normal reality-TV program. This is a real-estate show in which a bunch of type-A women — hardened from years of riding the hypercapitalist, patriarchal bull that is luxury real estate — attempt to kickstart their own mini-empires by gaining just the right amount (and the right kind) of fame. They jostle, plot, and scheme for those few sacred minutes of screentime in pursuit of that ever-important "moment," and sometimes they sell a house. Chrishell — the woman who has ridden an unholy steed of fame from poverty to soap acting to selling millions in real estate — opens every season of this show, only this time her entrance isn't a contrived "hello" in the office but a slow, cinematic march down a ghastly cement staircase in a building that looks like an evil plastic surgeon haunts it. These women have sacrificed years of their lives, hundreds of thousands of dollars, and the freedom to eat bread to be the people we see slow-mo walking around this cursed mansion that, like so much of fancy Los Angeles real estate, is saturated with the ghosts of other people's dead dreams. Each of their Real Housewives–style tag lines feels like a thesis as much as an update: Chrishell is finally having good sex (excuse me, I mean an awakening), Chelsea is ready to reinvent herself, Emma wants to be likable, Amanza is over it, Heather is pregnant, and Mary hopes that with Christine gone they can go back to being a show about selling real estate. Ha!
Let's take one solid second to honor the terrifying legacy of Christine, whose departure from the show was predicated by her allegedly bribing Emma's clients to leave her. This is a big no-no in the real-estate world, apparently, like talking about fight club or washing your hair after a perm, so she's been cut. Let's take two much longer seconds to remember Vanessa and Maya, also not returning for this season simply because they have other stuff they'd rather do, and good for them. However, two new gladiators have entered the arena: Nicole, who has apparently been here the whole time, angrily stewing in the background, waiting for her day in the sun, and Bre, who I initially thought was Christine in a wig trying to get back on the show. She's not! (I'm pretty sure!)
The show doesn't take too long to revel in these changes, as we're immediately thrust into Harry Styles's old house, where Emma suggests his ghost still wanders, periodically lifting up women's skirts. It's a fun start for Emma, whose previous topics of conversation were limited to Christine and flying back to Boston on a private jet to urgently see to any vegan empanada emergencies. Now she just seems more relaxed, wearing a studded suit over a matching bra and ready to talk her bestie Chrishell through the fact that Mary chose Jason over her in their breakup.
And why wouldn't she? Mary's life is structured around one goal: making money. And like an apex predator, she is not about to take her eyes off the prize to have a long talk about what it's like to date Jason. She knows what it's like to date (and break up with) Jason! Mary is too busy to play these games. This woman has a son and a mortgage and a Frenchman named after lettuce to take care of, and Jason is bringing her in on a deal to sell two penthouses that feature wood! WOOD! On the ceiling?! Ka-ching!
Meanwhile, Heather is pregnant and doing more classic Heather things like ordering "a flat water" at lunch — because Heather thinks the water that comes out of the tap is old seltzer that's gone flat, I guess? What a strange world this woman lives in. But with her is Bre, the newest addition to the Oppenheim Group, whom she DMed on "social media" and offered to meet before her first day. Watching this scene a second and third time (normal behavior), I came to a horrifying realization: Heather might not be dumb. This whole time, I think, she's been displaying the aesthetics of a very dumb person to throw us off. Saying things like "flat water" and "I've never had an Oreo" are covers for this woman's absolute killer instinct. After all, we know Heather wants to be on this show badly. She's gone so far as to tell the news that she's mad about not being on it, even as she has a fresh infant to distract her. Therefore I assume that Heather is making a point to befriend the show's newest addition, because whenever the Oppenheim Group gets a new employee, that person is certain to draw serious heat: Chrishell, Emma, Chelsea, and now Bre. By inviting Bre to lunch and aligning with her early, she's all but guaranteed the coveted role of Only Person New Girl Can Trust.
Heather even leads Bre into the office, announcing, "I love her so far — I think you guys will too," a statement of alignment with a clever little so far thrown in there to hedge in case Bre turns out to be insane or something. "Athletes, billionaires, money dudes" are Bre's clients, whose most obvious claim to fame is she is one of the women who've famously agreed to have a baby with Nick Cannon.
Davina knows this and has exactly one scene in which she gets roasted by Chelsea for saying one single thing about how the New Girl might be cool because she heard Nick Cannon is cool. Poor Davina. A perfectly normal business lady dropped into the middle of a reality-TV show and failing miserably at the games these bitches play. It's not a bad thing to be bad at reality TV! I would say it's a very good thing, except that it probably means she has to do her work in the supply closet for the rest of the season.
Immediately Chelsea and Bre are fighting because Chelsea tried to offer advice to someone in their first year as a broker, warning her that it's okay if her sales aren't there yet, and Bre absolutely humiliates her for this. "My first year was $20 million," she offers, to the devastation of all. Bre is neither humble nor nice, and Heather is probably thanking her lucky stars for that "so far" clause she added to their friendship contract.
Chrishell is not even at the office because she's off watching her partner G Flip "lay down a track," as they say. She plays this part so, so well: She's literally mouthing the words with her hands crammed into the pockets of her jeans like a damn teenager. But in all seriousness, G Flip and Chrishell are among the best things to happen in pop culture in the last ten years, second maybe only to the queen dying. In season five, we saw Chrishell's sisters both express worry over her relationship with Jason, reminding her that she was sometimes attracted to men who devalued and disrespected her. Now here's G, letting Chrishell play the drums and telling her she's good (she's not), laughing hard at all of Chrishell's jokes, and saying things to her like "Look: Girl from Kentucky, have a sick house in L.A., Gracie the coolest dog ever — you're, like, the hottest thing in the world!" This is all true, and it's her time now! Specifically, it's time for her to go to a dreaded broker's open, where nothing good happens, ever.
Emma's broker's opening happens in a house I can only describe as a cement monolith resembling a tomb. And apparently State Farm agrees with me because the fire insurance alone on this baby is $200,000 a year. It's here that Chrishell makes her big return to the group: risking her life inside this cairnlike structure that could go up at any moment to be reborn like some queer, season-three Khaleesi. She sees through Jason's whole shtick now ("Mykonos? Really original") and, for the first time in this show, wants absolutely nothing from him. She roasts him for dating a 24-year-old with the intense, beautiful, passive-aggressive cruelty that's such a nod to her Midwestern roots (I will never let her not be partially from Missouri). "Jason dating a 24-year-old is perfect because, obviously, someone 24 is not wanting to have a baby anytime soon. So mazel tov." Jason can keep giving nothing because his new girlfriend surely doesn't expect much. Truly savage. I love her. And I think maybe Emma does, too? Emma has had some awakening, as she's kissing Chelsea's vagina-sculpture purse and offering Chrishell shots out of her boobs (at her own broker's open!) This is Ron DeSantis's deepest fear: Gay energy has infiltrated the Oppenheim Group, and now all the gorgeous girls are ignoring Jason to do shots out of each other's boobs. Let him weep.
But you can't let a broker's open end without a fight, so Bre shows up, realizes she knows one of Chelsea's friends from her past career as a model, and decides this is all a plot against her. She insists there's "tea" to be had from this woman showing up, though what that tea could be is anyone's guess at this point! Perhaps she's killed a man. Here we get a Mary and Chrishell confrontation that confirms their friendship is DOA. Mary admits she thought Jason suffered in the breakup more and "needed" her (to sell some big penthouses for a lot of cash, baby!).
We end it as we started: on Chrishell. She grimaces when a producer asks whether she could ever forgive Mary for not being there for her in a way that's both uncertain and decisive. Maybe she's not sure she could forgive her, or maybe she's not sure she needs to. Either way, we're in for one hell of a ride.