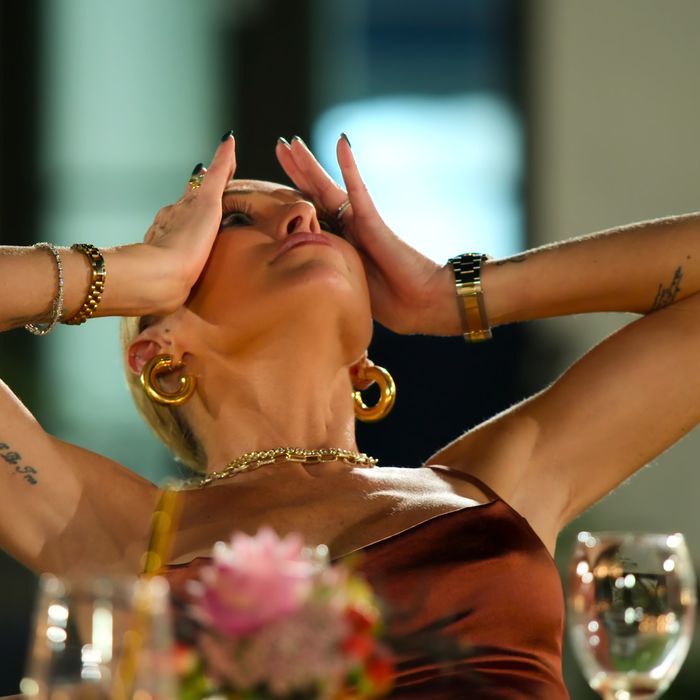 Selling Sunset
Marry In The Middle/If You Can't Stand The Heat…
Season 6
Episodes 6 and 7
Photo: Netflix/COURTESY OF NETFLIX
Chelsea never should have let Nicole out of that room. She was safe in that room, off-camera, under lock and key — but still in Palm Springs, which is at least an upgrade from the office-supply closet, where she belongs. But no, she's loose and abusing her freedom by once again coming for Chrishell with beef that even her friend Mary characterizes as "fucking bizarre." But first, let's talk about the person I consider the real victim: Mary. Mary, Mary, Mary, Mary, Mary. Having apparently seen zero episodes of the 15-year-old Real Housewives franchise, Mary suggests they do a sort of office retreat to Palm Springs to relax, because nothing terrible has ever happened on a reality-show girls' trip! In her defense, Mary probably believes the coast to be clear, having mediated a conversation between Chrishell and Nicole at the end of episode six in which everyone settled on one thing: Nicole really wants to have beef with Chrishell — period. Mary is powerless to convince her of anything, and Jason can't be bothered to get involved no matter how much Mary begs and pleads for him to do one thing to help her out in return for, you know, doing all his work for three and a half weeks (let's call that what it is: a month).
Upon his return from Europe, Jason flatly refuses to "get between two ex-girlfriends" and moderate the Chrishell and Nicole situation. In this alone, he's both a bad friend and a bad boss to Mary, who bluntly tells him he's a dick. And good for her! He is a dick. He's like a spoiled teen boy demanding that his mom bring his dinner down to the basement so he can keep playing Fortnite. It's wonderful to see Mary standing up for herself here. Still, I think she needs to find another job and better friends, and I hope her news that she's trying to get pregnant now is a sign that she is looking for a way out of all this. Not that that's a reason to have a baby, but she needs to start living for herself and for today, not freezing embryos and napping on the office couch while she works overtime to support Jason's lifestyle.
Chrishell is, of course, also annoyed with Jason because his being away has made a resolution with Nicole all but impossible. She's also, again, one of the few women at O Group who sees Jason for what he is: completely full of shit. They meet up for a drink — when we find out Mr. "So Broken Up About Losing Chrishell" doesn't even know her drink order — and he tells her he agrees Nicole is out of line, but who cares? Chrishell knows Nicole is out of line. She, Mary, and all of us need the man whose name is on the building to earn his percentage and do his actual job.
With no help in sight from these men they all work for, Mary decides on a new strategy for resolving their conflicts, which she announces once they're settled in Palm Springs in episode seven: a suggestion box. My heart broke when she explained what that box was for. Mary is truly the mother of sorrows, our lady of perpetual suffering, just so completely out of her depth. And yet she soldiers on, boats against the current and all that, hoping the option to drop a note in a box will convince everyone to once again make this show about selling real estate, the only thing she really wants to do. Are there any job openings at Berkshire Hathaway? Douglas Elliman? If any recruiters from those companies are reading this, please contact Mary on LinkedIn; I promise she's checking it every day.
Of course, the box does not work, and by the end of dinner, things are worse than ever. Chrishell, bless her, tries to announce her beef with Nicole is squashed, but Emma can't help herself and gets Nicole started up all over again. It's inspiring to see how Chrishell keeps her cool as Nicole accuses her of … allegedly asking her boyfriend not to be on his phone all the time? Posting an Instagram Story that didn't even name her? It's all so pathetic, and we are all so tired. "I'm trying to explain myself, and you're not willing to listen," Nicole says. But Nicole has been talking nonstop about Chrishell since this season started, and she's yet to do anything but convince me she has a "gaslight, gatekeep, girlboss" sign hanging in her kitchen unironically. When Chrishell throws out the accusation that Nicole is on drugs, the silence that follows is telling. Is she? Probably not, but I'll say this: The way Nicole reacts to this is giving "doth protest too much." And let's just say Mary's insistence that Nicole is not a "crackhead" is too specific to be absolving.
When Chrishell says she has a lot of things she could say but that "she's trying to be respectful," it is over — total K.O. It's this matchup, along with the moment when Mary tells Jason he's a dick to his face, that obliges me to give this chapter five full stars. Nicole, I have no doubt, will attempt to continue this feud. She pretty much has no other choice now, and she even goes so far as to call Chrishell the C-word on a hot mic (which, if we're keeping score, is a lot worse than bitch or even fucking bitch). But this is done. Nicole tried — she came for the queen and she missed. Now, she has to deal with questions about whatever she did at Mary's bachelorette party. And by the way, please notice no one refutes it when Chrishell says Nicole "did a bunch of drugs and went crazy on everybody"; Heather even nods. What a show. What a dinner. What a mess. Poor Mary.
Location, Location, Location
• Davina Watch: I'm slightly worried Davina never made it back from Burning Man and perhaps still wanders the desert to this very day.
• Emma's Bi-curious Moment: "Can we open a bar just so that we can bartend together?" she asks Chrishell. She wants to name the bar Tips and Tits.
• Chelsea has two nannies for two kids, which is weird because she also has a husband. And she's worried about Nick Cannon not spending time with his children?
• I love Amanza and Bre's chemistry, and I think they should do a podcast about life as single moms and former NFL wives. I won't have time to listen to it, but I think that'd be fun for them.
• Heather admits she told Bre what Chelsea said, which is a surprise to Chelsea, who acts as if she didn't think Bre would hear what she said about her in front of Heather on television.
• How do you clean the stones underneath the bathtub in Ashley and Poo Bear's house? It is actually a lovely house (it's nice when artists are rich because they tend to have taste), but I'm worried about those stones. Please advise in the comments.