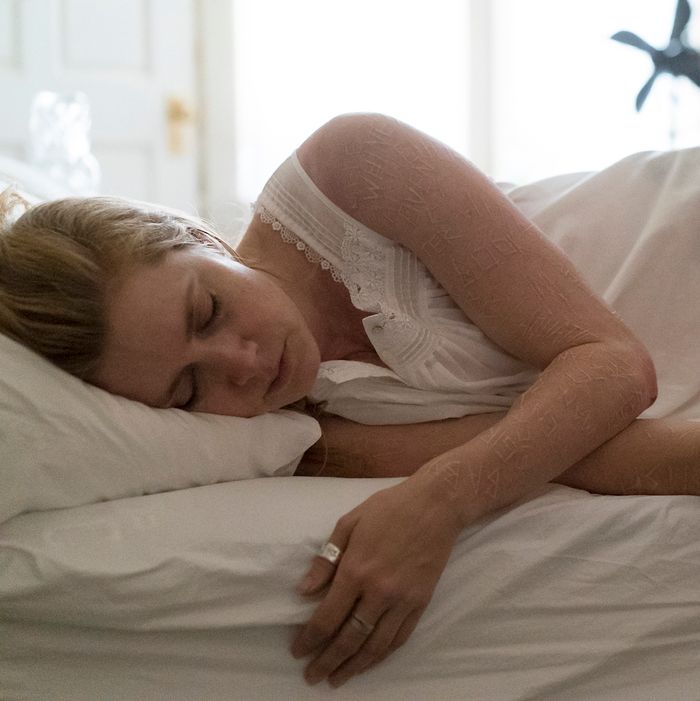 Amy Adams in
Sharp Objects
.
Photo: Anne Marie Fox/HBO
In Sharp Objects, the demons of the past billow into the present, whether it's Wind Gap's repeating patterns of violence, the show's dreamlike echoes of memory, or most strikingly, the literal scars that cover Camille Preaker's body from her years of self-harm. Camille hides those scars by always wearing pants and long-sleeves, but when she undresses at a clothing store in Sunday night's episode, "Closer," her entire body is revealed as a dictionary of anxiety and trauma.
Before shooting those dressing-room scenes, Amy Adams had to sit in makeup for hours as the Sharp Objects makeup team applied each individual scar to her body. The scars are actually made out of a medical adhesive, and based on a list of words culled from what's mentioned in Gillian Flynn's 2006 novel, plus a lexicon of new suggestions from the show's writers. Each word appears as if Camille had written it herself, and shaped as if carved with whatever sharp object she had on hand. Of course, continuity mattered too: Every scar had to appear in the same place on Camille's body in every shot, and for the scenes where Adams herself doesn't appear, they all had to be recreated accurately on her stand-in. To learn more about how the show pulled off its most shocking and complicated element, Vulture spoke with the Sharp Objects makeup effects department head Adrien Morot and Adams's makeup artist Kate Biscoe.
The scars are designed to look as accurate as possible, down to the exact shape of each letter
Morot, who worked on the special-effects makeup for the recent X-Men movies, knew that one of the challenges of Sharp Objects would be making something that looks real. "If you were doing a mutant that's all covered in blue scales, it doesn't really matter if it's not exact because nobody knows what a mutant really looks like," he said. "But these have to be medically accurate."
To accurately depict Camille's scars, Morot read medical and psychological journals about the process of scarring and the mentality behind self-harm and cutting, then made sure each cut looked as if it had been made by a specific object, whether it was a knife, a needle, or razor. Some of the scars are meant to look as if they have aged, while others are supposed to be relatively new.
The words themselves are written in an approximation of Adams's handwriting. "For places on her back, we imagined that it would be distorted," Moro said. "So we tried to take into consideration an amount of distortion in her writing, due to the fact that she was looking at herself in the mirror to do it."
They're made out of a special medical adhesive that's faster to apply than traditional makeup
Adams had to spend time in the makeup chair before each scene where Camille's scars appear, and so instead of silicone, which is often used for dramatic effects makeup in films, Morot used an adhesive that's meant for gluing on medical prosthetics. "I don't think it's ever been used on such a large scale like that," he said.
No matter the scene, Adams had to spend plenty of time in the makeup chair. "The minimum is 20 minutes or 15 minutes if it was just a word," Biscoe said. "Full body was probably a couple of hours." During that time, another team also applied the words to Adams's stand-in, who would often be used for insert shots of Camille's scars.
What do you do when you're spending hours stuck in makeup? Listen to music, mostly, to lighten the mood from the grim subject matter of the show. "Happy music — Electric Light Orchestra, sometimes Queen," Biscoe said. "Amy is a fantastic singer, so anything that we could do to keep all of us singing was great."
The time commitment, however, remains sizable. "At the end, we got it down to about two hours and a half to do the full body, and then you're on set for like 12 hours," Morot said, "Then we had about two hours at the end of the day to take off that full-body makeup. Thankfully, Amy was a charm to work and even when she wanted to go back to her family and her house, she was always good with us."
Amy Adams had more than 350 fake scars on her body, and they were all mapped out ahead of time
Flynn's book mentions several important scarred words — foremost among them "vanish," which appears in the pilot — and the Sharp Objects team knew they'd all need to legible onscreen. First, Morot compiled a list of 50 to 60 words that are directly mentioned in the book or the show's scripts, then he generated a map of how the words might appear on Camille's body, so he could better estimate how many more they would need. The total count is 350 to 400 scars, which required a whole new set of words supplied by the show's writers.
Morot then had to figure out how to lay out that lexicon across Camille's body. For that, he enlisted a human model, whom he handed a water-soluble Sharpie and asked her to write the words herself, in order to best guess how they might appear if Camille were writing them. "If it's written on your back, you should be writing that word looking in the mirror and being in an awkward position," he said. "And there's a big blind spot in middle of her back because she couldn't reach there." From there, the team created a map to visualize how they would apply the words to Adams herself.
The scar makeup was almost *too* sticky
Sharp Objects filmed in muggy Georgia, and though everyone was hot and sweaty, the scars were designed to stick on as well as possible. But occasionally they took precautions: When Camille takes a bath, for instance, "we had to steam up the room to make it look like it's hot, but it's actually cold water to help our makeup," Morot said. "So poor Amy had to be in cold water all day like that, just to help us out."
In general, however, the adhesive is "very tenacious" and difficult to remove. After shooting, Adams would come back to makeup to get the scars taken off, which meant up more time steaming off the adhesive with hot towels, makeup remover, and soap, making sure not to scrub too hard to irritate her skin. "We got her really, really good skin care so that her skin would be in tip-top shape for recovery and be ready to put the words on the next day," Biscoe said.
They didn't initially work with Jean-Marc Vallée's naturalistic lighting
Instead of adjusting the lighting for each shot as most directors do, often to favor their actors' faces, Vallée wanted to do one lighting setup for each of his sets, eschewing vanity lighting and retaining as much natural light as possible. Morot worried the scars would look fake in Vallée's lighting, but instead, they barely stood out.
"We walk on set and it looks like Amy's wearing nothing," Morot said, describing the first time they applied the scars. "We've just spent almost three hours in a makeup chair covering her from head to toe, and it looked like nothing."
So, Morot and a stand-in model tested how the scars would look under all the different variations of light in the Sharp Objects sets, making careful notes of how to adjust the scar applications. "If it was nighttime, it had to look like this. If we were doing it in daytime, we had to do it like this," he said. "Not only was it an absurd amount of work just to create that one look, but that one look had to have four or five different variations, depending on the lighting conditions of the day." In most cases, the scares just needed more definition. "We'd take her back to the makeup trailer, it looked like theater makeup," Morot said. "It needed to be done as if you would have written with a red Sharpie on her skin."
Camille's makeup is purposefully messy (and Amy Adams chugged beer to make herself look worse)
As she returns to Wind Gap to face her demons, Camille drinks heavily, eats junk food, and often falls asleep in her makeup. "She always has smeary eye makeup," Biscoe said. "When she has to go see her mom, she might try to wipe some off, or put on some lip balm or something. She always tries to fix herself up a little bit to conceal everything that's going on with her."
Still, a challenge lay in making sure that Amy Adams, a movie star, didn't look too good for the part. "Amy has absolutely perfect skin and she's in tip-top shape. She's been a dancer for years and years and years," Biscoe said. "So basically, we went the other way on all the things you read about, like how to avoid puffy eyes. She ate lots of salt, she drank caffeine, she wasn't getting enough sleep because she's in pretty much every scene, she stopped exercising."
In order to develop a gut from the alcohol Camille was consuming, Adams also drank lots of O'Doul's nonalcoholic beer. "She was probably drinking 20 O'Doul's a day," Biscoe said. "That in itself will make your belly stick out from all of this gas and gluten and everything." Then Biscoe would make Adams look even worse, smearing her makeup and creating shadows behind her eyes. Still, the makeup team could only do so much. "She still looks pretty good," Biscoe said. "It's kind of hard to make her look bad."