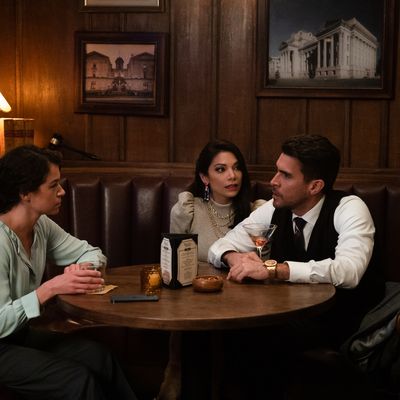 Photo: Photo by Chuck Zlotnick. ©Marvel Studios 2022.
With the third episode of She-Hulk: Attorney at Law, the Marvel Cinematic Universe brought cameos from deep within the pages of Marvel comics and the top of the "Billboard" charts. It proved to our hero yet again that she can't be a normal lawyer. It's also goofy as heck, with an Asgardian Light Elf and a Sorcerer Supreme bringing antics to the courtroom and the show.
After an origin-story pilot and a second episode that seemed conspicuously like a pilot as well, She-Hulk: Attorney at Law has hit its groove. As the meta-commenting hero points out, there's an A story and a B story! There's even a C story, but we'll get to that later. This slow but entertaining start to the series is easy for me to forgive. Head writer Jessica Gao said in an interview with Variety that much of what we see in the She-Hulk pilot was originally a flashback in episode 8. That makes Jen's direct-to-camera quip that we won't be able to concentrate until we learn why she's a Hulk all the snarkier. It's not something that only happens to Marvel or even streaming series. Shows are reworked and episodes get shuffled all the time. But the first season of a Marvel streaming series in 2022 is a bit more scrutinized than, say, Good Morning, Miss Bliss, Don't Trust the B in Apt. 23, or the original Star Trek.
The primary story line carried over from the previous episode. Jen prepares to defend Emil Blonsky at his parole hearing after serving his sentence for crimes committed during the events of The Incredible Hulk. But after footage from Shang-Chi and the Legend of the Ten Rings leaked, the world now knows that Emil Blonksy briefly escaped prison to compete in an underground fighting ring with Wong, the Sorcerer Supreme. Jen's in a pickle and needs to call in the former librarian as a witness.
Just to clear things up: Shang-Chi and She-Hulk, while both hyphenated, are not taking place at the same time. The footage of Abomination fighting Wong just happened to resurface at this time in the MCU, just like how footage of Olivia Wilde video messaging Shia LaBeouf just happened to resurface at this time in our world. Wong says that he needed Blonsky to complete a trial in order to become Sorcerer Supreme. We first learned that Wong was Sorcerer Supreme in Spider-Man: No Way Home, which takes place after Shang-Chi. That's also why Bruce Banner appears in Shang-Chi's post-credits scene in his human form with a sling and an inhibitor device similar to how we first see him in She-Hulk.
At the prison, Jen assembles a team of prison employees who have only good things to say about Blonsky's stay and rehabilitation. He taught prisoners how to read and how to make (toilet) kombucha! He leads yoga and guided meditation! He helped a guard out of a bad marriage! Emil's seven soul mates, dressed in flower gowns and white gowns, are also present at the hearing. Jen seems about as uninterested in interrogating that as I am, honestly. They appear to be consenting polyamorous adults, and on paper there's nothing wrong with opening a meditation retreat, but still some things are left unanswered. In Jen's own words, it is "very … you know." Eventually, Wong shows up and explains that the breakout was his doing … and then he himself nopes out when the parole committee points out that he has just confessed to a crime. Blonsky also demonstrates to the court that, like Jen and now Bruce, he can control when he transforms to the Abomination and his actions as the Abomination.
Meanwhile, Jen's new coworker, Pug, took on the case of Jen's old coworker, Dennis, and an Asgardian Light Elf named Runa who conned him into thinking she was his girlfriend and rapper Megan Thee Stallion. The Tom Haverford–esque lawyer brings bravado and questionable product placement for both Red Bull and the Tesla Cybertruck to the episode. He tells Pug that he spent approximately $175,000 on his allegedly famous girlfriend. Upon learning Runa's real identity, he feels he has been the victim of fraud. It should be an easy case. The trickster's main strategy is to masquerade as Dennis, Pug, and even a federal judge in order to get herself out of trouble. But how do you convince the court that a mid-lawyer really believed he was dating Megan Thee Stallion?
Luckily both Jen and her paralegal-bestie Ginger know Dennis well enough from the DA's office. They have plenty of anecdotal evidence to suggest that he's delusional enough to think he's really dating a celebrity. Pug asks if Jen will swear this under oath and serve as, essentially, a bad character witness. She does, and the real Megan Thee Stallion shows up at the case to watch the verdict. In the post-credits scene, Jen signs Meg as a client and fangirls a little too hard before twerking just hard enough.
So Jen's testimony helps Pug win his case and in the process she gets the idea to have Blonksy fitted with a device that keeps him from transforming into the Abomination, thus syncing Blonksy's release and her win against the parole board. Introducing a device into the MCU that forces individuals to quell their superpowers is all fine and dandy for convicted felons, but a bit concerning when you look back to the events of Captain America: Civil War and forward to the formal introduction of the X-Men. That could become a mutant rights issue real quick, and Jen is not necessarily on the sympathetic side.
Finally, let's deal with the runner a.k.a. the episode's C story. Media attention surrounding Jennifer Walters's debut as She-Hulk gets more and more irritating as the episode goes on. News anchors and gossip hosts won't stop talking about her. Comments on social media that are frankly not even a parody of the type of comments female Marvel heroes get rack up — saying that she has castrated the Hulk and asking "why are you turning every hero into a girl?" — keep coming. They follow Jen to the courtroom, where reporters ask her if she was rejected by the Avengers or if she's one of Blonsky's soul mates. There's even a story that she's pregnant with his child. So at the end of the episode, Jen takes control of the narrative and appears in her She-Hulk form on the news to set some things straight.
But at the end of the episode, a motley crew of teens and their adult leader with stolen Asgardian gear attack Jen in the back alley behind her house. Who were those rapscallions working for? Why were they trying to extract her blood? Fans have figured out that they are the team of Marvel comics villains called the "Wrecking Crew" — note the "W" on their shirts and how one is called "Thunderball." In the comics, the team is briefly connected to the Thunderbolts, a team we'll see soon on the big screen. Could they be working for Valentina Allegra de la Fontaine? It's been a minute since we've seen Julia Louis-Dreyfus in the MCU, and we're past due for the return of her clickety-clacking stilettos.
In the meanwhile, let's take heed of Jen's warning from her fourth wall break at the top of the episode and remember who the show is really about. The alley attack is not just a new mystery or Easter egg, it's a sobering reminder that Jen's double life as She-Hulk isn't going to go away if she ignores it. Even winning two cases doesn't feel like much of a win to her after that.
Legal Pad
• The "rumor" that Jen got her powers from a mafia hit is a reference to the character's Marvel comics origin story.
• Not to be a That Guy, but didn't Bruce Banner say that the inhibitor was a prototype and only calibrated to him? Why'd she promise one to Blonksy? How's Bruce gonna get her a new one from space? This discrepancy can easily be yadda-yadda'd away, but if you expect us to watch this show with enough attention to detail to pick up on funny YouTube comments about why She-Hulk isn't using her platform to advocate for animal rights, then you can expect us to notice plot holes as well.
• Megan Thee Stallion is not the first celebrity to appear as themself in the MCU. Joan Rivers was in Iron Man 3. David Hasselhoff popped up in Guardians of the Galaxy Vol. 2. Nobody will forgive you for blocking out that Elon Musk was in Iron Man 2. So was DJ AM, actually.
• Another lawyer named Mallory Book (Hamilton's Renée Elise Goldsberry) dropped in for less than 30 seconds to remind us that she is also in this show. Uh, hi! Okay, bye!
• "Thor's inspirational speeches are not admissible in court."
• Based on some of the trailers, I don't think this is the last time we've seen Tim Roth. Thank goodness, because I'm really enjoying this blatantly dodgy performance.
• Who do you think leaked the fighting-ring footage? Maybe it was Bruce Banner himself.
Update: An earlier version of this recap misidentified which movie Wong made his debut as the Sorcerer Supreme in. It has been corrected.