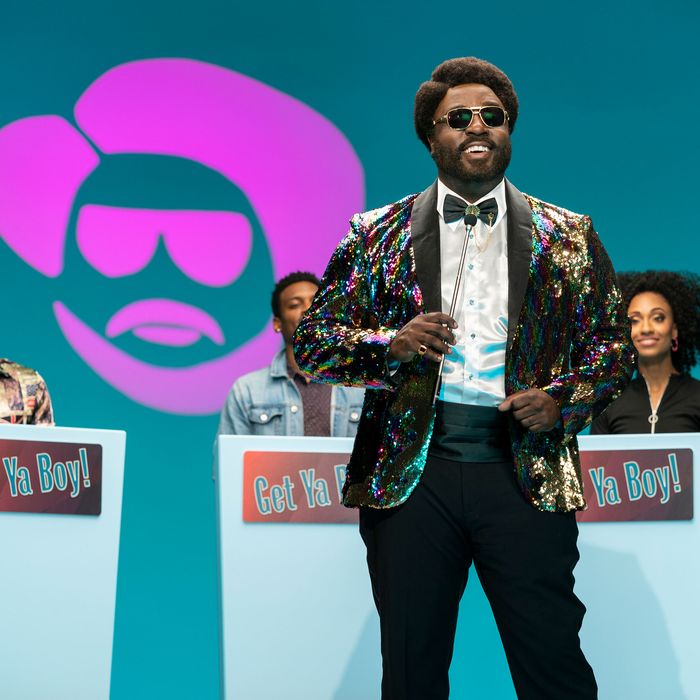 Bashir Salahuddin in
Sherman's Showcase.
Photo: Michael Moriatis/IFC
A little-known Black history fact: In 1997, DC Comics considered releasing an African-American version of their legendary Mad magazine that was to be called B.A.D. The publication was to feature the work of Negrophobia novelist Darius James and Screw cover artist Guy Gonzales and, along with The Chris Rock Show, which also launched that year, could've been on the cutting edge of Black humor. Unfortunately, DC's then-parent company, Warner Communications, got cold feet and pulled the plug before the project was published. Twenty-three years later, thoughts of that ill-fated B.A.D. flashed in my mind when I watched the sketch-comedy program Sherman's Showcase, which premiered last August on IFC.
Playing like its own Black bizarro version of Mad, the Showcase was created by former Late Night writers Bashir Salahuddin and Diallo Riddle, with a concept that revolves around a bogus commercial, selling an imaginary box set of a make-believe vintage TV program that satirizes various aspects of Black pop culture. Last year's eight-episode run was a critical success, so much so that the series was just renewed for another season, and the momentary return of Sherman's Showcase Black History Month Spectacular ("In June!"), premiering Friday, couldn't have come at a more perfect time, because, hell, Black America needs a good laugh right about now.
For those who missed the first season of this refreshing, sometimes brilliant series, it plays like a 21st-century version of The Groove Tube, Tunnel Vision, and The Kentucky Fried Movie, grind-house comedies from the '70s that I'd guess Quentin Tarantino and Rza watch together on the regular while sharing a frosty 40. Without shame in their game, these funny-ass soul bros and sisters jump around more than Kris Kross as they take aim at various subjects within their comedic crosshairs. Salahuddin plays the host, Sherman McDaniels, a character obviously modeled on legendary Soul Train host Don Cornelius, even though he looks more like an overweight version of '80s rapper Big Daddy Kane.
"Hello, cats and kittens," Sherman says, his voice cooler than a bottle of Golden Champale as he introduces the dancers that rival the Fly Girls from In Living Color. During the first season, the humor was so blunted you could damn near smell the weed smoke through the television screen, as the show goofed on everything soulful and sacred, including the slave-narrative mini-series Roots, 1980s costume-wearing funk groups, Motown Records honcho Berry Gordy, and abolitionist/writer Frederick Douglass, who stars in a series of commercials that parody actual real-life ads for Afro Sheen that first aired in the 1970s.
Much like the 1970s hit Laugh-In, the show also features cameos from big-name stars including Tiffany Haddish, Ray J., Ray Parker Jr., Morris Day, and Mario Van Peebles. The most surprising recurring guest-spot is delivered by singer John Legend, one of the show's executive producers. While I've always thought of Legend as a bland, safe performer, on the Showcase, he plays that persona for laughs by poking fun at himself, his awards, and that "sexiest man alive" label he earned from People magazine.
On the Black History Month Spectacular, Legend tries to teach about racial (and racist) insistences that he's obviously making up while wearing Google Glass knock-offs called Bing Focals. Later, in the same episode, Legend's a happy, piano-playing Duke Ellington who continues to tinkle the ivories even as white police officers are smashing-up the nightclub. "They won't arrest the Duke, the Duke gets a pass, the Duke is pretty rich, and he made his money from jazz," he sings.
Obviously inspired by the sketch show of their comedic elder Chris Rock, whose program featured wonderful musical guests (D'Angelo, Chaka Khan, Red Hot Chili Peppers) over its five seasons, Sherman's Showcase creates its own homegrown performing groups. Considering that Salahuddin and Riddle were the scribes behind Jimmy Fallon's celebrated "History of Rap" skits with Justin Timerberlake, and "Slow Jamming the News" with President Barack Obama, Senator Kamala Harris, and Senator Bernie Sanders, it's only natural their song parodies are stiletto-sharp.
With music provided by collaborators Phonte and Zo!, formerly of the groups Little Brother and Foreign Exchange (as well as the one-off aural time machine Zo! and Tigallo Love the '80s, a covers album that touched on synth-pop, yacht rock, and Jheri-curled soul), the duo is the perfect choice to provide Sherman's diverse musical foundation. The show's acts also include rapper Vic Mensa as Charade, a funk/rock star modeled on Prince who began his career as a multi-instrumentalist performing with a Madonna-esque singer, and the Solar Records coulda-been (if they were real) group Galaxia, featuring R&B balladeer Ne-Yo on lead vocals. However, while the song is performed to period-era perfection, it is so on point it sounds authentic and doesn't really play like a parody. My personal favorite musical interlude is Bresha Webb's comic portrayal of Mary J. Blige, who insists on talking about herself in the third person.
Sherman's rarely touches on anything created after 1999, and on the Black History Month Spectacular, it goes as far back as the Harlem Renaissance in a sketch that involves actor/activist Paul Robeson (Salahuddin) chilling at the club Downtown Addy's with writer Zora Neale Hurston (Nefetari Spencer) and owner Adelaide Louise Hall (Aleksei Archer). Looking at the camera, Salahuddin assures us of Hall, "She's a real person. Look her up." Throughout the show, the smart ensemble of Sherman's provides a wild ride through the past that includes wack after-school movies, a goofy game show called "Get Your Boy," and a brilliant animated segment that transforms A Charlie Brown Christmas into a Black history cartoon with the Roots replacing The Peanuts. Questlove as Linus gives a moving speech that concludes of how, under President Ford, the Black history celebration went from a week to a month. "Who knew President Ford did anything?" Questlove adds.
Other standout segments include Zuri Salahuddin as Chicago house music singer Sari Charley wailing a dance anthem about Kente cloth, as well as cast member Rob Haze, one of the funniest rising stand-up comedians I've seen in years, perfectly impersonating actor Terrence Howard trying to renegotiate his Iron Man contract after being replaced by Don Cheadle. Certainly, as journalist Jemele Hill reminds the audience, "Our history is more than Negro spirituals and being chased by dogs along rivers," and, moving at a speedy pace, the show constantly delivers.
Still, while I found Sherman's Showcase Black History Month Spectacular as hilarious as a pile of dusty Laff Records comedy albums in the corner of Fred Sanford's junk shop, many younger viewers may be at a loss of what's so funny unless they've been listening to their parent's old cassette tapes, watching blaxploitation flicks on VHS, or peeping at vintage Soul Train episodes on YouTube. Nevertheless, as present-day activists are quick to advise, do the work.