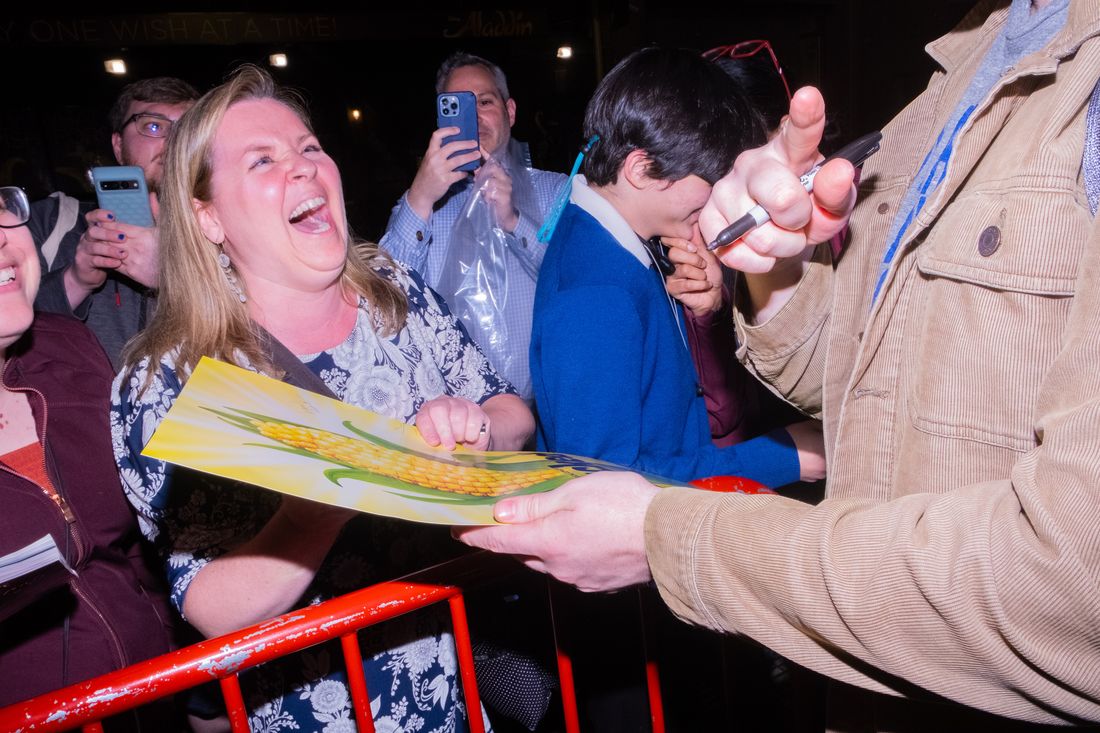 Shucked
fans outside the Nederlander.
Photo: Lucia Buricelli
Up Eighth Avenue and down 41st  Street, ears of corn are sprouting from banners on every light pole. They lead right to the Nederlander Theatre, the façade done up with blinding Minion yellow. In the '90s, angsty teens camped out here to see Rent. Now, the theater has a giant decal that reads, "We're Here, We're Ear, Get Used to It!," attributed to the "Grain Men's Health Crisis." There are ads plastered across subway stations promoting a mysterious "new musical comedy" with gag reviews ("The Musical That Has Broadway All A-Twitter!") from fake critics ("Elon Husk"). Some just say the show's name: Shucked.
Shucked is a show about corn. And at a time when New York theatergoers shell out for Sondheim revivals, jukebox musicals, and celebrity casting, Shucked may be the most surprising viral hit in recent Broadway history. The production came straight from Salt Lake City. It's not based on a movie or on a book or on history or on any IP at all (unless you count Monsanto's). The music is by longtime Nashville composers Brandy Clark and Shane McAnally, neither of whom has ever worked on Broadway, and none of the actors are huge names. When the musical was first announced, theater fans were baffled and made a playful show of it: As one Reddit user wrote, "I love that the only detail anyone can glean from this show is corn." Thanks to dirt-cheap preview tickets and the onslaught of jokey, vague marketing, Shucked was playing to packed houses even before it officially opened on April 4, catering to the kind of theater kid with a small budget and a lot of time to post. One Twitter user wrote, "gonna be honest, there's a small part of me that is weirdly furious about just how good shucked was." An audience member tweeted a video of themself clapping two cobs together during bows.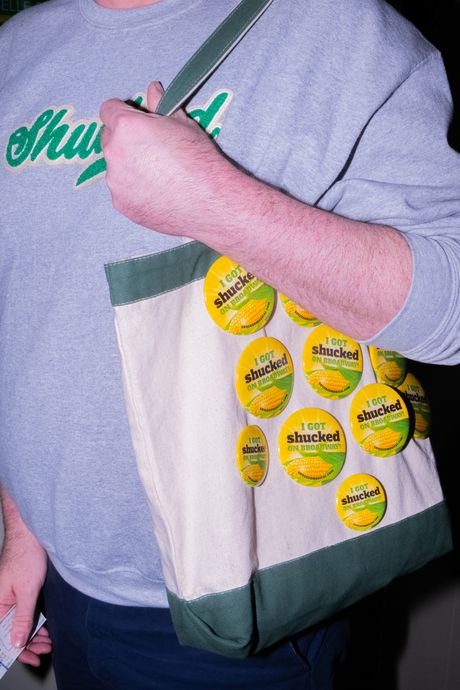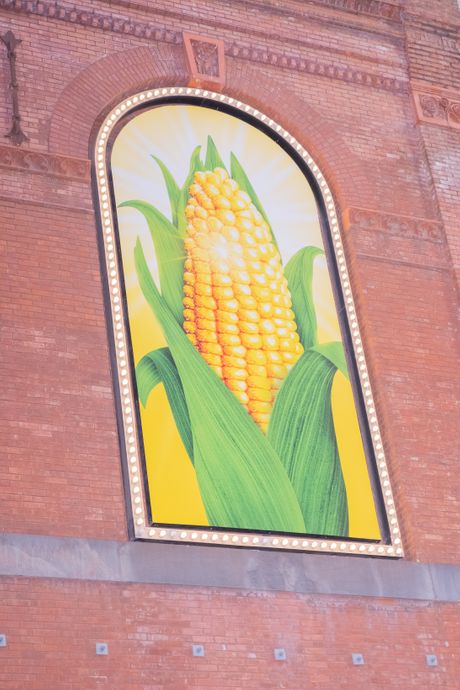 One Thursday in March, I turned up at the Nederlander over an hour before a preview performance and found two men in their early 40s standing outside the theater. One was wearing corn-yellow short-shorts, the other a Shucked sweatshirt and a bag festooned with big yellow pins that read, "I Got Shucked on Broadway!" Their names were Matthew and Dan, and they were here to see Shucked for the ninth time.
"The first time we went to see it, we had no idea what it was about," said Matthew. "It was like, 'We'll go see if it's really about corn.' And then literally after the first night, it was all anybody talked about." It's not the first time they've stanned a show this hard; they mentioned Little Shop of Horrors (understandable), Paradise Square (uh-oh), and the soon-to-close Phantom of the Opera, which they used to see once or twice a week. "There are other shows, like Hadestown or Parade, that intellectually stick with you. But this is like whatever your drug is, or cigarettes, or food," said Matthew. "It's such an endorphin rush because everyone in the theater is so happy and you're laughing."
A petite woman in a black N95 stopped to talk to the guys: Audrey Cardwell, an actress in the Shucked ensemble. "You're out here every day!" she said. "How many times have you seen the show?"
"Tonight's nine," said Matthew.
"Isn't it great? Keep comin'!" she said, as if she were the owner of a small-town diner.
As a line began to form, an employee of the Shucked industrial complex began handing out buttons; the week before, they were giving out temporary tattoos. When I asked one of these workers what I could expect from the show, he said it was "way funnier than The Book of Mormon."
"Good, I need a laugh," said an older woman behind me wearing a red feathered shrug, thick red lipstick, and a thicker Jersey accent. "I need a chuckle-chuckle."
I came in an on-theme outfit (overalls, pigtails), and I was not the only one. I spied a girl and her gay — or a gay and his girl — in matching washed-out denim. They put on their pins and started riffing. "Why don't you come up and shuck me in the ass sometime?" he said, doing an Alaska-as–Mae West impression.
"Shuck me on a table, shuck me on the floor, shuck me in a phone booth …" said his friend.
"I got shucked last night, actually!" he said.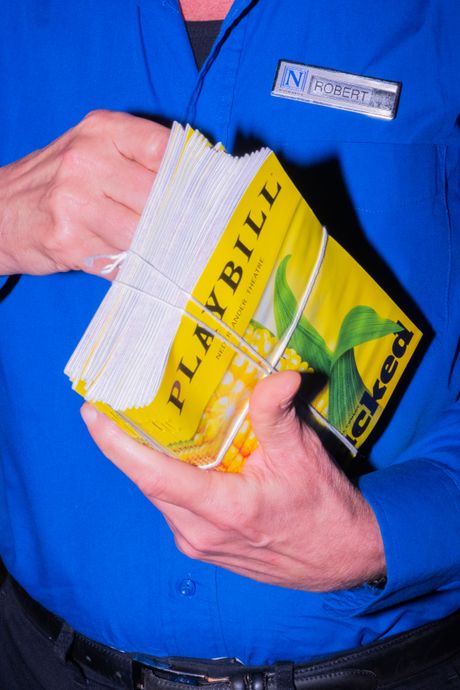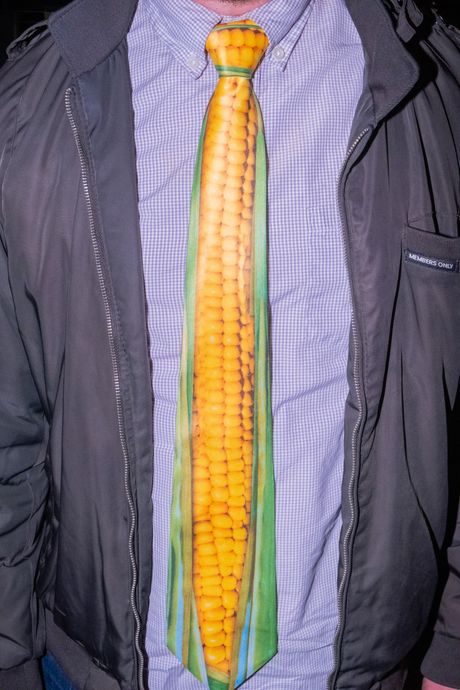 Inside, the theater was Cracker Barrel–fied: The stage looked like a deconstructed barn, halfway between the wood beams of Hamilton and the barn-door façade of the Grand Ole Opry. When the curtains opened, we finally found out what the show is about: a set-in-its-ways, geographically inspecific town called Cob County, surrounded by fields of corn since Pilgrim times. There are corn puns, corn choreo, lyrics about how "it's the same goin' in, comin' out," and, yep, a reference to young TikTok sensation (and former New York cover star) Corn Kid as the cast harmonizes on "It's got the juice!" The audience members were losing their minds.
The whole thing is like an elaborate 30 Rock bit full of dad jokes on nitrous oxide. Every sentence is a pun, or wordplay, or a double entendre, and a high percentage of its funniest one-liners are about shit, sex, or death. (The rest are mostly about corn.) The show is littered with non sequiturs that would be right at home on a sassy-granny greeting card: "If life were fair, mosquitoes would suck fat instead of blood!" Other jokes are Mitch Hedberg–ish bait and switches: "A grave mistake was burying Grandma on a slope." Early into Act One, I watched a person sitting nearby shake his head at the groaners, take off his glasses, and pinch the bridge of his nose. The next time I looked over, he was throwing his head back in laughter. The man sitting next to me released a knowing hmmm any time the show made a reference to the townsfolk's Christianity. Half an hour in, he was slapping his knee at the punch lines like a cartoon prospector. In the first act alone, the audience stopped the show to applaud jokes around a half-dozen times.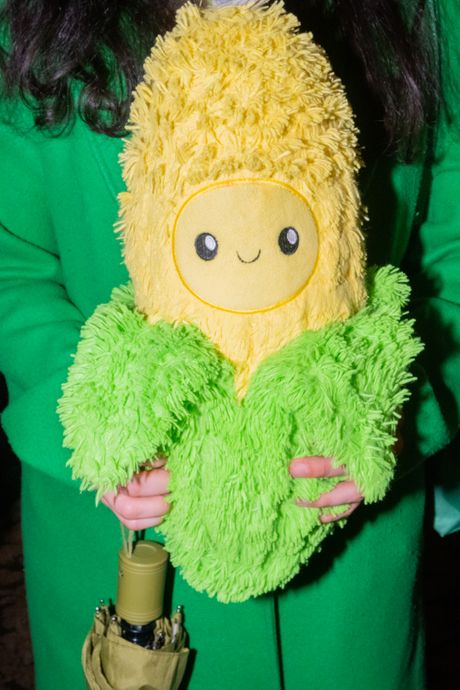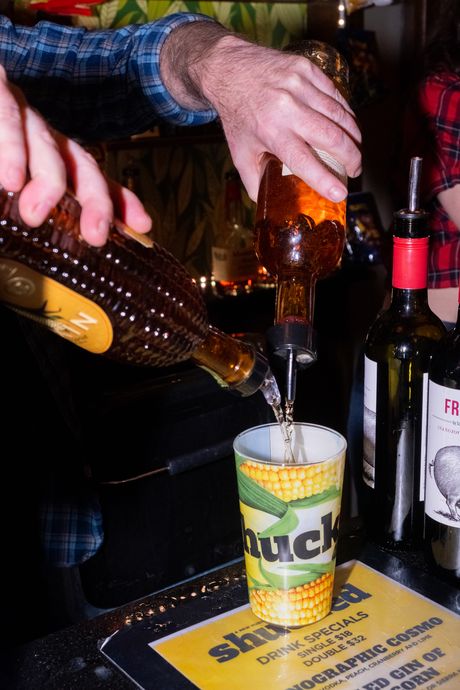 At intermission, I learned that, at the back of the orchestra, book writer Robert Horn was perched next to director Jack O'Brien, breaking down the audience's reactions to jokes and adjusting for the next performance. Later, producer Mike Bosner told me the crowd is always onboard by the end of the opening number, the one in which the ensemble sings about the versatility of corn ("Bring it to a bris, or a wedding, or a funeral"). Shucked is the only show on Broadway where you can choose from a menu of drinks with names like "Chilled Gin of the Corn" and "Honk If You're Corny" and pair those with your choice of corn nuts, candy corn, or popcorn. Actress Reneé Rapp was holding court by the merch table, where there were Shucked hoodies, Shucked totes, and Shucked magnets that look like Shepard Fairey's HOPE poster with an ear of corn in lieu of Barack Obama.
On the street after the show, people were grouped in little bunches. I passed someone saying, "I was smiling the whole time!" I saw drag celeb Brita Filter, out of drag, and a pianist from Marie's Crisis who always plays Hair. I found Matthew and Dan and asked them how tonight's performance compares to the others. "The jokes weren't hitting as hard as yesterday," said Matthew. I could not imagine how the jokes could hit any harder than they did.
Bosner told me Shucked has used skepticism about the show to its advantage. "The expectation was, and continues to be, so low for people," he said. "We overdelivered on what they thought they were gonna get. All we can do is kind of create this mystery of, What the hell is this thing?" The viral marketing campaign relied heavily on the question of the show's premise — will they be able to adapt once the word is officially out? Maybe knowing the plot doesn't ruin it at all. I checked in with Matthew again: He has now seen the show 13 times.