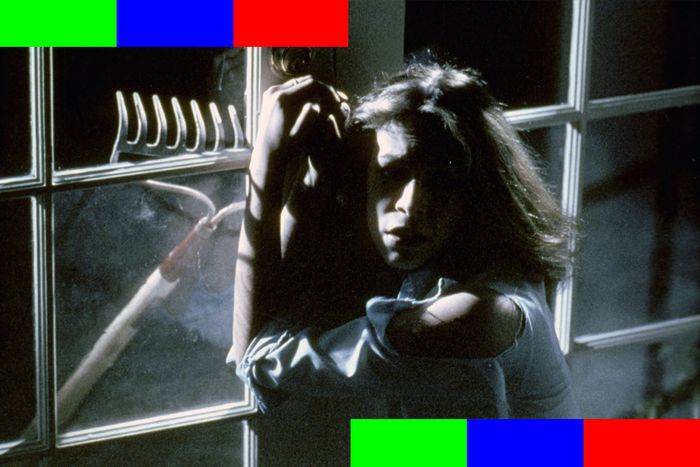 This year, AMC's FearFest will feature iconic films like
Halloween
, as well as programming selected by Shudder.
Photo: Compass International Pictures/Sunset Boulevard/Corbis via Getty Images
When it comes to seasonal celebrations, time clearly no longer has any meaning. Pumpkin spice lattes and other fall goodies returned to Starbucks last week. Costco started stocking its aisles with Christmas decorations days ago. And while Halloween is still more than two months away, AMC has decided that this Friday, September 1, is the right time to kick off FearFest, the channel's decades-old annual spooky season programming stunt which, until now, has always started in October. But potentially premature petrification is not the only change brewing for AMC's annual scream spectacular.
In yet another sign of digital's dominance of the TV industry, FearFest — whose roots go all the way back to the 1990s when it was known as "MonsterFest" — is being taken over this year by Shudder, AMC's eight-year-old horror-focused streaming sibling. The event is being officially rechristened as "FearFest, Shocked by Shudder" with the new name appearing both on-air as well as in all external marketing. But this is not just a simple rebrand: Shudder's content team, including VP of programming Sam Zimmerman, has also taken over curation of the newly supersized event. AMC execs are still actively involved in mapping out the marathon of mayhem, but Shudder suits will serve as the key puppet masters of the next two months, integrating original content from their platform (V/H/S, Creepshow, The Boulet Brothers' Dragula) with all the usual FearFest feature film chestnuts (Halloween, The Exorcist, Scream, The Shining). What's more, for the first time in the event's 27-year history, FearFest content will appear on other AMC-owned cable channels and streaming services with offerings tailored to appeal to viewers of BBC America, WE TV, IFC, Sundance Channel, Acorn, and ALLBLK.
Courtney Thomasma, executive vice-president of streaming for AMC Networks, tells Buffering the mash-up of FearFest and Shudder represents "a natural evolution" of the company's recent efforts to tear down the walls separating its linear and digital offerings. With Shudder, "We have this in-house horror brand, and they are the experts in the space who live and breathe and sleep this stuff," she says. So when Thomasma and her team were, as she puts it, "postmorteming FearFest 2022" and thinking about changes for 2023, it made sense to invite their Shudder colleagues into those meetings in the hope they could offer some good advice for how the franchise might evolve or even ideas for new kinds of programming. "But as we started workshopping both the content strategy and the positioning this year, we realized there was a great opportunity to just have the whole event presented by Shudder," she says. It became "a really organic collaboration between the great minds at AMC, who have built out FearFest over the years, and the experts of Shudder."
That, plus Shudder's strong brand awareness among horror superfans, should theoretically help bring buzz and audiences to the AMC linear event. But perhaps even more importantly, AMC Networks execs are hoping that putting Shudder's imprimatur on FearFest will allow them to promote both Shudder (and by extension AMC+) to the millions of normie cable viewers who still watch AMC and smaller channels such as WE TV or BBC America. "Our linear networks give us the opportunity to showcase [streaming] brands and content to mass audiences," Thomasma explains, noting the company has already "been pushing the boundary more this year in terms of giving linear windows to streaming shows and figuring out ways that we can lean into synergy across the company." Turning what has historically been one of AMC's biggest annual events into a cross-promotional vehicle for the streaming side of the company feels "like the most natural, most obvious and best expressions" of that strategy, Thomasma says. It also fits with other promotional efforts to expand awareness of AMC+ this fall, including this week's news that shows such as Fear the Walking Dead will get limited runs on Max starting Friday.
As for what cable and streaming audiences should expect to see over the next two months from the Shudder-fied FearFest, Thomasma says the goal is to make sure each AMC Networks platform serves up the right kind — and right amount — of programming for its target audience. "All of our linear networks and SVOD platforms will be participating, and each will have its own unique take, its own unique flavor," she says. "We definitely didn't want to just superimpose a generic horror offering across the board that could either diminish the Shudder curation or the main event on AMC." So that means if you're a Shudder subscriber (or access the service via AMC+), you won't suddenly see your favorite weird, somewhat obscure thriller replaced by endless Walking Dead content. Similarly, while the AMC cable channel will platform some of Shudder's greatest hits in September and October, it will mostly stick to crowd-pleasers and established network franchises (such as its recent Anne Rice universe series).
Some of the most innovative expressions of the "Shocked by Shudder" concept will be seen on AMC's specialty networks. For example, WE TV, a network that draws strong ratings among Black women, will launch a new franchise during FearFest called "Fear After Dark," featuring Shudder–produced films made by or revolving around Black talent, including the 2019 doc Horror Noire: A History of Black Horror and the linear TV premiere of Bomani J. Story's well-reviewed 2023 film The Angry Black Girl and Her Monster (which will stream on Shudder and Allblk in late September). Similarly, IFC has already soft-launched a Shudder–curated late-night block called "Fear on Friday," which focuses on the intersection of horror and comedy, while BBC America's "Bloody Good Fear" will lean into supernatural and sci-fi-tinged frights on Sundays. "Each brand is sort of taking a unique way into the season," Thomasma says. "I think it really reflects the breadth of programming available on Shudder and the diversity of programming in audiences for horror generally."
While the September 1 launch date for FearFest represents a massive expansion for a franchise that until around five years ago didn't usually get underway until mid-October, AMC Networks is taking steps not to overdo things on most of its platforms. While Shudder (and by extension AMC+) will go all-in on Halloween content starting next Friday — Shudder has always taken two full months to celebrate the high (un)holy days — the AMC linear empire will treat September as a sort of countdown to the main event. Indeed, as of now, FearFest content on linear networks next month will be limited to Friday nights and only on AMC and IFC.
Thomasma and Shudder's Zimmerman are also being careful to not let Shudder's takeover of FearFest change too much of what Shudder subscribers see on that platform. The AMC+ app — not Shudder proper — will be the digital home of FearFest, and Shudder still intends to program its own Halloween-themed content offering over the next two months. "We have had a lot of conversations with the editorial teams about not doing anything to dilute the great experience that Shudder has built over the years," she says. "They have a very good understanding of their audience. Shudder can go about three categories deeper in terms of curation [than AMC+], and so users that decide to go into the Shudder Hub on AMC+ will still be able to experience all of that deep curation, while also getting all of the extra bells and whistles from FearFest."