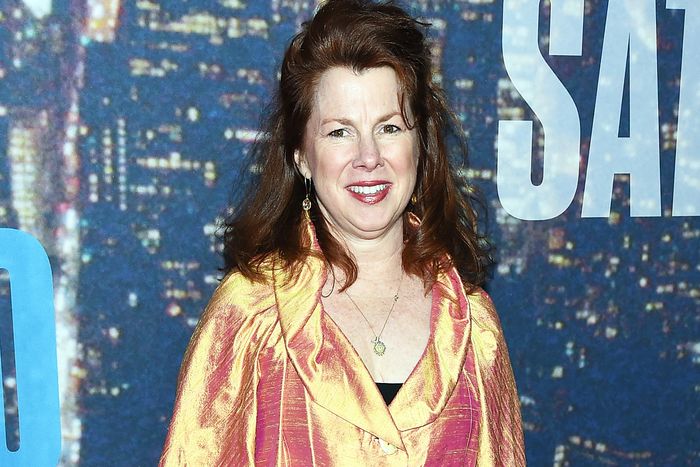 Siobhan Fallon Hogan at
SNL
's 40th anniversary special.
Photo: Larry Busacca/Getty Images
You'd be hard-pressed to ID a character actress as prolific or diverse as Siobhan Fallon Hogan has been over the past 30 years. Busting out of early guest spots on The Golden Girls and Seinfeld, she earned a spot on the cast of Saturday Night Live during the 1991–92 season, during the height of its Bad Boys era. Pivoting into film, she steadily improved numerous mainstream '90s films throughout the decade (Forrest Gump, Men in Black) before again pole-vaulting into the European art house as a member of Lars von Trier's company.
BoJack Horseman may have provided "esteemed character actress Margo Martindale" with an outsize platform, but few working actresses today can lay claim to credits alongside the likes of Kirk Douglas and Lauren Bacall, Tom Hanks and Will Smith, Phil Hartman and Chris Farley. Inside her home in New Jersey, Fallon Hogan recently spoke with Vulture about her six degrees–esque career trajectory, what sketch she refused to do on SNL, and how she finally fused her Hollywood comedy roots with her art-house credentials with her latest project, Rushed.
You graduated from Catholic University with a master's in acting. How do you wind up getting SNL and Seinfeld a few years later?
I went to New York City and I had no skills. I was ready to almost quit and go home, like, I can't do this. I'm such a loser actress. This is not working. I'm so poor. I was a horrible waitress, so I worked at a law firm as the receptionist, and they would need to fill jobs like "filing person." I would have actors come in, and there was this one actor friend. I thought, Oh, she's so annoying, but what goes around comes around, and she tells me there's an audition. This place called Who's on First on 65th and 1st — it's since closed — had improv comedy every Saturday night, and there would be lines down the block. This was when improv was huge in the late '80s.
I auditioned and got it, so every Saturday night, I got paid $10. The guy who ran it told me to do a one-person show. We made flyers that said it was "Off Broadway" and gave them out at TKTS. But I rented out the lobby of Westside Arts Theatre at 43rd. I did it there on Sunday and Monday nights, so people thought they were going to an Off Broadway show. It was $9.99.
I took that show — which was an hour long, different sketch characters — to L.A. On Friday afternoons, after teaching English as a second language, I would head to San Diego and perform in the lobby of the San Diego Repertory Theatre. On Sundays, I would drive back to L.A., where I performed as all the women characters in the Harvey Pekar show, American Splendor, which has since been made into a movie. Seinfeld came to that, so that's how I got cast.
I then rented a small 50-seat theater with the money I saved from the law firm in New York for the one-woman show, and SNL came.
Your first big TV break was The Golden Girls. You hear stories of Betty White and Bea Arthur butting heads on set. Did you sense any of that?
I remember [Betty] came in maybe a minute late for a reading, and Bea Arthur said [Bea Arthur voice], "Can we start?" [Laughs.] I was like, Oh my God, there's tension!
Can you take me through your SNL audition?
Jan Hooks and Nora Dunn had both just left. There were about ten of us auditioning. I had taken all these characters that I had and put it into three minutes. So I made it almost like a demo reel, like you would do now. But I had the one-woman show, so I knew what I was doing. Basically, we had to go into 8H, and the whole cast was there as the audience. It was high-pressure. Afterward, we all stayed at the Paramount Hotel. I think I found out that night, but I couldn't wake my parents up.
I didn't do much on the show. I was in the sorority-girl sketch, and I did Katharine Hepburn. I played the judge a lot. Chris Rock would call me "judgy wudgy" because he knew whenever that role was needed, I'd be the judge, which is pathetic.
What I love about your time on SNL is that you were one of the few true actresses in an era dominated by stand-ups.
Totally! Which was a huge thing. Stand-ups are a totally different breed. I get on Saturday Night Live, my lifelong dream, and they are cutthroat because they have to be. I realized that within a week of being on the show. It's the one thing that's more cutthroat than being an actress. And the other thing is, I can't read cue cards; it makes me too nervous not to be the character, and they're really good at that.
You did Seinfeld during your SNL season. How did that work?
Before I got on SNL, I did Seinfeld. I did another episode, then Saturday Night Live started … As a matter of fact, one time they wouldn't let me do it. SNL wouldn't let me out. Seinfeld had to rewrite it. It was a boxing-match plot, Mike Tyson maybe. They were going to have a party, and Tina was going to be there with Kramer since they were dating.
How did Delta Delta Delta come together? It's a rare example of a female ensemble during the Bad Boy era.
That was Melanie Hutsell, her idea. I would help write them since we got to do a couple. It was always like, "Now what's the girls' sketch going to be?" So we were lucky, but the pressure was huge. Because it was, like, one sketch! It was not, like, "Oh, sketch No. 2 went well," or, "No. 4 went well" — no, you had one chance.
But did that color your experience at all?
I mean, I loved it. I was very good friends with Chris Farley. We were the young people. There were two groups at the time, and it was understood that you have to earn your chops. Which is how it should be! It wasn't sour grapes if I was only in one sketch. I was completely appreciative of the whole experience. I was much more comfortable on a film set with a role. To me it's much easier to learn a part and you know that part. You have a couple chances to take and retake, as opposed to live sketch comedy.
Any favorite moments from your year?
I loved when Steve Martin was on, with the big musical number. I was roommates with Ellen Cleghorne. We're still friends. She's in my new film, Rushed, actually.
But Michael Jordan, I think, was the first show of the year. And he was great — so nervous. I didn't know anything, and of course my family was like, "My God, you're with Michael Jordan!" I said before the sketch, "I want to tell you something. You're really nervous, aren't you?" He was like, "Yeah." "Okay, I wrote down a piece of advice on this paper. I want you to look at it the second before you go onstage." I was a waitress in "Da Bears" with him. I said, "Open this right before you go onstage and it will help you." So I wrote: "Don't F this up. Siobhan." [Laughs.] He comes onstage, shocked.
How did you wind up being a member of Lars von Trier's company?
My daughter was a nightmare baby, horrible. I get this call from [casting director] Avy Kaufman — this is my first introduction with her. I had to play a prison guard [in Dancer in the Dark] and cry. And in the United States, I'm pegged as being comedic. I'm trying to break out of it. [Lars] didn't know this, and thank God Avy is brilliant and has an open mind. Most casting people would've never called me in for a serious part. So I have to be this prison guard and cry, which I didn't think I could do. But I was so exhausted — since my daughter had an ear infection the night before, I hadn't slept — that I burst out crying.
So after we wrapped, I fly out of Denmark and look down, and I have this weird thing — it sounds insane — where I think, I will be back here. I don't know why, but I will definitely be going back. And then today, for my movie that I wrote, I sent it to Lars's producers at his company Zentropa, and they called me back and said they'd co-produce it.
How was it working with a screen legend like Lauren Bacall in Dogville?
9/11 had happened. We started filming in Sweden in January. I have three kids; my baby had just been born in October, so she was only 11 weeks old. Lars von Trier only shoots eight hours a day, it's so totally civilized. You're finished at 5 or 6 each night, and you can leave on the weekends. So I had tiny babies, and I'm in first class, as is Lauren Bacall. And she's got her Saint Laurent bags and has no idea that I'm in the movie, and I'm not about to tell her. I'm dripping with children.
We became really good friends. She said to me [Lauren Bacall voice], "Did you ever think we'd become friends when we were on that plane? … I didn't think you'd be friends with me either!" Matter of fact, she later added an addendum to her book about her life with Humphrey Bogart and added stories about our friendship. Then we lived close to each other in New York City. We'd go out to dinner. Her apartment was like a museum.
I've read you can be selective about roles, which to me feels almost counterintuitive for a character actress. How do you reconcile that with the fact that you've been so prolific for so long?
Someone told me once you should choose your roles by how you want to look back at your career when you're about to kick the bucket: Am I proud of this part? And believe me, I've made some mistakes. There are a few clinkers on my résumé. No. 1: Do I want to do this? And No. 2: I have three kids. But trust me, I had no business turning a lot of things down. As a matter of fact, one agent dumped me because I didn't like the way one project was portraying certain people. They politely said, "We're going a different way with our clients." I knew it was because I had a lot of nerve. But so what? I just went with my gut on what I'm comfortable with.
One time, I left a show I had a recurring role on. But I had to go back in because I still had to do the part. It was just getting too raunchy for me, I couldn't take it. I had makeup people saying, "So glad you said no." The producers had to have a talk with me, which is so funny. I said, "Look, I have a 12-year-old daughter. This is just going against my grain. I'm sorry. This is just how I operate." The beauty is, honestly, I've never had any fights with people over it. And now I'm so old it's become this quirky thing: "She's kind of odd. She doesn't take parts."
Something like Dogville is pretty provocative. So how do you decide that's okay?
I agree, but it's also a human story. And I loved my part, in the church. As opposed to something that's egregious just to be raunchy. That's why now, with writing my own movies, it's just better to have more control. I like film better, because with TV you have no control. It's like they hire you, then if they take a U-turn with your character, you're screwed.
Were there any SNL sketches you were asked to be a part of at the show that you didn't agree with?
I remember there was the Italian-dinner sketch. Let's just say it wasn't in my comfort zone. They wanted me to do it and I said no. They called me in the middle of the night and said I'd gotten cast in it. I said, "Okay, that would be no." They said, "What do you mean?" And I said, "Because my father will kill me!" It was a bit like dating when you say no: They want you. They called back: "Are you sure? It's going to be great." I said, "Listen, you don't know my father." I always tried to keep my kids in mind, and my parents. Like, Wait a minute, my parents didn't work their rear ends off to pay for my schooling to have me upside down on a table. And, by the way, in a background part in this thing that goes against my grain.
I just said no and that was it. I think people respect that. I'm not whiny about it, like, "Oh, you're being terrible to women." No, look, this isn't me.
Related: Janeane Garofalo left the show controversially, making accusations.
No, no, hey, look — I get why some people think that's funny. That's just not my humor, and I'm not going to be a part of it. But I would never take some political stand. I appreciate that, at the time I was on SNL, it was understood the guys got a lot of sketches and the girls got one, maybe be in a couple of them. I was like, I'm a part of history, and this is how it is right now. I always appreciate everything that came out of there for me.