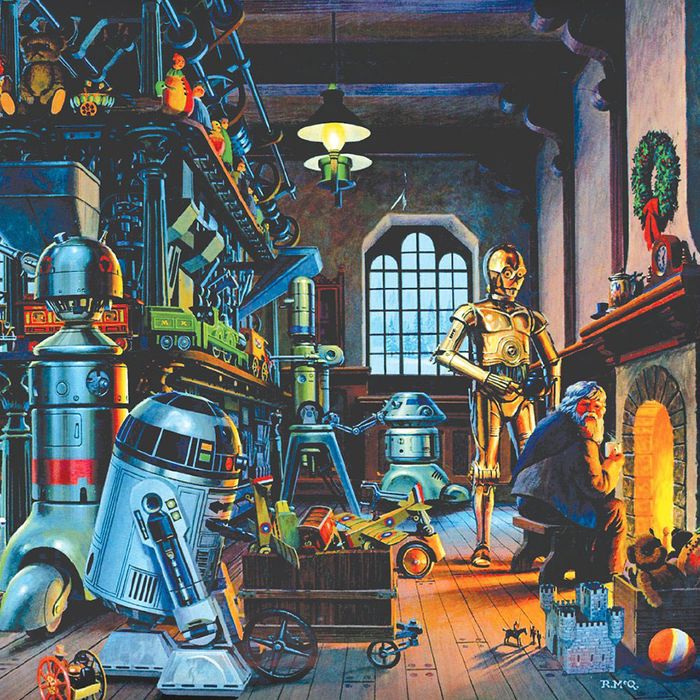 Photo: Christmas in the Stars.
"Sleigh Ride" is unequivocally the best Christmas song of all time. And it's not even a Christmas song — it's a holiday song, a celebration of the winter season despite folks like the Carpenters and Sesame Street trying to change a lyric from "birthday" to "Christmas" and claim it for the all-consuming tinsel avalanche of Christmas ubiquity. No, this is a song about a sleigh ride: of eating pumpkin pie with pals, of feeling warm despite the cold.
"Sleigh Ride," originally conceived by Leroy Anderson, doesn't want to make you miss someone who isn't there, or remind you of Christmases past. It's a song that celebrates the moment, telling you to be present and enjoy what's around you. It also doesn't reference the consumerism of the season in the least, instead taking a winter experience and encapsulating it perfectly in song. Plus, it is eminently cover-able. With three main versions — instrumental, full lyrics, partial lyrics — there are endless permutations, little moments throughout just asking for whoever's taking on the reins to make their own.
I started setting it apart from other holiday classics when I worked in a shoe store in college. Whenever it came on and filled the vaulted ceilings of the shoe store with horns, it put a sprightly spring in my step. I love it so deeply that at the time of writing, my Spotify playlist titled "JUST SLEIGH RIDE. ONLY SLEIGH RIDE. SLEIGH RIDE FOREVER" has 94 versions of the song, and they are sonically diverse enough that you might put it on and forget it's the same song over and over.
Lots of Christmas music is like this — any standard is only as good as the person singing it, the liberties they took with your familiarity. "Sleigh Ride" is particularly full of hooks for artists to interpret as they please. And the lyrics are a short story, admittedly one low on conflict — friends arrive, call "yoo-hoo," and everyone gets in the sleigh. They ride and enjoy the snow, get cold and snuggle together, singing songs. A lot of versions stop there, preferring to edit out the further birthday party (and further variation on the orchestral theme) at Farmer Gray's house. But it's a shame, because there are fun moments like chestnuts "pop-pop-pop"-ing that just beg for another bit of artistic license. The sleigh riders eat pumpkin pie, then sing one more time about how great the sleigh ride was, remembering their awesome day.
After listening to 4.5 hours of my self-made "Sleigh Ride" Abyss, I feel comfortable choosing the ten best versions. I also feel comfortable recommending just listening to the entire playlist — nearing 100 versions — and letting it wash over you. There will be stellar highs — like Glenn Miller Orchestra's triumphant version, and disappointing lows — like She & Him's, which sounds so sleepy you'll wonder if Zooey had an Ambien just before having their horse set off. TLC start singing it and then more or less forget it in favor of some Christmas rapping. Barenaked Ladies make fun of the whole song and still come off charming. Adam Counts of Trap City sets Ella's vocals to a stutter beat before stretching the limits of how much you want to hear her repeat "giddy-up!" Truly something for everyone.
But in case you don't want to induce yourself into Christmas madness and instead just want to hear the best of the best, here are the top ten versions of "Sleigh Ride" that best encapsulate the spirit and feel of this perfect, surprisingly pliable holiday music masterpiece.
10. The New Christy Minstrels, Merry Christmas! (1966)
Oh, the glory of syncopation! And those lovely "ring bells, sleigh bells" that the ladies of the minstrels provide at the end of each line … no matter how many times you've heard the song, this one sounds like it's fresh and new with those delightful pauses. And the sheer number of people singing brings an exuberant quality to the proceedings, especially as they head into the second half of the song and get a little ragged, allowing someone to imitate a horse. This song's a party.
9. C3PO & R2D2, Christmas in the Stars (1980)
Meco's Star Wars Christmas album, Christmas in the Stars is a bizarre project that not only co-opts Santa as an alien in the Star Wars universe, it also sports the very first recording of a young Jon Bon Jovi, singing in the children's choir. This "Sleigh Ride" starts with a little skit about C3PO teaching R2D2 how to sing and then uses the melody to continue the lesson. Depending on who you are and your appetite for Anthony Daniels doing his best Rex Harrison, this might be enough to warm even the coldest robot heart. And even though barely any lyrics of "Sleigh Ride" make it on here, it shows how versatile the song is that it's been around even in galaxies far, far away, a long time ago.
8. Squirrel Nut Zippers, Christmas Caravan (1998)
Okay, I know that Tom Haverford in Parks and Rec expressed the seemingly popular opinion, "I thought we as a culture agreed to forget the year that everyone was into swing," but Squirrel Nut Zippers gave us whistler extraordinaire Andrew Bird and this album Christmas Caravan, which is a family staple. Their "Sleigh Ride" has banjo and baritone saxophone, and the drummer's clearly having the time of his life. Lindy hop around the Christmas tree in your finest Gap khakis.
7. The Ventures, The Ventures' Christmas Album (1965)
My childhood Christmases were all spent in Southern California, doing things like riding my Santa-delivered scooter to my buddy's in 80-degree heat, so sleigh rides were emblematic of a winter I didn't experience until I was 23. The Ventures' surf guitar version is an embodiment of that California Christmas vibe, both languidly strummed and urgently drummed. It's the type of silly juxtaposition that Christmas music is great at embodying. Santa has to visit SoCal, after all. Why wouldn't he surf there?
6. Bing Crosby, The Voice of Christmas (1952)
This one is just so evocative of that old-fashioned Christmas that was captured in black-and-white tones in movies like The Bishop's Wife and It's a Wonderful Life, where even in muted colors, you can see the season shine. You can hear it in the choral arrangements for Crosby, the luxuriant flourishes that somehow signify that aching nostalgia that Mad Men made sure we all realized was ultimately fleeting and ephemeral, but nevertheless comforting. It's when he passes off the microphone for a portion of the rarely included second half of the lyrics that the song opens up and lets you in, and while "jing, jing, jing" doesn't quite have the same effect as "ring-a-ling-a-ling, a-ding-dong-ding," it still adds panache. It reminds me of my grandfather, making class and style look natural. I also like that Bing acts as though the sleigh ride is truly over at the end, entreating everyone to get out.
5. Sufjan Stevens, Let It Snow: Songs for Christmas, Vol. IX (2009)
The Sufjan Stevens version is basically a little kid who just got a bunch of musical equipment for Christmas and wants to use all of it, all at once. So there's wee-woo keyboards and computer bleeps and piano flourishes and thumb piano and the evocation of the sound of gizmos winding up and down, not to mention the vocals, which sounds like he got all of his friends to come over to record it. Which is exactly what he did, actually. The completed songs were literal Christmas gifts, first to just his friends, then to humankind at large. I love the accumulation of sounds at the end, which also functions as a tiny Spike Jones tribute (Spike Jones also did a "Sleigh Ride" version; it's on the extended playlist).
4. California Raisins, Christmas With the California Raisins (1988)
Other than perhaps the Meaty Cheesy Boys' single EP's worth of music about how much they love Jack in the Box, the California Raisins' Christmas album is my favorite piece of ad-produced music errata. And their "Sleigh Ride" is certainly the best performance of a Christmas standard recorded by a band pretending to be raisins from a breakfast cereal that I have ever heard. There are so many thoughtful touches, from the bass line taking a walk alongside the sleigh the whole time to the tight harmony of the backup vocals and that "pretty baby" R&B outro that it seems like far more than a simple greedy cash-in. This was a labor of love, and it's terrific.
3. Ella Fitzgerald, Ella Wishes You a Swinging Christmas (1960)
The horns that herald Ella's arrival to the scene (presumably in a sleigh) are smoother than Christmas pajama silk, and when she finally lifts her voice, she's in confident, collected host mode, the organizer of this little sleighing get-together. She's so casual and light and frothy, the horns punctuating and falling away to highlight just how lovely she thinks that weather is. Halfway through, she starts to let a little more looseness into her voice, as if she took a toddy break while her horns improvised. A legend making a legend even more legendary.
2. The Ronettes, A Christmas Gift for You (1963)
I like to imagine the horse that bookends this recording was in the studio with them, although I doubt it was. The "clop-clop" is even more omnipresent than the "ring-a-ling-a-ling, a-ding-dong-ding," which itself is augmented even further with accompanying pizzicato strings. I get that string of inspired nonsense stuck in my head year-round. It's deep Christmas music magic, probably unwittingly invoking ancient Druidic rites. The joy of this recording is probably due to the fact that Spector had everybody on this album belt their hearts out.
Fun (?) facts: This record was released the same day that Kennedy was assassinated. The first run was a disappointing flop. And, like most of these, it's missing that third act/further verse from the original versions, which is why this is not simply the No. 1 best.
1. Leroy Anderson, Sleigh Ride (1950)
Leroy Anderson's version of his own song is, fittingly, the best version of it. It's decidedly not a pop song; it's a light classical song with movements like episodes, and by the time those rising horns are introduced in the latter act, it's like a marching band striding merrily straight into your heart, filling it with holiday cheer. It feels like a sleigh ride, with the flourishes of strings standing in for flourishes of snow.
"Sleigh Ride" was conceived by Leroy Anderson just after he left the army. It was a fever dream of a hot day in July 1946 when he started, and then he finished in February two years later. This was the type of thing he did — "light" concert pieces, often featuring objects, like the horse hooves in "Sleigh Ride," or the typewriter in "The Typewriter." He was famous for them; his compositions were even used as TV themes.
Lots of his recordings of the orchestral version exist — Arthur Fiedler's Boston Pops recorded it before Leroy Anderson's Pops got their chance, and of course there's John Williams's recent version (with the Boston Pops again) — all are joyful and perfect. ASCAP named it the most popular Christmas song in the U.S. from 2009–2012, and even when it's not No. 1, it's nearly always in the top ten.
In the year it started charting, 1950, the Andrews Sisters added oftentimes Anderson collaborator, Mitchell Parish's lyrics, and they're like a marshmallow in hot chocolate: a perfect pairing. But it doesn't need lyrics. With those strings, the clip-clop of the horse hooves, that neighing trumpet, and those oompah horns, it says all it needs to: This is a season for making new memories as much as it is for visiting old ones. Giddyup, let's head on a sleigh ride.