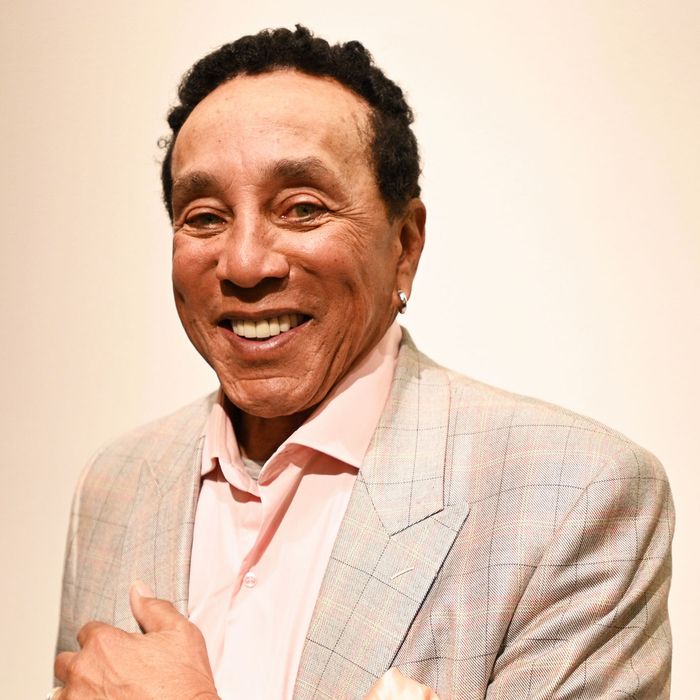 "I would like to write for everybody in the music business right now."
Photo: Andrew Toth/Getty Images for Shinola
At 80, Detroit soul icon Smokey Robinson has been a presence in music for over six decades. He started singing with the band that would become the famous Miracles at 15 in 1955, and later helped Berry Gordy make Motown Records a powerful force in Black music and American music at large, writing for acts like Temptations ("The Way You Do the Things You Do," "My Girl," "Get Ready") and Marvin Gaye ("Ain't That Peculiar," "One More Heartache," "The Hunter Gets Captured by the Game"); collaborating with the likes of Stevie Wonder; and bringing artists like Diana Ross into the Motown fold. All the while, Robinson sang with angelic grace on inimitable love songs like "Who's Loving You," "Ooh Baby Baby," and "Tracks of My Tears," and, as a solo artist, invented "quiet storm," the smooth, sultry R&B radio format named after Smokey's 1975 solo album and single. The story of the Motor City legend's rise from dreams of stardom to his tenure as a prolific Motown songwriter and, later, the label's vice-president is the subject of the new Audible Original Smokey Robinson: Grateful and Blessed, out this week, where Smokey revisits his highs and lows in words and song. I spoke to the man in early November about a life spent blazing trails. He's feisty and funny, thankful for the opportunities he's been given in life and also protective of his legacy.
I'm curious what made you want to tell your life story now, this year?
Audible. They called me and asked me if I wanted to do it and I said yes. So that's what made me do it. [Laughs.]
You were a teenager at the very beginning of the Miracles' run in the '50s. Did you have to grow up quickly to adjust to the music business?
No. I don't think I have yet. I'm serious when I say that. I still have a bunch of childlike [energy] in me. I still feel young and vibrant. I don't ever want to lose that. I still feel that way. I'm 80, but I feel like I'm 30. I really do, physically and emotionally. I was a kid, and I was getting a chance to embark upon a life that I had thought was my impossible dream. Where I grew up, I didn't think it was going to be possible for me to actually be in show business, to write songs and sing and make records, and all that. But that was my dream. It was what I wanted to do with my life, if possible. And I didn't think it would be, so no, I wasn't tripping like that.
In the early '60s, you helped Black music evolve from doo-wop to soul. Were you actively working toward change in those days, or was everyone in the right place at the right time?
No. Let me tell you about changing music. On the very first day of Motown, Berry Gordy borrowed $800 from his family to start [a label]. There were five people there. There was Berry. There was his then-wife Raynoma. There was Brian Holland, a lady named Janie Bradford, and me. He sat us down and said, "I borrowed this money from my family, I'm going to start my own record company. We are not just going to make Black music, we're going to make music for everybody. We going to make music for the world. We're going to make sure that our stories mean something." That was the plan, and thank God, that's what we accomplished.
You were writing your own songs at a time when singers weren't expected to do that. Nowadays, you're kind of expected to at least keep one foot in the writer's room if you're a singer. Sometimes that makes for music that isn't so great. Do you miss the Motown model?
I miss Motown, period. As far as I'm concerned, Motown was a once-in-a-lifetime musical event. Nothing like that happened before. I seriously doubt anything like that will ever happen again. So, I miss Motown just because of missing it. I go back to Detroit; I have one niece who is still alive who lives there. Most of my family has moved out here to Los Angeles. A lot of them passed on. I go back to Detroit mostly when I'm working — once every two, three years or so to do a concert, either at Music Hall or at a place outside Detroit called the [DTE Energy Music Theatre]. When I go to Detroit, I go to the museum. Hitsville is a museum now, and I go in that museum, and I'm looking at all the artifacts and all the pictures and stuff like that, and at least 80 percent of those people are gone. So it brings back the thought of, Hey, we were all here together, we were all brothers and sisters. These people are gone, but it was a wonderful ride for them.
You retired for a year, starting in 1972, and that's a stretch where Stevie Wonder put out Talking Book, Al Green put out I'm Still In Love With You, and Aretha Franklin put out Young, Gifted and Black. How badly did you miss making music that year?
I didn't miss it that year. When I retired from the Miracles, my real, true thoughts were, I'm done, that's it. The Miracles and I had been on the road since I was 16 years old, right out of high school, basically. We'd been traveling around the world. Everything a group could possibly do, we'd done it two or three times. My then-wife, Claudette, and I had suffered seven miscarriages as a result of her being on the road with the Miracles, when she was singing with the group. She finally retired from that. And then our oldest son, Berry, named after Berry Gordy, was born through a surrogate mother. And then we had our daughter through Claudette, but she had to be in a bed most of the time. So my kids were here, and they were precious, and they were just little kids at that time. I didn't want to have to be absent from their lives all the time and when I come home, they don't know whether to say, "Can I have your autograph?" or "Hi, Daddy."
The group and I were gone 90 percent of the time at that time. So I retired with the thinking that I'd probably produce records for some other artists, and write songs for them, but as far as being an artist, being on the road, and making records for myself, I wasn't going to do that anymore. I'm done. I've had it. That was my thought at the time. I wasn't [missing it]. I was happy. I was vice president of Motown. We moved out to Los Angeles. I was going to an office every day, doing my vice-presidential thing, doing corporate stuff, and all that. I was cool for the first two and a half years. I didn't start missing show business until after that. After the first two and a half years, I started saying, Wait a minute, now. Something's missing in my life. I am missing something here. I started to long for it, to crave it.
After about three years, one day Berry, who's my best friend to this day, came to my office. He said, "Hey man, I want you to do something for me." I said, "What?" So I'm thinking he's going to tell me something corporate. He's gonna tell me he wants me to go to New York or Chicago to make a deal with somebody, because I did that kind of stuff as vice-president. This guy sits me down, and he says, "I want you to get yourself a band, I want you to make a record, and I want you to get the fuck out of here." I said, "What did you say to me?" I said, "What are you talking about, Berry?" He said, "Every day you come into this office, you are miserable." Now I'm trying to hide this from everybody, Craig. I'm thinking I'm doing a great job of hiding it. He said, "When I see you miserable, it makes me miserable, and I don't want to be miserable. So I need you to get the fuck out." I could not believe this guy could see through me like that. I hugged him, I hugged him so tight. So I wrote "Quiet Storm."
I got a chance to go back into show business. I'm a quiet singer, but I'm going to take it by storm. And I thought to myself, That's a great idea, "quiet storm." I started that song, and I gave it to my sister, who was a great writer, and she finished it up, and I recorded it and did an album around it, and it became a radio format. I didn't expect that, but that's what it became.
That's still flourishing to this day! Was it something else competing with your old group on the charts when you came back as a solo artist?
The Miracles are my brothers. Ronnie White, who passed on, I knew him since I was 10 years old. Pete Moore, I've known him since I was 11 years old. Bobby Rogers, I knew him when I was 14 years old. I grew up with those dudes. I wasn't into competition with them. When I left the group, in fact, I promoted them. I got them with the new lead singer, Bill Griffin, and took them around to Soul Train and all the TV shows. I was for them; I wanted them to make it. I wasn't thinking about competing with anybody but myself. I wanted to just do myself. I listen to everybody, everybody you can think of. I listen to Billie Eilish. I want to know what kids are listening to, what everybody's listening to, so when I go and do my music, I can put some of that in there that'll make people say, "That's Smokey, but that's cool."
You left Motown in 1990 after a number of years being vice-president. Was it bittersweet stepping away from that movement?
Yeah. We were kind of dismantling it at that time, though. It was the beginning of the ending, just before Berry sold Motown. I was kind of disgruntled with the new regime that we had in Motown, so I went and signed with SBK, out of New York.
In 1991, you put an album out on SBK, Double Good Everything, your first outside of Motown. But then you didn't release much else until the end of the decade. What kept you out of the public eye in those years?
I was unsettled. I didn't have a record company home, which I was used to.
You've written for a lot of other artists over the years. Are there songs you regret giving away?
Not a one. Those artists were my brothers and sisters, and we were family, and whatever I could do to enhance their careers was an honor. It was a pleasure for me. I get this question about "My Girl" all the time. As a songwriter, "My Girl" has become my international anthem. I play "My Girl" in my live concerts, and we can be in a country where they don't even speak English, 60 percent of the people in the audience don't even speak English, and as soon as they hear [hums the opening bassline from "My Girl"], they know what's getting ready to happen. They start cheering. Had it not been for the Temptations, I probably would have never, ever written "My Girl." All the guys at Motown had been using Eddie Kendricks to sing lead since "The Way You Do the Things You Do," the first hit that I wrote for them. If you had a good song, and you were a producer or writer at Motown, you had access to all the artists. It didn't matter who had the last hit record. If they liked you at all, you had the opportunity. I wanted to write something sweet for David Ruffin to sing, which became "My Girl." And he sang the shit out of it, so it was contagious. I don't regret that whatsoever.
Who are your other favorite singers to write for?
Everybody at Motown. I would like to write for everybody in the music business right now.
I wish that happened. Do you have a favorite cover version of a song that you wrote, where you feel like someone else really put their own spin on it?
I think the most popular one is "Who's Loving You," because that's become Michael Jackson's song now. I wrote "Who's Loving You" [nearly] before Michael Jackson was even born. And it was on the flip side of "Shop Around." In those days, the disc jockeys, if you had a good record on the flip side of your hit, they'd flip it over and play it. They played "Shop Around" to death, then they flipped it over and started playing "Who's Loving You," which was a mild hit for the Miracles and me. I was about 21 years old [at the time]. Nine years later, here comes Michael Jackson. He was 11 years old when he recorded "Who's Loving You." There's no way in the world, at that point in his life, he could have possibly even known what "Who's Loving You" is about.
"Who's Loving You" is about a person who had somebody they really loved but did that person wrong and took them for granted, so that person left. And they're sitting around later, grieving, thinking about the wrong that they did to this person, and who's loving that person now. There's no way an 11-year-old child could know that. But this dude sang that song like he had written it, like he knew all about it. It became his song. If I sing it somewhere now, if I even sing a part of it, young people in the audience come to me and say, "Why are you singing a Michael Jackson song?" That's the most popular cover that's ever happened with one of my songs. You know what's my most covered song? "Get Ready."
Over the last decade, there's been a powerful struggle against racism, and I wonder if you, as someone who saw the '60s civil-rights movement unfold, see parallels between the then and now.
Yeah. I'm glad that the last four years are over. [Racism] came in more powerful in the last four years than it had in the last 20. It became prevalent because our leader was almost like a promoter of it. The last four years have been fucked up, and it's caused a lot of tension between the races here in the United States, because we had a bigot in the White House.
Is it disappointing to see that kind of animosity resurface after all these years?
Yes, it's disappointing for the people who are still of that frame of mind to be in that place where they think that people are different. The only difference between people is the texture and the color of our skin. If you skinned everybody alive, you wouldn't know who anyone was. All our hearts are in the same place, our organs, our everything is in the same place. We all have red blood. We're all human beings. It's almost 2021. It's a damn shame that all this time's gone in life, and people still don't get that. I've wished many times that we would get attacked by some outer-space planet or something like that so we can all come together as earthlings and help each other. See, there's evil, and there's good, and people who adopt evil, that's who they are. It ain't got shit to do with the color of their skin or where they live. And young people are seeing through that shit. Young people are saying, "Hey, wait a minute now. I like so-and-so and so-and-so, and they're Black," or "I like so-and-so and they're white or Chinese." Young people are pulling their shit together, and I'm very happy about that. You got your old diehards who are trying to carry it on and keep the prejudice and tension going, but I think young people are seeing through it.
Two weeks ago, members of the Black community in your hometown of Detroit cast decisive votes that helped to flip the state of Michigan blue in the election. Can you talk about the enduring spirit of that city that you've witnessed from day one?
It meant a great deal to me. One thing that the [Trump] regime did in the last four years is provoke people who had never even thought about voting to vote. A lot of people came out and voted in Michigan and Georgia, everywhere, who had never thought about voting before, because of what they saw happening to our government. The concept of the United States of America is the greatest concept in the world. It's beautiful. It's a wonderful concept. There's no place like America. So, for people to come in and try to fuck that up is ridiculous. I'm a Black man, and I'm telling you this: I've been all over the world. The only places I haven't been are Africa, China, and Russia. Here, people say "African American." Don't call me no African American. I'm a Black American. [You're not] going to label me to try to say that I don't belong in this country when my people have fought and died to establish this country. Black soldiers have fought and died for this country. They were doing it for Mississippi and Georgia and Alabama. I'm a Black American.
Scores of performers have come and gone, but you're still here. What's kept you going all these years?
My respect and my love for show business, Craig, and the fact that I don't think I started it, and I know that I'm not going to finish it. I have my place in it, and I'm going to cherish that place. It's a gift. I'm not going to squander it.
How have you been managing this year?
It's been the roughest year that I can remember since I really started in show business, because show business has come to a screeching halt. No concerts. Most of the recording studios were closed for a while. No gatherings. That's all stuff we need to function. So it's been rough, but they finally reopened the studios, and I'm in the studio now. I'm recording two CDs, one in Spanish and one in English. I'm very happy to be back in the studio working because the concerts … I've done a couple things on Zoom, but other than that, it's at a standstill.
You discuss your friendship with Aretha Franklin in Grateful and Blessed. Were you involved or consulted at all about the Aretha biopic coming out next year?
No. I was involved while she was alive. In the last conversation that we had, and it had to be maybe two weeks before Aretha died, she called me. She said, "Smoke, they're getting ready to really go for it and do my movie. Now, who do you want to play you?" "I don't know, I don't care, baby," I said. "Whoever you get to play me is fine with me. That's up to you to pick that." She said, "No, but I thought maybe you might have had a choice." But I didn't, so that was it. [Ed. note: Lodric D. Collins will play him.] That was one of the things we talked about in my very last conversation with her. But I'll say this: I hope they did a great job of it, and I love Jennifer [Hudson].
This interview has been edited and condensed for clarity.